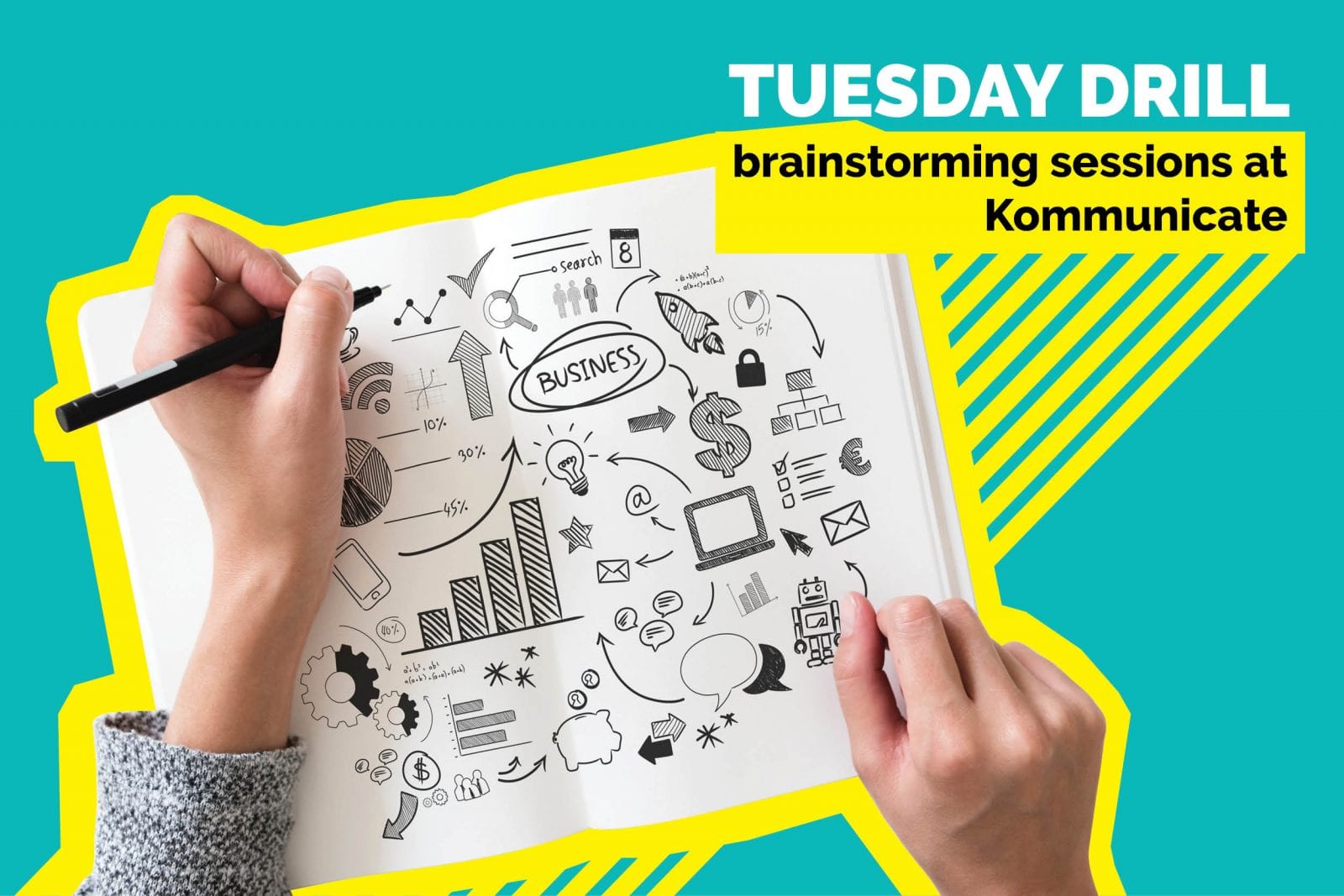 Tuesday Drills are Kommunicate's inter-team brainstorming sessions. Our team sits down on every alternate Tuesday with whiteboards, markers and ideas to find solutions to most common of business problems. We will be sharing the holistic view of each session in these series of episodes. Check the previous episodes here.
The topic for Episode 2 is; Agile teams for customer support. Let's drill down to the core of this topic.
Agile Customer Support Teams
If you are a mid to large size company, you will require a dedicated support team to handle your customers and their problems. For small startups, customer support is generally handled by the founders, product managers or the sales team.
In either of the case, the customer support team heavily relies on other teams to reach their end goal – solving customer's problems. I am going to list down all the teams that might collaborate with customer support team:
Tech Team – For resolving technical queries and helping in integrating the services/products
Marketing Team – For creating self-serve content, writing documentation and collecting Net Promoters Score(NPS)
Sales Team – For identifying potential customers coming on support and helping in onboarding them efficiently
Design Team – For better UI and UX of support collaterals such as Documentation, FAQs and Knowledge Base
Customer Success – For a proactive approach to customer support, upselling and cross-selling the products
As you can see, there is a major involvement of multiple teams to handle customer support. And when multiple stakeholders are involved, problems seem to occur more frequently. Let's drill down more on these problems and their solutions.
Problems and Their Solutions
There is no scarcity of problems in handling customer support. Involvement of multiple stakeholders from different team adds complications on top of it. So, how to tackle these problems?
Before answering this question, let's discuss what are the major concerns in handling this cross-team effort.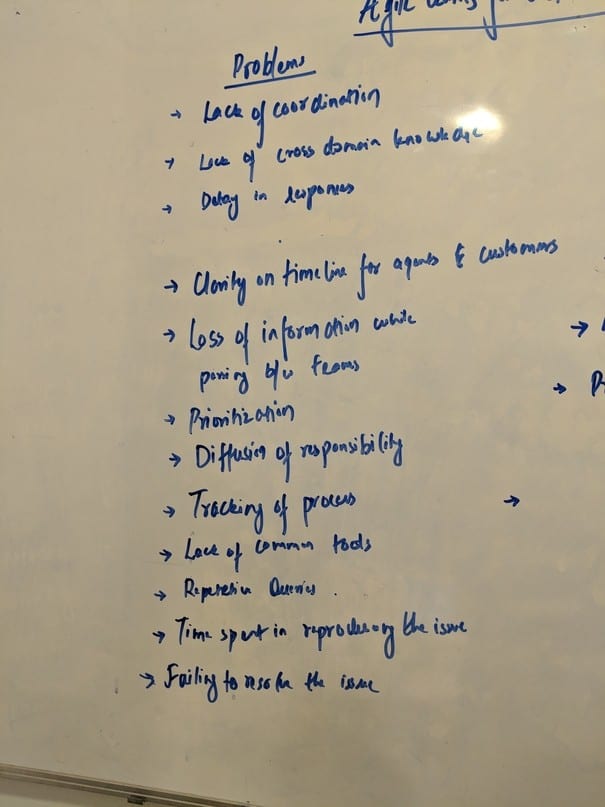 Lack of Coordination
Imaginably so, lack of coordination is bound to happen in between different teams and personnel involved. The support team might miss out on replying to a customer if the tech team had totally missed their issue.
The best way to overcome this is clearly setting up goals, roles, and responsibilities for each stakeholder. Also, it is advisable to use a brilliant support tool and onboard each stakeholder on it, be it tech guys or support agents. This practice keeps everyone on the same lines and diminishes the possibility of unwanted mishaps.
Lack of Cross-domain Knowledge
Your support agents, sales and marketing teams should be thoroughly aware of the functionalities and flows of your product/services. Additionally, they should have the bare minimum tech knowledge to handle frequent and mundane tech queries. On the other hand, the tech must be aware of the SLA and designated response time.
The most obvious of ways would be to create a knowledge base to share cross team information. It can serve as onboarding material for internal teams and self-serve collateral for customers (Here the design team pitch in). Also, for larger organizations, there must be an onboarding training whenever a person bags customer-facing jobs.
Delay in Responses
The customer query resolution cycles can be long. Imagine this:
The customer raises a query – support team analyzes it – pass it on to the tech team – tech team analyzes it – pass on the solution to the support team – support team conveys to the customer. There are many touchpoints and passage of information. If there is a delay from any end the subsequent responses go falling like dominos.
Also, there is internal work involved such as analyzing the root cause of the query whether it was a product flow or implementation flaw? Should your support collaterals need to change if a particular query is raised by many customers?
The solution would be to clearly have the idea of timelines and adhere to it; for both support and tech teams. Passing on internal notes to avoid re-visiting the issue can also help.
Loss of Information
There can be certain incidents where loss of information occurs while transferring from one team to the other. Additionally, the information passed on might be perceived differently by one team in comparison to other.
You need to make sure that at first customer touchpoint, you thoroughly understand customer's problem. It is best to document your own points while the customer describes it, make internal notes and pass it on to every person associated with the particular issue. One more thing in maintaining conversation's history, so as to look back in case of nay loos or discrepancies.
Prioritization
You may have different support levels and designated response time on the basis of different customer profiles. Your enterprise bucket might a shorter designated response time in comparison to others. Hence, you need to prioritize the customers according to the SLA given to them.
You may want to put tags/priority identifiers for different customer profiles. The same should be communicated across teams to avoid delay in responses.
Diffusion of Responsibility
Alas, we are bound to the innate psychology of diffusion of responsibility. And especially when there is a large team working towards one goal, we tend to over-rely on our teammates and miss out on actually solving the problems. This is a more human problem rather than of process and materials.
The measures you could take is defining roles and responsibilities clear-water. Also, motivating the team to take up customer issues head on and tieing up good work with incentives might help in increasing overall productivity of the team.
Lack of Common Tools
The tools might differ from team to team. The tech team may use agile product management software while support team might work on live chat and ticketing software. The marketing team uses their own set of tools and there is no common ground for all of them.
You might want to look into software/services integrations to reduce manual tracking of work and seamlessly collaborate between teams.
Tracking of Process
It is highly important to track the entire process along with a pinch of the data analysis. Tracking becomes difficult as the customer issue takes round from one person to the other when multiple teams are involved.
You need to have the proper infrastructure in place to track the progress of each customer issue. Make sure to loop in the support agent responsible for the issue in every conversation concerning it. Also, it is healthy to have the entire history of conversations to look back on, if and when needed.
Repetitive Queries
Tech-savvy has become an old term. Nowadays, every company is becoming data-savvy. You need to keep track of customer queries coming in, analyze them and derive actionable input. You need to categorize your queries and work collectively towards reducing them.
If there are repetitive queries, make sure the marketing team improves the self-serve collaterals such as FAQs, documentation or the knowledge-base. Also, if a particular category is seeing a large influx of queries, you might want to rope in product and design team to have a holistic view.
Failing to Resolve the Issue
This is a niche scenario where your team is unable to resolve the customer issue. If the flaw is in the product, the tech and design team should work to improve it. The customer success team, meanwhile, can put in efforts to ensure the customer stays with you while other teams work on correcting the flaw.
There can be two aspects of it if there is an implementation flaw. First, your implementation guides or documentation is not up to the mark. In this case, the marketing team can pitch in an improve it. Second, if there are discrepancies in the way the customer has implemented your solution, the support team can give them a dedicated call (paid or unpaid, depending upon your business practices) to help them through integration. The marketing team can hereof take inputs from
In a highly unlikely event of unable to trace the issue and solve it, the customer success team can subtly provide a gift or extension of services to the customer.
It is really important to have an efficient cross-team collaboration to excel in customer support. But you can reap the long-term benefits of providing good customer support. So as they say; Best in class customer support is the only marketing you would need.
Well, there can be several other problems as customer support is a team multi-team sport. Do you have encountered problems in managing your customer support teams? Shoot in the comments below.
---

Subscribe here to get the good stuff — we solemnly swear to deliver top of the line, out of the box and super beneficial content to you once a week.
At Kommunicate, we are envisioning a world-beating customer support solution to empower the new era of customer support. We would love to have you onboard to have a first-hand experience of Kommunicate. You can signup here and start delighting your customers right away.