Last Updated on September 1, 2023
In a recent study by McKinsey, it was revealed that the healthcare industry is expected to create between $350 billion and $410 billion in value by 2025!
The emergence of technological advancements and connected healthcare has led to huge leaps in the healthcare industry. Today, we are in an era where healthcare services are much more transparent and accessible to the masses than ever before.

However, there are two sides to the same coin.
On the one hand, the demand for highly affordable and quality healthcare is on the rise. But, on the other hand, the demand far outweighs the rate at which the healthcare sector can keep up. The increasing demand for medical services means that healthcare practices will have to recruit a larger workforce and bring about major organizational changes, all the while struggling to remain sustainable. 
Despite all these efforts, the World Health Organization projects that the healthcare sector will still face a shortfall of 9.9 million healthcare professionals by 2030.
Entry of automation in Healthcare
Automation has been a game-changer for several businesses across industries. Redundant, manual, and time-consuming tasks that at one point took out major chunks of an employee's time were now handled much more efficiently and seamlessly with artificial intelligence-powered, elegantly designed solutions. Early adopters of automation included the IT, retail, manufacturing, and automotive industries.
Soon enough, healthcare followed suit.
The integration of AI and automation within healthcare increased staff productivity, enhanced patient connectivity, and improved efficiency.
The story was once again set to change when conversational AI-powered medical chatbots or healthcare chatbots made their appearance. Sure, several businesses were already using chatbots to power a number of customer-facing operations, but for healthcare, this meant something completely new. The ability to offer proactive healthcare services rather than reactive healthcare systems.
Before we dive into how medical chatbot revolutionized healthcare, let's first take a quick stab at understanding the term – medical chatbots.

What are medical chatbots?
A medical chatbot or a healthcare chatbot is nothing but a conversational AI-powered solution specifically designed to make healthcare much more interactive and proactive.
Medical chatbot are a blessing in disguise for the healthcare system since it minimizes the time spent by medical staff in collecting and processing patient information, disseminating healthcare-related information and guidelines, ensuring patient engagement, and more.
Healthcare chatbots act as the vehicle or medium between patients and their healthcare providers and can be designated as the very first point of interaction with a clinic, hospital, or any other healthcare organization.
Although medical chatbot are technically not a recent innovation per se, it was during the COVID-19 pandemic that such chatbots rose to fame. At a time when hospitals were dealing with a heavy influx of both symptomatic and asymptomatic, frantic patients, medical chatbots quickly became the single most used tool for disseminating clear and precise information.
Chatbots were also used for firsthand symptom assessment. This ensured that those patients at immediate risk were given the care they needed while patients with milder symptoms were systematically monitored from their homes, reducing the load on healthcare systems in general.
But, this is just a single instance of how medical chatbots are transforming the healthcare industry. Apart from providing critical healthcare information, healthcare chatbots have benefitted the industry in a number of ways. Here's a quick look at some of them.
How are medical chatbots giving healthcare systems an advantage?
1. Reduced waiting times
Most of you can probably narrate an incident or two when trying to book an appointment with your healthcare practitioner. You are on the phone for what seems like an eternity, your call being transferred among various departments and personnel, being put on hold before finally getting that appointment confirmed.
Or maybe you are booking your very first appointment, and the receptionist seems to be taking just too long to jot down your details.
One way or another, we have all been there.
And that's one of the biggest problems that healthcare chatbots are currently solving.
Today, a number of healthcare organizations are using medical chatbots to automate the entire process of appointment booking and collecting patient information. Through simple interfaces and precise statements, chatbots are capable of collecting basic information such as name, contact details, previous medical history, etc.
Patients can also easily book appointments through medical chatbots without going through hoops. All it takes is a few clicks, and voila! You have an appointment booked and ready to go.

At any hospital that you visit, it is a common observation that the reception, with its hundreds of phone lines and personnel manning these lines, is nothing less than chaotic. A medical chatbot like the one above is instrumental in cutting through this chaos.
And the best part is that these chatbots are capable of handling queries from multiple patients simultaneously, with precision, reducing the wait and response times which in turn contributes to improving the patient experience as a whole.
2. Reduced overhead costs
Healthcare chatbots possess the advantage of being available 24/7. Not to mention that they can handle L1 queries from patients with ease. This makes a huge impact when it comes to overhead costs.
Chatbots can efficiently replace human involvement when handling simple, redundant queries and is available round the clock means healthcare practices no longer need to hire additional staff to handle queries coming at odd times. This cuts down on all additional costs for these organizations. In fact, research shows that healthcare practices that implement medical chatbots can save up to $11 billion annually by 2023.
Now that's interesting. Right?
Advanced healthcare chatbots are even capable of identifying patient intent and guiding patients on the next steps accurately and seamlessly passing on all the relevant information to either an agent or a physician, whichever is the next step.
Case in point, Navia Life Care uses an AI-enabled voice assistant powered by Kommunicate for its doctors. It is HIPAA compliant and can collect and maintain patient medical records with utmost privacy and security. Doctors simply have to pull up these records with a few clicks, and they have the entire patient history mapped out in front of them.
The chatbot can collect patients' phone numbers and even enable patients to get video consultations in cases where they cannot travel to their nearest healthcare provider. Both practitioners as well as patients, can highly benefit from this implementation.
3. Disseminate critical medical information and guidelines with ease
During the COVID-19 pandemic, a number of healthcare organizations launched medical chatbots to ensure that the masses were correctly educated about everything they needed to know about the disease, its symptoms, when to consult a doctor, and so much more. This was instrumental in preventing misinformation as well as nationwide panic.

This is just one instance where a medical chatbot can be used to help the general public. There are a number of healthcare chatbots that are capable of providing information, diagnoses, and other information such as medications, dosages, tests, and more.
For instance, the World Health Organization launched a healthcare chatbot on its Facebook Messenger page with the goal of providing accurate and instantaneous information in multiple languages to the general public.
4. Anonymity:
There are many sensitive topics that a patient would rather discuss with a chatbot than with an actual human being. For instance, mental health is a very touchy subject, and many times, the patients may hesitate to open up to a medical practitioner.
A chatbot, on the other hand, is seen as non-judgemental and anonymous. So, a patient is more likely to open up to a chatbot and provide all the requisite information that a doctor needs to make an accurate diagnosis. This can also include other sensitive issues such as STDs and sexual abuse cases.
5. Be available for your patients 24/7:
One of the specific use cases of chatbots is that they are available for your customers 24/7. In case of a medical chatbot, they can be designed so that they are available for your patients even outside regular business hours.
Not all patients may be in a condition to approach a healthcare practitioner during their working timings, and they may need to be reminded about their regular health checkups. A chatbot can be programmed to do exactly this, and much more.
Chatbots can show patients doctor's availability, giving both patients a better customer experience and doctors the reassurance that their slots won't go empty. This will ensure that there is a higher occupancy rate at your healthcare facility.
6. Act as prescription reminders:
Chatbots can be used to send patients personalized recommendations when it comes to their medications. Many times, patients forget the medications they are supposed to take, and a chatbot can remind them to take their medicines on time.
Clearly, chatbots offer huge advantages to the healthcare system. That being said, it is quite interesting to note that a number of practices have gone a step further and developed highly interesting chatbots serving equally interesting use cases. So much that we thought it would be a great idea to mention some of these here.
Interesting use cases of chatbots
Powered by Kommunicate, Pearl is a conversational AI-powered virtual assistant leveraged by Amgen, a multinational biopharmaceutical company, on their website. Pearl is fully equipped to interact with patients and assess their symptoms to provide a correct diagnosis.
The chatbot has been implemented in multiple languages and is fully capable of providing detailed information regarding dosing, prescriptions, safety instructions, etc. The chatbot can also provide patients with all the information on medical products recently released by Amgen.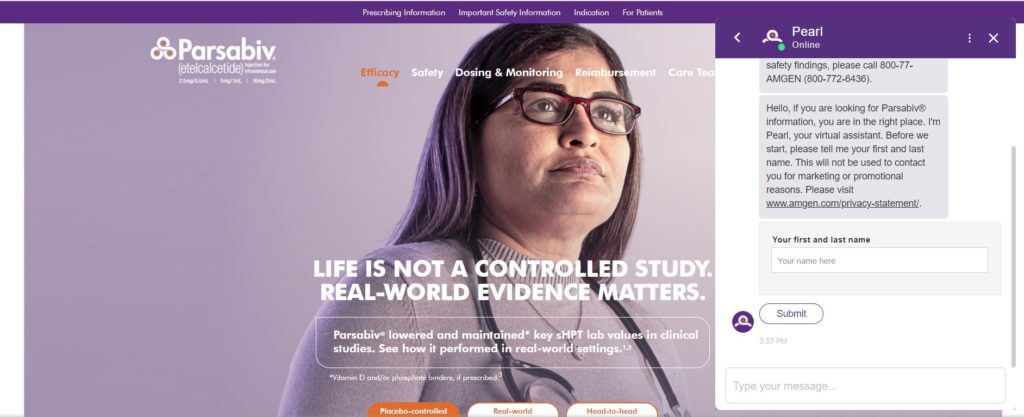 Today, we are in an era where we finally realize the importance of mental health. We are now much more aware of how important it is to be on track with our emotional health.
Youper, a popular online mental health service, realized that medical chatbots could potentially be used to continually monitor their patients' emotional wellbeing. Through personalized conversations and mood trackers, Youper's mental health chatbot works on improving a patient's mental health.
The chatbot is even capable of constantly learning from its interactions with users so that it can fine-tune the patient experience with every interaction.

Built by a non-profit, the Cancer Chatbot is aimed at helping cancer patients, caregivers, and their associated friends and family to get all the information and resources they want on cancer.
From care-giving tips to understanding how to handle someone who has just undergone chemotherapy to other free services, the chatbot is instrumental in trying to make the lives of affected patients and families easier.
The fact is that while these are some of the use cases we've picked and chosen, there are still a large number of such healthcare chatbots that are performing highly complex use cases for the healthcare industry.
If you'd like to know more, take our latest article on the top use cases for healthcare chatbots for a spin!
As we explore the potential for healthcare chatbots and their wide range of applications, it makes sense to also come back to one of the most basic yet important questions that we should be asking. And that's what we're going to cover next.
Navia Life care is an AI enabled voice assistant for doctors. The app makes it easy for front office managers by automating most of their work. From Queue management to appointment booking, this AI powered app has got you covered.
The app claims to have reduced wait time by as much as 80%. Patients can even book video appointments without having to download the app, making it one of the most friendly solutions in the market. The chatbot for the app, powered by Kommunicate, is primarily used to collect phone numbers. Using these phone numbers, the support team at Navia can ensure that no lead that visits the app falls through the cracks.
How do you develop a medical chatbot?
The first thing that probably comes to mind when we are talking about building or developing a chatbot, especially one designed for healthcare systems, is – How am I going to develop such a chatbot? Isn't it going to be complex and time-consuming? Maybe I need to start working with my developers to understand how or even if they can build out such a chatbot.
At the outset, building a chatbot sounds like a lot of work. More specifically, it sounds like a job for someone who lives and breathes code. This means that even if you have all the reasons to build out your own healthcare chatbot, it just involves a lot of collaboration with your technical team to actually go ahead and implement it.
And you would have been right up until a couple of years ago.
But not today.
A number of companies today have found a way to answer the question of how do I develop a medical chatbot with reasonable ease.
For instance, Kommunicate, an intelligent customer support automation software, has outlined a very simple and easy-to-follow process to build a healthcare chatbot for your organization.
And the best part?
They have developed an ecosystem where you can build your own chatbot in a matter of minutes with zero code!
Kommunicate uses a drag and drop system to enable its users to pick and choose the elements of their choice and define the rules and procedures they want their chatbot to be defined by. You can define everything from the welcome message to how you want answers to be framed to even small talk!
In fact, they even have a detailed guide to developing your own healthcare chatbot and even some templates to make it that much easier for you!
However, there are two aspects to building a chatbot.
How to develop a healthcare chatbot
The costs associated with building a healthcare chatbot
As we've seen, building a chatbot is no longer a complex process. You can easily get started with something simple and then scale as per the needs of your organization.
But what about the costs incurred in building and implementing a chatbot?
What are the costs associated with building a chatbot?
Depending on the type of healthcare chatbot, the use case, the kind of audience it caters to, and how you plan to scale it, the costs involved in building a medical chatbot vary with every case. It is also important to note that costs can vary depending on the customizations you choose.
Here's a quick look at some of the critical aspects that factor into the cost of building a healthcare chatbot:
1. Custom development vs. DIY approach
Both custom development as well as the DIY approach has their own advantage. While the DIY approach would help you save on pricing, it can be challenging and time-consuming when it comes to building advanced functionalities and customizations. However, for a business just starting out and having very minimal requirements from chatbots, the DIY approach is a good way to test out the waters.
When it comes to custom development, there are a number of third-party vendors that can assist with creating chatbots for almost any use case and with customizations of your choice. Many of them also offer flexible pricing in terms of subscriptions.
For instance, Kommunicate, a customer support automation platform, allows you to easily create and implement healthcare chatbots with their truly codeless bot integration capabilities.
Here's a rundown of some of their most poignant features.
Simple, easy-to-use, intuitive interface wrapped over powerful conversational AI.
A comprehensive dashboard to efficiently manage conversations and offer better support by leveraging user information.
Powerful analytics to enable you to make better decisions and monitor bot performance.
Tons of customization options to better align your chatbot with your business needs and brand requirements.
Capability to integrate with your favourite services.
Excellent customer support.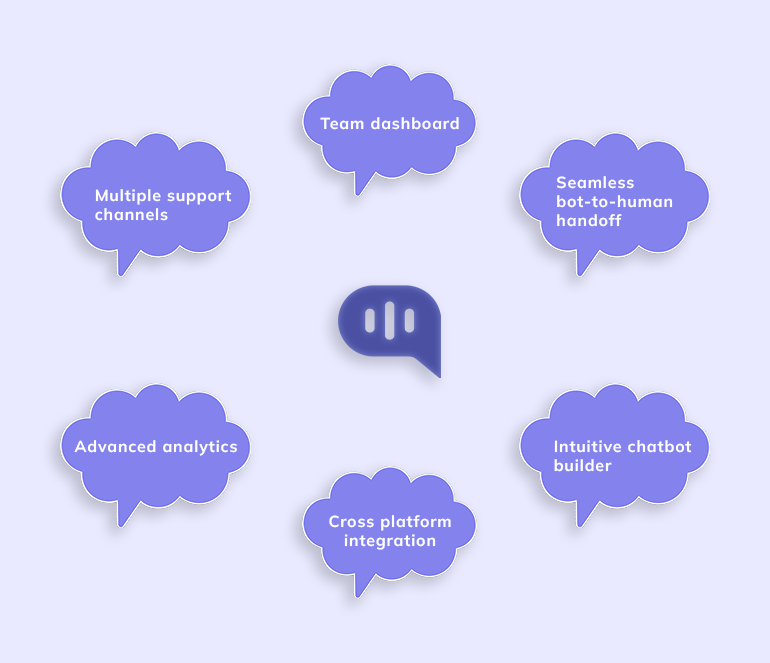 Kommunicate also has some flexible and customizable subscription plans that are suitable for healthcare practices in different stages of growth. Each plan offers you unlimited chatbots, readily available customer support, and a free trial for 30 days so that you can test out the waters, no strings attached!
Additionally, you can even connect to their customer support automation experts to figure out the best plan for your business.
2. Complexity of chatbot use case
Different healthcare businesses have different use cases for healthcare chatbots. Chatbots can be leveraged to collect patient information and data, set appointment reminders, assist healthcare professionals, disseminate important medical information, or simply offer patient support.
With each use case, the complexity of the chatbot changes, and so does the pricing.
An FAQ bot to answer simple questions will cost far less to build than a chatbot to assess a patient's symptoms and offer detailed instructions on what to do next.
Similarly, costs can also vary depending on business goals.
3. Integrations and supported platforms
Your healthcare business is likely to be available on multiple channels such as websites, Facebook, WhatsApp, etc. Depending on the channels where your patients come from, you can choose to implement a chatbot on all these channels or only on the channels with the highest traffic. Either way, as the number of supported platforms goes up, so does the cost of building a chatbot.
In the same manner, your healthcare business may use a number of software solutions to manage functions like HR, accounting, sales, and more. You may need to integrate your chatbot with such a platform which will again add to the cost of building one.
These are just a few factors that can influence pricing. However, despite all the costs incurred, implementing a chatbot can save countless hours and cut down on overhead costs, thus ensuring a significant ROI.

The future of healthcare chatbots
With the way technology has advanced, it is no surprise that chatbots are one of the fastest-growing communication channels today. And going by how rapidly the healthcare industry is adopting medical chatbots into their tech stack, it is safe to say that chatbots are here to stay.
In the last couple of years, we've already witnessed some great innovations when it comes to healthcare chatbots. What we would've once thought impossible is now a reality.
The truth is that chatbots have been helping healthcare systems solve some of the biggest challenges with ensuring affordable and transparent healthcare.
There has been a significant impact on multiple areas of healthcare, such as staffing, providing real-time, instantaneous medical advice or instructions, enabling better channels of communication for mental well being, and so much more.
Additionally, the advantage of cost savings and higher ROI means that we will be seeing a much larger and more strategic transformation in healthcare over the coming years with respect to AI-enabled systems.
Spending on medical chatbots and innovations is highly likely to increase. There is going to be a sharpened focus on holistic automation systems which will ultimately lead to highly personalized and intuitive healthcare systems and practices.
---
At Kommunicate, we are envisioning a world-beating customer support solution to empower the new era of customer support. We would love to have you onboard to have a first-hand experience of Kommunicate. You can signup here and start delighting your customers right away.