Last Updated on March 20, 2023
About Taxbuddy
Taxbuddy is an online tax filing service that helps you file your tax returns and also provides a plethora of other tax-related services in India, making it one of the most trusted brands when it comes to tax filing.

The challenge
Why did Taxbuddy start looking for an online chat option on their website? What were their major pain points?
Answer: Taxbuddy's initial approach was to give its visitors a form to fill, but they soon realized that this process was cumbersome to end-users. The users were calling their Chartered Accountants and sending all the files to the CA via email / WhatsApp.
When the CA had any questions/ queries that needed to be resolved, it was best done through a chat interface, and this is where Kommunicate stepped in. Having a chat interface meant that users could interact with the website at their convenience, and this amount of flexibility was appreciated by both the end-users and the CAs.

Kommunicate and Taxbuddy
Taxbuddy wanted a solution that would accept pre-selected documents from their users using the Taxbuddy mobile app but with a chat-like interface. In case the customers had any queries, Taxbuddy wanted to interact with the customers using a dashboard. TaxBuddy also wanted a basic integration with their backend systems so that their user documents are tagged properly and their officers could process them.
Kommunicate was the perfect partner for Taxbuddy since we had a robust chatbot solution that could solve all of Taxbuddy's problems. Filing a tax return is a tedious process, and requires a perfect mix of human assistance and automation.
With Kommunicate, where the bot could handle the repetitive queries, and the CA would step in only when needed, Taxbuddy was able to create the perfect team of CA and bot.
The Kommunicate bot handled all the details, such as uploading the PAN card, uploading tax details, etc. The users took photos of their documents through their mobile phones and uploaded the PDF files, and the Kommunicate bot was able to process these images smoothly without any major glitch. The TaxBuddy team also wanted to load their web app faster, a promise that Kommunicate delivered on.
WhatsApp integration – One stop solution for TaxBuddy
Since its inception, a portion of TaxBuddy's support team was using WhatsApp to talk to its customers, while the other half was using Kommunicate. The major challenge with this approach was that TaxBuddy had to deal with two different sets of data – the Chatbot data and WhatsApp data.
In 2021, Kommunicate completed WhatsApp integration for TaxBuddy. Now, all of TaxBuddy's Customer data was in one place, and Team Kommunicate made life that much easier for the agents at TaxBuddy. It did not matter if TaxBuddy's customers chatted with them on the FaceBook page or sent them messages on WhatsApp, mobile, or the website. Kommunicate's chatbot was the one-stop solution for all of TaxBuddy's needs.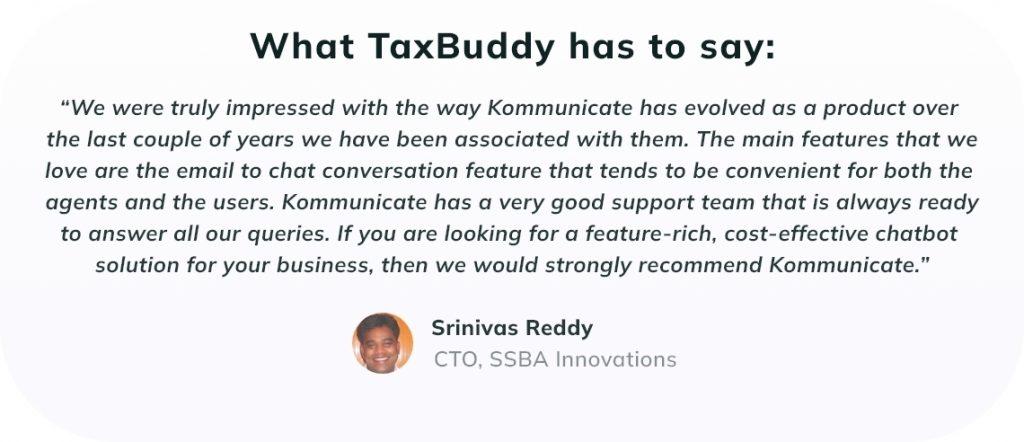 ---
At Kommunicate, we are envisioning a world-beating customer support solution to empower the new era of customer support. We would love to have you on board to have a first-hand experience of Kommunicate. You can signup here and start delighting your customers right away.