AI Chatbot Platform with Human Heart
Build NLP-powered support bots for web and mobile to delight your customers everytime, everywhere.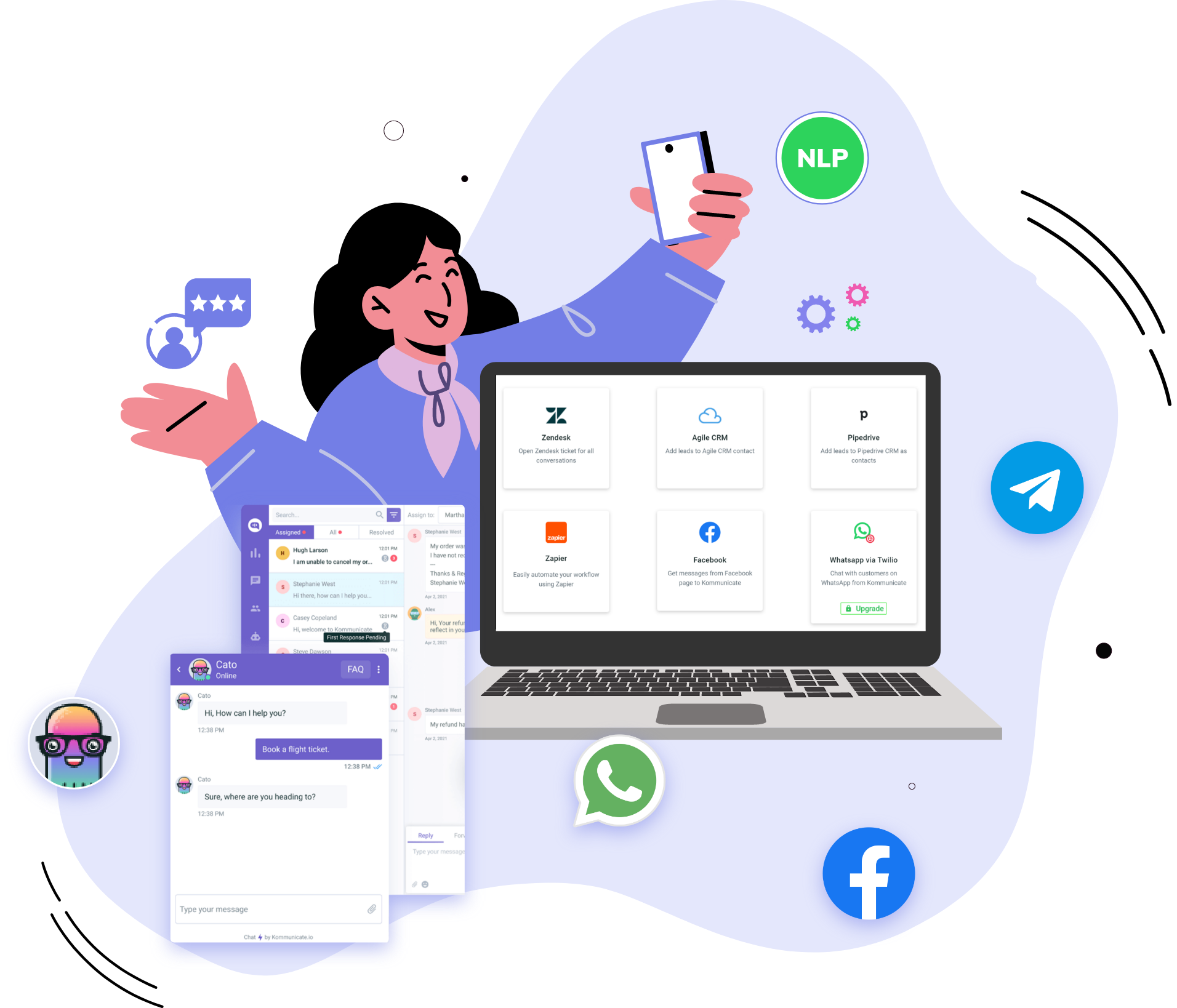 Trusted globally by leading enterprises and growing startups
AI chatbots and smart automation
Do more with bots and automation and let your team concentrate on what only humans can do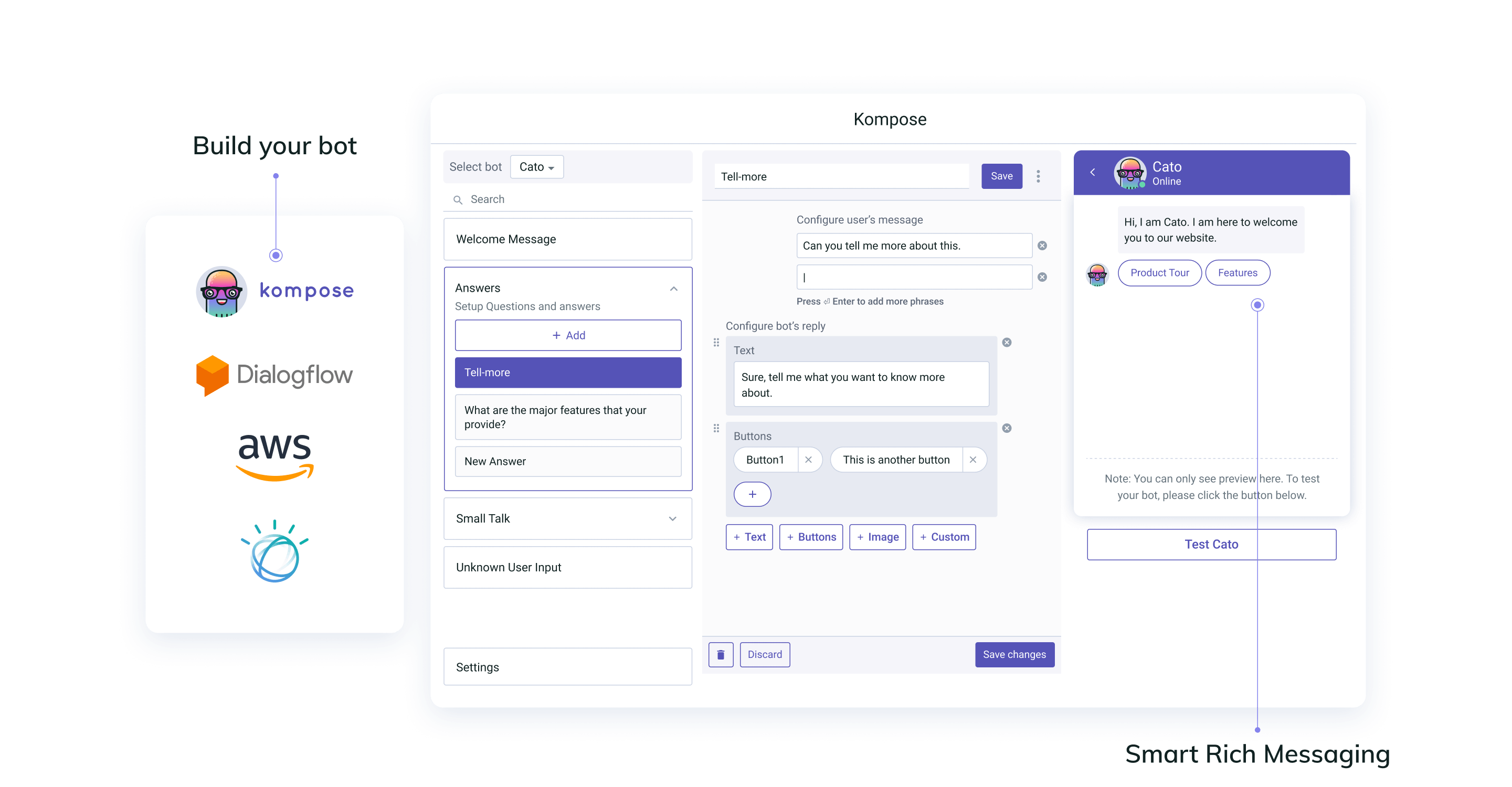 Codeless Bot Integration
Codeless-ly integrate popular bot-builder platforms such as Dialogflow and Amazon Lex.
Kompose
Make custom bots for your business with our no-code, GUI bot builder powered by conversational AI.
Generative AI
Instantly train your bot on website URLs, documents and helpcenter with OpenAI's GPT4 model.
Webhooks & API
Create advanced workflows and exchange data with your database to perform dynamic actions.
Bot-human Hand-off
Automatically hand-off the conversation to humans if the bot is unable to answer.
Smart Rich Messaging
Use a plethora of rich messaging templates for an exquisite customer support chat experience.
Conversation Auto-resolve
Reduce redundant tasks such as manually resolving dormant conversation using automation.
Custom Bots
Easily integrate custom-made bots or bots made on any popular third-party platforms.
Much more than just live chat
Intelligent, user-friendly and beautiful chat for lead generation and customer support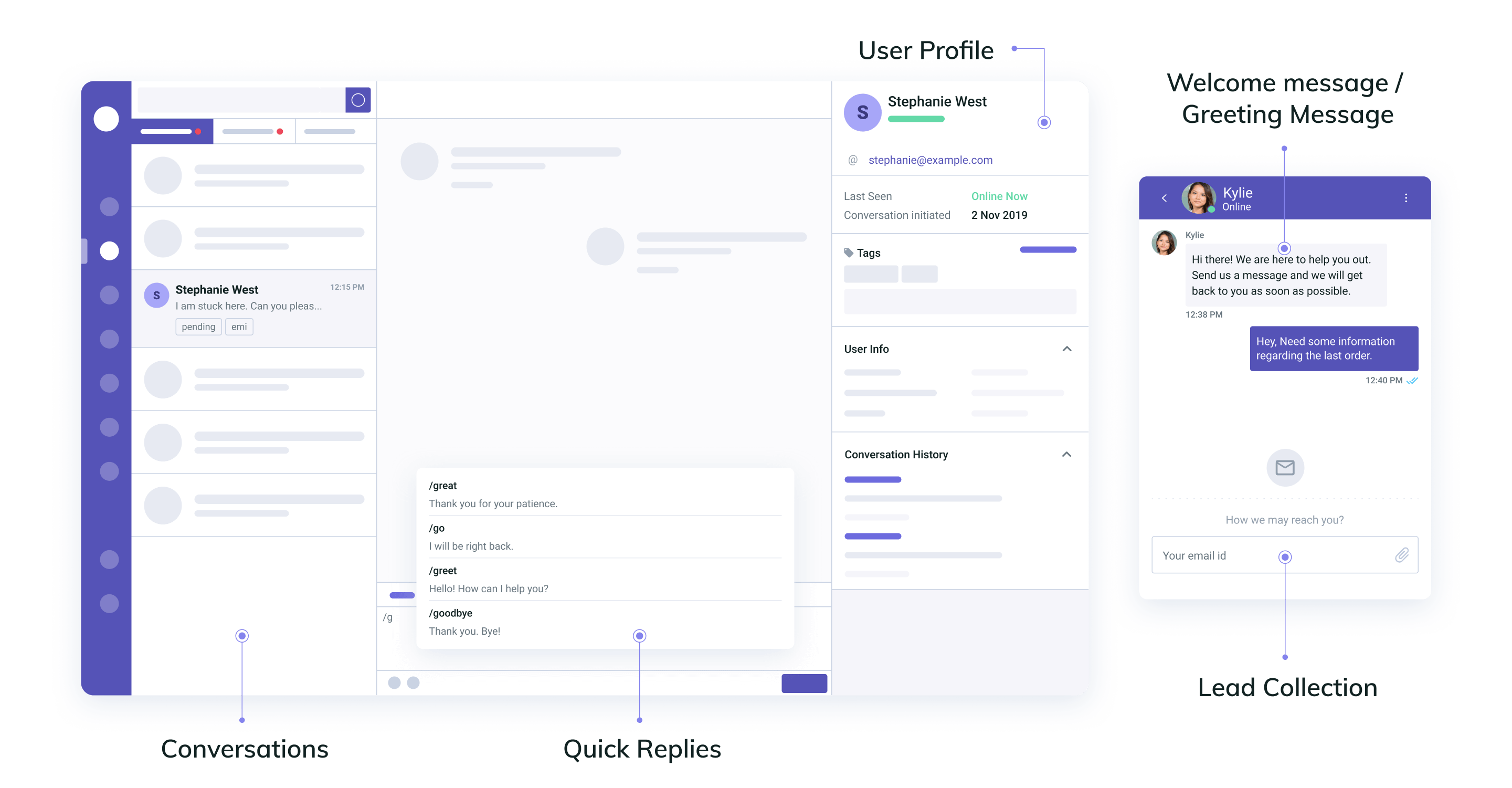 Lead Collection
Never let a lead slip away and gather contact details by using in-chat Lead Collection forms.
Welcome Messages
Create custom and conditional Welcome Messages to and send it to your visitors automatically.
Away Messages
Always be present for customers even when your agents are offline by configuring Away Messages.
Your Branding
Add your brand identity and color, and customize the chat widget to make it your own.
Greeting Messages
Greet your users automatically to drive conversations when they browse your website.
Quick Replies
Set up instant responses for repetitive and common queries to reduce response time.
Push Notifications
Set up interactive alerts for both your agents and customers for new messages in conversations
Fallback Emails
Get notified through email if you miss any messages from your users and vice versa.
Customer support for modern teams
Accelerate your customer support with the power of all-in-one support platform
Dashboard
Easily manage, reply and resolve your customer conversations using the Dashboard.
Conversation Transcripts
Automatically send the chat transcript of the conversation to your users and your teammates.
CSAT Ratings
Measure and analyze customer satisfaction and feedback using Customer Satisfaction ratings.
Conversation Routing
Select automatic or manual routing rules to assign the conversation to your agents and bots.
Team Roles
Manage your team, and assign roles and access permission level to each of your agents.
Omnichannel Support
Manage customer request from live chat, email, chatbots, social media at a single place.
Tags
Add Tags for better classification and categorization of your customer conversations.
Helpcenter for customer self-serve
Set up your FAQs and knowledge-base articles to let your customer help themselves
No-code FAQ Page
Deploy a FAQ page on your website and add/remove FAQs without using any code or CMS.
Articles and FAQs
Create articles and FAQs for generic and recurring customer queries using a rich editor.
Categories
Manage and segregate your articles and FAQs effectively by using categories.
Customization
Customize the theme, title, and logo to match your brand identity and make it look your own.
In-chat FAQs
Let your users access all your articles and FAQs in the chat widget with the click of a button.
The Answer Bot
Connect your Kompose Bot to Helpcenter to answer your customer's queries by fetching answers from your articles and FAQs.
Customer Support Reports and Analytics
Optimize your support efforts by tracking, measuring, reporting and analyzing the data
Reporting Dashboard
Get a holistic view of your overall team performance using a robust reporting dashboard.
Agent-wise Reports
Analyze and act upon each agent's performance using granular agent-wise reporting.
Bot Analytics
Analyze and improve the performance of your bots by using the actionable bot reporting.
Optimize Support Metrics
Track and optimize essential support metrics such as response time and resolution time.
Weekly Reports
Get automatically generated weekly progress reports delivered straight to your inbox.
Downloadable Reports
Download complete reports in editable formats for sharing and your own data analysis.
Insights
Analyze and improve your bot by learning which phrases are going unanswered by your chatbot.
CSAT Ratings
Keep track of your customer overall satisfaction and your team's performance.
Developer friendly installation for all your platforms
Fast, multi-platform, secure and scalable tech infrastructure for businesses of all sizes
Universal Plugin For Websites
A light-weight and versatile JavaScript plugin for integrating chat widget on your website.
Native SDKs
Integrate Kommunicate in your apps with powerful and customizable Android and iOS SDKs.
Hybrid SDKs
Powerful and easy-to-integrate Hybrid SDKs for Ionic, Cordova, ReactNative and Flutter platforms.
Agent Apps
Android and iOS apps for your agents to reply to the customer conversations on the go.
Platform APIs
Build customized customer support workflows your way using our Platform APIs.
Stay Connected With Third-party Integrations
Connect your favorite apps and easily move data to-and-fro from Kommunicate
Zapier
Connect with over 2000+ apps and make your workflows using Zapier integration.
CRMs
Manage your contacts well using most love CRMs such as Zendesk and AgileCRM.
Google Analytics
Improve your support by tracking how your customers are interacting with your chatbots.
Bot-builder Platforms
Integrate bots made using bot-builder platforms such as Dialogflow, Amazon Lex and IBM Watson.
CMS
Hasslefree live chat for popular CMS such as WordPress, Squarespace, Wix, and Shopify.
eCommerce Stores
Add live chat and chatbot plugin for your Shopify, BigCommerce, and Magento stores.
Omnichannel
Manage all your customer messages from Whatsapp, Facebook and Line in one place.
Kommunicate for Enterprises
Scalable chatbots, automation, and customer messaging for Enterprises
SSO
Log in to Kommunicate with SAML SSO using Microsoft Azure or other identity providers.
Data In Your Region
Choose the region where you would like to host your customer conversation data.
Secured Solution
Compliant with major privacy laws with the utmost respect to security and privacy.
Scalable Infrastructure
Scale your support easily with seamless handling of higher peak connections and MAUs.
Custom Reporting
Custom reports and analytics especially curated for you based on the requirement.
Dedicated Account Manager
Dedicated account manager for customer support, proactive health checks, and training.
API access for deeper level integration
Get more control by creating custom workflows and processes with Kommunicate APIs.
Custom Roles
Create custom roles and manage permissions according to your unique requirements.