Digital Patient Experience Powered by Conversational AI
Healthcare AI Chatbot for appointment scheduling, telemedicine, preventive care, lab test, Insurance, and feedback collection. Provide seamless patient experience.
Try for Free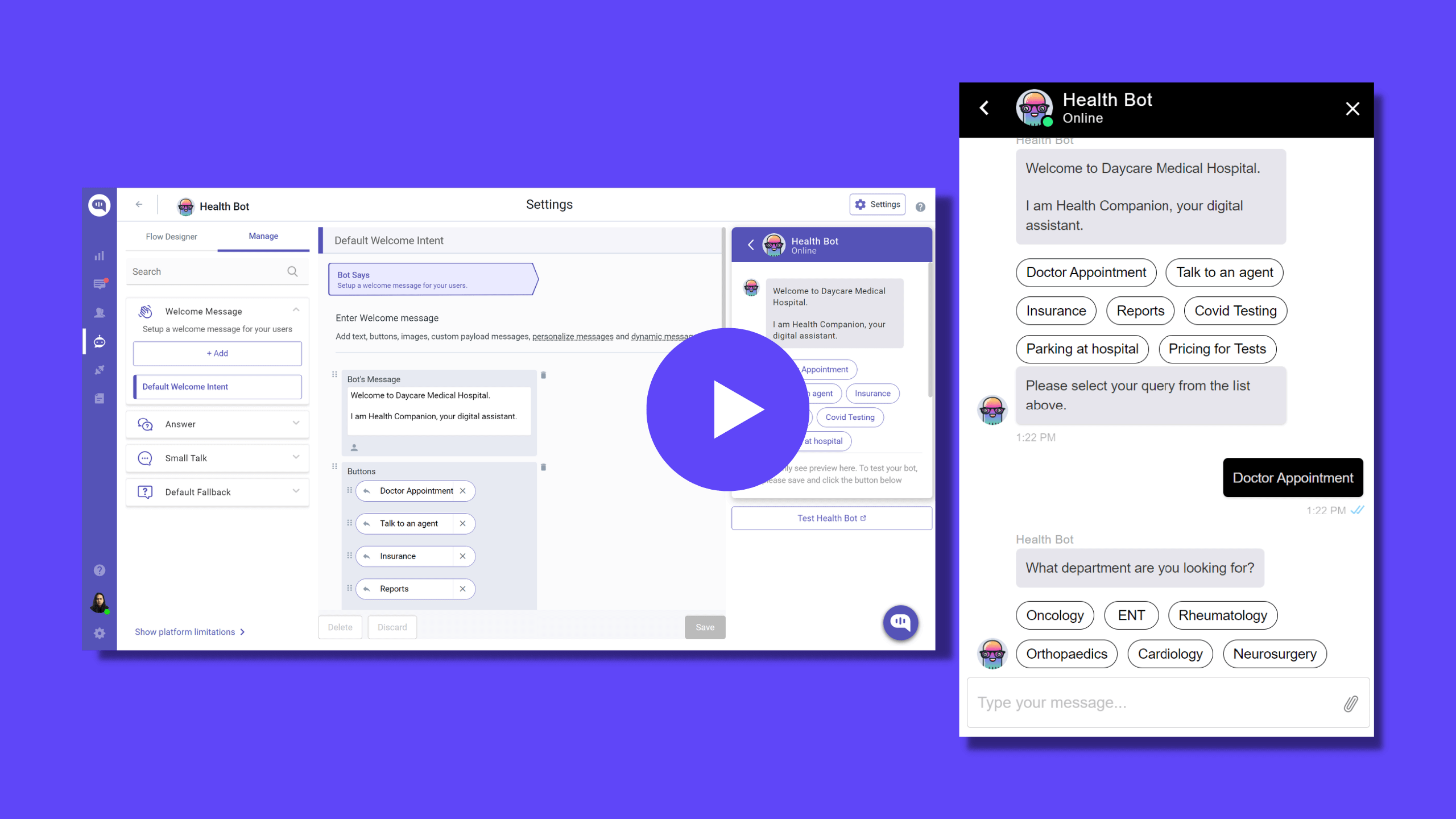 Raphael Muia
(BIS Developer & PD - AMREF)
"The Kommunicate bot is reliable and we have never faced downtime since the bot was integrated into the AMREF system. Reliability and Support are key aspects that you expect from a chatbot solution provider, and team Kommunicate delivers on both fronts."
- Raphael Muia (BIS Developer and Process Designer - AMREF)
World's leading healthcare organizations use Kommunicate
Here's what our customers have to say
Telemedicine
Telemedicine AI bot for digital patient consultation, remote patient monitoring, and secured storage of personal data, all using a single platform made specifically for the healthcare industry.
Kommunicate's conversational AI solution enables healthcare providers to deliver virtual care services to their patients with its AI chatbots.
Healthcare companies can provide real-time consultation to patients ensuring a faster diagnosis for quicker recovery. Kommunicate's telemedicine AI bot helps doctors to observe the patients in their environment to suggest best practices. The telemedicine AI chatbot further helps collect payments for the consultation, eliminating any human involvement. The telemedicine AI chatbot ensures a seamless experience for all patients 24/7 round the clock. Kommunicate's telemedicine AI Chatbot uses state-of-the-art Natural Language Understanding (NLU) to extract entities like location, time, disorder, drug or findings. It also uses machine learning to match user questions to provided FAQs.
AI Chatbot for Doctor Appointment Booking
AI Chatbot for doctors, clinics and hospitals to automate appointment scheduling, pre-screening, symptom checking, and providing relevant information.
Conversationally interact with your patients, gathering necessary information such as the patient's name, preferred date and time, and reason for the appointment. Kommunicate's AI-powered medical chatbot can check the availability of doctor's schedules and book appointments accordingly, eliminating manual intervention. Drive more revenue by booking more appointments.
Only 26% of healthcare providers give the option to book online appointments; the rest lose out on an excellent opportunity for revenue generation.
Deploy Kommunicate's AI chatbot to ask patients specific questions to gather information about their symptoms or medical conditions. Based on the responses, the chatbot can provide preliminary advice or triage patients to the appropriate medical specialist, ensuring they receive the most suitable care.
Our integration with EHR systems allows the AI chatbot for healthcare to access patient records and retrieve relevant information during the appointment booking process. This enables a more personalized experience and allows the chatbot to ask targeted questions based on the patient's medical history or previous visits.
Delivering prescriptions and lab test reports
Real-time sharing and downloading of medication prescriptions and lab test reports by AI Chatbot for Healthcare on WhatsApp, Facebook, Instagram, Telegram, and more.
Kommunicate's AI Chatbot can help deliver prescriptions and lab test reports by streamlining the process, reducing human errors, and improving customer service. Kommnuicate's AI chatbot for healthcare can securely deliver lab test reports to patients through messaging platforms such as WhatsApp, Telegram, and Messenger or within a dedicated patient portal. Patients can access their reports conveniently, review the results, and seek further guidance.
The AI chatbot can also help simplify the request process of new prescriptions or tests, allowing patients to request them quickly and conveniently. Additionally, the healthcare AI chatbot can collect and store patient information to track patient health histories and medication history, creating a more efficient record-keeping system.
The AI chatbot can further assist in interpreting lab test reports, providing patients with explanations of various parameters, highlighting abnormal values, and offering general guidance. They can also answer frequently asked questions related to specific lab tests.
Kommunicate's healthcare AI chatbot can recommend appropriate actions or provide instructions based on the test results. For instance, if a lab report shows abnormal cholesterol levels, the chatbot can suggest lifestyle changes or follow-up appointments with an available consultant
Reminders and Notifications
Reduce no-shows for appointment bookings with reminders and notify patients to take medicines at prescribed hours. Keep them informed, gain their trust with constant communication.
Kommunicate's AI chatbots can send automated reminders to patients when it's time to refill their prescriptions or take medication, helping to improve medication adherence.
Patients can interact with AI medical chatbot to request prescription refills or submit new prescription requests. The AI medical chatbot can collect necessary information, such as medication name, dosage, and pharmacy details, and relay this information to the consulting doctor for review and approval.
Kommunicate's medical AI Chatbot can provide real-time updates on the status of prescription requests, informing patients when their prescription is ready for pickup or when it has been sent for home delivery.
The medical AI chatbot can also collect patient-reported data about symptoms, vital signs, or other health-related information. This data can be used to monitor patients' conditions remotely and trigger alerts to consulting doctor in case of any concerning trends or abnormalities.
CSAT Ratings
Capture patient feedback on the chatbot, WhatsApp, Telegram, Viber, or any other messaging app. Give them the ease of sharing feedback.
Kommunicate's AI chatbot for healthcare can help improve CSAT ratings by providing a more efficient and personalized experience to patients.
They can provide faster and more accurate answers to common questions, automate simple tasks, and proactively offer relevant advice to patients. This increased efficiency in patient interactions will lead to higher customer satisfaction ratings, an essential metric for healthcare organizations.
Insurance
Give your patients hassle-free insurance services with Kommunicate's AI chatbot for insurance.
Kommunicate's healthcare AI chatbot can help in insurance selling by providing detailed information about insurance policies and assistance with purchasing, such as helping customers compare quotes and answer questions about coverage. They can also help increase sales by offering personalized recommendations based on data about a customer's lifestyle and needs. AI Chatbots can also help streamline customer service processes, helping to reduce wait times and improve customer satisfaction.
Kommunicate's healthcare AI chatbot can help insurance companies significantly reduce the time and cost of processing claims. By leveraging Kommunicate's powerful NLU, the AI chatbot can interact with customers to collect all the necessary information required to process a claim accurately. This data can then be easily integrated into the company's existing processes and systems, allowing them to efficiently and quickly resolve customer requests. This drastically reduces phone and email support needs and allows customers to self-serve their insurance claims online.
Try for Free
Domain-specific expertise - pre-built for you
96%
Queries handled by chatbot
300%
Return on Investment
100%
Improvement in First Response
$20,000
Saved on Contact Centre Spending
Know that
You are in
Good Hands

Reach out to your customers where
they are active the most
Optimize and automate
your patients' overall
healthcare experiences