Last Updated on March 23, 2023
The global gaming industry is huge. And by huge, we mean, extremely, extremely huge.
The global gaming industry was valued at $202.6 Billion in the Year 2021. With an expected Compounded Annual Growth Rate (CAGR) of 10.7%, we can expect this number to hit a trillion by 2030.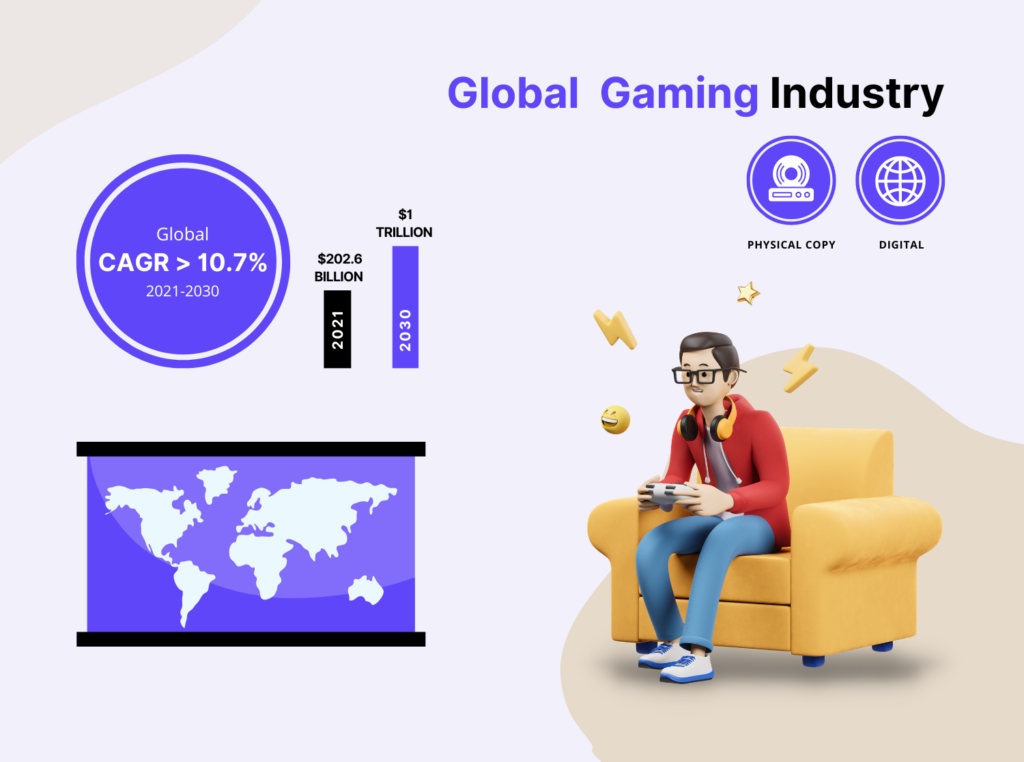 When one of the giants in the industry faced a challenge in the form of increasing support queries, Kommunicate stepped in to answer the Call of Duty (No pun intended).
This is the story of how BlueStacks and Kommunicate came together to solve the problem of providing lightning fast customer support, to gamers all around the world.
About BlueStacks
BlueStacks has been in the gaming industry for over a decade now. Founded in 2011 in Silicon Valley, the company slowly evolved into one of the biggest mobile gaming platforms in the country. Today, BlueStacks has a base of over a billion gamers from 100 countries around the world.
BlueStacks has 400 employees across 20 plus offices in different countries around the world. The company's aim was to ensure that the gamers have the best customer experience possible. The aim was to also reduce the dependency on live agents who could not be available 24*7.
This is when they decided to go with a Kommunicate chatbot.
How Customer Support has evolved in the Gaming industry
Before we dig deeper into how BlueStacks solved their problem of automating customer support, let us see how the customer support function has evolved in the gaming industry.
We spoke to a Technical Support Manager at BlueStacks to understand the challenges that they face on a daily basis.
According to Kristopher Rattansingh, "There has been a change in the dynamics of how customer support is done. Initially, people were getting an automated response and did not have great expectations from customer support. When our customers saw that we were manually handling their queries, and added a level of personalization to the experience. We observed that people were more responsive, appreciative and willing to work with us collaboratively to solve their problems.

As for evolution, the major disruption in our industry was COVID. We saw a greater adoption of our product, and a lot of users using our product at the same time. We quickly realized that we needed to revisit the number of people we had doing customer support. Many companies started seeing a market deficit, and we had to meet customer expectations while maintaining our standards of providing superior customer support."
The impact of Artificial Intelligence:
AI has been extremely useful to BlueStacks. There was some initial legwork necessary in the form of programming and code customization. This was so that the BlueStacks Platform and the chatbot builder chosen could work together easily. AI is used to handle many of the responses and BlueStacks sees a lot of potential in this field.
This is the reason why the company is planning to invest more time and resources into using AI to resolve issues faster. The chief area in which AI scores is the ability to provide instantaneous response to customer queries. This is something that is really difficult for human agents to emulate.
AI is able to gauge what the customers are looking for, learning from previously stored answers. Chatbots are a huge part of how AI is augmenting the support function of these gaming companies. BlueStacks, a progressive gaming platform, wants to be at the forefront of this revolution.
Chatbot as a solution – Finding Kommunicate
By this time, BlueStacks knew that they wanted to implement a chatbot on to their systems to handle the ever increasing support queries. There were 2 reasons to do this:
Reason 1: BlueStacks had a customer base that was ever-growing, and they needed to augment their customer support function. They wanted to have a solution that would respond to customers instantaneously, reducing the manual effort required.
Reason 2: BlueStacks wanted to cater to audiences who had different preferences. Some of the customers preferred live support, while others preferred to find a solution on their own. Repetitive queries did not require the expertise of a dedicated support executive, and so, a chatbot was the perfect solution.
So the technical team asked all their peers to recommend a chatbot builder that had expertise in solving this particular problem. Kommunicate was chosen after a referral.
Kommunicate's Integrations – Setting the chatbot builder apart
When BlueStacks chose Kommunicate to build a chatbot for their website, integration was the biggest plus point. Once they started integrating the bot, especially in the trial phase, the team was super responsive.
BlueStacks quickly realized that Team Kommunicate not just had the expertise to build bots. The team was also ready to put in the time and effort required to find answers to questions that were difficult.
Even if a particular solution was not provided out of the box, the team was keen to learn and then build that capability in the backend. BlueStacks knew they were in good hands and the relationship between the teams has only mushroomed in the last 2 years.
Why BlueStacks recommends Kommunicate
Ease of integration is the number one reason why BlueStacks recommends Kommunicate to any technology partner looking for a chatbot solution.
The second reason why BlueStacks liked working with Kommunicate was the ever helpful support team, who worked all hours of the day and night to make sure the bot was up and running.
And lastly, Kommunicate's pricing is very competitive, making it the obvious choice for BlueStacks to go with.
By the numbers:
Since Feb 2020, BlueStacks has been using Kommunicate on their website to automate responses to their customers, and the stats are impressive, to say the least.
The Kommunicate chatbot has processed over 4.3 Million messages to date, and over 130,000 conversations have been resolved by the bot, saving over 300 hours every month.
Conclusion
If you are considering a chatbot for your growing gaming company, the timing has never been more perfect to invest in a chatbot. Automating customer support means leaving your support team to handle more complex queries for premium customers, just like the way BlueStacks used Kommunicate.