Last Updated on October 27, 2023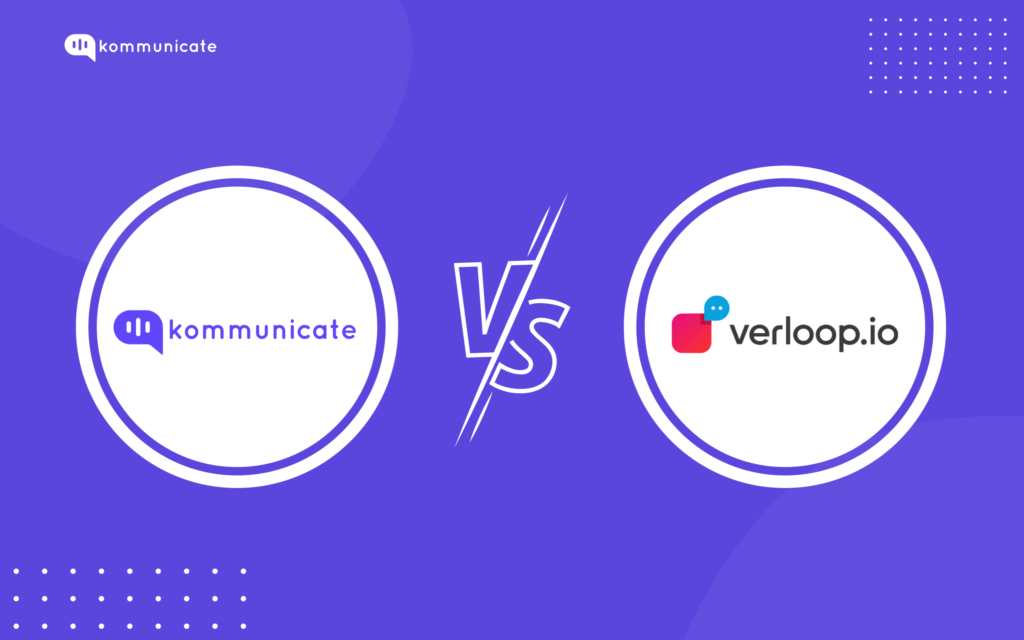 Okay, we don't like to brag (at least a lot), but over the past few years, we have built a pretty darn good product.
Hey, it's not without reason that G2 names you one of the best performers in the grid report for Bot platforms.
And then there is our humble competitor, Verloop.io.
Verloop has been around a tad longer than us (founded: 2015) and is a market leader in its own right. So can you compare 2 platforms, both solving the same problem and both aiming at the same target audience?
Turns out you can.
In this blog post, we compare Verloop.io with Kommunicate.io, to see which platform comes out on top when it comes to automating your customer support.
So, Kommunicate v/s Verloop. Let's go.
Parameters:
We are comparing both the platforms on the following parameters:

1. Signing up:
This is the first step in trying out a product, and it has to be a friction-less experience. You know that you want to automate your customer support, and have decided to give one of these players a chance.
i) Kommunicate
Kommunicate has a neat signup page that asks you for some basic information about you and your business before allowing you to access the platform.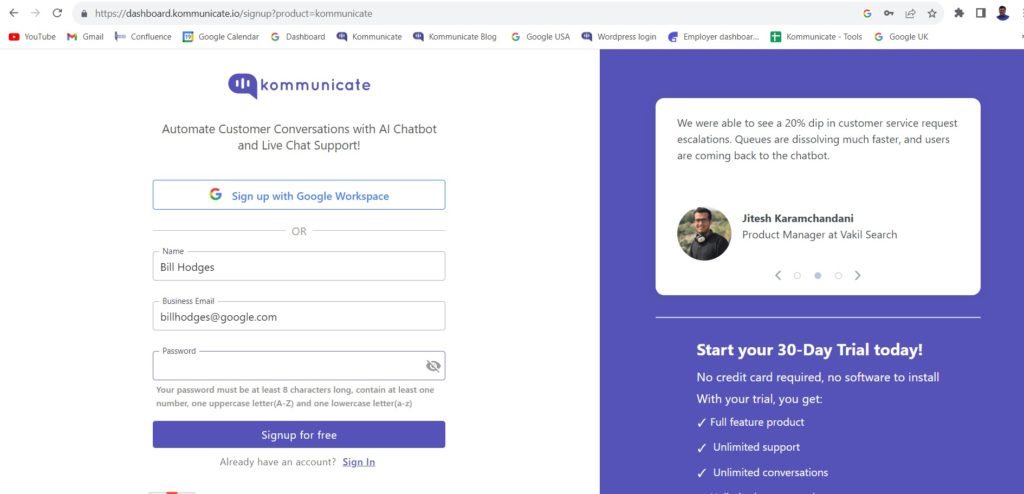 There is no option to sign up with a Gmail account though, but the company does offer you an option to sign up with a Google Workspace account ($6/user/month). So there is no free signup if you are a Gmail user, or a student building hobby bots.
But if you are a serious business owner, you might as well sign in with your business account, and enjoy all the features of Kommunicate for 30 days.
Try before you buy, like they say.
ii) Verloop
Verloop's signup page is pretty straightforward too, but with a notable difference.
Verloop lets you sign in with a Gmail address. This is good if you are in a hurry to try out the product, and don't want marketing communications on your business email.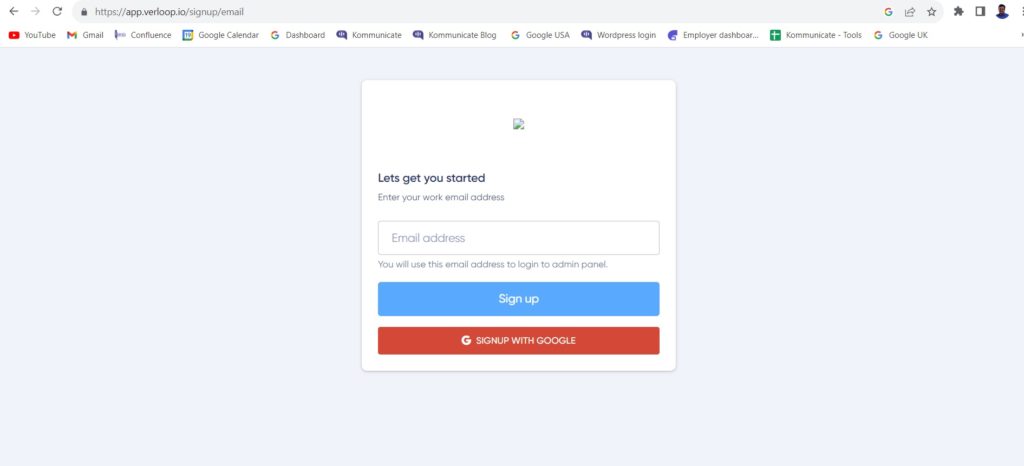 Verloop also offers a free trial option, but with limited features.
Our verdict:
So comparing the two, we are leaning towards Kommunicate because its signup process is simple and they only want serious users.
If you are just exploring a bot platform or are a student, then Verloop is the option for you.
2. Bot building
i) Kommunicate
Building a chatbot with Kommunicate is a breeze. In fact, you can get up and running with a Kommunicate bot in less than 10 minutes. Kommunicate's Kompose bot builder is intuitive, and you don't have to navigate through a lot of steps to get to it.
Just head on over to Bot integrations, and click on Kompose, and you are good to go.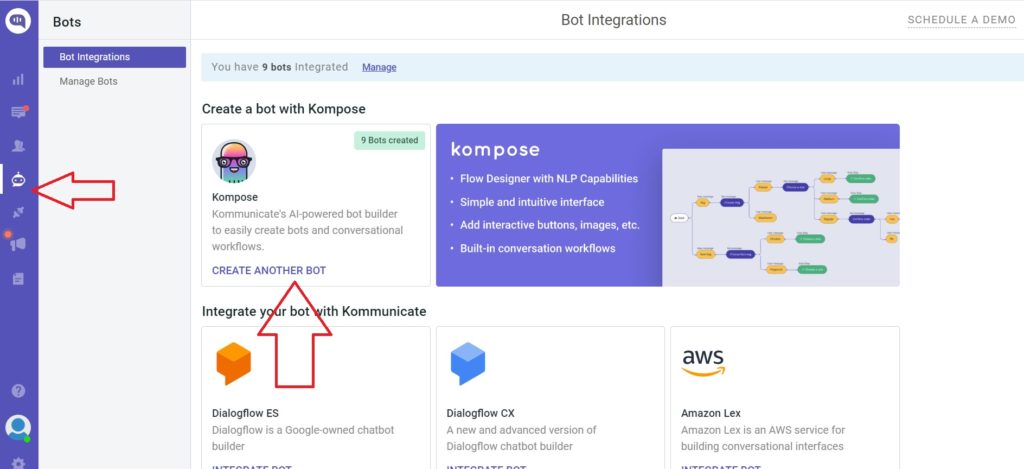 You are given the option of building the bots either through the visual drag and drop Flow designer, or through the classic editor where you specify the intents and entities.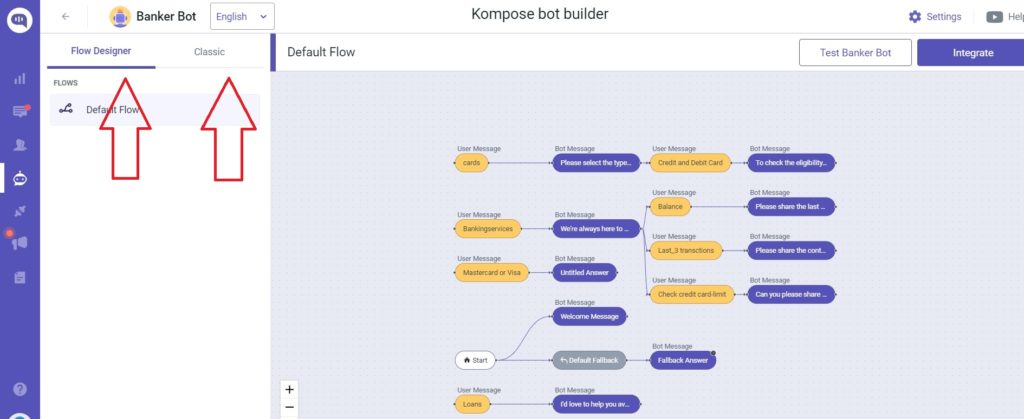 We really love the way we have made the product easy to use for anyone, and by anyone, we mean ANYONE, even if they don't know how to code.
We are not going to teach you how to build a bot in detail, since that would be deviating off topic.
Let us now see how easy it is to build a bot in Verloop.
ii) Verloop
Okay, at the outset, we want to say that getting started with building a bot using Verloop is not as straightforward as it is in Kommunicate.
The login page is a bit overwhelming, especially if you haven't built a bot yet.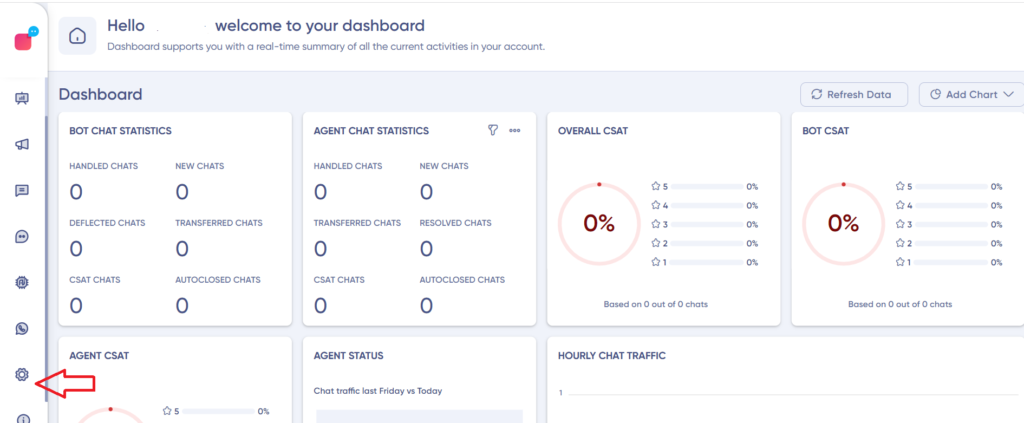 You have all these bot statistics which you have to navigate through, with a side panel similar to that of Kommunicate.
But then, things slowly start to get more and more confusing.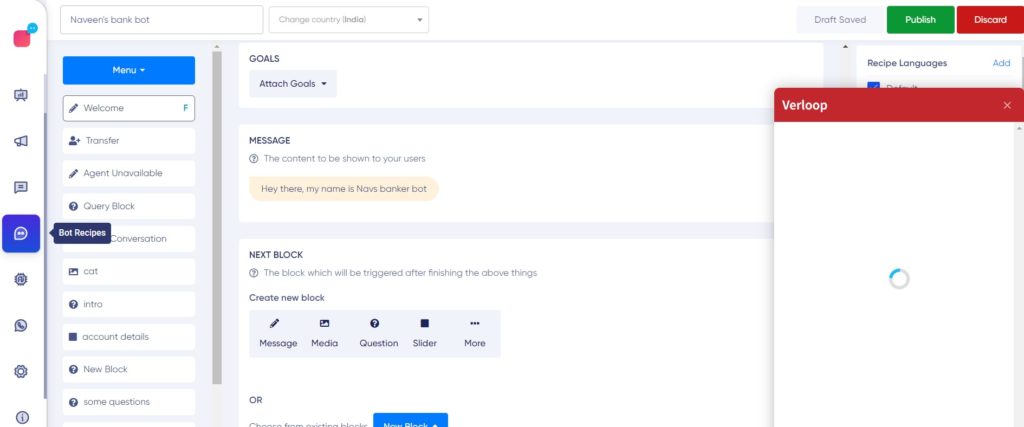 Verloop calls its Bot Builder platform "Bot Recipes," and we had a tough time figuring out which one was the User prompt and which was the Bot prompt.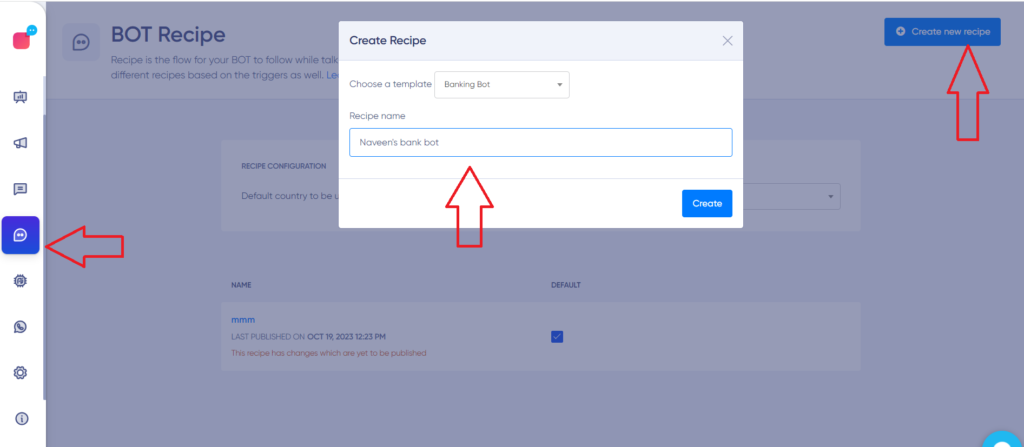 We also had a tough time on Google trying to see how to build this bot using Verloop, and the closest blog post available was one that developers can use.
Our Verdict:
Kommunicate is the clear winner when it comes to the ease with which you can build a bot.
Verloop has a lot of ground to cover if it wishes to make its platform simpler to use for the average Joe.

3. Integrations
This is an important feature to consider when buying a chatbot solution, since you want your platform to play well with all your existing solutions.
i) Kommunicate
Kommunicate offers an impressive 40+ integrations straight out of the box, which includes a lot of platforms such as:
WhatsApp, Telegram, Line, Facebook Messenger, Viber – Messaging platforms.
Zendesk, Pipedrive, Agile CRM – CRM platforms
Google Analytics and Zapier – Automation
WordPress, Squarespace, Wix – CMS platforms
Shopifty, Prestashop, Magento, etc – eCommerce platforms
And this is just scratching the surface. Also, all these are codeless integrations, which means you can get up and running with these platforms with just a few clicks.
Just head on over to the Kommunicate platform, and navigate to the Integrations section on the left, as shown: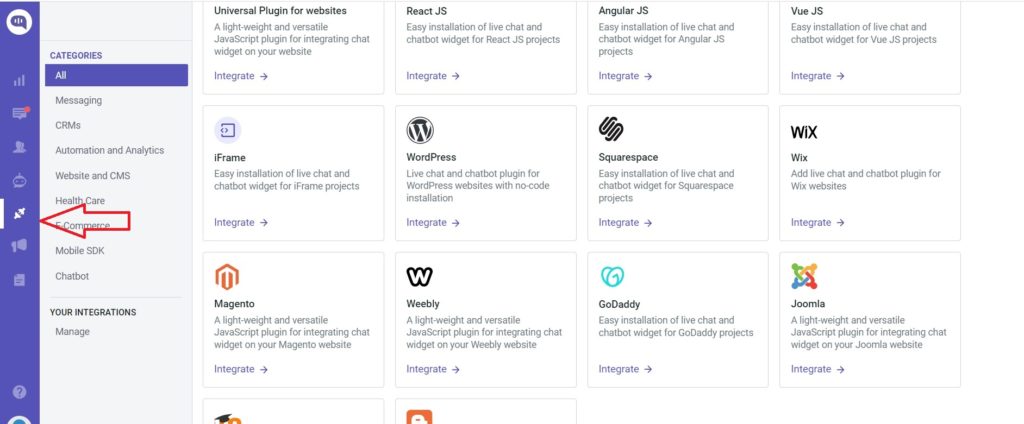 Let us now see what Verloop has to offer.
ii) Verloop
Navigating to Verloop's integrations section was a bit complex, since it is placed inside the settings tab on the left hand side.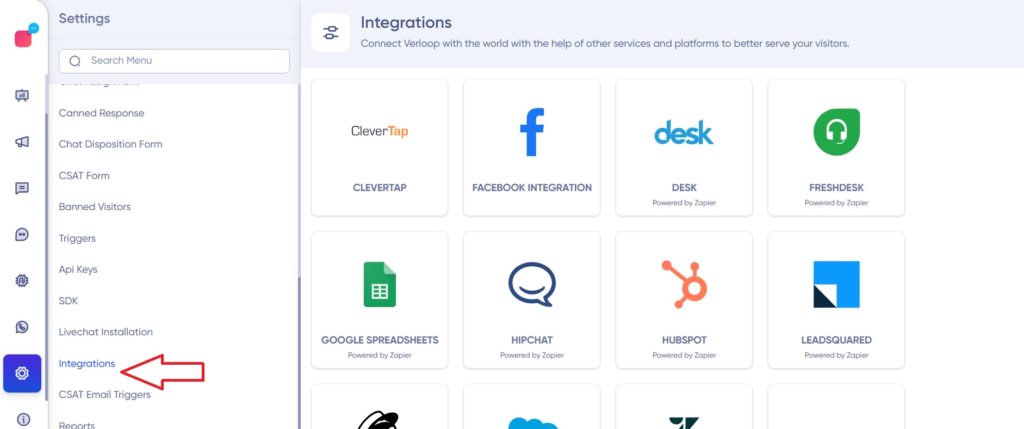 Also, Verloop does not offer as many codeless integrations as Kommunicate. Their integrations page does feature some prominent names such as Razorpay and Hubspot, but these are custom integrations which are not available out of the box.
Our verdict:
Kommunicate is the clear winner here, again, thanks to the sheer number of Integrations it offers off the box.
d. Generative AI capabilities
Generative AI is all the buzz these days, and chatbot platforms that offer these capabilities will leave their competitors in the dust.
Let us see Kommunicate v/s Verloop, in the context of Generative AI capabilities.
i) Kommunicate
Kommunicate jumped on the Generative AI train very quickly, and was one the first companies to introduce ChatGPT integration to their solution.
In addition to this, they also have a Document Scanner and a Website Scraper feature.
With Document Scanner, you can convert any document into a chatbot, with just a couple of clicks. This feature will really come in handy for customer support teams with a large FAQ knowledge base. Instead of going through the documentation to answer customer questions, they can simply upload the pdf or docx file onto Kommunicate and the bot will take over.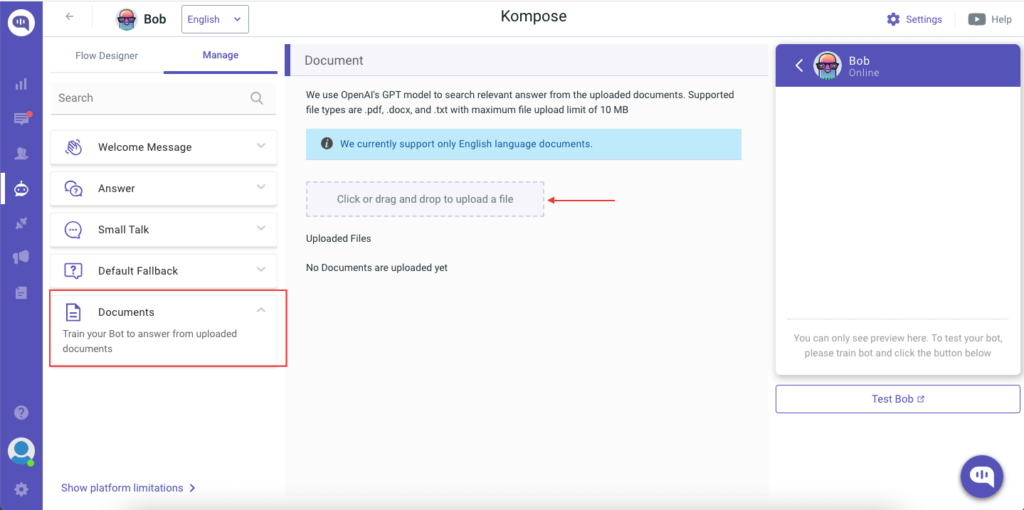 The website scraper feature complements the document scraper and works similarly, albeit this time it converts a URL into a chatbot. Helpful for teams who want their bot to answer any questions available on the website.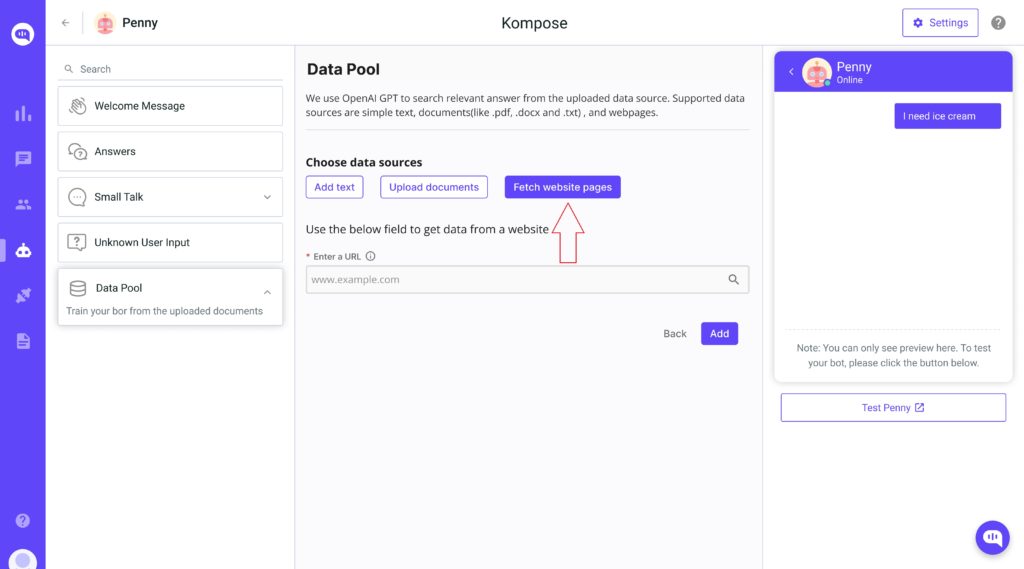 Both these features showcase Kommunicate's capabilities in the Generative AI space, and we cannot wait to see how they will further push this technology.
Let us now take a look at what Verloop has to offer.
ii) Verloop
Verloop also offers a document scanning feature, and they call it the AnswerFlow.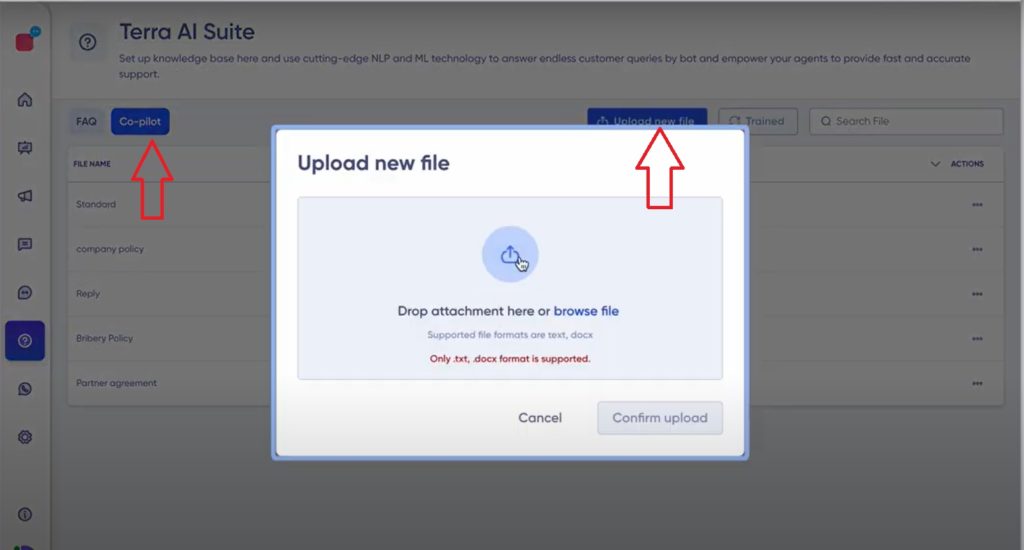 AnswerFlow also allows you to upload documents and then train the bot on these documents.
The free trial does not give access to the AnswerFlow document scanner, however, which meant we couldn't put it through the ropes.
We also could not find a web scraping facility on Verloop, which means in all likelihood they are still working on it.
Our verdict
Kommunicate is the clear winner when it comes to building generative AI capabilities. While Verloop also provides its own LLM powered document scanner, they have a lot of ground to cover, especially since they have been around for longer.

e. Pricing
The last parameter we want to focus on is Pricing between these 2 players.
i) Kommunicate
Kommunicate has 3 pricing plans, as seen on our pricing page.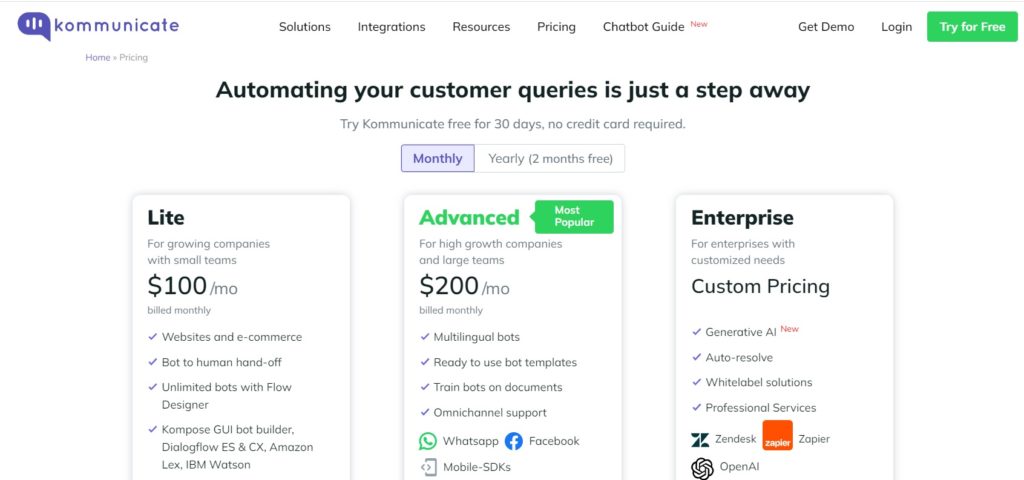 Lite plan: $100/month billed monthly. No CRM integration and minimum support.
Advanced plan: $200/month billed monthly. CRM integrations like Agile CRM and priority support.
There is also the Enterprise plan, for which you will have to contact the Kommunicate sales team.
ii) Verloop
Verloop's pricing plan is not as transparent as Kommunicate, but we did a bit of digging around to find this information.
According to a few sources, Verloop has 2 pricing plans that they offer to the general public.
These are:
Starter : $49/month.
Some of the features included in the starter plan are:
Unlimited agents
Design customization
Custom data integration
Business: $699/month.
Customised reports
Optimization consultation
A dedicated Customer Success Manager
While we did find these plans after a little bit of searching, we would have really liked it if Verloop was a bit more transparent with their pricing.
Our verdict:
Pricing is a crucial aspect to consider when anyone is investing in a chatbot solution. Although Kommunicate's base price is higher than that of Verloop, they are transparent on their pricing page as to what all is included in their different packages.
This is a big plus, especially since without a good pricing page, you might be leaving money on the checkout page.
In this aspect, Kommunicate is the winner, since they clearly tell you how much of their product you can access for different slabs.

| | | | |
| --- | --- | --- | --- |
| Sl. No. | Product feature | Kommunicate | Verloop |
| 1. | Signup page | Easy to sign in. | Sign up process is a bit complicated. |
| 2. | Bot building | All bot features available in free trial. Kompose bot builder is simple to use. | Restricted to the features available in the free version. Bot building is a bit complicated. |
| 3. | Integrations | Over 40+ integrations out of the box. | Only 11 integrations available out of the box. |
| 4. | Generative AI capabilities | ChatGPT integration, Document Scanner, Web bot trainer. | AnswerFlow |
| 5 | Pricing | Transparent pricing page | Need to talk to sales to get exact pricing, |
Parting thoughts
As you can see, Kommunicate scores well in almost all the aspects that were used in this comparison.
We don't like to brag, but in Kommunicate vs. Verloop, we prefer to lean towards Kommunicate. Not because we built it, but because it is clearly scoring more than Verloop when it comes to the chief features that customers today expect from a chatbot builder.