Last Updated on May 31, 2022
In this article, we'll look at Tawk.to and Kommunicate to understand how these tools can build better relationships with your audiences by offering 24/7 customer service and serving up the right message at the right time.
Tawk.to offer a live chat service since 2013 focussed on creating an ecosystem of customer communication. On the other hand, Kommunicate has been a little late entrant known to pioneer the ecosystem of hybrid communication since 2017. The focus for us is to create an infrastructure that can have personalized engagement and communication processes.
Kommunicate is a recent addition to the league which primarily focuses on building intelligent infrastructure for personalized engagement and query handling. 
Tawk vs Kommunicate features:
Both of the tools aim to create a free flow of communication for customer support agents and sales agents. Tawk.to was only focused on ensuring live chat and chat pages. However, they are now also offering a knowledge base for their users.
They also provide Virtual agents/Chat Agents which is part of their service offerings.
Some of the services advised on their platform include
Live Chat
Chat Pages
Knowledge Base
Virtual Agents
Chat Agents

On the other hand, Kommunicate is known to create a complete ecosystem which is often represented as Live Chat 2.0. They offer products like Kompose (Chatbot builder), Help Center (a knowledge base), and integration with social media have allowed agents to respond quickly and let bots automatically handle the general queries.
Some of the services highlighted are
Kompose
Chatbots and Automation
Live Chat
HelpCenter
DialogFlow Integration
Other Notable Features
Here is a quick representation of the Tawk vs Kommunicate feature comparison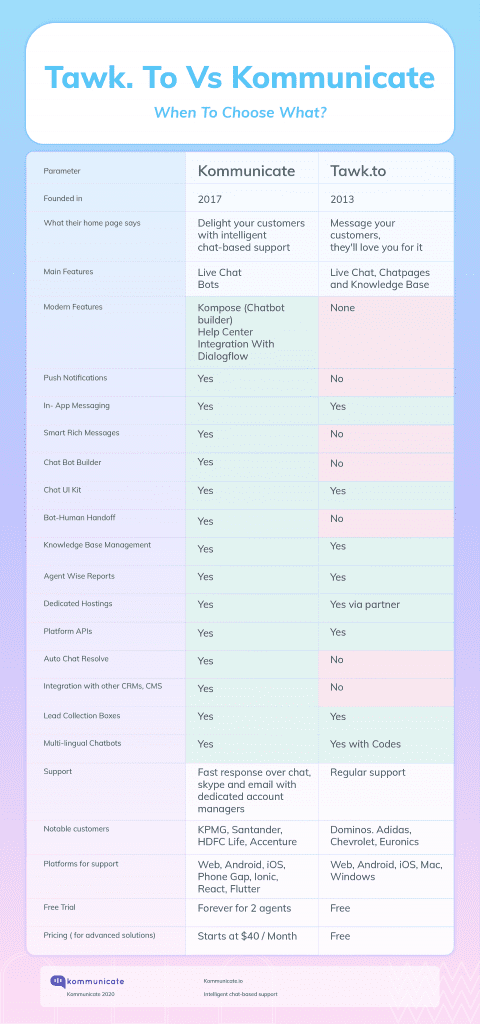 We hope this comparison will help you to choose the best software for your business.
Disclaimer: All the information mentioned above has been obtained from public sources. We have made every attempt to ensure that the information presented is accurate and free from any discrepancies. In case of any discrepancies identified, please connect at support@kommunicate.io.