Last Updated on June 26, 2023
WhatsApp is a messaging service, but you already knew that. But have you met the side to WhatsApp that can be used for more than just sending funny cat GIFs to your cousins? We are talking about WhatsApp for Business, which allows you to stay connected to your customers via the famous messaging service.

According to a Zendesk report, 48% of the people in the world have a smartphone, and with a user base of more than 2.5 billion people, WhatsApp as a marketing channel has a lot of potentials.
In this blog post, we will teach you how to use WhatsApp as a powerful business tool, and get WhatsApp API access so that you can provide support to a large customer base.
We will also teach you how to integrate WhatsApp through our partner 360 Dialog,
Before proceeding with that let's first know about what is WhatsApp API and why we need WhatsApp API.
WhatsApp API is an application programming interface, which means it has no front end interface or app. It is designed for mid-size to large companies that want to use WhatsApp with a large number of users at the same time. Large businesses are more complex, with hundreds of messages coming in at the same time that need to be handled by business software. WhatsApp Business API helps connect your business software, such as a chatbot, to your WhatsApp account.
But there are a few things about WhatsApp Business API that you need to know. For starters, WhatsApp Business API is not free. You need to apply for an API account through one of WhatsApp's designated business partners, and then go through an approval process.
Every time a customer sends a message to your WhatsApp inbox, WhatsApp API has a messaging window that gets activated. This is a 24-hour window, within which the business can respond freely to the customer. After 24 hours, customers can only send WhatsApp Template Messages, which are pre-approved messages that have Placeholders, along with Quick Reply and CTA buttons.
Now you have understood what Whatsapp API is and why we need WhatsApp API let's understand the difference between Whatsapp Business and WhatsApp Business API to get more clarity.

Difference between WhatsApp Business App and WhatsApp Business API
Whatsapp Business App
People often confuse WhatsApp Business App with WhatsApp Business API, thinking they are one and the same thing, but the answer is far from the truth. WhatsApp Business App is a separate application that can be downloaded from the Play Store or the App Store. It is designed for small businesses that need to handle only a finite number of customer queries. Only one user on one device can use the WhatsApp Business app, and it is the best solution for small mom and pop establishments that don't get hundreds of customer queries in a day.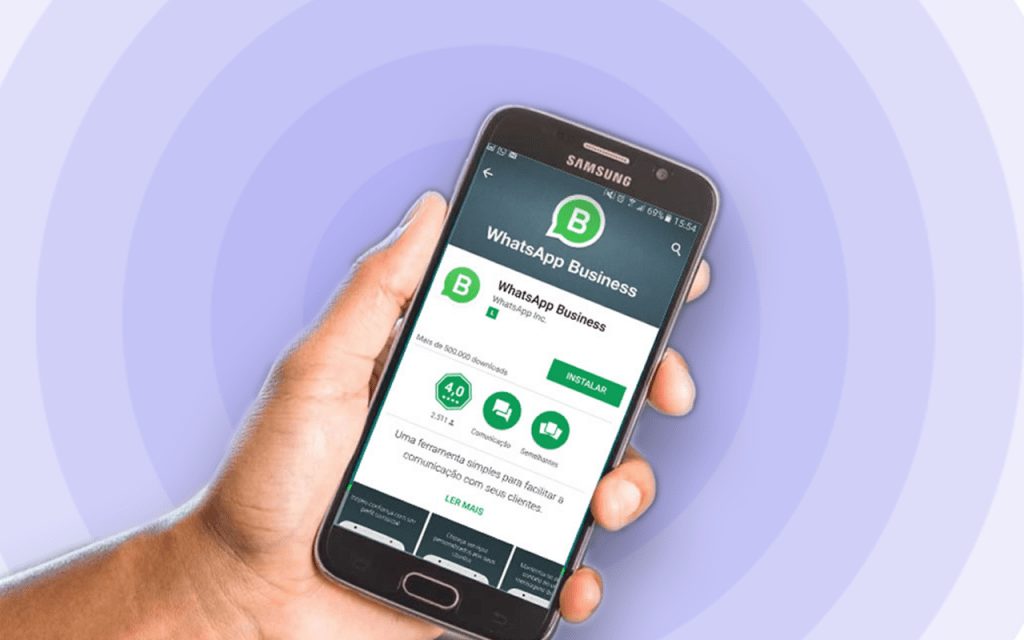 Whatsapp Business API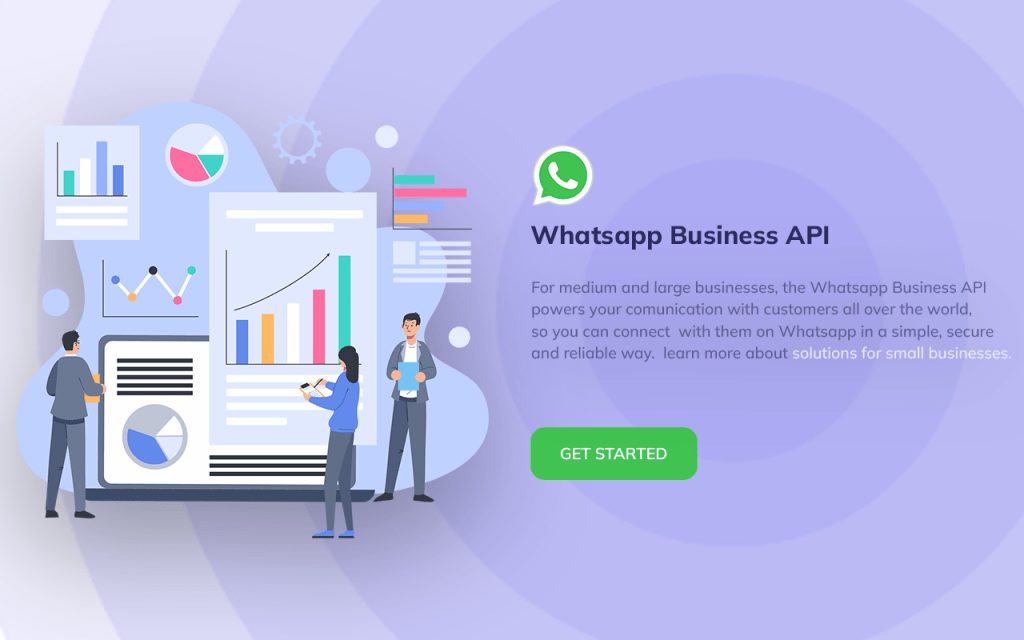 WhatsApp Business has an Application Programming Interface (API) that is designed to help businesses cope with the plethora of customer support requests they get in a day. Support teams can use WhatsApp alongside other channels so that all the customer interactions are at one place and there is no loss of data. You will need a WhatsApp API to connect WhatsApp Business App to your company's software, which can be obtained from a WhatsApp partner.
WhatsApp Business allows you to send unlimited messages to your customers, in any content format you wish. WhatsApp Business API account, however, bifurcates your messages into two types – Session messages and Template messages. Respond to a message within 24 hours, and that is a session message. Take longer than that to send a message, and you will have to send out a template message, which has to be pre-approved by WhatsApp.
The WhatsApp Business App has built-in features that help you in automating some of the common greeting messages and away messages. If you need advanced automation options, you will have to use a WhatsApp business API account and connect it to your business logic. Another key difference between WhatsApp Business App and WhatsApp Business API is that you can only broadcast a message to 256 contacts at a time on the WhatsApp Business app, but with the API, you can reach unlimited users, as long as the message content is not promotional.
Why get your WhatsApp Business API from a business partner
You cannot get a WhatsApp API directly, and usually have to rely on one of the several business partners that WhatsApp has teamed up with. Why has WhatsApp done this?
To avoid spammers: When last counted, WhatsApp had close to 2 billion users on its platform, and with a user base this large, WhatsApp knew that it had to fight an uphill battle against spammers. To have a greater control over the companies that have access to its API, WhatsApp decided to provide access only through select partners.
Less resource intensive: Outsourcing the API application process to partners means WhatsApp doesn't have to hire additional resources to oversee this process, which also helps reduce costs.
Leveraging partner's strength: Partners have the resources that will help them vet which companies are allowed on the WhatsApp platform. Many of these partners are also SMS providers, which means they have the access to high-volume clients.
Here is a link to all the partners that WhatsApp has teamed up with to provide its API access.
One such partner is 360Dialog, with whom Kommunicate has teamed up to provide you with WhatsApp API access. 360Dialog provides a developer-friendly API, and the company does not carry out any modification around WhatsApp Rich messages. 360Dialog also does not charge the user per message, which works out quite economically for the business owner.
360 Dialog: How to get WhatsApp API account on 360 Dialog
There are 4 steps in getting a WhatsApp API Account.
Step 1: Port or Buy a phone number
You need a phone number to set up your WhatsApp Business API account. Partners such as Dialog 360 allow you to port an existing phone number, as long as you can receive calls or SMS. You have to make sure that the number is not connected to another WhatsApp Business account or WhatsApp API account, to avoid any conflict.
Step 2: Verify the Business name and meet WhatsApp Commerce Policy
WhatsApp has a Commerce policy, which you will need to adhere to before you apply for a WhatsApp API. WhatsApp will review your application, as well as your Display Name, which should ideally match the legal name under which your business is registered.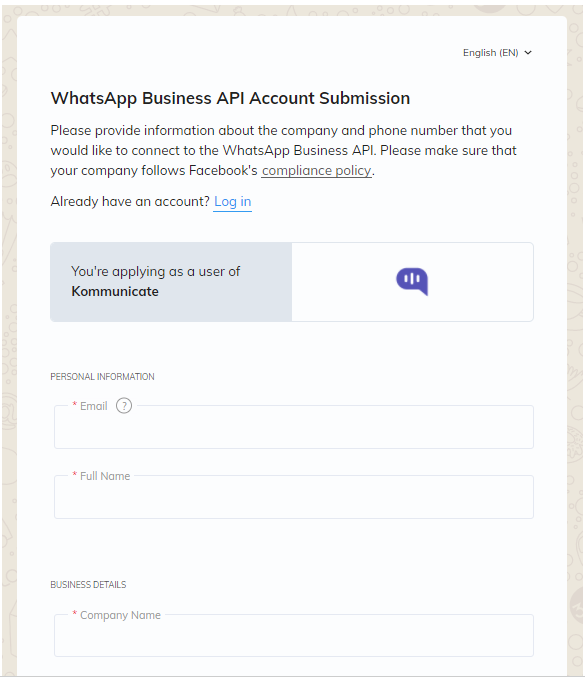 To get the 360 Dialog form on your email, Fill out this form WhatsApp API Request
Step 3: Verify Facebook Business and Number
This step is different from the Facebook Page Verification. Here, you need to provide a few documents and complete your Business verification in the Facebook Business Manager. This process usually takes a few working days.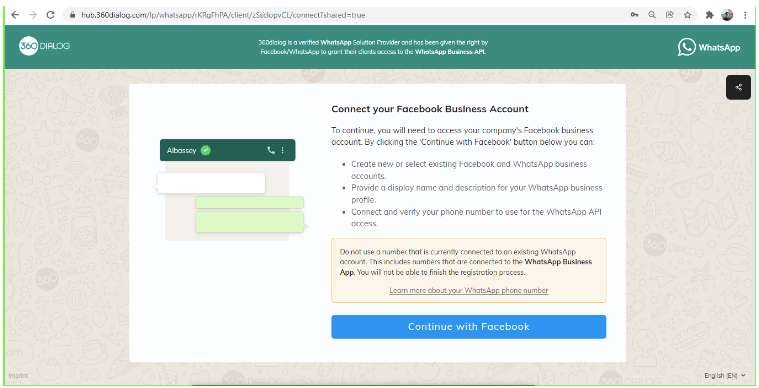 Step 4: Generating an API key
Once you have a WhatsApp API account, you need to obtain a WhatsApp API key and connect it to a business software of your choice. You can use different API providers to get your API Account setup. 360Dialog is one such API provider.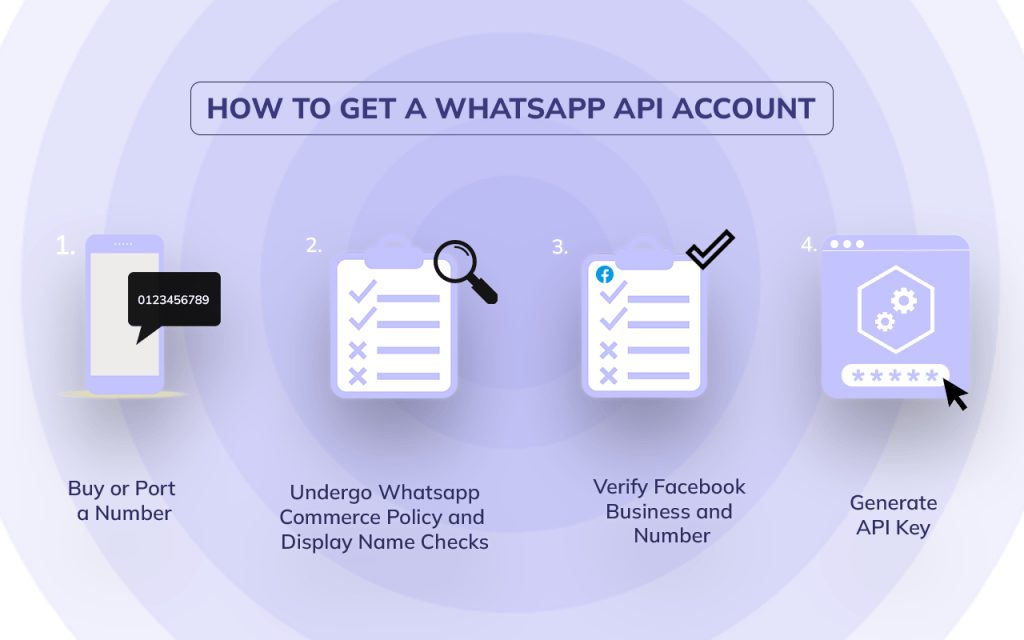 How to connect Kommunicate and Dialog360 for WhatsApp integration
There are 2 ways you can connect Kommunicate and 360Dialog
First, you need to login into your Kommunicate dashboard. If you do not have a Kommunicate account, you can sign up for free.
And then Go to integrations > WhatsApp and then Request Access on your Kommunicate Dashboard.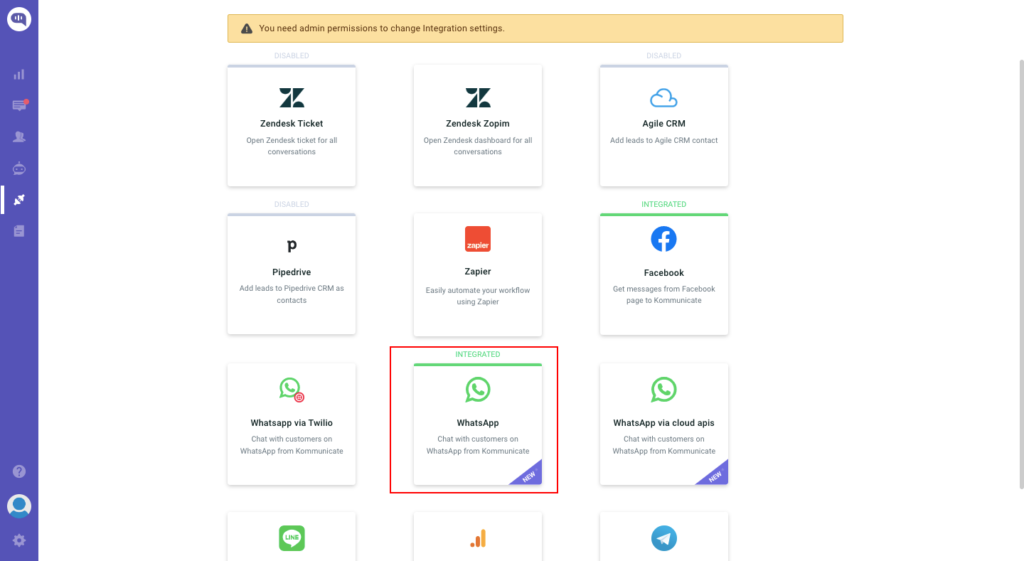 Step 3: Integrating WhatsApp with Kommunicate
First, you must log into your Kommunicate dashboard. If you do not have a Kommunicate account, you can sign up for free. Then, Go to Integrations > WhatsApp>and then click on the Go Live.
Firstly, to connect your whatsapp number with Whatsapp Business API you need to create a free account on our partner 360Dialog page. Click here to create an account
After signing up on 360Dialog fill the below details.
Whatsapp Number: Enter the number that you've used with your 360Dialog account
API Key: In your 360Dialog account, go to Whatsapp account and generate API Key
Namespace: In your 360Dialog account, go to Whatsapp account section and click on Show Details. In the details tab scroll down to Whatsapp Business Account section to find Namespace.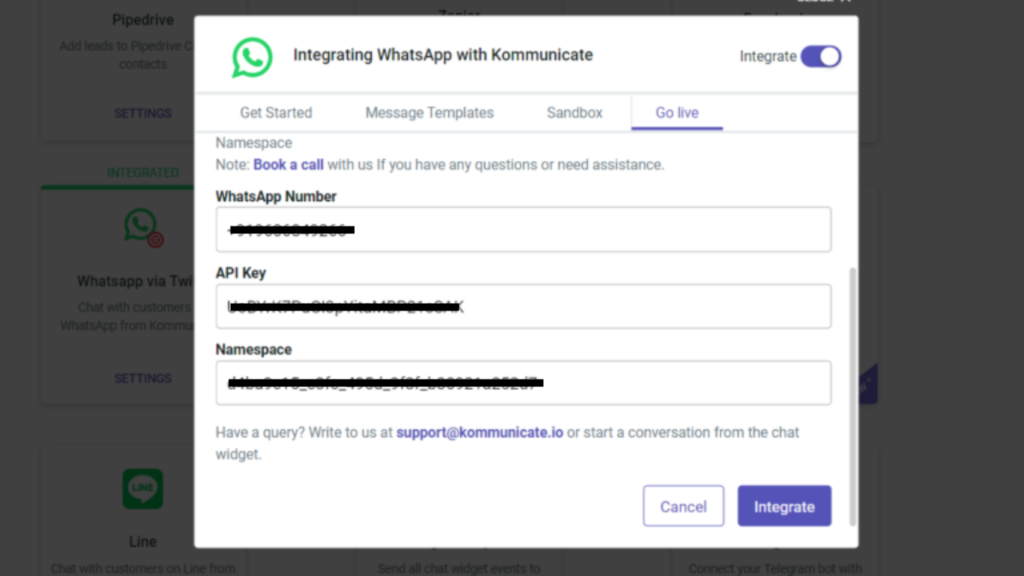 Now Kommunicate is successfully integrated with the WhatsApp account, try sending messages to the number linked to the account. These messages will be sent to Kommunicate chat as well. If the chatbot is already integrated, the bot will start replying to your WhatsApp chat queries.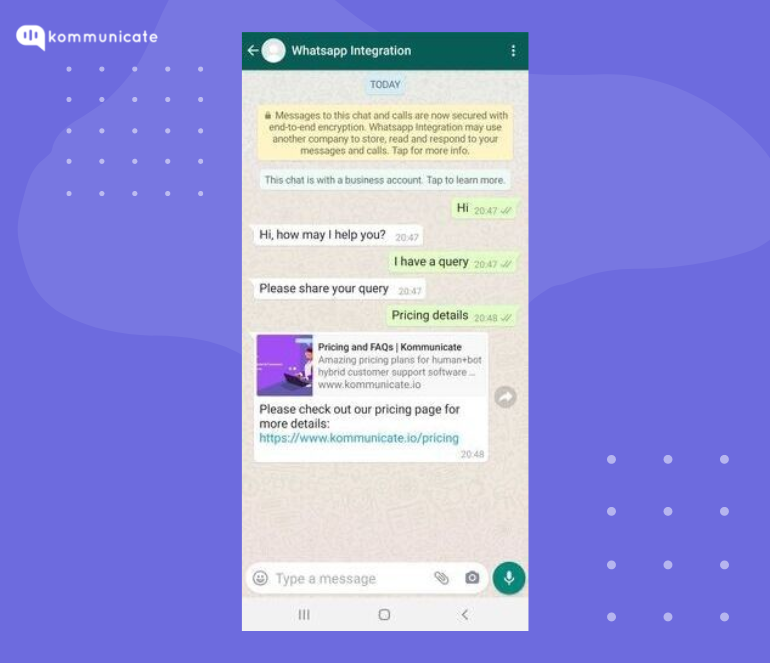 This is how the conversations will look like in the Kommunicate dashboard.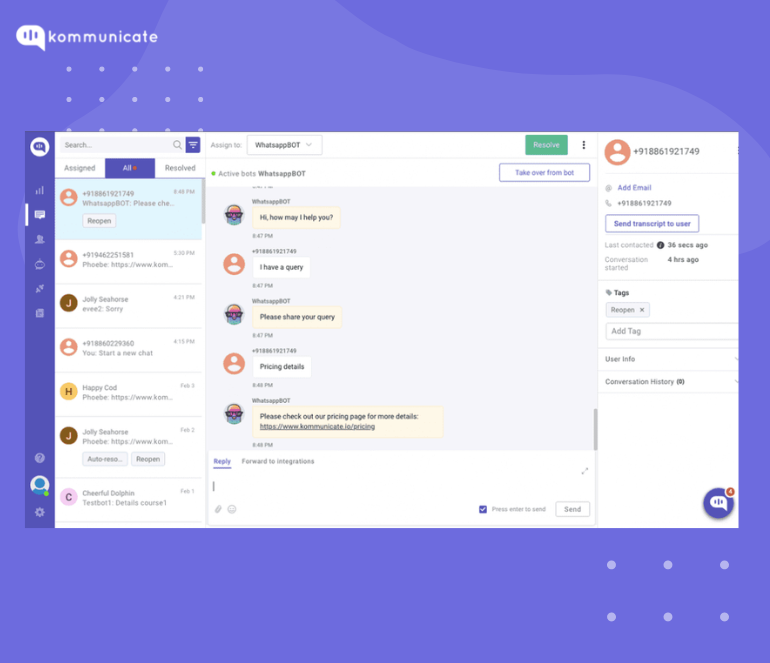 And there you go!! You have successfully integrated WhatsApp into your Kommunicate dashboard. Now, any message you send to the 360 Dialog WhatsApp number will be available in the Kommunicate dashboard.
As you can see, setting up WhatsApp API for your business need not be a hard ordeal. With tools like Kommunicate doing the heavy lifting, you can sit back, relax and do what you do best – provide a superior customer experience.

Key takeaway:
Why would you consider using all the features of 360Dialog WhatsApp API through Kommunicate? Well, there is the cost advantage, for starters. Any user does not have to pay 99 Euros to 360 Dialog since the pricing is already covered in the Kommunicate subscription.
If you want to integrate Kommunicate to Dialog 360, you can use the Grow plan. You can integrate 360 dialog at no additional cost since the price is already included in the Grow plan is $100.
And that's just not all that you get with Kommunicate's Grow plan. You also get:
Integration with WhatsApp, Facebook, Telegram, Line along with AgileCRM and Pipedrive.
Quick replies and Ready to use bot templates.
Advanced Widget customization.
1 year chat history
For a detailed list of all the features in our various pricing plans, check out our pricing page here.
That's WhatsApp API Access under 100 dollars. If that is not a killer deal, we don't know what is. So, what are you waiting for? Partner with Kommunicate and get access to your WhatsApp Business API today!!
---
At Kommunicate, we are envisioning a world-beating customer support solution to empower the new era of customer support. We would love to have you on board to have a first-hand experience of Kommunicate. You can signup here and start delighting your customers right away.