Last Updated on June 24, 2023
Parenting can be tough, and there is only so much that family and friends can support you with. In this age of technology, the only way that parents could get answers to their common queries was to go to Google. As an alternative, they can join a social media forum and wait for a response.
But Amiga is set to change all that. A conversational AI powered app that is designed exclusively for parents, Amiga aims to make parenting enjoyable again.
We spoke to Gayatri, co-founder of Amiga, on how the team is helping parents and how Kommunicate is aiding in their quest. This is the story of how Amiga and Kommunicate came together to solve parent's woes.

1. What is Amiga, and what is the problem that the app is trying to solve?
"Amiga is an app for parents to understand why children behave the way they behave.
If parents are able to understand the reason, then it is easier to address their behavior. That is the idea behind Amiga," says Gayatri.
"Amiga is a mobile app. So currently, there are 2 ways parents can resolve queries around their children. One is to go online, search, and land up on social media. This may result in a bunch of generic responses, which may or may not be suited to your needs.
Second option is therapy, which is expensive and time consuming. So, we came up with a solution that is scientifically proven, is easily available, and is there for you 24/7. Through the mobile app, parents get a space where they can quickly look up "Why is my child behaving this way?" without fearing judgement by their peers."
2. How did you hear about Kommunicate?
Amiga knew they wanted an add-on to their mobile app in the form of a chat function that sounded more human.
"Parenting is a very emotional topic. Amiga wanted a companion who is human-like when they are conversing with their parents."
Amiga wanted a solution that is:easy to build, develop and maintain. The team went online to search for solutions that were not too complex. Kommunicate popped up on their radar, and when they started exploring the platform, the team fell in love with it.
The team was quickly able to grasp concepts like Intents and Entities, since they were easily available and explained by Kommunicae's Kompose bot builder.
3. How is Kommunicate helping Amiga become a better app?
Amiga uses Kommunicate's mobile SDK integration within the app.
Amiga currently has three very distinct features, two of which are free to use by the parents. The app is free to download from the App store or Google's Play store. Once the parents give us their contact information and also fill out a few basic details about their children, they are ready to go with the app.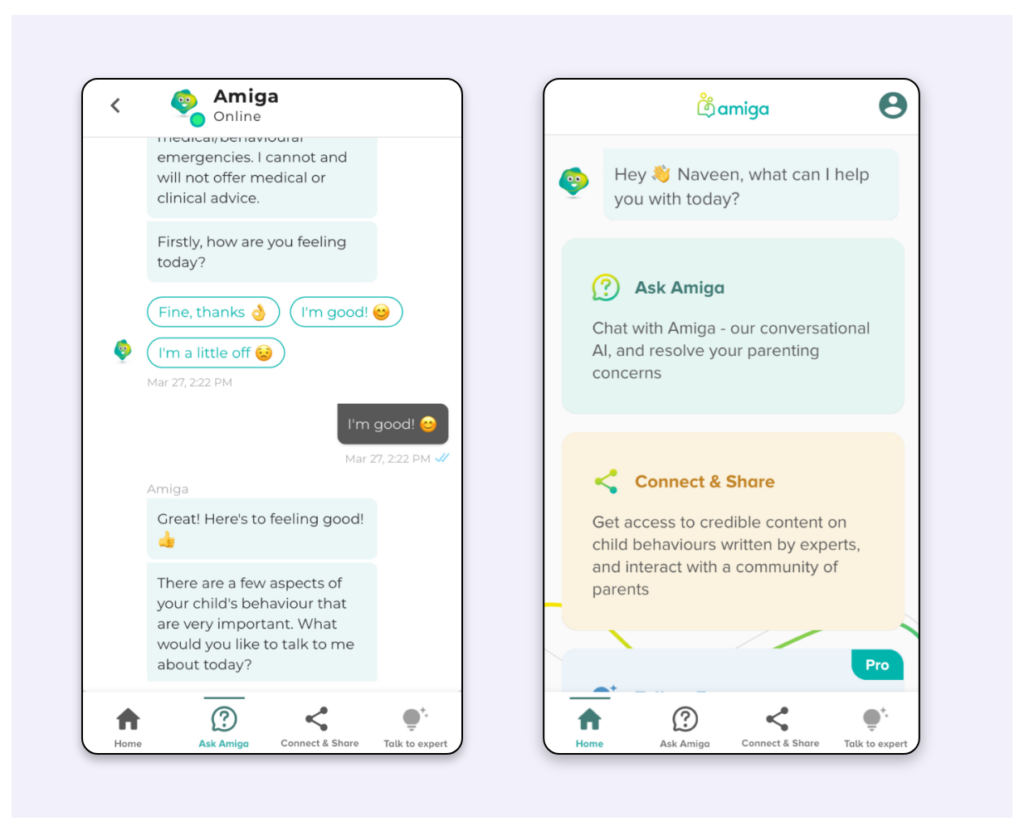 Kommunicate powers the "Ask Amiga" feature , and is a powerful, AI driven chatbot that converses with parents. There are a few pre-written queries which the parents can select, and then, based on their responses, the chatbot carries the conversation forward.
The "Connect and Share" feature is a learning platform for parents to talk to other parents and share their ideas, via blog posts. Users can comment on these blog posts, increasing the visibility of their answers.
The "Talk to Expert"" is the section where the parents get to interact with an actual counselor, and this is the only section where Amiga charges a fee to its users.
Ask Amiga, powered by Kommunicate, became an instant hit, and a lot of parents have already visited the platform to get a taste of the chat feature. With a bevy of pre-defined intents and answers for all of them, parents had the answers to their questions at their fingertips in an instant, thanks to Kommunicate.
4. What Amiga has to say: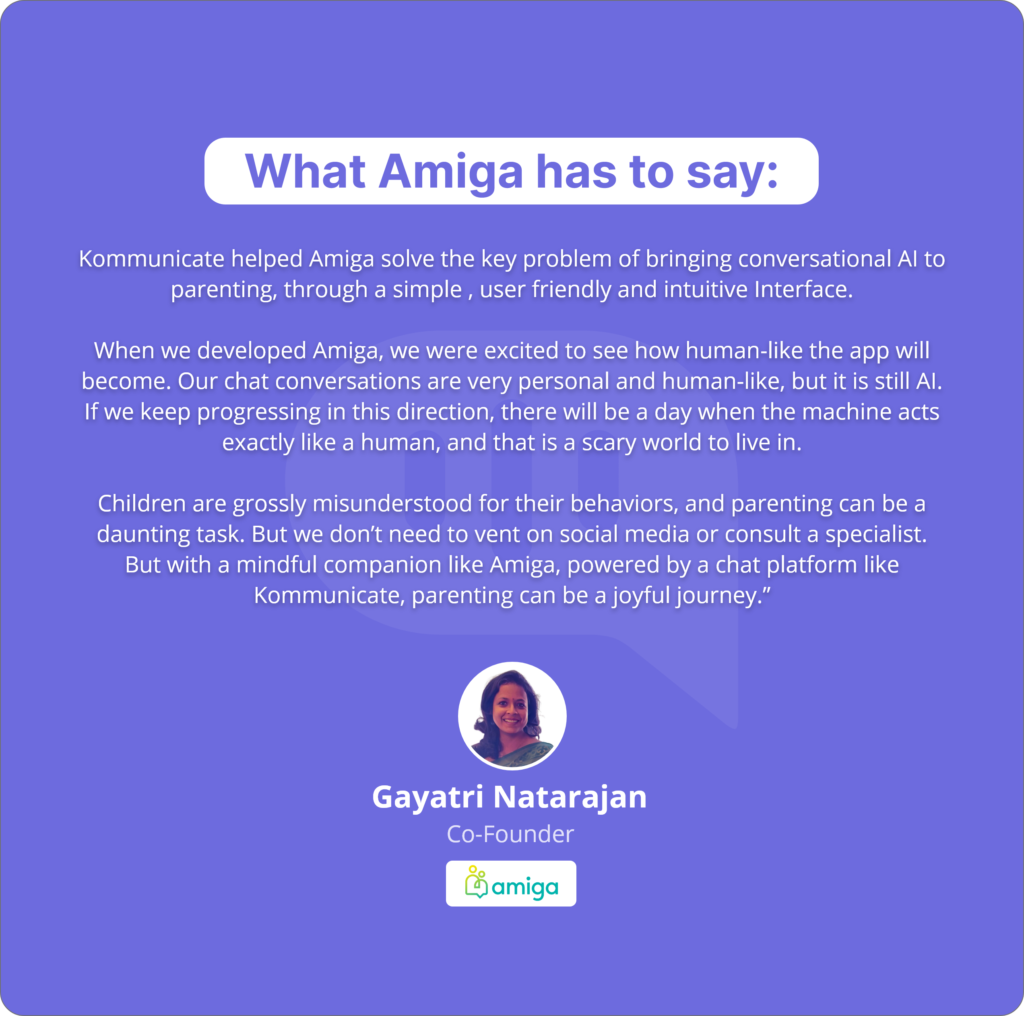 And we are backing up these claims with numbers.

As you can see, Amiga is benefitting vastly from implementing a chat feature in its app, and Kommunicate's chatbot is solving a very real problem. As AI gets better at talking to humans, the future of chatbots and applications in this field is quite interesting. And apps like Amiga are only pushing the envelope of what can be done.
Here's the case study video:
---
At Kommunicate, we envision a world-beating customer support solution to empower the new era of customer support. We would love to have you on board to have a first-hand experience of Kommunicate. You can signup here and start delighting your customers right away.