Last Updated on December 9, 2022
About Saltside Technologies
With a focus on emerging markets such as Bangladesh and Sri Lanka, Saltside technologies helps build websites that make buying and selling easier to millions of people. The CEO, Nils Hammer, was one of the first employees of Skype. He comes with more than a dozen years of entrepreneurial experience. This is the story of how Kommunicate helped Saltside automate its customer support.

The need for a chatbot solution
Nils Hammer, the CEO of Saltside technologies, was on the lookout for a solution a few years ago that would work across all their brands and teams. Customers wanted to get in touch with the brand, and they were reaching out through email and social media. But Nils felt this approach lacked a personal touch, and it was taking too long to reach the customer. The one stop solution for all their needs – chatbots.
Let us now see how Kommunicate did that.
Finding the perfect chatbot builder- Kommunicate
According to Anusha, a Customer Support Manager at Saltside – "Kommunicate was seen as a solution that would solve our current problem of delays in customer communication. Before Kommunicate, we had multiple channels through which customers could get in touch with us. This can be Email, social media or Google My Business. But these channels often led the customers to be confused. We also found that many customers had questions that were common.
A chatbot on the website would help answer these frequently asked questions, and fast. Before a chatbot, a customer had to send us an email and wait for the response. This was time-consuming and led to poor customer experience.
Saltside had different brands in different countries, and they were looking for a multilingual chatbot builder. The chatbot builder must also provide omnichannel customer support. A bit of research online led us to Kommunicate, and a few exchanges with the team later, we were on board."
Coming together as a team. The edge of Kommunicate Support
Kommunicate's customer support is what set the chatbot builder apart from all the other fancy things that other chatbot builders were offering. You can offer a great product, but without stellar customer support, all the bells and whistles of the product are mere eye-wash.
Kommunicate's customer support team was just an email or a phone call away, and they provided answers to even basic queries that Saltside had.
Of course, it was not just the stellar customer support that set Kommunicate apart. Team Saltside is a huge fan of the chatbot analytics feature and regularly monitors the dashboard to see how their agents are performing.
Another thing that impressed Saltside was how easy the bot configuration was. Setting up a chatbot was super easy with Kommunicate. Even a non programmer could train the bot to answer FAQs, saving the company hours in customer support time.

Why Saltside Recommends Kommunicate
Anusha says, "We have been really using the bot analytics option of Kommunicate, closely monitoring how our agents perform and metrics like the First Response Time. This was not possible before Kommunicate.
The overall system is really user-friendly, and complicated information and jargon has been avoided on the dashboard. We are happy with the way the team treats us, and would recommend Kommunicate to anyone looking for a robust chatbot solution."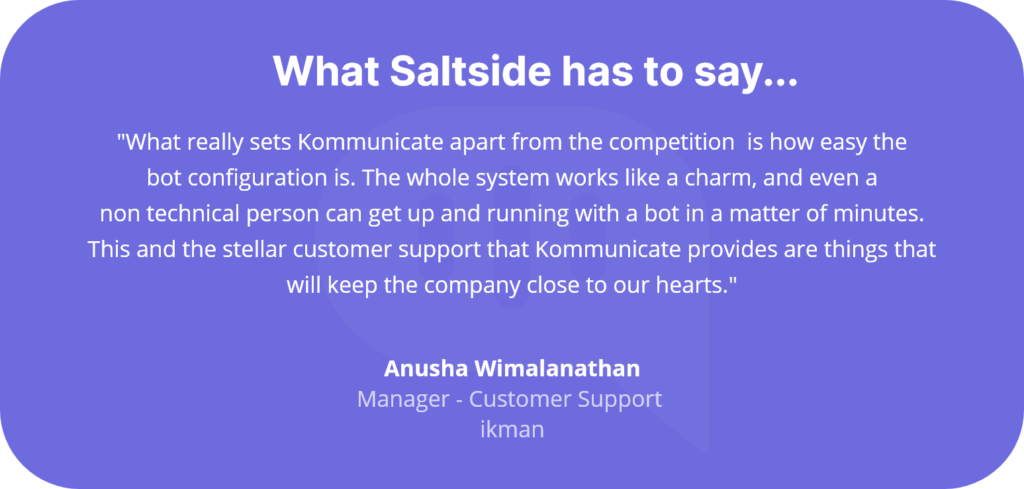 ---
At Kommunicate, we are envisioning a world-beating customer support solution to empower the new era of customer support. We would love to have you on board to have a first-hand experience of Kommunicate. You can signup here and start delighting your customers right away.