Last Updated on September 18, 2023
The article that follows will walk you through the process of creating and adding a chatbot to your GoDaddy site using Kommunicate.
What is GoDaddy?
GoDaddy is a website-building platform, domain registrar, and web host. Basically, you can get everything you need to create a business website, such as a website builder or web hosting plan. GoDaddy also provides dedicated hosting services along with a shared, virtual private server (VPS). Other alternatives to GoDaddy include HostGator, SiteGround, and Hostinger.

Pre-requisites
You will need a website hosted on the Godaddy platform along with Kommunicate's chatbot plugin to add a chatbot to your website.
AI-powered chatbots, such as Kompose, have built-in learn-and-grow algorithms that learn with each conversation. Install the Kompose chatbot on your GoDaddy website to attract new customers.
How to add a Chatbot to the GoDaddy website?
Installing a chatbot on your GoDaddy site is simple, especially when using a tool like Kommunicate. Follow this step and add a chatbot on your GoDaddy website in a simple step-by-step process.
Step 1: Create a Chatbot using Kommunicate
Login to your Kommunicate dashboard. If you do not already have a kommunicate account, you can create one here.
Move to the Kompose bot builder category from the 'Bot Integration' section and select the bot that needs to be added to the Squarespace site or create a new bot by selecting the 'Create Bot' button.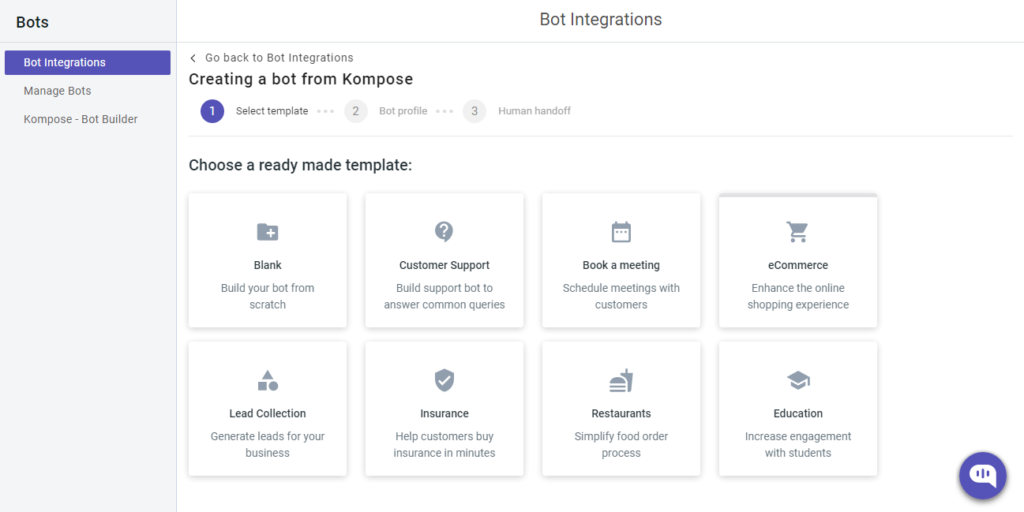 Kompose lets you choose to automatically hand over the conversations to a human being, and then you can start designing the conversations for your bot. Set the bot to send a welcome message after a specific trigger, and then type the message you want to display.
If you haven't already created a chatbot, you can start by reading our article on "How to Create a Chatbot."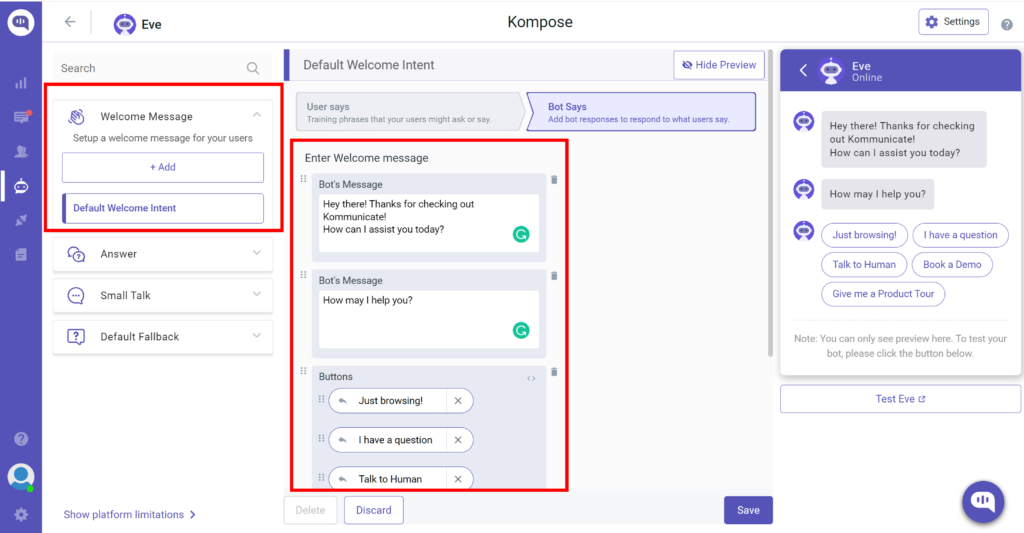 Step 2 : Log in to your GoDaddy account
Then click the My Products under the account user dropdown option at the top
Under the All Products and Services section, you can see the Websites section. Click Manage under your websites.

Step 3: Add Website
Then Click Add Website, or sometimes it will be Edit Website in the Website Builder and start editing.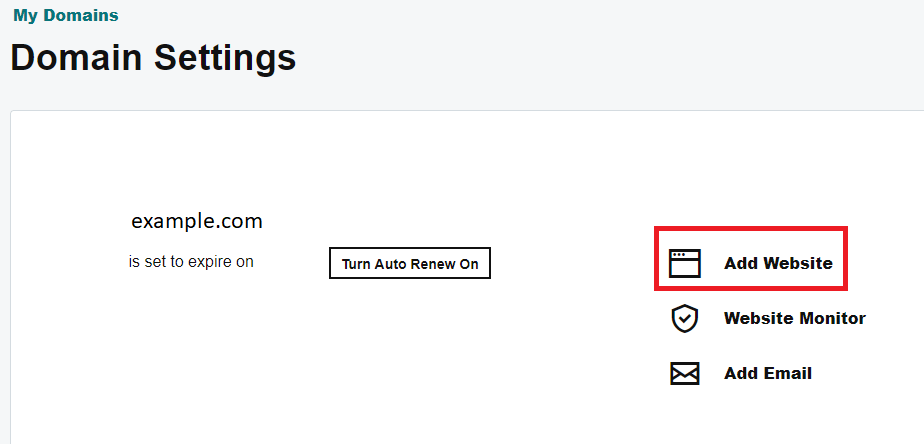 Step 4: Add section
Now Click the PAGE section and select the page you want to add the Kommunicate live chat and then select the Add Section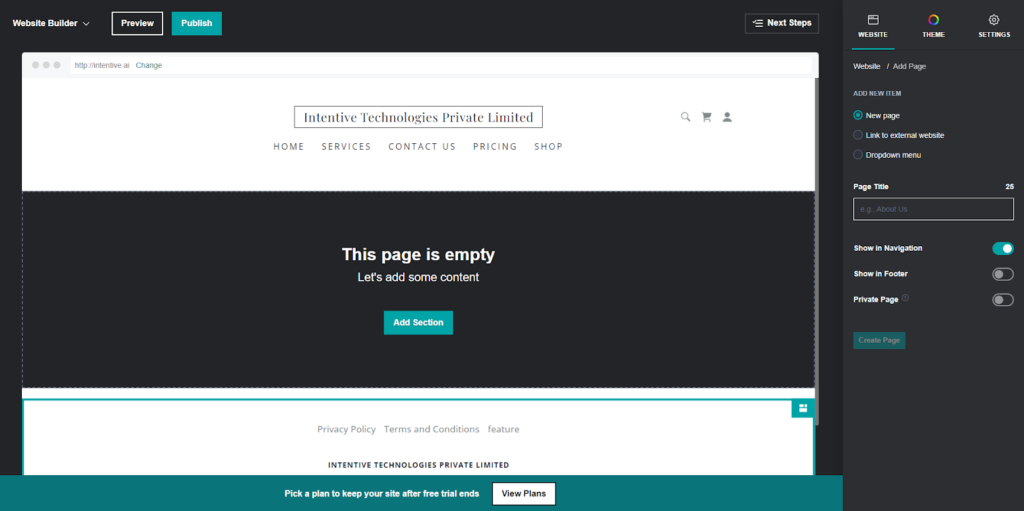 Step 5: Choose>>Files and Web >> Click on HTML >> Click Add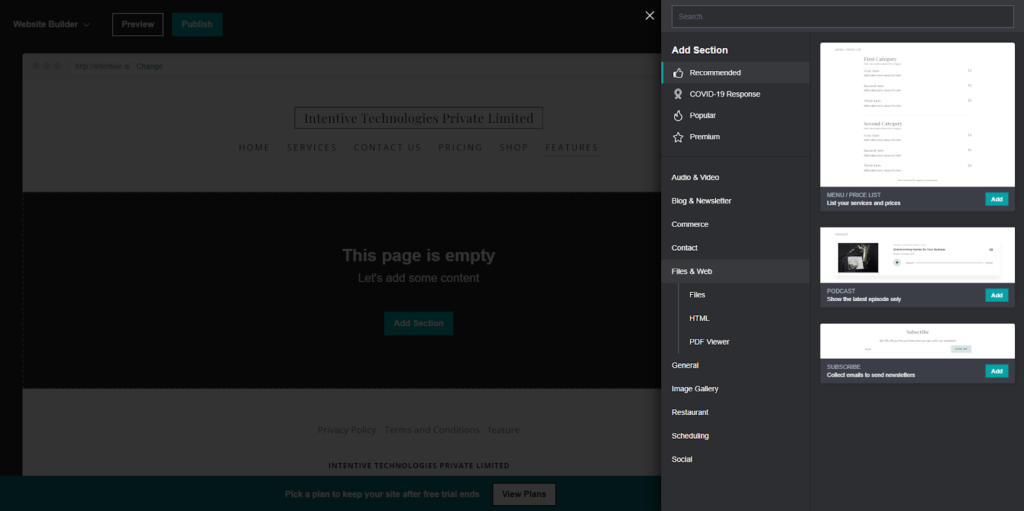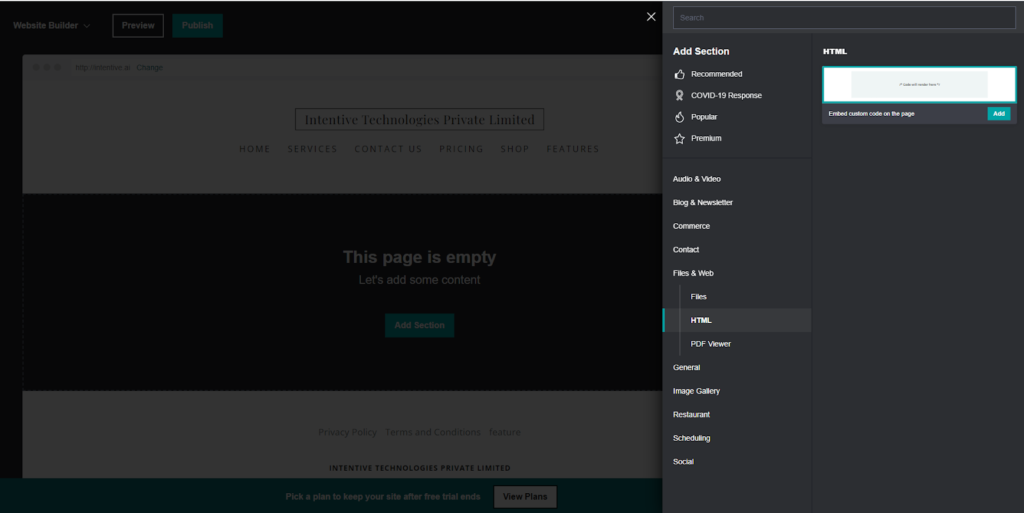 Step 6: Add the chatbot script
Now, paste your Kommunicate live chat code snippet in the Custom Code field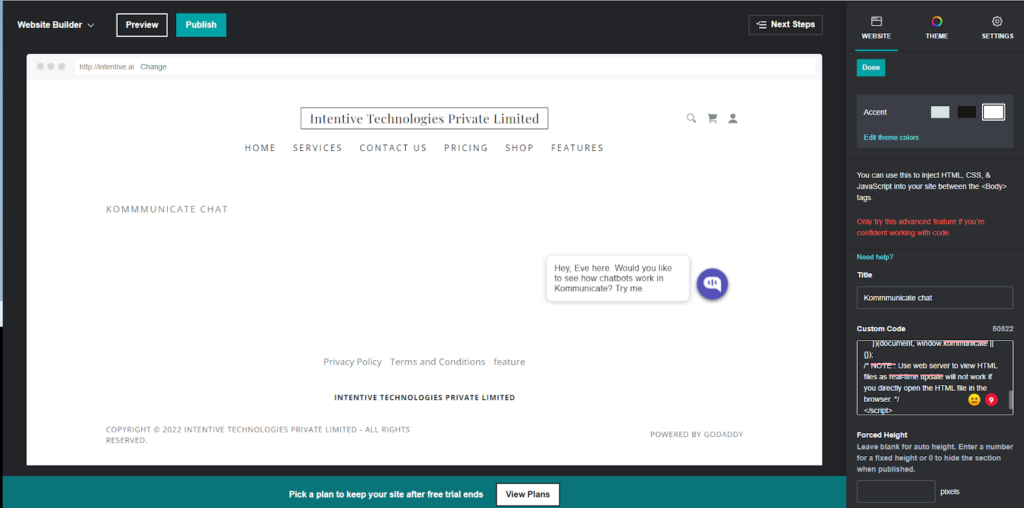 To get Install script – go to the Install section and copy the script.
After pasting the Custom Code field, you can specify a height for the chat widget iframe in the Forced Height section. Now, click Done at the top of the website builder panel.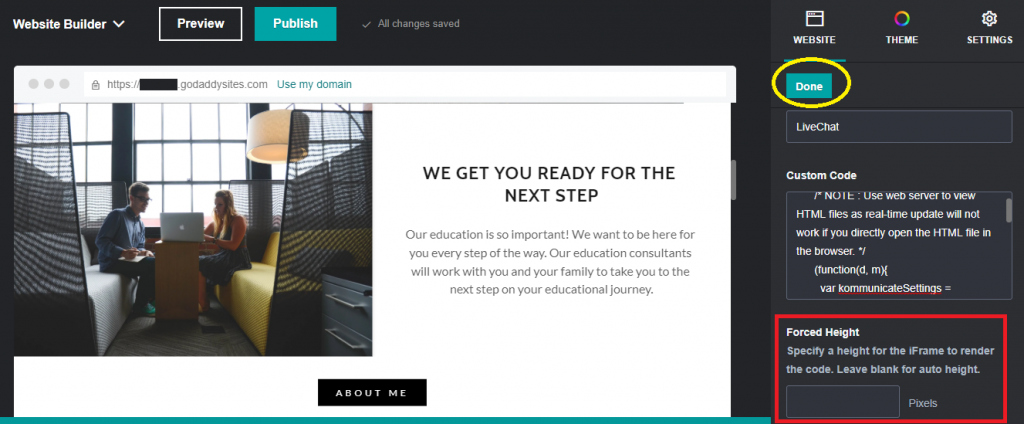 Click Preview or Publish at the top of the panel, you can now view the kommunicate live chat widget on your GoDaddy website.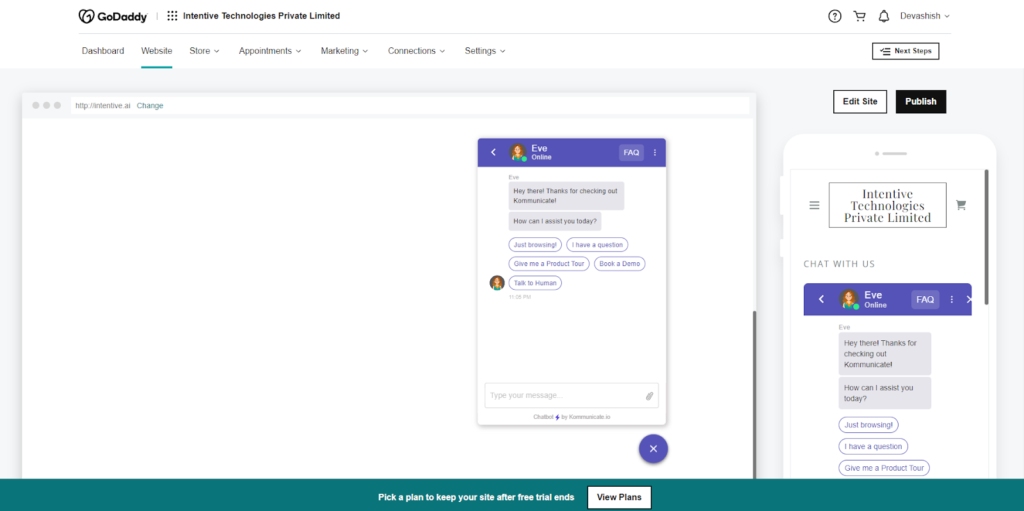 Chatbots are an efficient way to handle a large volume of customers simultaneously on your site. With appropriate programmed responses and better intent recognition, you can use chatbots to drive more sales and solve queries. The better your chatbot implementation, the more evident will be your improvement in customer satisfaction.
Here's a quick video:
---
At Kommunicate, we are envisioning a world-beating customer support solution to empower the new era of customer support. We would love to have you on board to have a first-hand experience of Kommunicate. You can signup here and start delighting your customers right away.