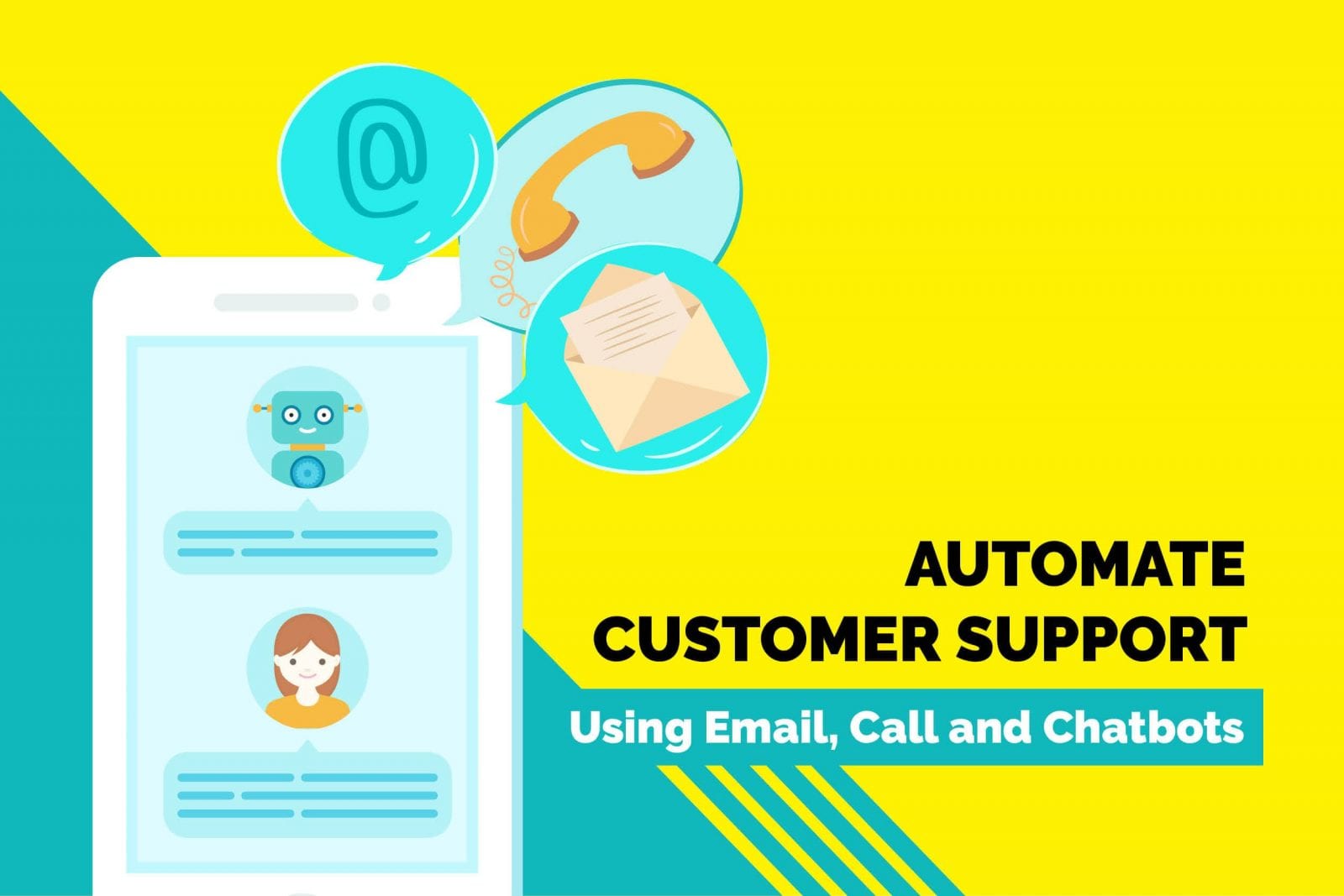 Customer support, for most companies, has been a cost center. Especially, when responsibilities like account management and customer success have moved on to dedicated teams.
Having said that, customer support is sometimes the only criteria that separate you from your competitors.
How happy your existing customers are can determine how much revenue would you get from them in the next quarter.
And it does help with reducing churn!
Even with all the pros, the truth of the matter is, customer support is where you lose money without any visible output. More customers your sales bring in, more support agents you would ultimately need.
And there is almost nothing that you can do about this.
Almost!
Like most aspects of our work, technology has made it possible to automate almost every task that was repetitive.
Companies such as Prospect.io, Easyleadz, Close.io have made it possible to automate outbound sales or at least the most time-consuming parts of it.
Companies like Hubspot, Webengage, and Lead Squared helped us do the same with marketing tasks and actually made it better by adding triggers and behavior in the decision making.
In this essay, I try to define how we can automate support similar to what Hubspot and Prospect.io have done for marketing and sales.
Additionally, I will address some important questions such as:
How do we make sure that we won't have to hire linearly as the number of customers increase?
How do we make sure, customer support doesn't become a cost center?
There are 2 things you would need to do to achieve this
Automate Support (as much as possible)
Align your support with the sales team (if you haven't already)
I will try to help you implement the automation part of our 2 part solution. We already have written about sales, support, and marketing alignment at length. You can find the post here.
Before we begin, let's lay down some ground rules,
All customers are not equal
Most wouldn't agree with me on this. But as a B2B company, you are not supposed to provide priority support to all your customers. If you can that's well and good but you don't have to.
I am not saying you shouldn't support your customers, I'm just saying not all your customers are equal.
Let's consider you have 2 customers, one pays you $5000 a month and another pays you $50 a month, who do you think should get assistance?
$5000 customer?
No
Both of your customers should get assistance, just that. The customer paying $5000 would have a dedicated support agent setting up a call or helping her via live chat.
While $50 customer gets assistance via email.
You would need to create levels of support based on the revenue and importance of the client. While maintaining or exceeding your current satisfaction level.
People Prefer chat over calls
Unless there is a mission-critical issue that customer is facing, most would prefer to chat or email rather than getting on a call.
According to research, more than 51% of the customer prefer to chat with an agent before they call a support number. The growth and dominance of chat apps like Whatsapp, Snapchat and Hike is a clear sign of our preferences.
Considering all the things above, let's dive in.
Automate Customer Support Using Emails, Calls, and Chatbots
The pre-requisites
Zendesk Account
Working knowledge of DialogFlow
A Kommunicate account
A support email account (support@kommunicate.io is ours)
All of them have free trials, it should be fairly easy to get them up and running.
Divide your customers into 3 support slabs:
Sales Support
Premium Support
Priority Support
Divide your support queries into 3 groups
Mission critical: Affects the operation of the product
Needs attention: Non-mission critical issues with minimal to no effect on core operations and features
General queries: No effect on core operations and features
What does this do?
The first step is to optimize how your support team goes about their daily business.
Setting up a priority matrix per se would allow your team to streamline what they do and help customers who need assistance the most while parking general queries for later resolution.
This would also allow you to segment your tickets and choose a method to answer them. Automation, remember?
Identify your Support Medium
How do you want your customers to reach you?
The general way would be to provide a number, an email id, and a chat support button on your website and within your product.
That was cute at one point.
But now it is a recipe for disaster and an insanely large overworked support team.
You don't need that.
For every type of customer choose one or more ways to connect.
In our case, this is what we do:
You might ask what is the difference between Retail- II and Enterprise level support?
The answer lies in being reactive or proactive, a dedicated account manager keeps an eye on the account and schedules regular calls apart from what the customer wants.
Whereas a premium support account has dedicated support but no proactive account manager.
Now let's dig into how to build and automate customer support.
Build your Chat Automation
I love chat for the reason that it's the easiest to automate and has an insane amount of capabilities attached to it.
In this case, this is what we would do:
This is the basic structure that we use, though we do have some people at Sales end who might pick up chats as and when they are available. Most of these land in our CRM which then is taken care of by an assigned salesperson.
In case of support though, we make sure that only premium or enterprise customers have access to the chat system. One of the major reasons being we have a lean support team and 1000+ retail customers.
This system makes sure that we are able to service our most important clients (in terms of revenue) without overextending the team or hiring an entire army.
How do you build this?
Chatbots have been in existence in their current form for more than 10 years now. Though only now have they caught the attention of enterprises.
Considering the automation we need, there are a copious number of options available in the market. Some of them are below
Hello Tars
Botsify
Anachat
etc among others.
We like to use Dialogflow (previously api.ai), because of the simplicity and of course because it is free.
A combination of intents, context and responses would come into play while building your chatbots with this.
Though easy to learn, my suggestion would be to ask a tech team member to build it for you. That would be faster.
The problem with Dialogflow is that once you have built your chatbot you would need a platform to deploy this to your website or mobile app.
Since we ourselves are a chat company we use Kommunicate's Chat Widget to integrate and deploy the same to our platforms. There is a bunch of literature here that you can use to integrate your Dialogflow chatbot to your website.
Some of the customers I am familiar with saw a decline of 27% in their monthly ticket volumes.
That too, without affecting their CSAT scores.
Using Chatbot Automation Effectively
Another aspect of chatbots is their ability to allow customers help themselves.
Some of the chatbots like the ones below can help you build a system that would prompt the customer to help themselves first.
If they are unable to solve the problem, only then they connect the customer to a support agent or create a ticket.
A bot can also connect to your FAQ's directly to answer user queries or you can have a sequential bot to help the customers.
Are you considering chatbots for your business? Download the Complete Beginner's Guide to Chatbots 
for a more detailed explanation on chatbots' capabilities, industry use-cases and a step-by-step guide 
on how to build one.
Build your Call Automation
The biggest cr*p you can pull with your support (unless you are a service based B2C company) is giving customers a phone number to call.
And even worst is the fact that you put an IVR (again unless you are a B2C company) on it to irritate the living bejesus out of them.
DO NOT PUT IN A DIRECT NUMBER ON YOUR WEBSITE
For enterprise customers with dedicated account managers, please feel free to share a dedicated number specifically connecting them to their respective account managers.
And if you have access to an IVR system, put in a PIN-based connection. Eg: Agent X can be reached by dialing your company number +140376XXXX followed by PIN- 687, which then connects them to their respective account managers.
Most of these services also have the capability of fallback mechanisms in case the account manager is unavailable.
Some services that I recommend include
Exotel
Plivo.
Twilio
What I prefer?
For your enterprise clients, just give out a dedicated number of their account manager, no pins no fluff.
Though in the case of premium support subscribers, give them a Calendly or any other appointment scheduler link. Where in they can schedule a call as and when required.
This gives you control over…
– when you would receive your calls
– preparation and Assignment of said calls
– the number of calls that you would receive.
Surprisingly, we saw a decline in direct customers calls without affecting our churn or customer satisfaction levels.
Of course, you can also have a company Calendly account which assigns calls to agents following an assignment rule.
Build
your Email Automation
You can actually use a standard Gmail account for support but I prefer to use a tool like Zendesk or Helpscout.
For one, it is built for customer support. And I prefer to keep my email id free from email avalanche as much as possible. And more importantly, I prefer responding to customers as soon as possible.
What do I like about email support tools?
Triggers and Automation play one of the most significant roles in your Email support process. Our job would be to design the system in a way that it minimizes if not eliminates all routine/mundane tasks.
This allows the support team to put the time and effort resolving customer issues, which otherwise would have been wasted doing unproductive tasks.
This combined with Chat automation would ideally save more than 30% of your support team's time while simultaneously reduce the ticket volumes by 27%.
That's a massive $720 saved on wasted effort per support agent per month!
What Automation and Triggers to Build?
Following is a comprehensive list of most essential automation and triggers you should build.
Keep in mind these are everything I have personally used while running operations for companies ranging from a B2B SaaS software developer-centric PaaS.
Most of these are self-explanatory, for anything else leave me a comment and I will try and explain it for you.
Here is the list:
Trigger to tag tickets with the specific type of issues/questions raised in the form built on your website or via chat
A trigger to assign priority level based on the type of customer and level of the issue
Automation to send email to the customer and close the ticket in case the customer doesn't respond for more than 5 working days.
An automation to trigger a notification to a second level escalation team in case a ticket is not resolved within SLA i.e. in case of SLA breach
Automation to trigger an email to the customer in case their issue is assigned to tech team i.e. customer updates
Automation to close all tickets marked spam
This list is not exhaustive, the ones mentioned above are the most basic ones that one should have to begin with.
Most of the other automation are unique to the type of industry you are in and the customers you deal with.
A combined multi-platform approach is good to listen to but very difficult to implement.
Especially if you add social media into the mix, work for your support team only increase and consequently so does your need to hire more support team members.
Final Suggestion
DO NOT add support via social media
Unless your product is directly dependant to such platforms for customers or you cater to customers whose users come via social media.
We have implemented and have seen our customers implement this methodology, I have shared the numbers related to this in a previous section. But here is it again
30% increase in productivity
27% decrease in customer queries
That's what you are looking at with an automated support system in place.
Keep in mind this in no way an easy task, it will require your support, tech and product teams to work together.
But the outcome would be LEGENDARY.
---
Subscribe here to get the good stuff — we solemnly swear to deliver top of the line, out of the box and super beneficial content to you once a week.
At Kommunicate, we are envisioning a world-beating customer support solution to empower the new era of customer support. We would love to have you on board to have a first-hand experience of Kommunicate. You can signup here and start delighting your customers right away.