Last Updated on December 23, 2022
The world is moving towards a greener future, from biodegradable garbage bags to two-wheelers that promote micro-mobility. The two-wheeler rental market is also a big part of this revolution, with commuters opting to bike instead of drive to reach their destination faster. The global market for two-wheeler rentals is forecasted to touch $4.7 billion by 2027. This far exceeds the 2020 estimate of 2.1 billion. This growth will occur at a healthy CAGR of 11.7% from 2021-2027. Vogo Automotive Pvt. Ltd is one enterprise part of the two-wheeler rental trend sweeping the world.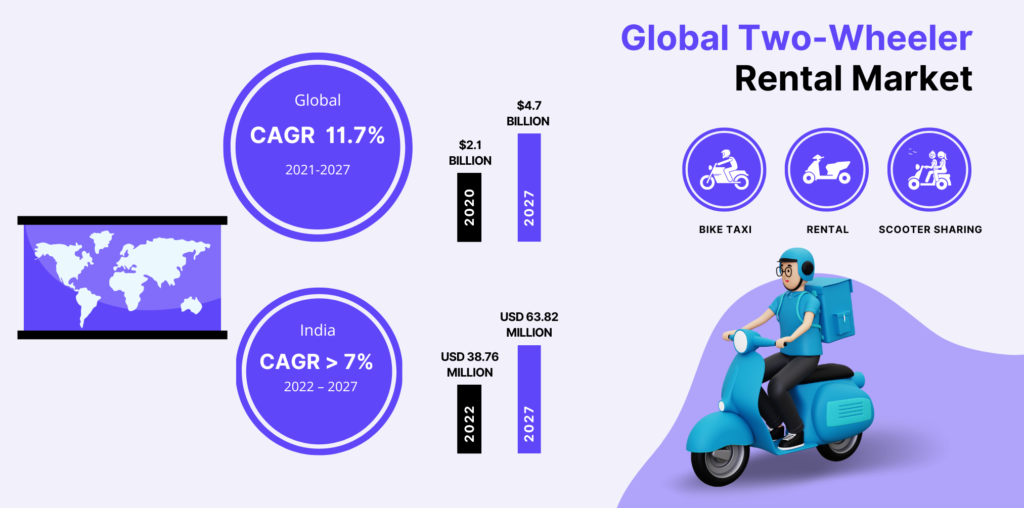 Why is the two-wheeler rental market growing at such a rapid pace?
There is more to the growth of this market sector than just environmentally conscious citizens and faster commutes. Some of these factors include:
Micro-mobility is taking off
It is referred to as micro-mobility when people use transportation to cover short distances. Such transport can usually seat one or two people at a time. It runs parallel to last-mile connectivity, helping people reach the last leg of their destination. The main advantage of micro-mobility is the increased travel efficiency in urban landscapes. Such traffic scenarios usually involve gridlock, and a two-wheeler would give you an edge over a 4-wheeler.
Rising fuel prices
Fossil fuels have always been known to be a limited resource, thus increasing in price throughout the years. Adopting vehicles that consume less fuel, hybrid or completely electric, is a sustainable transport goal.
Green initiatives
Most governments worldwide have taken it upon themselves to reduce carbon emissions, and transport is a key area. Government initiatives include subsidies for e-vehicles and bikes, which generally have a lower carbon footprint than a car. Therefore government policy will continue to play a significant role in the growth of the two-wheeler rental market.
Innovations in manufacturing
Electronic transportation is seeing a marked increase in innovation and implementation. There are plans to set up infrastructure that supports e-vehicles, such as fast charging points and battery swap stations. What's more, 3D printing for metal parts has come of age for spares which makes manufacturing easier on more minor scales. It is only a matter of time before economies of scale will broaden the reach of e-vehicles on a global scale.
Vogo Automotive Pvt. Ltd.
Vogo is a tech-driven personal mobility solution that provides affordable and convenient two-wheelers to everyday commuters. Its docked two-wheeler rental model has taken off in a big way, with people using it across the Indian subcontinent to get from A to B.
True to its name, "Vehicle On The Go" has two-wheeler docking stations at accessible locations that are convenient for commuters. The difference between Vogo and any old two-wheeler rental is that it leverages IoT technology that makes it easy for riders to pick a ride and be on the move.
Vogo's mission is to offer keyless rides to all those who need seamless mobility and aims to minimize human interaction. It is one of the few platforms with a 1-click booking experience for all riders and a sanitization process to ensure customer health.
The Challenge
Being a B2C (Business to Consumer) application, Vogo expected a healthy amount of customer interaction and queries.
Vogo's customer support team gets thousands of calls routed weekly to its call center. You will need to translate such call volumes to staffing requirements that fluctuate. This means you must allocate many resources to adequately address customer needs. With time, such call center volumes pulled focus from the operational side of things in the business. The customer support team was fully loaded with queries and issues and had little time for much else. Most customer queries were from users on the go. Vogo needed queries to be addressed quickly to help users in time.
Vogo needed customer support automation that was customizable and could scale without any issues. Chatbots were the answer to Vogo's query volumes, and that's where Kommunicate stepped in.
The Solution: Kommunicate's Kompose Bot Solution
"We needed to reduce our call center load," said Product Manager Jatin Jhalani concerned about call center query volumes. Jatin went through quite a journey to find the best chatbot solution that suited his organization.
After going through a painstaking process of evaluating ten other chatbot providers (including Freshchat and Botcopy) Jatin decided to adopt Kommunicate's chatbot solution.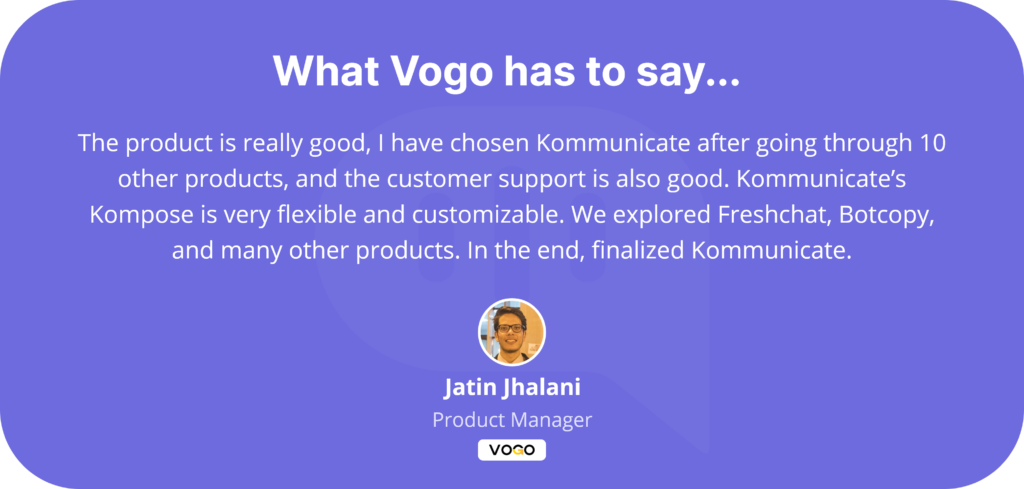 "Kommunicate was highly customizable and flexible," said Jatin about Kommunicate's Kompose bot solution. This is saying a lot because Vogo faces a massive volume of queries. Such queries often come with varied intents and expected answers.
Kommunicate's AI Kompose bot builder enabled Vogo to build bots that could handle customer queries with appropriate bot-bot and bot-human handoff. This meant customers got the response they were looking for at the right time.
By the Numbers
Since 2017, Vogo has had 440,405 conversations routed through the Kommunicate Kompose platform, with 230,462 conversations assigned to a bot.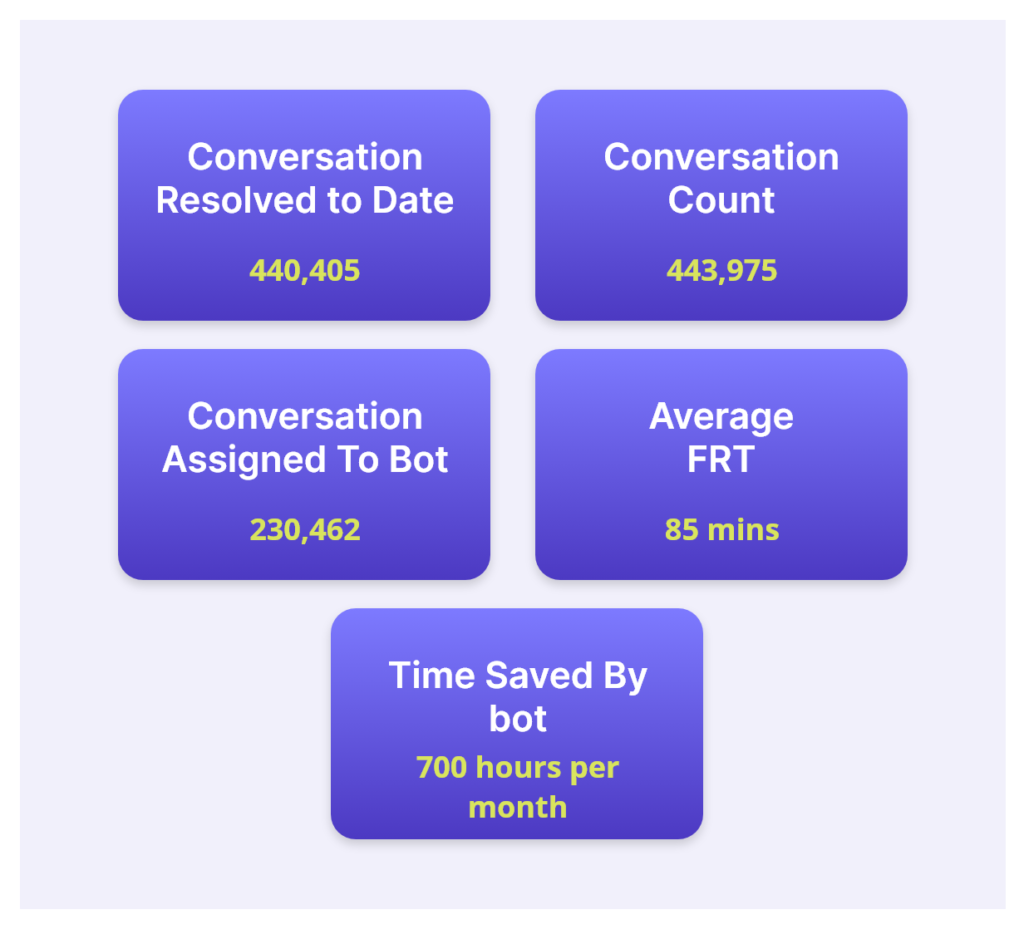 Vogo achieved an admirable First Resolution Time (FRT) of 85 minutes. FRT is the time a customer support representative takes to resolve an issue for the first time across all media. The media can include email and live chat, and more.
Kommunicate's AI Kompose chatbot solution saves a staggering 700 hours per month in customer support time by taking on queries and routing them to the right agent.
Conclusion
If you are an enterprise in the travel sector, you have a lot to gain by automating customer support using chatbots. You can reinvest the time and manpower you save in other operations within the organization that further business goals. Chatbots can be a vital part of any support automation strategy freeing up essential resources to focus on mission-critical issues.