Last Updated on January 27, 2023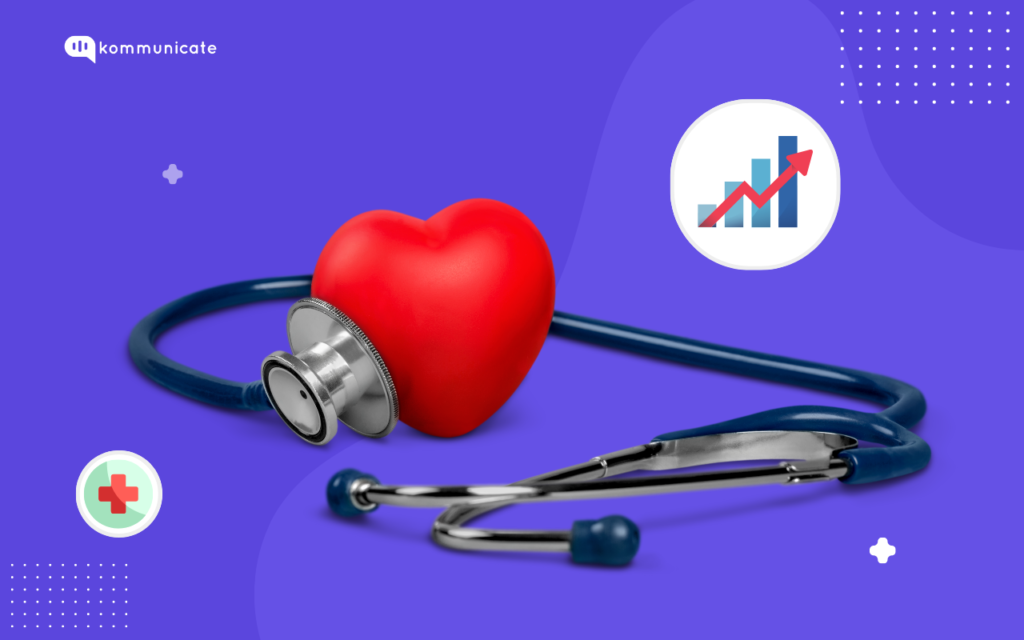 The healthcare sector worldwide is witnessing significant shifts in the conventional trends that have been followed for years. Healthcare trends include significant adoption and acceptance of technology in healthcare organizations across all geographies and demographics. It's safe to say that the coronavirus pandemic played a vital role in this revolution. You can say that the pandemic catalyzed the accelerated growth of medical technology to fight death and disease.
The healthcare sector has grown tremendously in the past few years. You can attribute such growth to the increased chronic diseases and health-related problems due to bad eating habits and a sedentary lifestyle. This means the need for enhanced healthcare might lead to a significant boom in the healthcare sector in 2023.
There have been some major trends that have shaped the healthcare scenario in the past year. Considering these trends, here is the list of the best healthcare trends in 2023 that you can expect to witness.

1. Change in the medical insurance claims
Around 55% of medical insurance holders have reported that their medical health declined rapidly in later stage diagnosis due to inappropriate healthcare.
Even though the threat of coronavirus has passed over from the world, it has not entirely vanished. People have learned to accept and live with the fear of coronavirus.
This is the reason why the coronavirus has permanently impacted medical insurance claims, even if lockdowns have been lifted in the majority of countries around the world.
Around 61% of medical insurers worldwide have said that claim patterns have changed rapidly after 2021. The cost of COVID-19 claims is a severe problem in areas like Latin America and the Caribbean. But this problem has become insignificant in other parts of the world.
We can expect to see some major shifts in the healthcare industry in the coming years. Employers might start promoting early diagnosis, regular screening, and checkups, especially for lethal diseases like cancer.
Here's an interesting read 6 Ways AI Chatbots are Changing the US Healthcare Industry
2. Start of modernisation
Health insurance companies have made their eligibility criteria more flexible. For the people who identify themselves as a part of the LGBTQ-plus community, it is great news. This is good for the claims process.
You can also see that digital tools have become an important aspect of the healthcare industry, especially in disease detection and diagnosis. In the area of telehealth services, there has been substantial progress. Now, you, as a patient, do not have to travel to clinics and hospitals to get your diagnosis. Mobile technology lets you get everything from blood samples to physiotherapy sessions at home within a few minutes.
But there have been limitations to health sustainability. Some companies have been able to make changes in their policies and operations successfully, but there are still a lot of limitations to it. Low-income families still face difficulties in the path of full recovery due to daily treatment costs that are beyond their budget.
All healthcare companies must now broaden their perspectives and question whether their plans are accessible to people from the lower strata. As an enterprise, you must actively look for ways to make healthcare more accessible to employees. This includes ensuring that an employee's medical treatment should be completed to aid in full recovery.
3. Mental health continues to be unaddressed
The concept of mental health has started gaining a lot of attention in the past couple of years which in itself is great news. Considering the stigma surrounding mental health and people seeking help, any progress is good.
But the mental health gap is likely to persist in 2023 as well. 16% of insurers have reported that they do not provide plans that cover mental health services. Back in 2021, mental health was one of the top five concerns in Europe. You can see that despite substantial progress in this field, the progress is uneven worldwide. You can observe that in some parts of the world, such as Finland and Denmark, there is sufficient focus on mental healthcare. Third-world countries are yet to remove the stigma associated with healthcare, let alone work towards better mental health.
Around ⅔ of insurers claim that they cover all psychological and psychiatric counseling sessions. But only ⅔ of insurers cover psychological and psychiatrist counseling only, up to 10 sessions or even fewer. Usually, a patient takes one session per week while undergoing treatment. This means that the plan doesn't even cover 20% of the whole treatment, which is extremely insufficient.
In 2023, employers must start considering how they can fill up these gaps in mental healthcare in a way that is beneficial for both parties. Automating mental health treatments with therapy chatbots can be a part of the solution offered by healthcare startups.

4. Healthcare trends to address staff shortage, burnout, and employee retention
The problem of staff shortage, clinical burnout, and employee retention are probably the most severe problems in the healthcare industry. All of these challenges escalated during the coronavirus pandemic, where on average, 1 out of 5 healthcare workers decided to leave the team.
WHO has estimated that there is a need for around 18 million healthcare workers to achieve a universal standard of healthcare by 2030. There is an additional need for 99 million nurses to achieve the target.
The healthcare sector needs to employ the right leaders to help keep the team together and maintain the employee retention rate. You need to see an efficient division of labor among the employees in the healthcare sector by providing needed resources. You need to ensure that at any point, a healthcare employee should not be overloaded. The environment must be friendly, and technology must be used to decrease employee workload.
Bonus read: How A Therapy Chatbot Can Provide Essential Healthcare Services
5. Broader utilization of telehealth systems
While Telehealth was introduced to the world a long time ago, it came to the forefront during and after the pandemic. During the pandemic, it was almost impossible for patients to go and get their checkups done in person, which is why this system was adopted worldwide. It also solves the problem of the shortage of healthcare workers.
Patients in emergencies could contact the doctor within a few minutes and get themselves diagnosed and treated without going to the hospital. Prescription change and treatment became much easier as the patient and the doctor could be in direct contact with each other all the time.
6. Robotics in healthcare
An exciting part of the growing healthcare industry is the introduction of robotics. This healthcare trend of robotic surgery can decrease risk by increasing accuracy during surgery and promoting remote operative procedures. All these machines are capable of performing a variety of tasks, such as facilitating the transportation of patients and helping with surgeries, as well as delivering vaccines.
In some parts of the world, such as Japan, robotics has become an essential component of the healthcare industry. You can also observe that hospitals and nursing homes are introducing robots to perform repetitive tasks.
Another potential area of growth in the healthcare sector is using uncrewed aerial vehicles such as drones for urgent delivery. In 2021, the commercial market for drones on a global level was valued at US$6.51 billion. You can expect this to grow even more by 2029.
Healthcare Automation
The common thread between all the trends presented so far is the human element, both on the patient and provider sides. Patients require immediate attention during times such as the COVID-19 pandemic, and healthcare providers get overwhelmed. Even when there is no crisis, patients face delays, and healthcare providers are ill-equipped to treat them at scale. The barriers to great healthcare are critical insurance documentation that needs approval, symptom collection, and analysis.
Healthcare automation can solve these mission-critical delays and ensure that patients get the timely care they need. It can also ensure that healthcare providers don't get burned out by administrative tasks and focus on the patients' treatments.
Kommunicate's healthcare chatbot solutions are designed to solve these exact problems, bridging the gap between patients and healthcare providers. The Kompose bot builder's no-code platform helps you customize the chatbot that will help you serve your patients' needs the best.
Wrapping Up
These are the few healthcare trends that are likely to continue in 2023. Data is becoming a critical asset in the field of health care. Doctors are using it for the discovery of medicines and vaccinations. From where we stand right now, the future of healthcare seems promising and bright

---
At Kommunicate, we envision a world-beating customer support solution to empower the new era of customer support. We would love to have you on board to have a first-hand experience with Kommunicate. You can signup here and start delighting your customers right away.