Last Updated on September 9, 2022
The month of August saw us adding a few exciting new features to our product, and we can't wait to tell you more about it. Here is a quick update on what we achieved last month.
1. Update MTU in billing :
Now users can add more MTU during the billing process. The tool will automatically update the amount payable considering the updated MTU and the base plan.
2. Kompose default button trigger :
Now users can choose an intent to be triggered on a click of the default button. Button trigger is the newly added section on the "Default Button" configuration window.
From one intent, you have the ability to trigger another intent.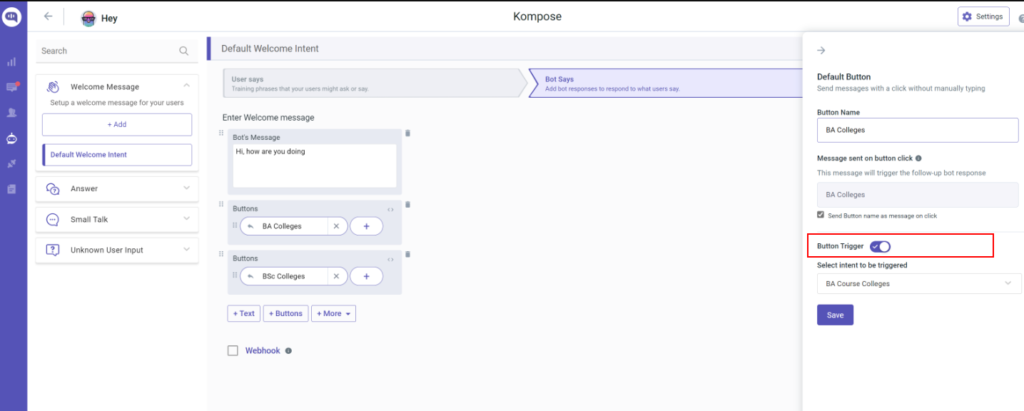 3. Attachment size increased :
You can now send attachments with file sizes of up to 25 MB with the bots built using Kompose. This feature will be extremely useful for our customers who send a lot of images / videos over chat.
2.4.6 – Release Notes – Android
HTML Rich message Video template
Fixed multiple crashes including Agent app crash
Release Notes: iOS
Upgraded iOS SDK 6.7.2
Revamped User Info Screen and added Conversation Info data, Conversation Origin URL for the conversation.
Fixed the issue of In App Notification received for user message, bot message when Bot is Handling Conversation
Added Support for Send Transcript of conversation
Added Feature to get Feedback, Feature Request through the app
Revamped User Profile Screen
Added Support for Billing Expired Account Warning for the users