Last Updated on August 20, 2023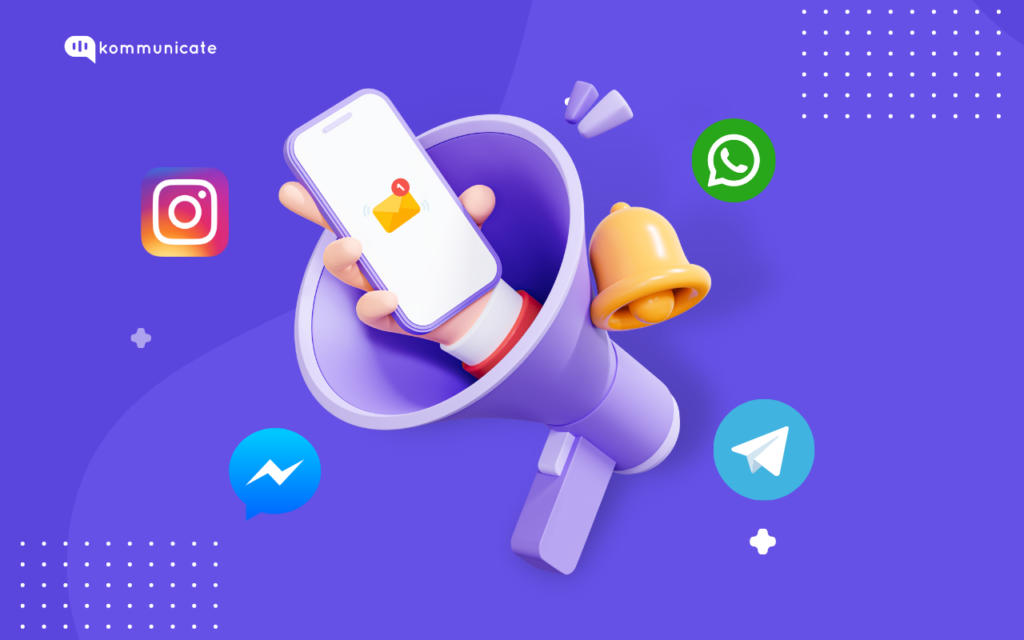 There are over 2.93 billion Monthly Active Users (MAU) on Facebook (owned by Meta).
That's more than the population of the United States, Germany, UK and France combined.
Meta also owns Instagram, which has a record 4.25 billion total visits to its website every month.
A whopping 70% of internet users use one or the other Meta platform, including Facebook, Instagram, WhatsApp, or Messenger.
So you know where your customers are. But are YOU there yet?
With Kommunicate's Campaign Messaging feature, we are taking you, dear user, one step closer to your customer. Without you having to break your keyboard.
What is the Campaign Messaging Feature?
Reach all your customers, simultaneously, with just a couple clicks.
That's Campaign Messaging for you. No, seriously, that's pretty much it!!
You will have a lot of contacts saved in your database or in the form of a CSV, and Kommunicate's Dashboard will now enable you to send a message to all of them, simultaneously. With the click of a button.
Kommunicate's Campaign Messaging will allow businesses to send bulk messages to customers from one platform to all the abovementioned channels.
This feature is available for WhatsApp, Instagram, Viber, Telegram and Facebook Messenger.
Click.Click.Boom.

How do you enable the Campaign Messaging Feature
The Campaign Messaging icon will be displayed on the dashboard, like this: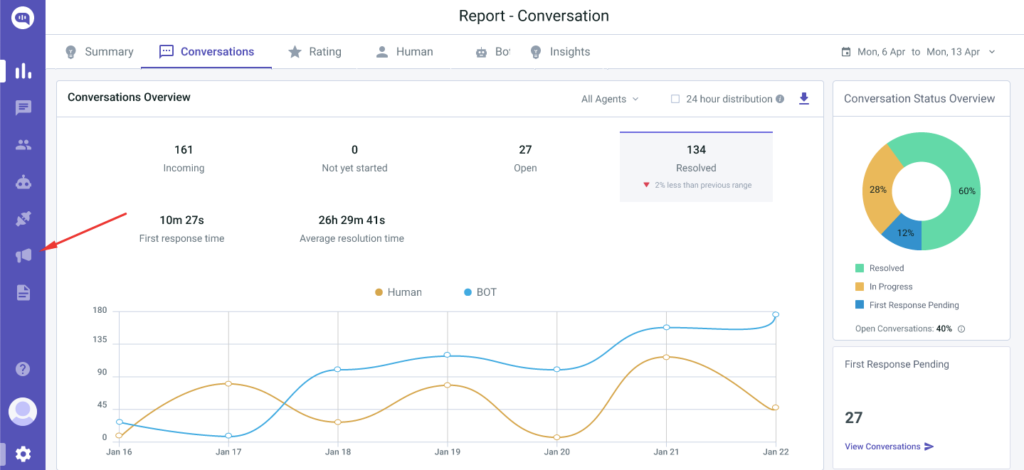 Click on the icon, select your contacts from the next screen, like this: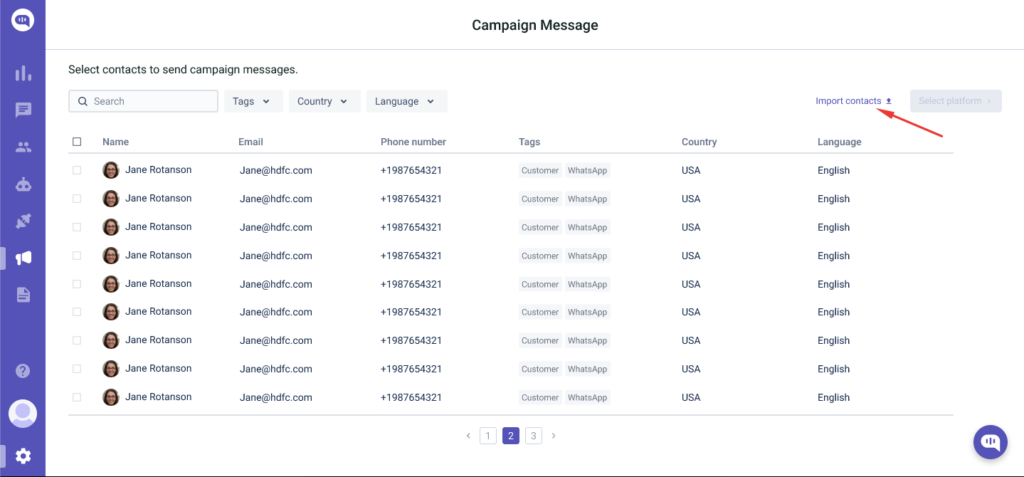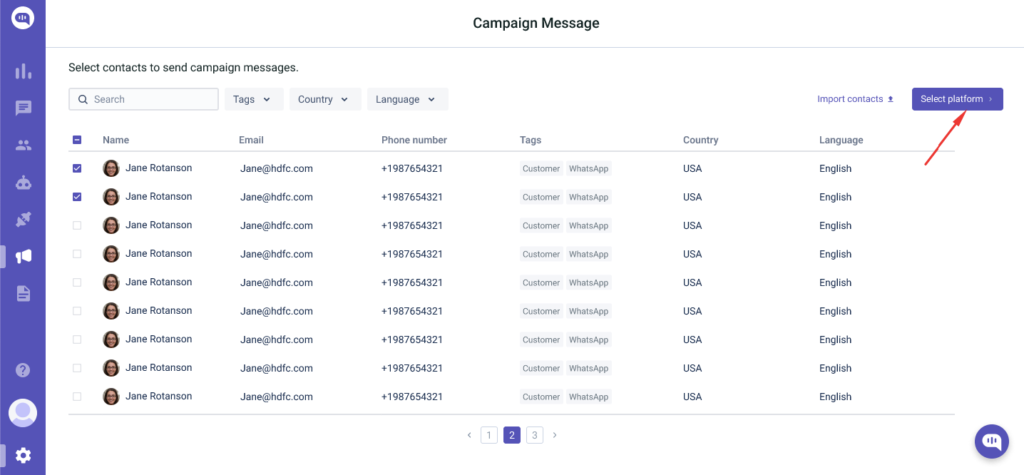 Click on the "Select Platform" button once you select all the contacts that you need the Campaign Message to be sent to.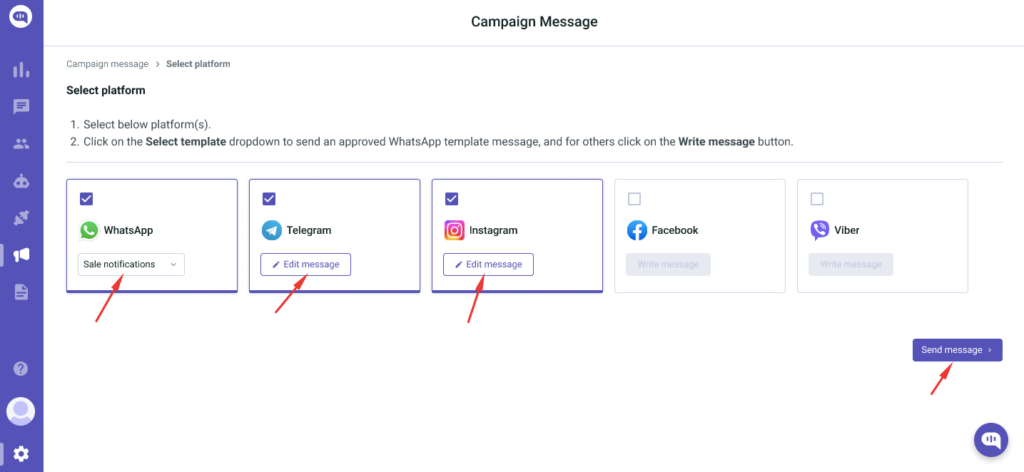 Hit "Send Message" and Bam! Message sent.
Advantages of Campaign Messaging
What can you do if you can reach out to all your customers at the same time?
Well, we will leave the answer to that question to your imagination.
Like we said, this feature is available for WhatsApp, Instagram, Viber, Telegram and Facebook Messenger.
With Campaign Messaging, you can proactively reach out to customers with offers, transactional messages, and announcements.
Say you have a customer called Tim, and say you want to wish Tim on his birthday.
Will it be an impersonal email that will go die a slow death in his inbox, as he scrolls past all the "Happy Birthday" emails that his colleagues send him.
Or will you genuinely surprise your customer if he gets a message on his Messenger or WhatsApp number, from a brand that he likes?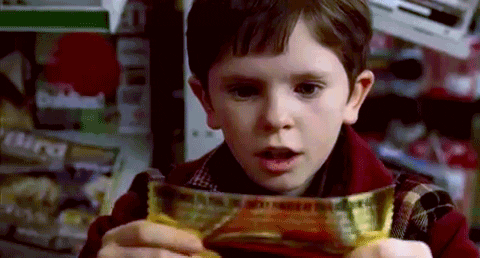 Campaign Messaging helps with branding and ensures the same communication is in different channels.
So Tim is happy that your brand actually put in the extra effort to send him a personalized message.
You are happy because it was not just Tim's birthday but also that of 5 other customers, all of whom got a custom made message delivered to their inbox thanks to Campaign Messaging.
And we at Kommunicate? We are just happy that You, dear customer, are one step closer to your own customer.
Win, win throughout.
Prerequisites for Campaign Messaging
To use campaign messaging, you must integrate your Kommunicate account with the channels you prefer. Check out our integration capabilities here. Watch the videos here if you need help integrating any of the apps.
Once you enable the integration, businesses must create templates of messages they would like to send. You can send templates across channels instantaneously except for WhatsApp.
WhatsApp wants to ensure that businesses are not spamming their customers. To ensure this, they have a review process where they ensure that you follow all the guidelines.
To make it user-friendly and easy, we have enabled tags so that businesses can find their targeted audience based on tags.
And that's pretty much everything you need to worry about at the moment.

When is Campaign Messaging coming to my dashboard?
We are still perfecting this little magic, so you can expect Campaign Messaging to be part of your Dashboard in the next few weeks.
Keep watching this space for more.
---
At Kommunicate, we envision a world-beating customer support solution to empower the new era of customer support. We would love to have you on board to have a first-hand experience with Kommunicate. You can signup here and start delighting your customers right away.