Last Updated on May 31, 2022
In this blog, we will help you to understand :
What is the FAQ page
How to create a faq page?
Tool and steps to deploy it on your chat widget
Benefits of the FAQ page
Also, we will help you in improving your customer experience, be efficient, rank higher, and increase brand goodwill altogether. The only thing right now in your mind is HOW? Right?
So let's get straight to the point, why are you getting too many repetitive customer queries? Why are your customers failing to understand your product, let alone use it? It simply is because your website fails to clear basic queries about your product or your business.
So, how can you fix that? The answer to that is a FAQ Page for your website or what we like to call it – A Helpcenter!
Helpcenter is a clean, lean, and simple knowledge base builder tool. You can deploy it on your domain and customize the theme to make it your own.
What is the FAQ page?
As the name itself suggests, A FAQ or Help Center page on your website is what people can visit to find the answers they are looking for about your product or services.
You can create articles related to the most frequently asked questions about your product by your customers.
That way your customers can easily and specifically search for what they are looking for and can instantly find an answer that would clear all their doubts.
It will also show that you know what you are doing and will serve towards a better customer experience which shall spark your customer's confidence in what you are offering.

You can easily create FAQ pages and your user can avail them in the support chat. Here are the details:
Steps to create your FAQ page
Log in to your Kommunicate dashboard and navigate to the Helpcenter. If you don't have a/c please sign up here for free.
And you can start creating your FAQs using a WYSIWYG editor. You can use multiple formatting options. And you can also save the draft for editing it later or publish it right away.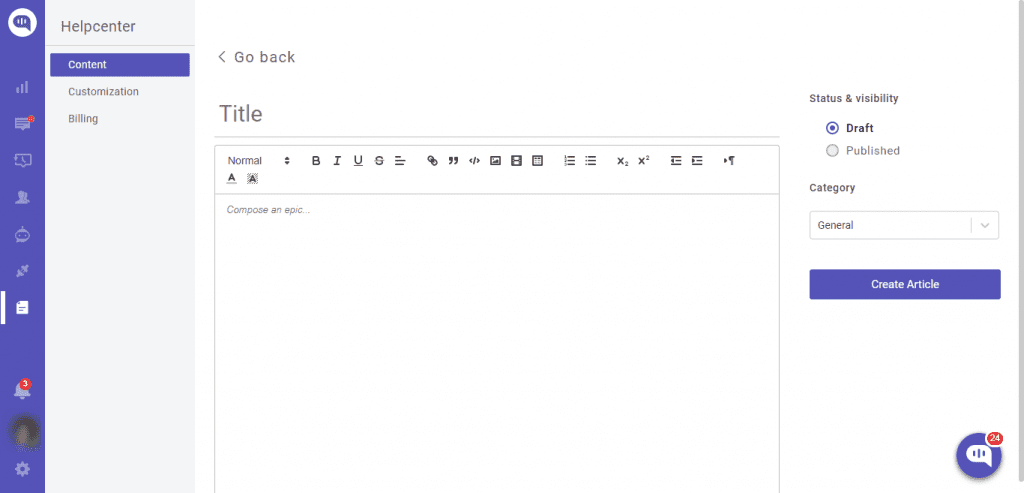 You can add multiple FAQs and categorize them as per your needs. The complete list can be accessed in the section.
As you can see below, we have created 3 different categories namely General, Conversations, Contacts.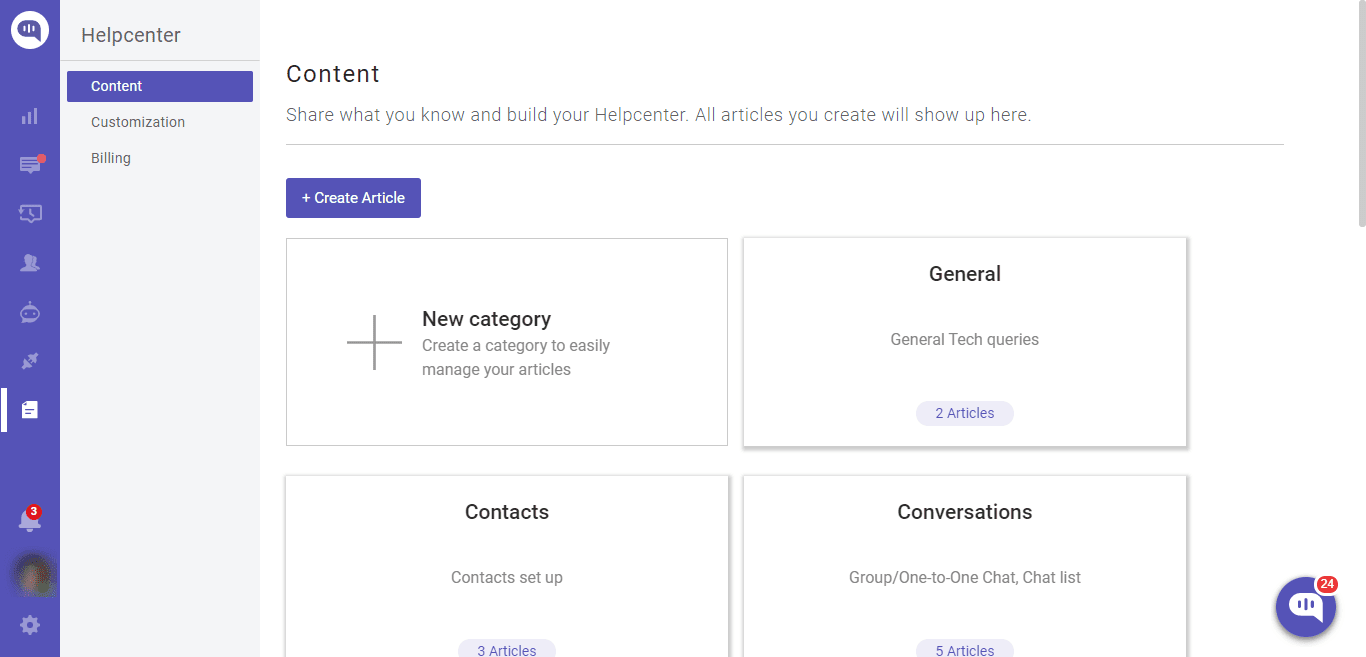 Use FAQs in your chat widget
Once you have created an FAQ, it will start showing up in your chat widget automatically. Your users can just click on the FAQ button to browse through the FAQs.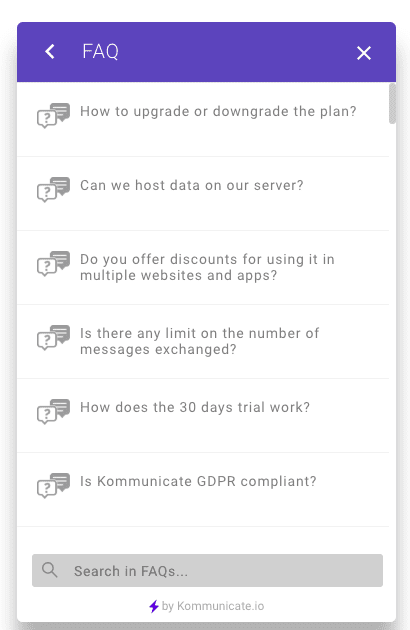 Let Kompose Bot handle FAQs
Using Kompose create your own FAQ bot. Once articles are updated connect the Kompose bot with your helpcenter and enable the setting (answer bot section). After enabling the bot will reply to users by fetching answers from your knowledge-base articles and FAQs. If the bot is not able to answer, then it can direct the conversation to your agents to take over from.
You can assign the conversation to kompose by setting up custom routing rules and passing kompose bot ID in the installation script. More details here.
BTW, Is it necessary to have an FAQ page?
Below are 5 benefits of the FAQ page.
Improve Customer Experience 
Having a FAQ Page will drastically improve your customer experience. Your customers don't have to browse multiple web pages to find simple answers about your business or product. 
Overall it shows how professional you are and that you care about making it easy for your customers to make purchase decisions.
After all, it is the customers who are going to invest their time and money into something which you plan to provide. 
Make it as easy as possible for them to get the answers they are looking for about what actually you are offering them.
Save time, be efficient because 'Time Is Money!' –
It is no surprise that you and your customers both don't like wasting time, nobody does. 
Emailing, calling, or raising support queries should be the last option for your customers and you as well. As then, it involves a two-way process where both you and your customer are in a loop, and sometimes it can get very long and never-ending. 
The only thing which would happen then is that you might lose a potential customer and I think we can agree, that is not what we want. FAQ Page will put all the answers to their basic queries in one place, saving you and your customers a lot of time.
Boost your sales 
Yeah, you heard it right, FAQ Page can actually help you boost your sales. Having a FAQ Page with random info won't do the trick but if you have a FAQ page that is tailored to answer specific common questions that your customers might have in general and articles on FAQ Page must also contain links to your product pages and signup page. 
Now that will definitely help improve your conversion rate and then we know for a fact that ultimately it will boost your sales, boosting your revenue overall, and in the end that is the ultimate goal, right?
Building Goodwill 
We expect the professionals to have the er knowledge and to help clear our queries.
 Similarly, for your customers, you are the professional and you have to earn their trust by demonstrating product expertise and explaining your business model. Building your audience's trust is very important if you want to convince them to buy something from you. 
Use the Page to demonstrate your expertise in the field and to build your audience's trust. Whenever you answer a query successfully you've made yourself an expert in their eyes. Provide them with well-built articles where they can clear their queries and enable them to consider making a purchase.
Rank Higher in Search Engines 
FAQ Pages are best when it comes to ranking in search engines. FAQ Page provides search engines with relevant information and helps them to understand your business better. 
And FAQ Page is the best place to publish about your products, services, your goals, vision, and about your business in general. As you continue to answer more and more questions using this page on your website, you'll find it ranking higher up in the search engines. Use specific long-tailed keywords that your customers might search for so that there's a higher chance of them landing on your page.
Don't forget to check out our wonderful FAQ Page builder – Helpcenter. Enjoy truly codeless and seamless integration with your website.
Hope this helps. If you have any questions or need more information, message us on chat or email us at support@kommunicate.io.
Here is a video tutorial for you – 
---
At Kommunicate, we are envisioning a world-beating customer support solution to empower the new era of customer support. We would love to have you on board to have a first-hand experience of Kommunicate. You can signup here and start delighting your customers right away.
---