You can easily create FAQs and your user can avail them in the support chat. Here are the details:
Create FAQs
Navigate to the FAQs section. You can create FAQs using a WYSIWYG editor. You can use multiple formatting options. You can also save the draft for editing it later or publish it right away.
You can add multiple FAQs and access the complete list in the FAQs section.
Use FAQs in Chat Widget
Once you have created an FAQ, it will start showing up in your chat widget automatically. Your users can just click on the FAQ button to browse through the FAQs.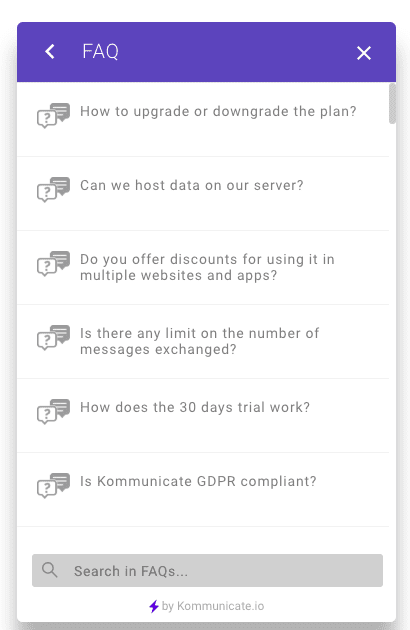 Let Liz handle FAQs
Liz is our FAQ bot. If you have assigned new conversation to Liz, she can browse through the FAQ list and suggest your users the answers to their queries. If Liz is not able to answer, she can direct the conversation to your agents to take over from.
You can assign the conversation to Liz by setting up custom routing rules and passing Liz's botID in the installation script. More details here.
Hope this helps. If you have any questions or need more information, message us on chat or email us at support@kommunicate.io.