Last Updated on January 28, 2023
The Digital Disruption in Medicine:
The digital disruption is everywhere, from banking to education, finance and manufacturing. It is touching all the aspects of our lives and making life easier for people across the globe. Even traditional industries like hospitals have benefited from the advancements in AI and NLP.
Advantages of chatbots in the healthcare industry:
We now know that both hospitals and patients benefit from chatbot technology. Let us look at a few specific use cases where chatbots are revolutionizing the medical sector.
Here is a brief glimpse of some of the advantages of chatbots in the healthcare sector:
Boosts customer service: By design, chatbots can speak to a variety of customers simultaneously. Compare this to a live agent, who can only handle a set number of customer calls in a day. During peak hours when there is a spike in the number of customer calls. A chatbot proves to be much more effective than a live agent.
Provides instantaneous response: When there is a medical emergency, time is the most important resource there is. A chatbot is an invaluable asset when it comes to giving out critical information in the least amount of time.
3. Assistance with medications and reminders: Doctors generally prescribe medications according to ailments and then expect patients to take these medicines on time. But in a lot of cases, its the patients themselves that forget to take the medication, leading to health complications. This is where a chatbot can help. Chatbots can send these patients pre-programmed medical advice and also give them gentle reminders to take these medications.

Chatbots in healthcare- Statistics:
The chatbot market was valued at $17.17 billion in 2020, and is projected to reach $102.29 billion by 2026.
In 2018, the global healthcare chatbots market was valued at $116.9 million, and by 2026, it is predicted to be worth $345.3 million.
According to a survey, 86% of the respondents preferred to interact with a chatbot instead of filling out a website form.
There are close to 26,000 public hospitals and 44,000 private hospitals all across the country, according to this report.
About Kokilaben Hospital
Kokilaben Dhirubhai Ambani Hospital is one of the biggest hospitals located in Maharashtra, India. The hospital started operations in the first week of 2009, and has many firsts – including Asia's first EDGE Radiosurgery system, and India's 1st Spine Surgery Suite featuring the O-arm.
The 750 bed multi-speciality hospital also has a robust website, where they cater to returning and new patients, and this is where they faced a major challenge.
The challenge
The hospital had a lot of incoming enquiries but no method to follow up with patients who may need their service. This posed a major challenge in lead collection. Also, patients needed a quick and simple way to book doctor appointments and make enquiries.
The solution that was proposed was a chatbot, powered by Kommunicate!!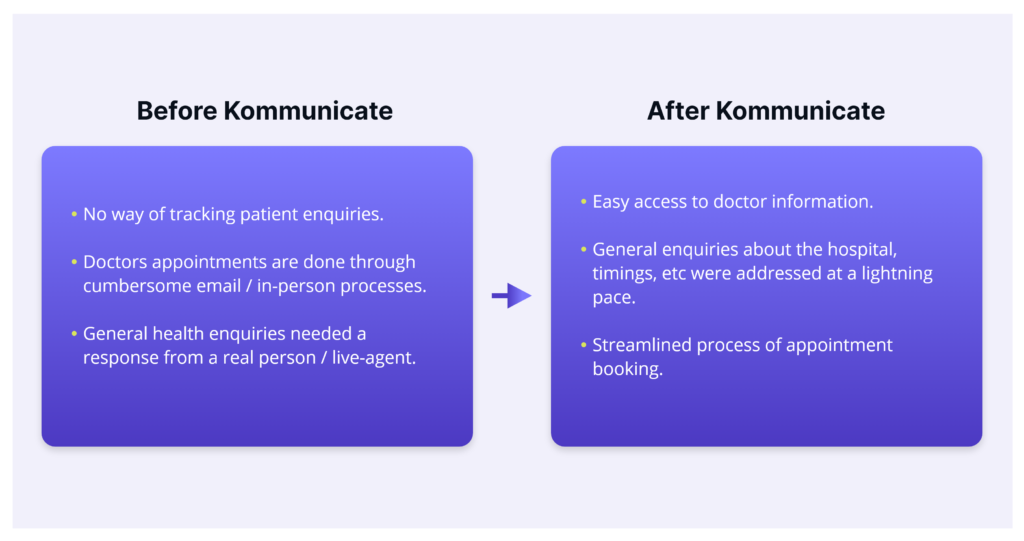 Before Kommunicate:
i) Patient Enquiries:
A lot of patients reached out to Kokilaben hospital during all hours of the day and night. But the hospital did not have any method to track these patient enquiries. This meant that patients had no way to know if a treatment method was available at the hospital or not, unless they did a physical visit to the hospital. Kokilaben hospital is situated in urban Mumbai. Considering the fact that close to 55% of Maharashtra's population lives in rural areas, this was a daunting prospect.
ii) Doctors appointments:
Kokilaben Dhirubhai Ambani Hospital has some of the best doctors in the country. The hospital gets a record number of patients both from Maharashtra and out of state. To book the appointments of these doctors, however, one had to call a phone number. After the call, one had to wait for an actual person to make the booking. An alternative to this was appointment booking through email. But even this process was cumbersome and requires a lot of streamlining.
iii) General health enquiries:
During the COVID 19 pandemic, a lot of patients had similar symptoms, and a live person is not required to address these queries. Even if a pandemic never happened, there are a lot of diseases that show tell-tale symptoms that can be ascertained without a doctor. While this does not mean that you don't need to visit a doctor in case of the said symptoms, there is definitely a scenario where you don't need a response from a real person / live- agent for every small symptom. This was the case with Kokilaben hospital too, where live agents were getting a lot of repetitive queries about the same disease.

After Kommunicate:
i) Patient Enquiries:
Once the chatbot went live, it led to streamlining the process of patient enquiries. The hospital also got an assurance that none of the enquiries fell through the cracks. Patients fill in their name, email id and phone number, and the hospital gets in touch with them. No one was left behind, and the hospital saw a surge in the number of new patient enquiries being registered with the system.
ii)Appointment booking:
The chatbot made booking an appointment at the hospital a matter of a few clicks, making the lives of patients that much easier. A process that took an entire day or two to complete now took only a matter of minutes. In the healthcare industry, this can sometimes mean the difference between life and death. So in this case, we had a chatbot that was literally saving lives.
iii) General enquiries:
The chatbot now handles general health enquiries, and this meant that live agents had more time. They can use this time to concentrate on more pressing matters. Patients also got instant access to all the requisite information. This meant patients can take critical decisions in the least amount of time. Hospital timings, doctor availability, doctor's qualifications, all this information is available for free on the website.
Kokilaben hospitals and Kommunicate have been working closely for close to a year now, and the numbers speak for themselves.

For the past year that KDAH and Kommunicate have been working together, there have been a number of features incorporated into the bot that helped save a lot of time to the customers. Some of them include:
Appointment booking.
Information about health checkup packages.
OPD/ Visitor hour timings
Making a general inquiry.
Finding a suitable doctor.
Viewing reports
COVID 19 Vaccination status.
All these go on to showcase just how powerful a chatbot can be and the various use cases that it can handle. As time progresses, chatbots will continue to revolutionize the healthcare space.
Institutions like Kokilaben Dhirubhai Ambani Hospital will continue to leverage technology and reap rich rewards from chatbots.