Last Updated on April 17, 2023
In the digital era, customers expect your business to be available 24x 7. Competition keeps heating up, as the barriers to entry to building apps and websites are diminishing.
Add to this generative AI tools such as ChatGPT, and we have a situation where there are 20 apps trying to solve the same problem.
But businesses cannot take a back seat, just because there was too much competition, can they? That would be akin to saying Christopher Columbus couldn't make expeditions, just because the Queen had commissioned other sea-farers to explore the world.
Just like Christopher Columbus, we marketers are also on a constant search for the ultimate lead generation machine. While the question of such a machine exists is still up for debate, there is one technological innovation that allows us to capture leads faster than most other methods – chatbots.
In this blog post, we will see "What lead generation chatbots are?" along with " Why are chatbots important for lead generation" and "How do you build a lead generation chatbot from scratch?"
Let's get to it then!!

What are Lead Generation Chatbots?
Imagine you have a cloth shop and have hired a kick ass salesman. This Salesman handles everything from greeting customers to closing sales. The salesman is extremely good at his job, and you consider yourself smart to have hired him.
Now take that same analogy to your website. A lead generation chatbot is a chatbot that does everything from identifying people interested in your product, pique their interest and build a relationship with the prospect.
These chatbots use Conversational Marketing techniques to offer your product or services to interested customers, while collecting their information.
Why use Lead Generation chatbots?
1. Chatbots are convenient:
Okay you have done a great job of designing a website. We get it. But does the average consumer, whose attention span is competing with that of a goldfish, appreciate it?
Nope. No, no, no.
Infact, according to this research by ContentSquare, the average website visitor spends only about 54 seconds on a page, across all industries. That's lesser than some SuperBowl commercials!!
Chatbots can turn the tables here by presenting itself as a helpful assistant. It can tell your visitors in short sentences what your site is all about. Chatbots can also help your visitors discover new products, help out with the returns policy, and also resolve abandoned cart issues.
So implementing a chatbot on your website is a sure-fire way that no lead falls through the cracks, while ensuring that your visitors have a positive experience.
2. Chatbots can complement your other forms of communication
No one likes to buy from strangers. If you address your repeat website visitors by their first names, it takes personalization to the next level. Email automation is one of the ways this was done in the past.
With email automation, you have a very personalized approach to generating leads, and is an important source of communication between your brand and your customer.
An additional complement to this – chatbots.
Chatbots can act as virtual assistants, representing your brand 24/7, answering customer queries and helping customers navigate through various parts of your website.
Chatbots can also be used to greet returning customers to your website, thus paving the way for a more personalized communication.
3. Chatbots boost engagement and conversion rates
The average consumer's attention span is waning, this much everyone knows. So keeping them engaged with your brand or website is no small task, and chatbots are at the forefront of solving this problem.
Customers don't want to wade through long paragraphs of text to find what they are looking for.
They don't care how good your copy is, or how nicely you have presented the information on your website.
Customers want to see if your website solves their problems, and they want it NOW!
Chatbots can help in this regard, giving the customers exactly what they are looking for in a matter of milliseconds. Customers engage with these bots, instead of aimlessly wandering through your website and then clicking away.
Conversion rates is another tricky aspect that chatbots can help solve. Last year, our own website, Kommunicate, had a visitor- to -sign up ratio of a mere 2.9%. Compare this to the average conversion rate of 2.35% for a website, and we are looking at some pretty un-impressive numbers.
Your website can be a main source of distraction, and one way to eliminate this is by introducing a chatbot. Gently nudging your visitors to your Facebook Messenger or WhatsApp can not only boost conversion rates, it can also provide better customer experiences.

How to build a Lead Generation Chatbot from Scratch
With Kommunicate,there are two ways in which you can build a Lead generation chatbot.
The first one is by a ready-made template, which is the easier route.
Let us take a look at it here:
Sign up for a free Kommunicate 30-day trial, and then go to the "Bot Integrations" section.
Select the "Lead Collection" template from the list of free ready made templates.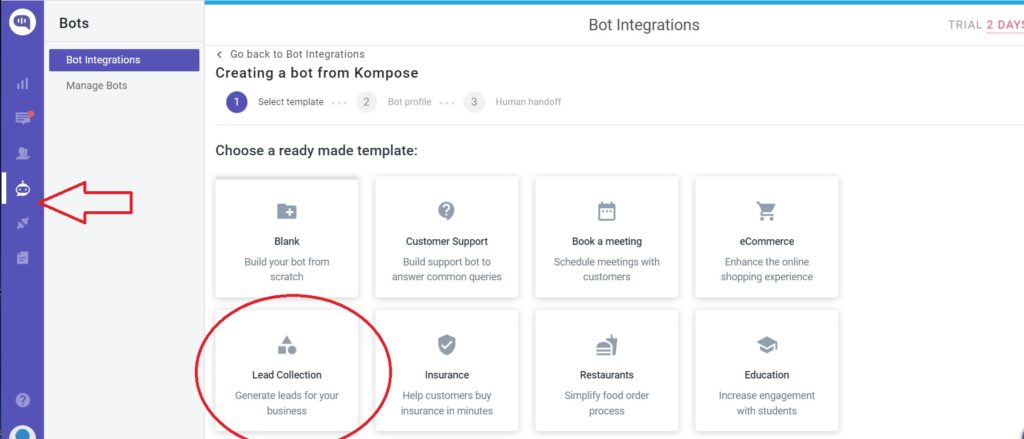 Your bot is now built.
You can head on over to the Flow Designer, our brand new addition to the Dashboard, and make changes to your bot according to the type of website you want to build.
This is how your Lead Generation bot looks like in the Flow Designer: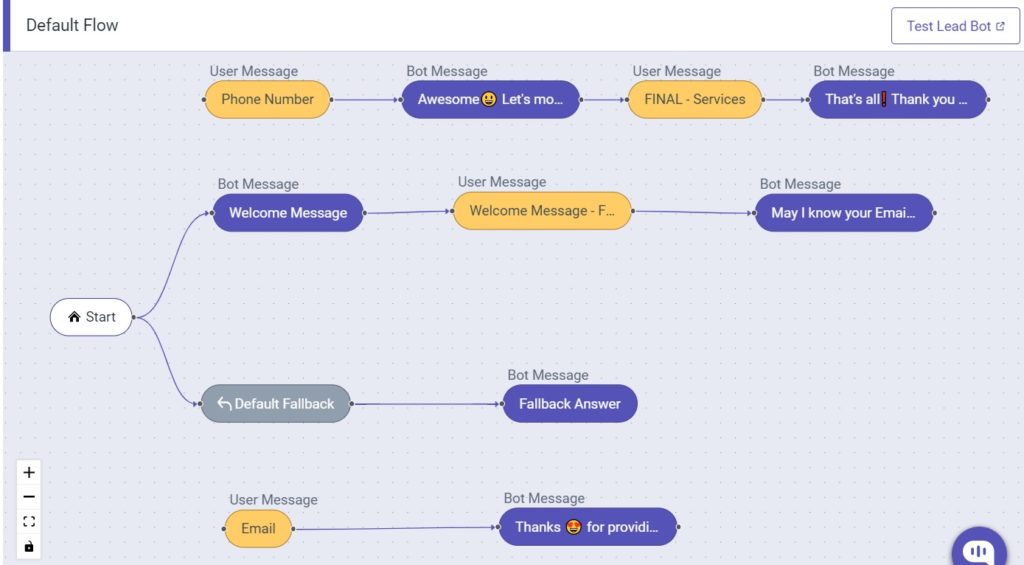 Looks complicated? Let's do it the hard way, building this step-by-step.
To begin with, go to Flow Designer, which will give you a small, but simple conversational flow.

Now, add the Welcome Message as a greeting to your website, and a button that says something like "Sure," which can act as a trigger to the next user intent.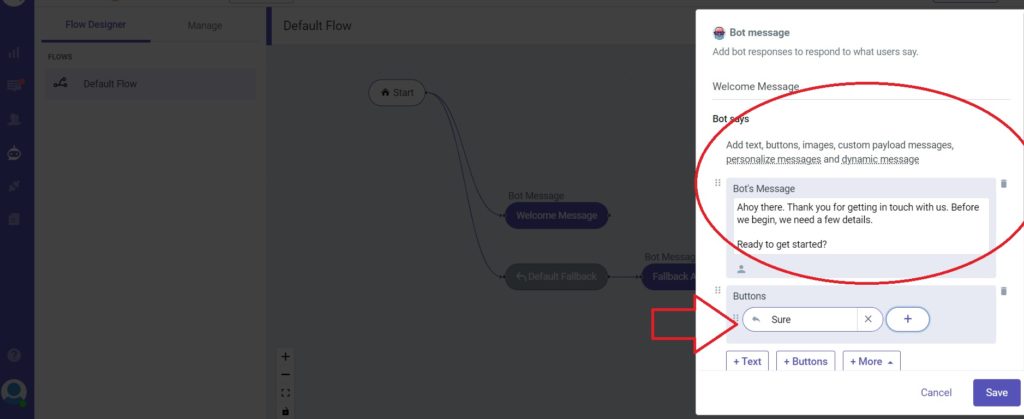 Now, click on the "+" sign next to the Welcome Message. And configure the user message.
Since we are just acknowledging the Welcome Message, this can be something like "Ofcourse," "Surely" or "Okay."
Make sure to include "Sure" in the Training phrase, since a lot of people will tend to click on the Button we set in the Welcome Message.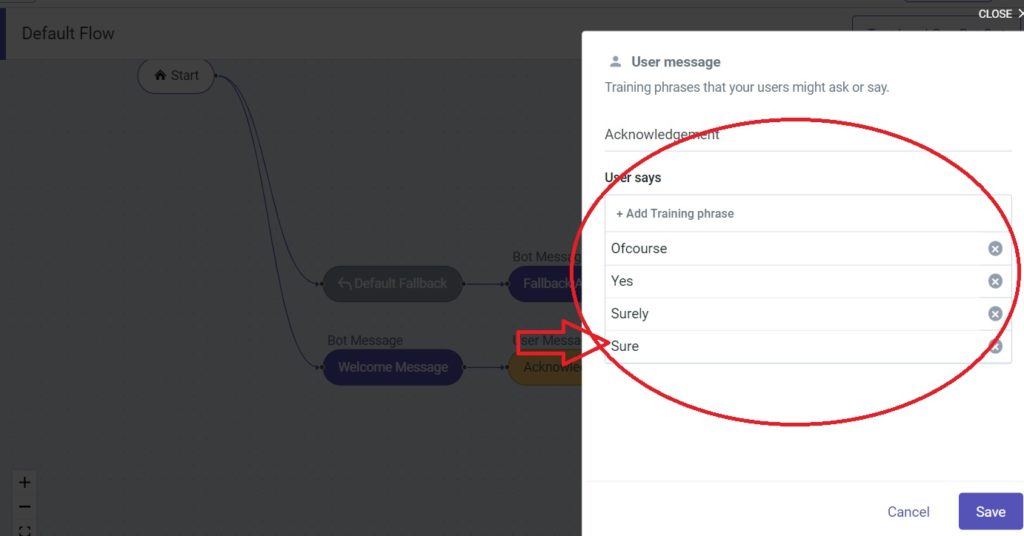 Now comes the interesting part. Ask for the visitor's email address, and provide a sample email address like: "My email ID is john@gmail.com."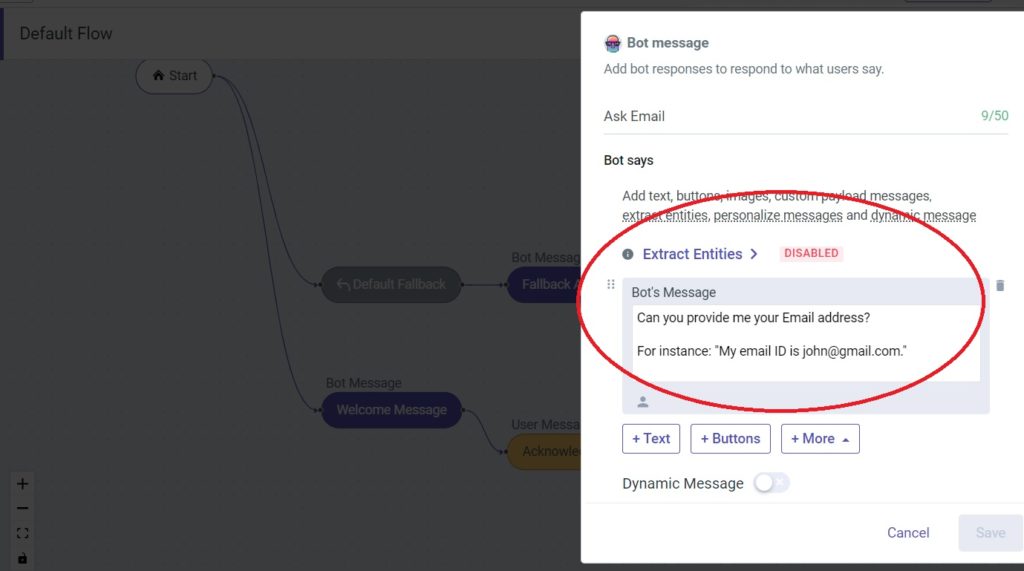 The user will respond with their email address. Make sure you are training the bot for different formats at this stage.
Sometimes, the users might just type the email address, sometimes, they will input "My email ID is …." Make sure you are training your bot so that it understands different user inputs.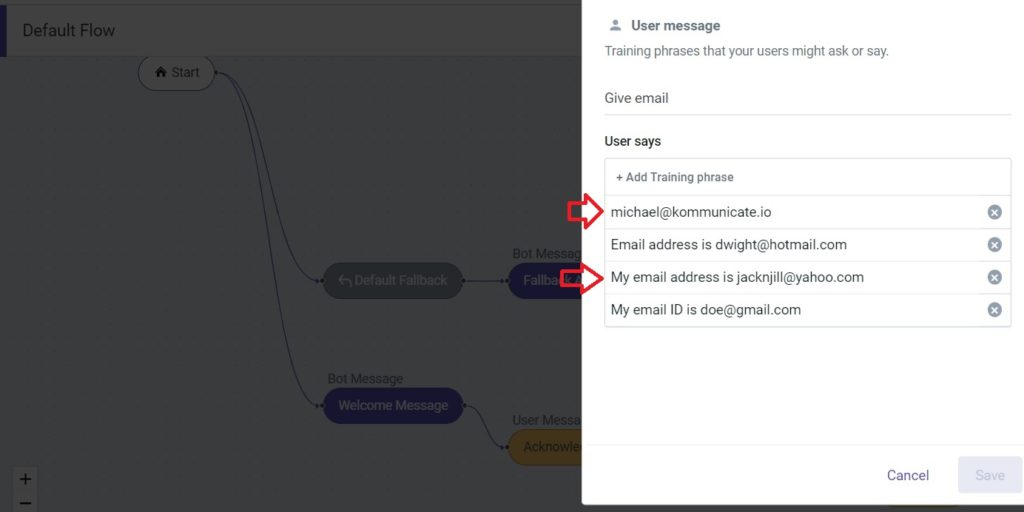 Extracting entities:
Now that you have asked for an Email ID, it is time to extract it in the form of an entity.
Kommunicate provides an easy way to extract entities, and you can follow the steps listed in the blog to extract name, email, phone number, etc.
For starters, here is what extracting email in the above flow looks like: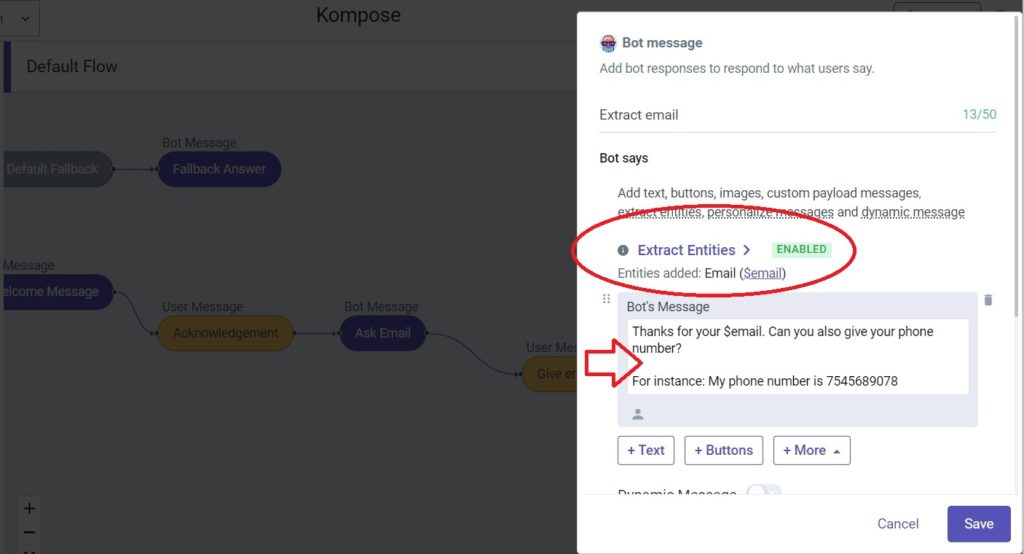 Now that you have your customers email ID, you can follow a similar process to extract the phone number.
Finally, you have your complete lead generation bot flow ready, where you have your visitor's email address and phone number.
You can view this information, either from the Conversations tab on the Kommunicate dashboard, or as a Custom Report in the "Conversations" tab, if you have a Business plan.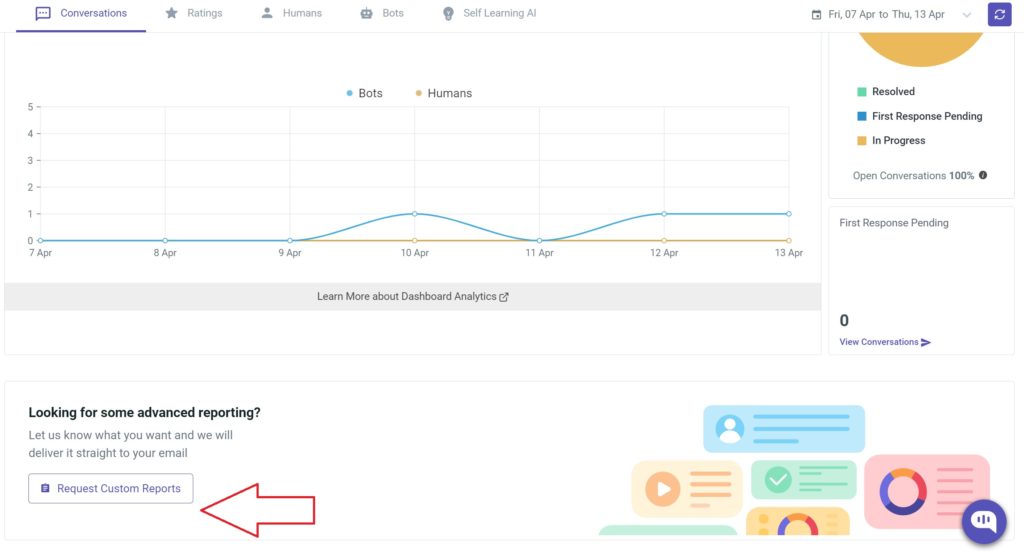 This is what your Final Lead Generation bot will look like: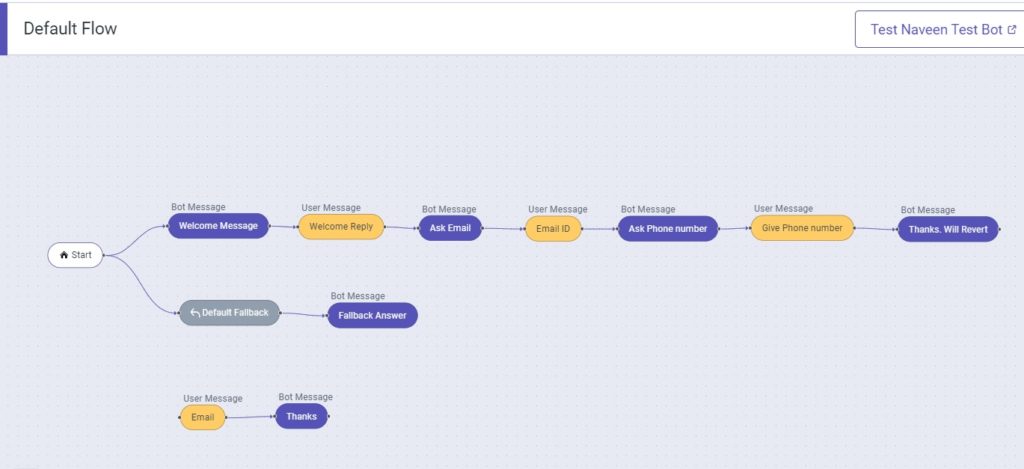 There you have it. A Lead generation chatbot built from scratch.
You can always customize this bot, by adding images and making it more interactive using Buttons.
We highly recommend you use the "Building from Scratch" approach in the beginning, to make yourself familiar with the flow designer, before going to the Lead Generation bot template.
Happy building.
---
At Kommunicate, we envision a world-beating customer support solution to empower the new era of customer support. We would love to have you on board to have a first-hand experience of Kommunicate. You can signup here and start delighting your customers right away.