Last Updated on November 16, 2023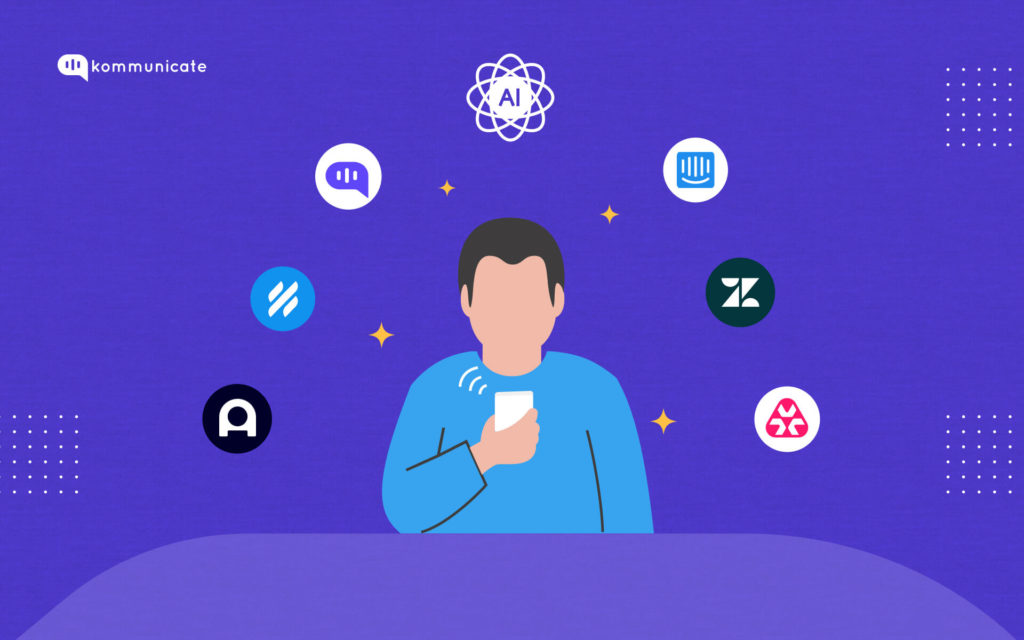 You could have an average product in the market that is selling at satisfactory levels. But, if your customer service is great, there is a high probability that the sales graph will grow exponentially in the long-term.
On the contrary, you could have a killer product that is outranking competition and selling like hotcakes. But, if your customer support team is limping, the sales graph will plummet sooner or later.
Businesses fail to deliver great customer service not because they do not know how to. Delivering customer service in any industry is an uphill task. It demands humongous time, effort, and resources to handle regular inflow of customer queries, complaints and feedback, more so from upset and difficult customers.
Thanks to the recent growth in AI activity, the customer support function can breathe a sigh of relief. Many businesses, understanding the potential benefits of AI are trying to automate their customer service function.
AI's power lies in automating rule-based tasks, improving efficiency by reducing manual errors, and enhancing customer satisfaction by delivering instant results. There are countless tools available in the market that can do these tasks for you.
But how do you choose the best AI tool for your customer service team? There are so many options available in the market, each with its own features, pros and cons, and pricing plans.
Here are some that you can refer to.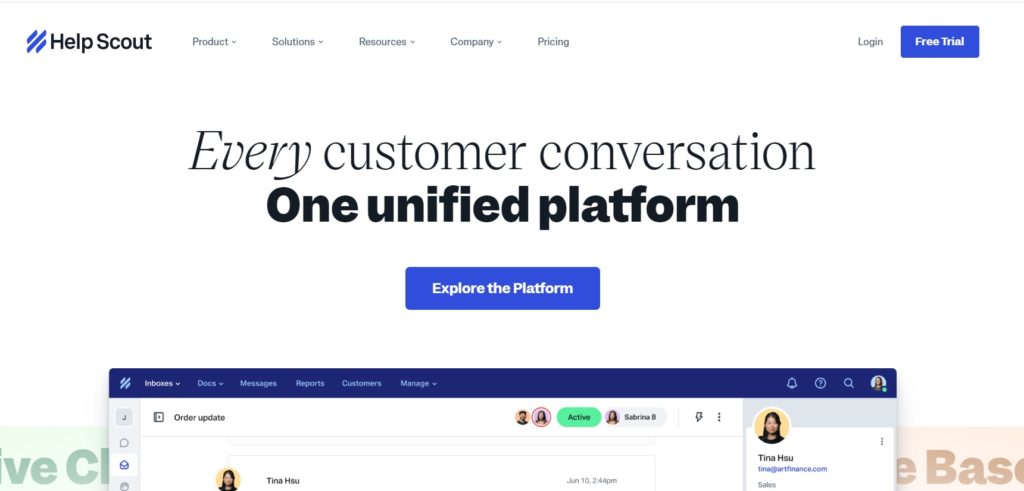 Help Scout is a communication platform and shared inbox that uses AI to help customer service teams deliver personalized and empathetic support across multiple channels.
Highlight AI features:
Beacon – A chatbot that can answer FAQs, collect feedback, and suggest relevant articles Workflows – A tool that automates actions based on triggers and conditions
Satisfaction Ratings – A tool that measures customer happiness and identifies areas for improvement

Pros:
Boasts of a simple and intuitive user interface that any user can use with relatively no training.
Offers easy and quick integration with Zapier, Slack, Mailchimp, and Shopify. This helps stream workflows and quicken data sharing.
Ranks high on high customer satisfaction rating and a loyal customer base.
Cons:
Help Scout's chatbot is not very customizable and may not be able to handle complex queries or scenarios.
The tool's reporting and analytics features are limited compared to other alternatives in the market.
Does not support voice or video calls, which may limit the communication options for some customers.
Pricing
Standard plan for $20 per user per month
Plus plan for $40 per user per month
Pro plan for $65 per user per month .

Gorgias is one of the leading help desk software that leverages AI to specifically help eCommerce businesses manage all their customer interactions in a centralized manner.
Highlight features:
Quick replies – Automatically suggests replies based on previous conversations
Smart Rules – Automatically assigns tickets, tags, and priorities based on conditions
Pros:
Provides a powerful and flexible rule engine that allows users to create custom workflows and automations for different scenarios.
Known for its robust and reliable performance and scalability, handling over 10 million tickets per month.
Easily integrates with popular eCommerce CMS services like Shopify, Magento, WooCommerce, BigCommerce,etc.
Cons:
The chatbot has room for improvement and is not equipped with advanced natural language processing or conversational flows.
May not be for all since it has a steep learning curve and may require some technical skills or knowledge to set up and use effectively.
The ticket-based pricing rather than user-based pricing adopted by most SaaS businesses might make budget tracking and forecasting difficult
Pricing
Free starter plan available on monthly subscription (50 tickets per month)
Basic plan for $50 per month for up to 300 tickets per month
Pro plan for $300 per month for up to 2,000 tickets per month
Advanced plan for $750 per month for up to 5,000 tickets per month
Custom plan for enterprises with custom tickets volume.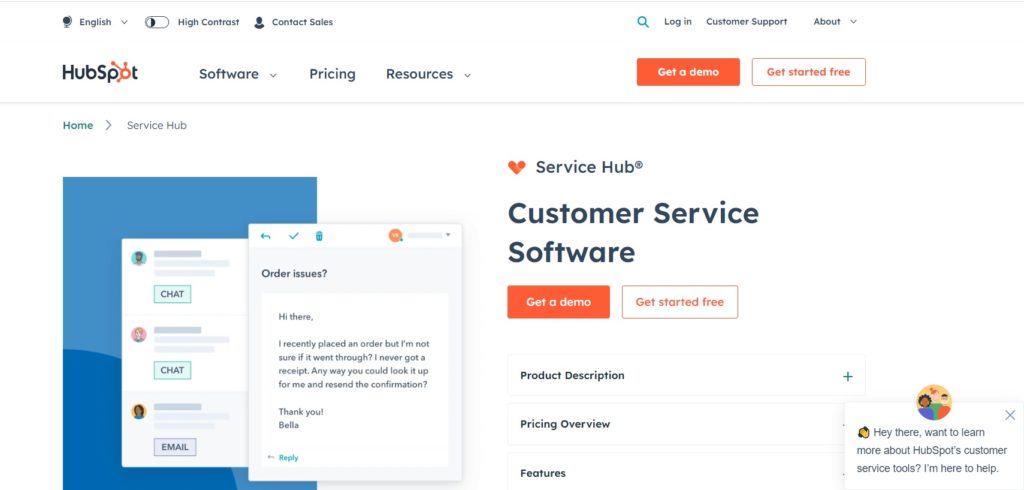 HubSpot Service Hub is a part of HubSpot's CRM platform that helps customer service teams provide better support and build stronger relationships with customers.

HubSpot Service Hub's AI features include:

Conversations – A unified inbox that connects email, live chat, chatbots, and social media).
Knowledge Base – A tool that creates and manages self-service articles, and Customer .
Feedback – A tool that collects and analyzes customer satisfaction surveys.
Pros:
HubSpot has a huge community of users, experts, and enthusiasts that offer support, feedback, and best practices.
Being a HubSpot product, it seamlessly integrates with the larger HubSpot's Marketing Hub and Sales Hub to create a complete view of the customer journey and align teams around shared goals.
Cons:
The interface could seem to be complex and overwhelming or even confusing and frustrating for some users.
Offers limited customization and personalization options for some features, such as chatbot, knowledge base, and feedback.
Pricing
Starter plan for $18 per month with 1,000 marketing contacts.
Professional plan for $800 per month with 2,000 marketing contacts.
Enterprise plan for $3600 per month with 10,000 marketing contacts.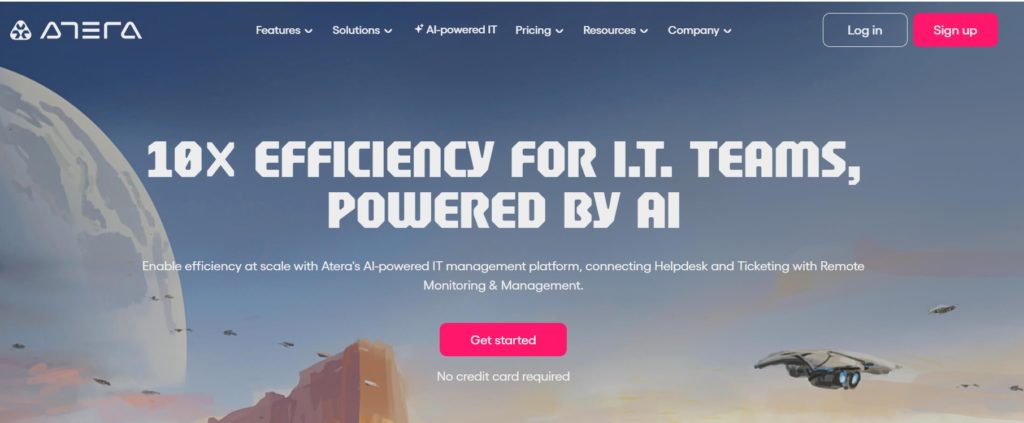 Atera is a cloud-based IT management platform that helps IT service providers and MSPs deliver remote support, monitoring, and automation to their clients.
Pros:
Comes with customer support-centric features such as:

Ticketing System that automatically creates, assigns, and prioritizes tickets based on rules and conditions.
Remote Access that allows agents to access and control devices remotely.
Automation that automates tasks such as patch management, backup, and security management

Atera also integrates with PSA, RMM, CRM, billing, and reporting tools to provide a comprehensive solution for IT service management.
Cons:
The technician-based pricing plan is difficult to manage and may not suit all businesses.
Pricing:
Atera pricing for IT departments:
Professional plan at $149/mo per technician.
Expert plan at $169/mo per technician.
Master plan at $199/mo per technician.
Custom Enterprise plan.
Atera pricing for MSPs:
Pro plan at $99/mo per technician.
Growth plan at $129/mo per technician.
Master plan at $169/mo per technician.
Custom Superpower plan.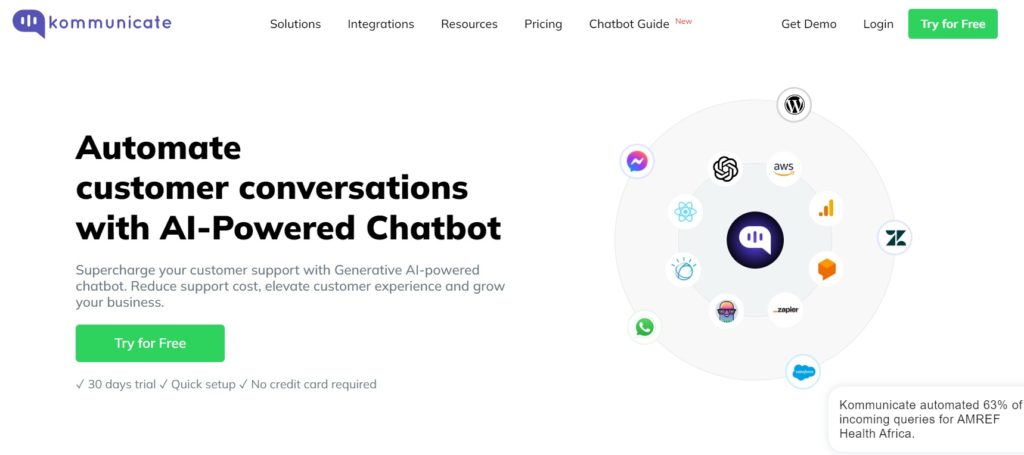 Kommunicate is an AI chatbot that helps automate your customers' support conversations. It helps drive customer conversations across all channels including website, social, and WhatsApp.
Pros:

Kompose – a no-code bot builder powered by conversational AI that can also connect the bot with popular platforms such as Dialogflow, Amazon Lex, Facebook Messenger, WhatsApp, and more.
You can make use of templates, analytics, testing, and optimization tools to improve chatbot performance.
Cons:

No major cons, except the pricing which is based on contacts and not licenses/users.
Pricing
Lite plan for $100 – ideal for growing companies with small teams.
Advanced plan for $200 – ideal for high growth companies and large teams.
Enterprise plan – Custom pricing.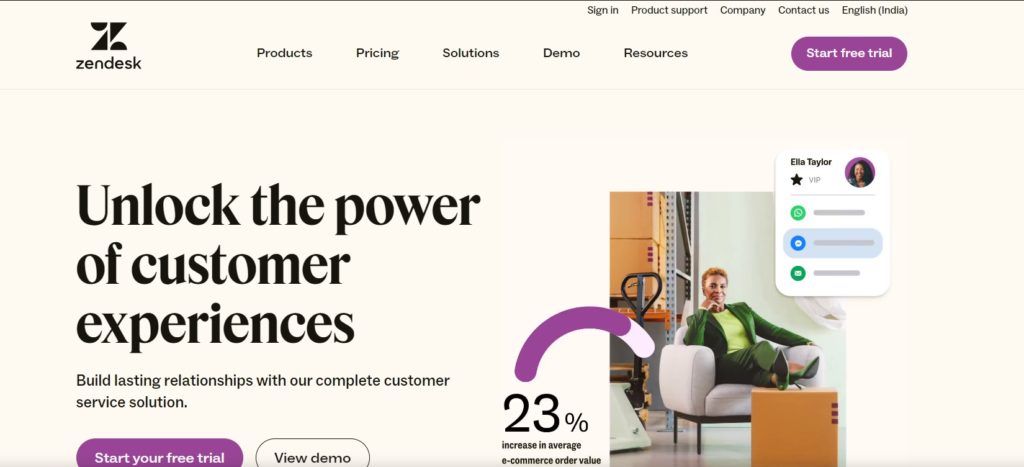 A cloud-based customer service platform that offers state-of-the-art customer support tools for businesses of all scale and type.
AI-powered features:
Answer Bot – A tool that automatically responds to customer queries with relevant articles
Content Cues – a tool that identifies gaps and opportunities in the knowledge base
Satisfaction Prediction – A tool that predicts customer satisfaction scores based on various factors
Pros:
Zendesk has a rich and diverse set of features that cover various aspects of customer service, such as ticketing, chat, voice, email, social media, self-service, and analytics.
Ranks high on customer satisfaction and global customer support
Cons:
The interface is not easy to master for all
Limited customization and personalization options
Relatively higher pricing compared to other tools in the market
Pricing:
Suite team for $55 per agent per month.
Suite Growth for $89 per agent per month.
Suite team for $115 per agent per month.
Suite Enterprise – custom pricing.


A conversational AI platform that helps customer service teams create and manage chatbots that can handle complex and personalized interactions.
Ada's AI features include:
Ada Glass to seamlessly transfers conversations from chatbots to human agents
Ada Engage that proactively engages customers with personalized messages and offers
Ada Translate to automatically translate conversations into over 100 languages
Pros:
Ada's chatbots can automate repetitive tasks and provide instant responses to common customer queries, improving efficiency.
Ada can scale with your business, handling multiple customer conversations simultaneously
It can provide valuable data insights and analytics to help businesses understand customer behavior and preferences
Supports multiple languages, making it suitable for businesses with a global customer base
Cons:
While efficient for routine inquiries, Ada's chatbots may struggle with complex or highly personalized issues that require human intervention
Implementing an AI chatbot like Ada can be time-consuming and may require significant training and customization
Depending on the scale and complexity of implementation, the cost of Ada's services can be relatively high
Pricing: On request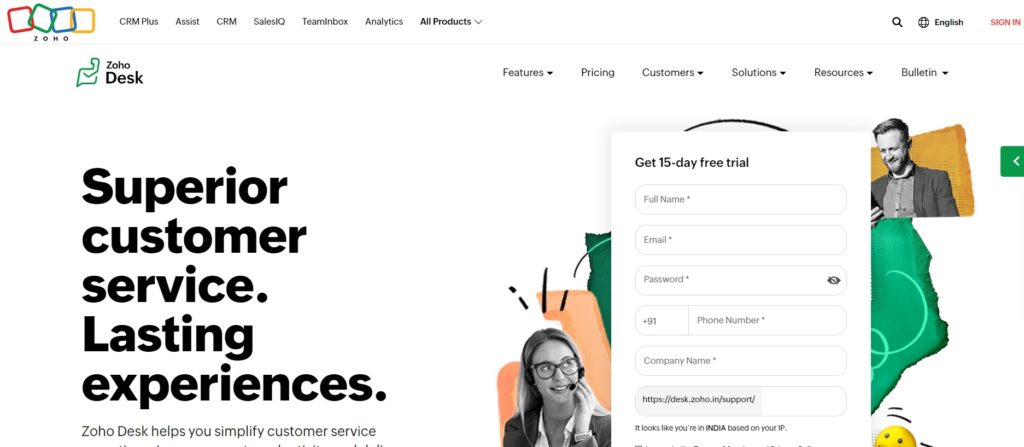 Zoho Desk is an easy-to-use web-based help desk software that uses AI to help customer service teams provide better support and insights.
AI features of Zoho Desk:
Zia – A virtual assistant tool for agents and customers, providing suggestions, solutions, and insights
Zia Voice – A tool that enables voice-based interactions with Zia, the virtual assistant
Zia Skills – A tool that allows users to create custom skills for Zia using natural language processing.
Pros:
Zoho is known for its easy-to-use software that do not require much hand-holding
Zoho has a top-notch customer service with great impetus on customer experience
It easily integrates with other Zoho products and also third-party tools such as Slack, Mailchimp, Zapier, etc. that your business could be already using
Cons:
Although a web-based app, Zoho Desk does not offer a desktop version. It remains a browser-based tool, which could be hampering productivity for some teams.
The canned messages offered by Zia don't work when using the app via a mobile device.
To leverage the bet of Zoho Desk, one must upgrade to the Enterprise plan which is expensive and beyond the reach of most businesses.
Pricing:
Express: $7 up to 5 users
Standard: $14 up to 5 users
Professional: $23
Enterprise: $40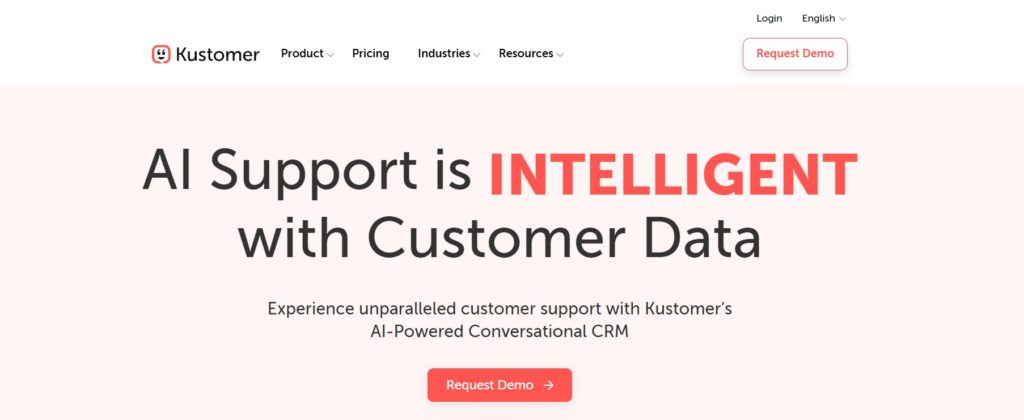 Kustomer is a customer service CRM platform that helps customer service teams provide omnichannel support across email, phone, chat, social media, and more.
Kustomer's AI features:
Kustomer IQ – Natural language processing and machine learning based tool to automate tasks, suggest responses, and provide insights.
Kustomer Chat – Live chat and chatbot interaction tool
Kustomer Voice – Voice-based interaction tool
Pros:
Omni-channel customer support system
Customizable support workflows
Complex routing capabilities for work distribution
Cons:
Kustomer Chat is capable but lacks a visual or tree-like interface to create workflows making it complicated for users
LImited visibility into how business rules could affect customer conversations under a given set of conditions.
Pricing:
Enterprise – $89
Ultimate – $139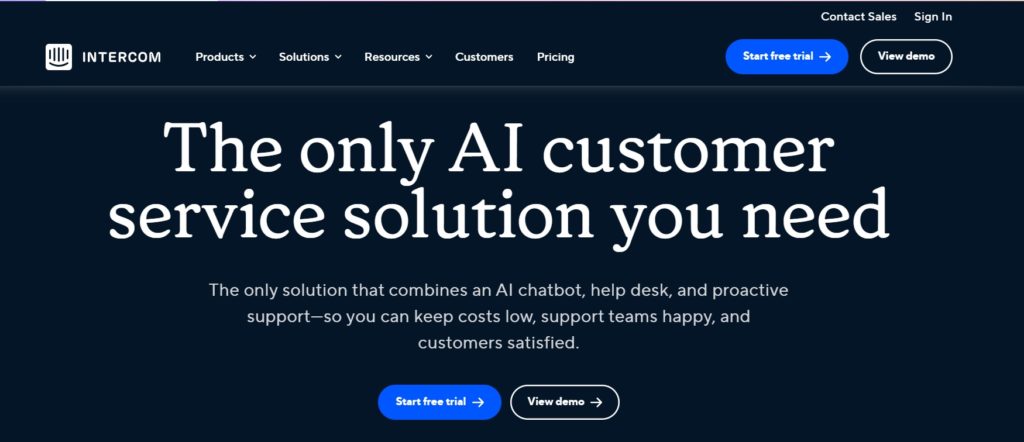 Intercom is a conversational platform that helps customer service teams engage with customers through personalized messages and chatbots. Most of the popular brands use it as a chatbot tool that interacts with users and for driving the initial conversation.
Intercom's AI features:
Custom Bots – Tool for qualifying leads, book meetings, and collect feedback
Resolution Bot – Tool for answering FAQs and resolve customer issues
Product Tours – Customer onboarding and education tool
Pros:
Provides detailed customizable data about customer interactions and ratings
Robust feature set ideal fro startups and enterprises
Value for money pricing
Customer service that delivers great customer experience
Cons:
Customer segmentation can be tricky for new users
While the knowledge base is exhaustive, it can sometimes be daunting to find the right answer
Some technical issues which are still being reported as incomplete

Pricing:
Starter – $74 per month
Pro and Premium – Custom pricing
Happyfox: Happyfox is a communication platform that uses AI to help customer service teams deliver personalized and empathetic support across multiple channels1. Some of the AI features of Happyfox are: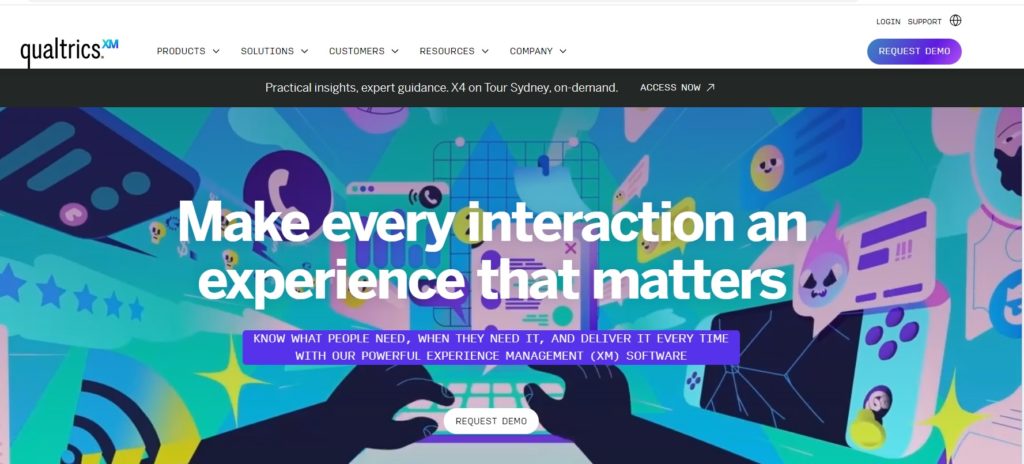 Qualtrics is a cloud-based customer experience management platform that provides tools for collecting, analyzing, and acting on customer, employee, product, and brand feedback. Although primarily used for running surveys, Qualtrics can be a powerful tool to understand customer feedback, their pain points, and feedback.
Pros
It is a versatile research platform with an easy-to-use interface
It offers powerful analytics that give more insights into customer sentiments
Automation ad workflows for sending reminders, analyzing feedback responses, and so on.
Cons:
Pricing can be expensive for small teams and startups
Requires extensive set up ven to run basic surveys
Pricing: On demand
Counting on AI for customer service
We know for a fact that customer service is the function that is most impacted or influenced by Ai. While AI tools can help automate tasks, improve efficiency, and enhance customer satisfaction at scale, not all tools are guaranteed to deliver these results.
Some might work better than the rest. Some might suit your needs, while others might just be a weak tool in your toolkit. Equipping your business with the right AI tool, especially for customer service is quintessential.
That's why we have compiled a list of the top 11 AI tools for customer service, based on their features, pros and cons, and pricing plans. We hope this list helps you find the best AI tool for your customer service team.
---
At Kommunicate, we are envisioning a world-beating customer support solution to empower the new era of customer support. We would love to have you onboard to have a first-hand experience of Kommunicate. You can signup Here and start delighting your customers right away.
Naveen is an accomplished senior content writer with a flair for crafting compelling and engaging content. With over 8 years of experience in the field, he has honed his skills in creating high-quality content across various industries and platforms.