Last Updated on February 19, 2023
Chatbots have grown in popularity over the past few years, especially during the COVID-19 pandemic. They are completely transforming the way we live and are a leading force in almost all industries across the globe. The healthcare industry, in particular, has reaped the many benefits of chatbots. Chatbots in healthcare have revolutionized aspects such as appointment scheduling, symptom assessment, prescription refills, and data consolidation. But, the role of chatbots in healthcare goes way beyond just such admin tasks. They have a significant impact on numerous other aspects of healthcare.
In this article, we dive into the deeper aspects of integrating chatbots in healthcare and how we can benefit from it.
Importance of chatbots in healthcare
While chatbots have proved their importance in many areas of healthcare, let's look at the more intricate ways in which healthcare chatbots are key.
1. Medication management
A critical part of treating most ailments is the timely use of medications prescribed by healthcare practitioners. However, in many cases, patients face challenges tracking their medicine intake and fail to adhere to their medication schedule. This can hamper effective treatment.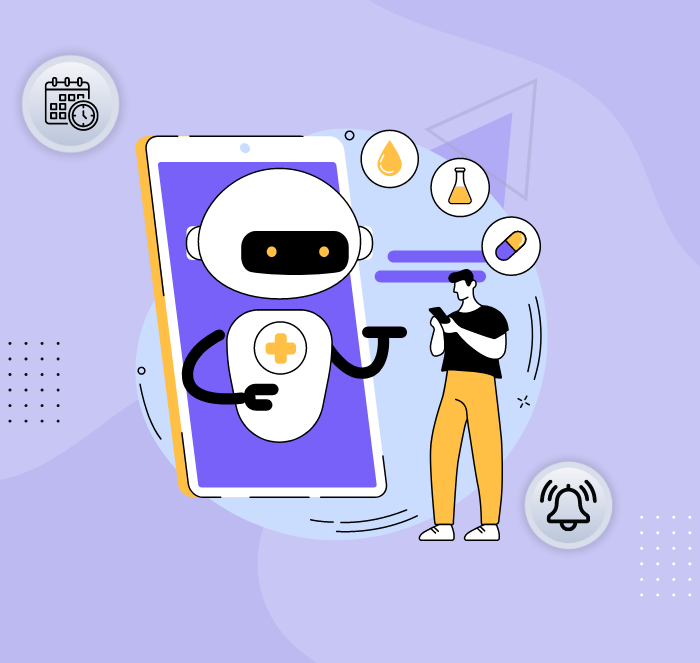 Chatbots are an elegant solution to this problem.
Healthcare providers can easily configure chatbots to set medication reminders for patients. The chatbot helps patients track their medication schedules and reminds them to take their medicines on time. Chatbots in healthcare can also intervene whenever necessary if they see that the patient is making an error with their medications.
2. Planning therapy schedules for patients
Therapy is an important tool in helping patients who suffer from mental health conditions. However, therapy is only effective if patients can show up consistently for their appointments with psychiatrists.
Patients can often miss appointments or even hesitate to schedule them owing to challenges such as inefficiencies.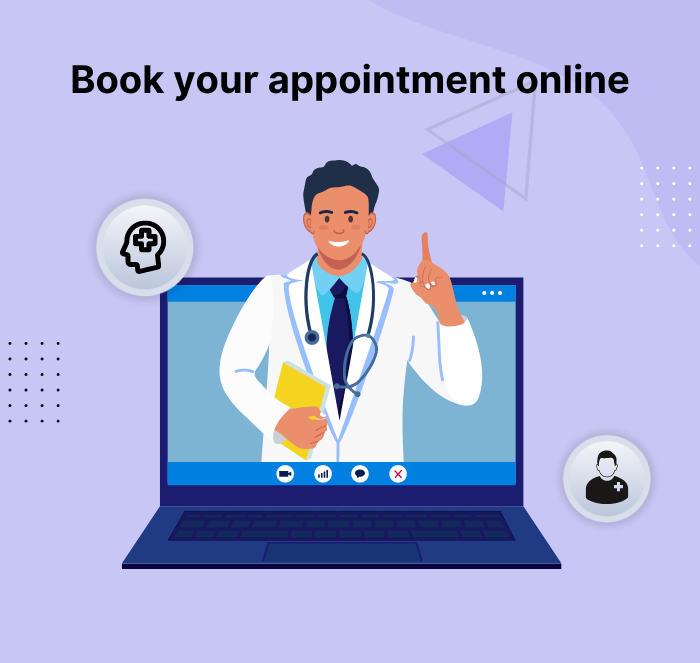 In such cases, chatbots in healthcare are game changers. In addition to taking care of administrative tasks such as maintaining digital health records, healthcare chatbots can help patients schedule therapy themselves.
You can design chatbots in healthcare to ask patients the kind of therapy they'd like to select from (for instance – Cognitive Behavioral Therapy, Dialectical Behavioral Therapy, Drug, and Alcohol Therapy, etc.). They can also choose their preferred therapist and a convenient day and time for their appointment.
You can complete all of this without involving a human agent, making the entire process fast and efficient for patients.
You might want to read How A Therapy Chatbot Can Provide Essential Healthcare Services
3. Providing solutions for less complicated medical issues
The healthcare landscape sees a massive volume of patients and understaffed hospitals trying to deal with this influx. The problem is that most patients are unaware of whether their symptoms are severe enough to come to the hospital or if they can be treated right at home. As a result, patients flock to hospitals, and medical practitioners are overwhelmed.
You can leverage chatbots in healthcare to diagnose simple medical issues. You can equip chatbots to ask detailed questions about symptoms observed by a patient, and based on user input, they can conduct a preliminary diagnosis. If symptoms indicate a condition that can be easily treated at home, healthcare chatbots provide patients with all the necessary medical information to treat and take care of it themselves. In more complex cases, the chatbot hands over the patient's details to the concerned practitioner.
This significantly reduces hospital wait times and allows healthcare practitioners to focus on emergent patient cases.

4. Offering help in emergencies
A lot of times, in severe medical cases, patients may not always get the required medical assistance they need. This can be life-threatening, so to speak.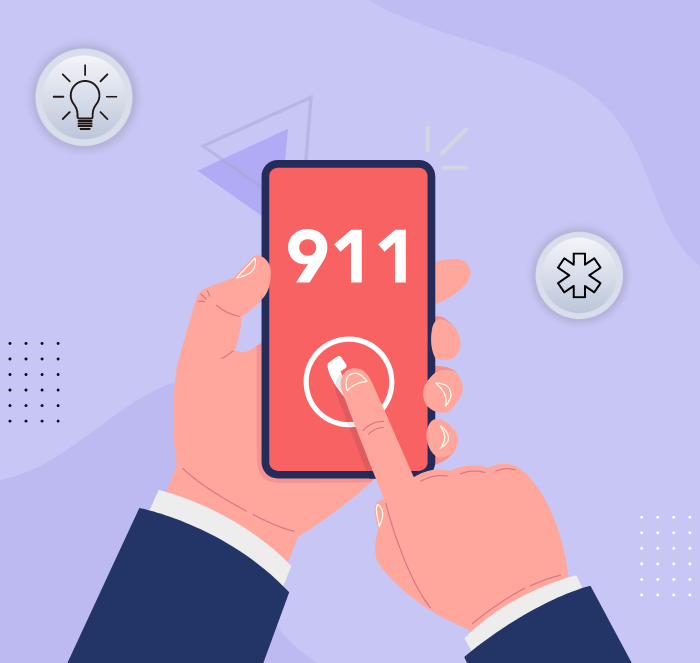 Chatbots in healthcare are great during medical emergencies. At any given time, a healthcare chatbot can be equipped with an SOS button which allows patients to reach out for immediate medical help. Apart from this, chatbots are capable of symptom assessment and even capable of immediately looping in a physician whenever necessary.
Additionally, chatbots already have patient details like medical history, contact details, medications, etc., stored in their databases. During an emergency, all a doctor needs to do is pull up the information, and they will have a complete picture of the patient's health condition in no time.
Also, read Top 5 Use Cases of Chatbots in Healthcare
Popular Chatbots in healthcare
Now that you've seen all the cases where chatbots in healthcare play a crucial role, let's take a moment and look at some of the most popular chatbots in healthcare. These chatbots cater to various healthcare use cases and have proven to be a very effective tool in the healthcare industry.
Minmed is a diverse healthcare group that implements a chatbot on its website and provides comprehensive information on its health screening packages, lab locations, COVID-19 detection tests, and more.
The chatbot covers all the important preparatory procedures to be followed by patients before the test. This includes but is not limited to fasting requirements, expectations with test results, and more. The chatbot also provides information on fitness classes and virtual workouts that Minmed offers. You can use the chatbot and book appointments through the chatbot!
Youper is a healthcare chatbot specifically designed for mental health patients. It uses self-guided therapy to help patients familiarize themselves with therapy.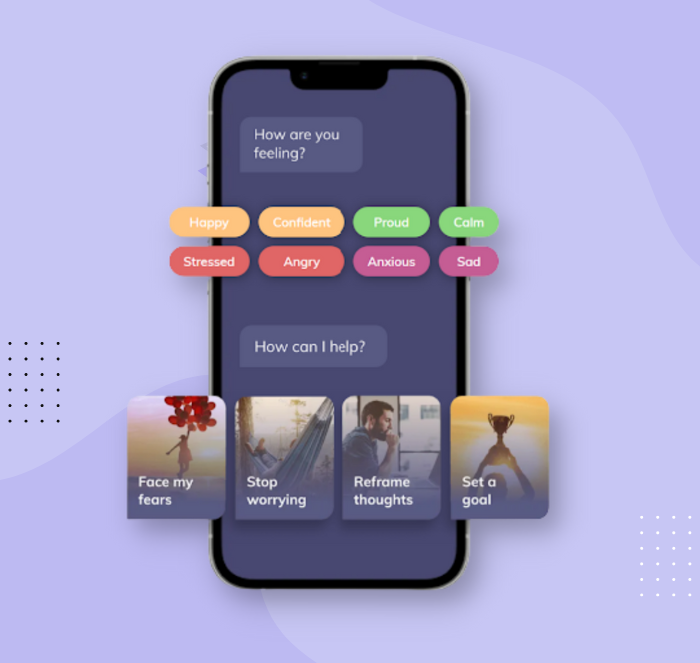 The chatbot asks a bunch of questions usually asked during initial therapy sessions and allows patients to understand their emotions better. It asks users to explain their feelings by choosing from a set of options. By requesting more such questions, the chatbot can assess the patient's mood and offer help as needed.
This is a subscription-model healthcare app that allows patients to consult with a range of specialists, such as nurses, doctors, and therapists.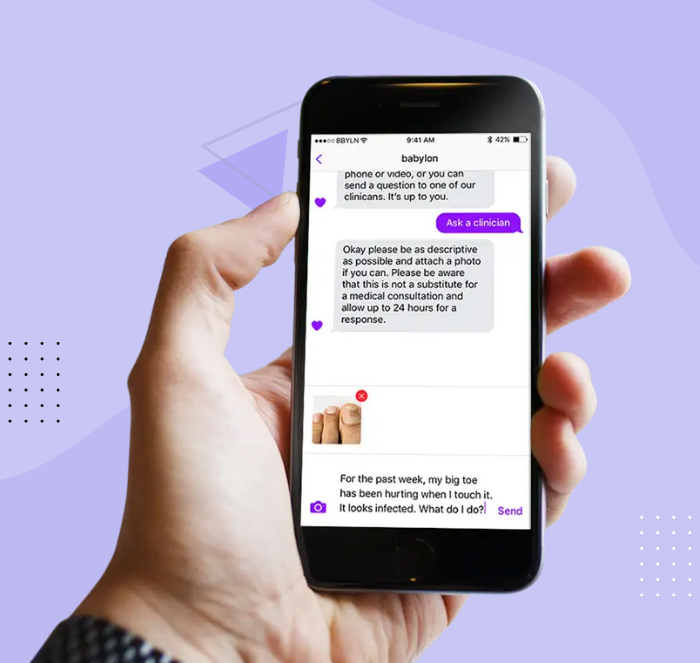 Patients can converse with their preferred practitioners through text messages or video conferencing.
Apart from this, patients also access digital health tools such as activity trackers and health and fitness monitoring.
This chatbot is your perfect health assistant. Florence is equipped to give patients well-researched and poignant medical information. It can also set medication reminders for patients to ensure they adhere to their treatment regimen.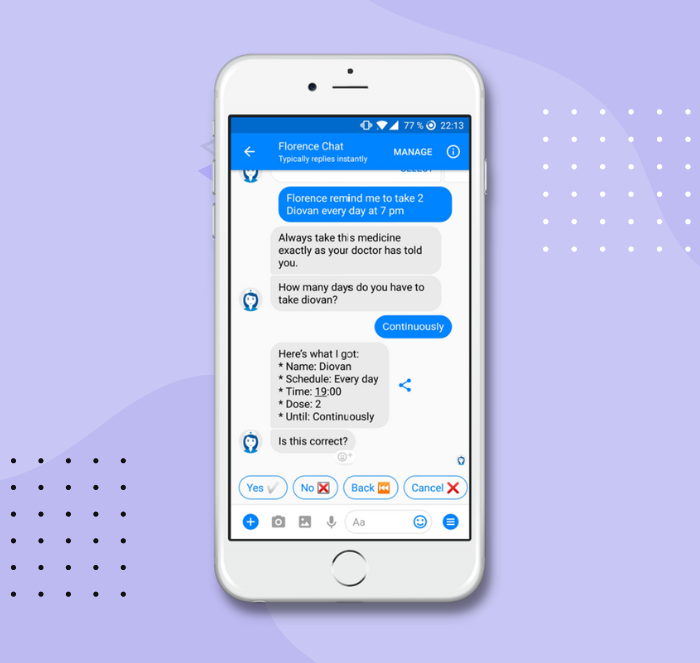 Apart from this, Florence also presents a health tracker that allows you to set health and fitness goals and track your progress. Florence can even be used to locate the nearest healthcare centers, doctors, laboratories, and so much more!
One of the best chatbots in healthcare is Healthy, which offers a range of functionalities. It has a symptom checker that can be used to assess your symptoms and get a medical diagnosis. The platform sends you a report with possible causes and the next steps.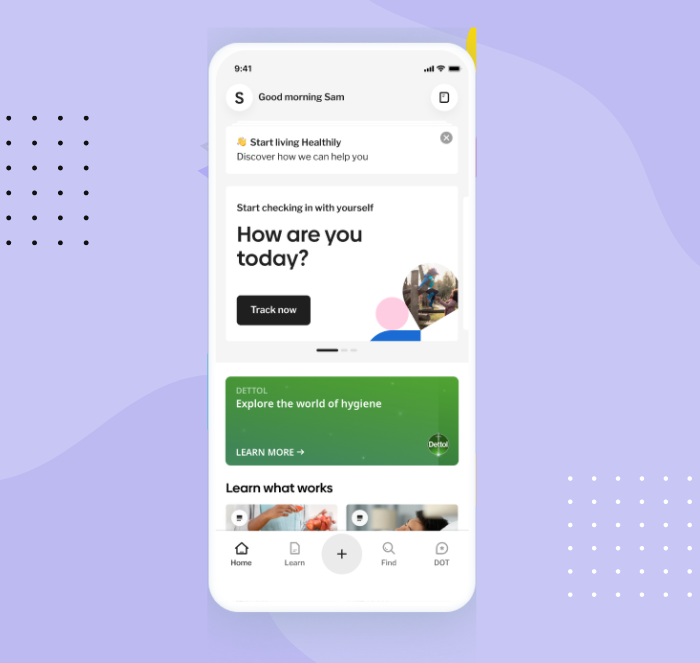 Apart from this, Healthily offers users a vast array of critical medical information on various topics. It also offers solutions to common medical problems and is quite a useful tool for educating patients with the right information.

The Sensely chatbot is about making healthcare accessible and affordable to the masses. Users can interact with the chatbot in the language and channel of their choice via text or voice. It offers plenty of healthcare content, such as symptom checkers, self-care articles, health risk assessments, condition monitoring, and so much more.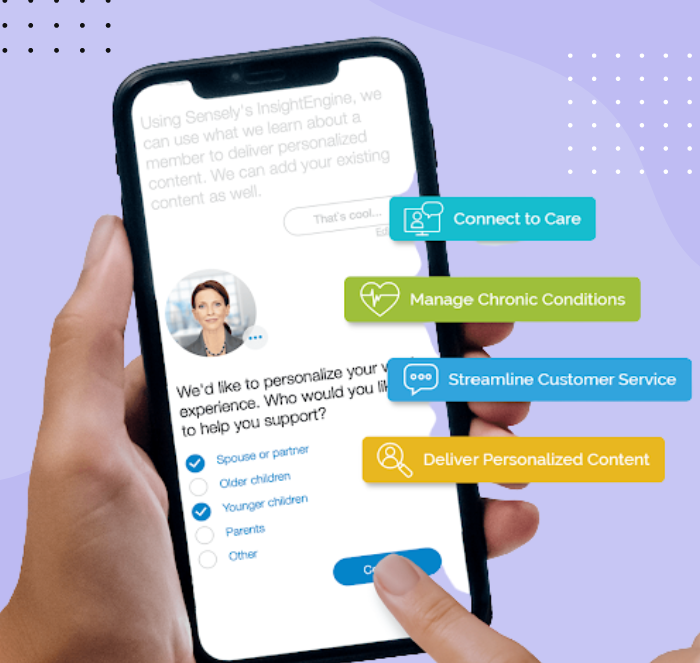 Sensely also helps users to navigate the intricacies of insurance plans and allows them to make informed decisions regarding their healthcare providers as well as insurance vendors.
Another great tool for symptom assessment, Buoy Health, aims to help people understand their health better and make the right choices.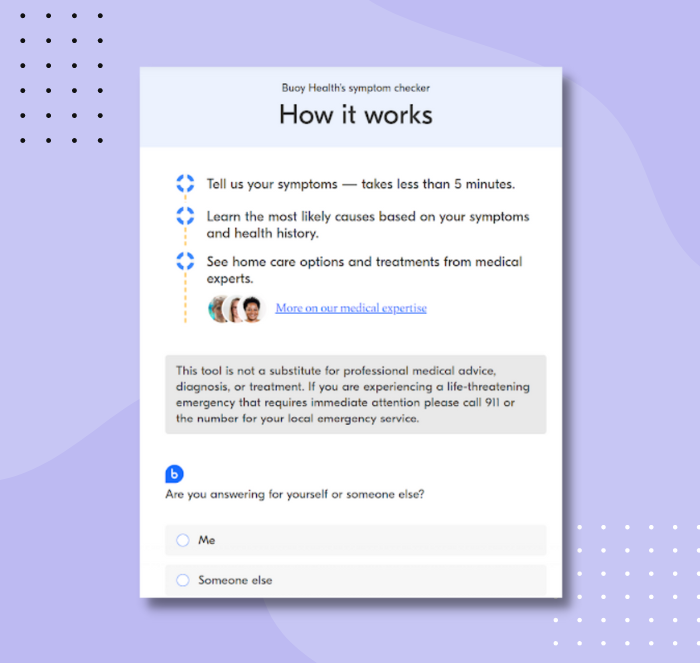 Patients can talk to Buoy Health about their symptoms, and the chatbot puts all the information together to lay out possible causes. Once this is done, the platform identifies if the symptoms can be treated with self-care or if urgent intervention is required. Buoy Health also guides patients through their options and helps them to make choices that are financially sound for them.
You might also want to read 5 Ways AI Chatbots are Changing the USA Healthcare Industry
Future of chatbots in healthcare
The global healthcare chatbots market accounted for $116.9 million in 2018 and is expected to reach $345.3 million by 2026, registering a CAGR of 14.5% from 2019 to 2026.
Chatbots in healthcare are not a fad and are here for the long run. They are multifunctional and have managed to transform the perspective towards modern healthcare in several exciting ways, and it continues to do so.
They are critical in reducing the burden on hospitals and medical staff and making healthcare more accessible and affordable. Apart from this, with further advancement, chatbots can be made more efficient in diagnosis and leveraged in many more use cases.
If you want to implement a chatbot for your healthcare practice, then we've got you covered. Kommunicate, a popular customer support tool, is a reliable platform to help you build chatbots in healthcare. It is used by leading healthcare companies such as  Amgen, Minmed, Amref, and various others to optimize their healthcare practices.
Here's a quick video:
Curious to know more? Take Kommunicate for a spin and discover how to elevate your healthcare practice.

---
At Kommunicate, we envision a world-beating customer support solution to empower the new era of customer support. We would love to have you on board to have a first-hand experience of Kommunicate. You can signup here and start delighting your customers right away.