Last Updated on February 20, 2023
If we look at the history of businesses worldwide, customer support service was the first 'online marketing' that ever existed. But, providing customer support services to your customers is a challenge in itself.
This is where chatbots come into play. Provide human-like customer service to your customer without needing to hire any human being. Just develop an app with integrated machine learning and AI algorithms that enable it to communicate like a real human being and boom! You're good to go with your scalable customer support team.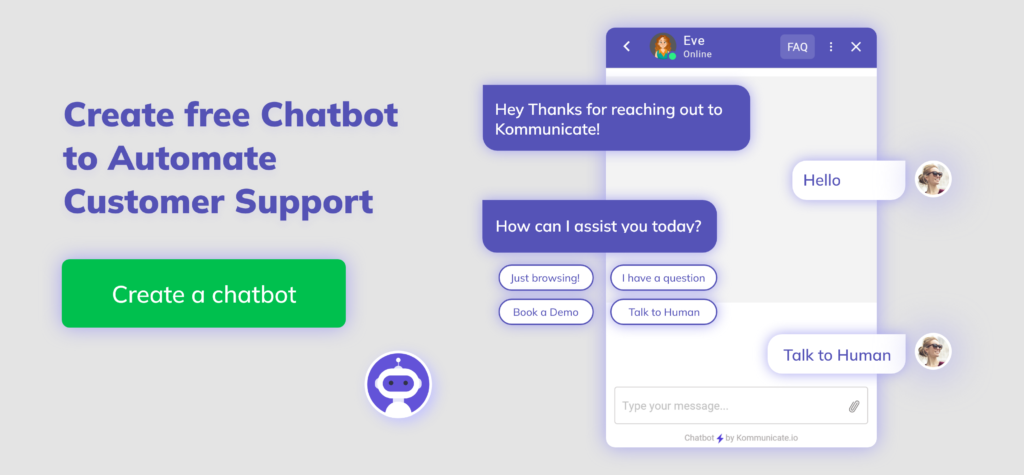 The chatbots not only provide startups with an opportunity to provide 24/7 customer support but also save them from the costs of hiring a full-fledged team. Which, in turn, fuels the success of their business by cutting down costs and increasing efficiency.
Suggested Read: How to Create a Chatbot in 5 Minutes
In this guide, we will talk about the importance and contributions of chatbots to the success of startups.
What are Chatbots?
Chatbots are AI-powered tools that are trained to provide customer support service and simulate a human conversation. These programs are gaining traction and most companies are using them to save costs on customer support and provide 24/7 service that was not possible with humans.
What Are the Advantages and Disadvantages of Chatbot Technology?
The chatbot is an interactive technology, and it enables you to collect insights about your customer preferences. Since your customers get to interact with the AI software, you get to learn more about their problems. This way, you can innovate on your business model and skyrocket your business.
When you use chatbots instead of hiring a full-fledged customer support team, you save a hefty amount of salaries expense. We need to accept the fact that some jobs need to be replaced by AI. Also, providing customer support 24/7 is a hell of a task. No human on earth can provide round-the-clock customer support service, BUT a chatbot can!
When the customers are provided with 24/7 customer service, their level of satisfaction is matchless. This, in turn, leads to boosted sales.
Not only do chatbots help the business boost their sales, but it also helps them acquire new customers and target new untapped markets.
Even though the lack of emotions enables chatbots to provide non-stop service to the customers but it also is considered to be an imperfection. For instance, if a customer is facing a genuine issue, a human customer support professional would show empathy and continuously try to solve the problem. On the other hand, a chatbot does not have any feelings. It would not even try to understand the sentiments of the customer. It may create a problem for the companies who wish to replace telephone customer service with chatbots.
Since there are highly sophisticated technologies like machine learning and artificial intelligence involved in the development of chatbots; the cost of development is extremely high as compared to regular software. Creating complex software requires more hours and more experienced developers, who will definitely charge more money.
In addition to all of this, there are some other significant chatbot imperfections that you need to consider before investing in them. These imperfections include the constant need for maintenance and the flaws that are there because of the current level of technological advancement. There are still problems that these chatbots and AI cannot solve, and even if they solve most of the problems, they will require constant maintenance from developers.
These imperfections exist in every technology. Even high-end technological advancements like cryptocurrencies and blockchains have a lot of imperfections. Therefore, it is stupid to assume chatbots as a bad investment.
The potential at which it can disrupt the industries and can make life easier is enormous. Despite all of these imperfections, chatbots are still one of the hottest avenues for technology and are indeed one of the best investments you make as a startup.
Where are Chatbots Used?
There are multiple avenues where these chatbots can play a significant role. Here are the top 3 areas where chatbots can bring a revolution:
Teachers get to invest a ton of their time in clearing the doubts of the students. This process often involves the repetition of the same concepts. For teachers, this is not a productive or entertaining task. Using chatbots for repetitive questions from the students, or at least for those students who missed certain classes can prove to be a genius idea. It will provide instant help and personalized outreach to each and every student simultaneously.
The good news is that these tools are already in use in developed economies. Some universities in the US use these AI-powered chatbot services to send timely reminders and relevant information to the students regarding all the enrollment tasks.

AI-powered chatbots can play some disruptive roles in the healthcare industry. The technology can be used to serve patients and doctors. Patients can use these chatbots to see if they have an appointment with a doctor or to book one. Doctors can use interactive chatbot-based software to collect data about the patient's clinical or medical history.
These chatbots can also help the paramedical staff perform their daily tasks with much ease. Scheduling, medication and pharmacy management, and much more tasks can be automated and transformed with the use of AI-powered chatbot technology.
Among all three industries that we have listed in this guide, this industry needs chatbot-based solutions the most. From big Amazon stores to small Etsy stores, every e-commerce business needs a customer database software or team. It doesn't matter if you sell apparel or electronic gadgets, there will be customer queries and you will be responsible for answering them. This task sometimes may prove to be extremely tedious. Using chatbots instead of doing it all yourself will be helpful for both the customer and the store owner.
Reasons to Invest in Chatbots for Startups
Chatbots and other AI software that help you simplify your team's job are the next big thing to invest in. As we evolve into a digital future, companies also want to free up their time and use AI to communicate with their customers. Customer service departments are one of the costliest departments to companies as compared with the value they provide to the business. Investing in chatbot startups will help both the consumer and the companies equally. Here's the list of reasons why you should invest in chatbots for startups:
The first and foremost reason to invest in startups is that chatbots save you both money and time. For a startup, the biggest hurdle is to start generating profits. If a startup is profitable at the start, its success is inevitable. But, how can a small startup become profitable if most of its revenues are spent on customer support? Nowadays, most startups are tech-based, and due to a new market that's adopting technology, a solid customer support system is essential for the success of any SaaS or tech startup. Investing in chatbots will save these startups a ton of money and time.
You provide 24/7 availability
As a software startup, you need to provide high-quality customer service. And, if you want to expand internationally, you should aim to provide such services 24/7. Chatbots will help you do that quite easily and seamlessly.
You can plan your resources more efficiently and save money
If you invest in chatbots, you save a ton of money by not needing to hire customer support specialists. This way, you get a chance to channelize these resources more efficiently and save money for other more important tasks.
You create a personal, intuitive customer experience
Customer support specialists sometimes have a generic tone and it becomes impossible for them to provide an intuitive and personalized experience to every customer. Chatbots won't get tired and if you program them well, they can provide a customized experience to each one of your customers.
Conclusion
Chatbots are a good alternative to current outdated customer support teams that cost you a ton of money and yield not-so-good results. Using highly sophisticated technology like chatbots will help you automate a lot of repetitive tasks and will help you focus on the core business aspects that are essential to your success.
---
At Kommunicate, we are envisioning a world-beating customer support solution to empower the new era of customer support. We would love to have you on board to have a first-hand experience of Kommunicate. You can signup here and start delighting your customers right away.