Last Updated on March 19, 2023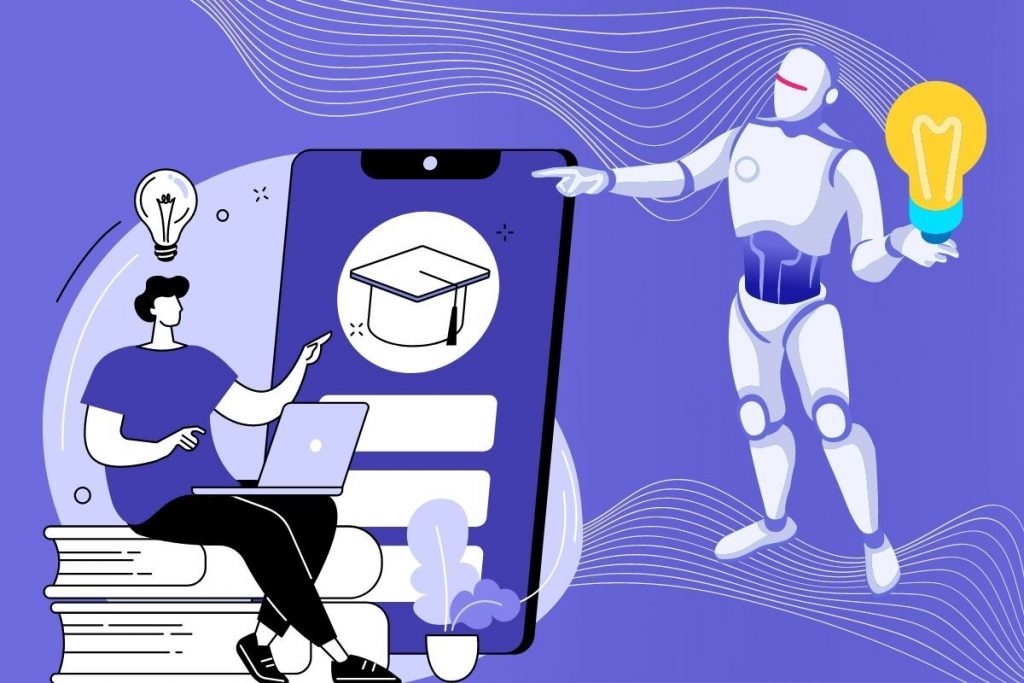 Industries around the world are being positively altered by the transformational power of AI. Even the Education sector is quickly assuming AI-powered learning & communication tools to churn out persistent quality!
A large number of colleges in the USA are leveraging DLT (Digital Learning Technologies) to enhance teaching effectiveness & student learning. From Identifying Seniors' Strengths & Weaknesses to delivering Personalized Lessons at Scale, AI has proved to revolutionise the entire education system.
Following this path of accelerated progress, universities are thus increasingly embracing AI-driven smart chatbots to facilitate better communication with applicants & students.
Top 5 ways having chatbots in universities benefit your institution
During the admission season, candidates visit their favourite universities' websites to find every little detail concerning admissions. They are brimming with doubts & confusion regarding course details, accommodation, campus life, placements, etc. What Universities can do to ease applicants' minds and convert them into enrolled students is establish a transparent & swift query resolution process!
This is where the modern-day innovative chatbots come into the picture. Chatbots provide enormous support to the management!
They aren't just easy to design & deploy but are also capable of delivering powerful long-term support. Here, in this blog, we will try to understand in-depth how universities are utilizing chatbots to improve & innovate the entire university experience for students.
🚀 Read: Build a chatbot for your University
1. Quickly resolves infinite queries like an expert
"How much time do students have to invest in studies per week?"
"Does the college provide internships?"
"How were the on-campus placements last year?"
"What are the highest, median, and lowest salary scales?"
At the peak college application time, First-year students approach universities in large numbers with endless queries. Thus, it becomes impossible for college staff or management to respond to every inquiry with the same effectiveness. And every query missed is a potential candidate lost! A chatbot, however, can single-handedly manage this entire query influx, round the clock, making the college management look both efficient and professional.
Nanyang Technological University in Singapore used chatbots to improve the experience for newcomers. They say your chatbot can be as intelligent as you want it to be. Hence, the technology team of NTU has fed thousands of intent to its chatbot. This helps the students to get answers to most of their questions anytime. Additionally, the help in reducing the student service staff's workload as well.
With their chatbot, Lyon, NTU enabled first-year students to get answers to common questions about the campus, courses, amenities, accommodation, and many other things.
Look how Lyon helps students at NTU:
2. Simplifies & Streamlines the enrollment process
A Chatbot simplifies the enrollment process in numerous ways. Let's try understanding this through an easy example.
California State University, San Bernardino is a well-renowned university offering various courses in multiple disciplines. With the regular influx of 20,000 students & 3500 faculty and staff, CSUSB was looking for a better way to provide their people with information and help them whenever they had questions.
There Chabot help students gather information about financial aid, career advice centres, amenities, courses, etc. Additionally, CSUSB used chatbots to provide staff and faculty parking assistance on campus and easy access to the technical support center.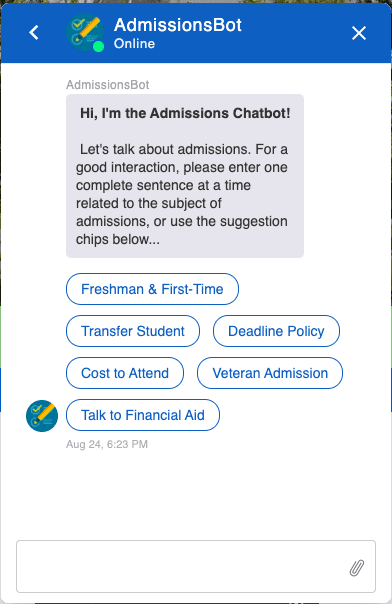 It doesn't just help at the time of admission but even after it. Deploying a chatbot ensures all the recurring questions that keep popping up every now then gets resolved instantly. From providing students accurate information on admission, fees, course details to acquainting them with the college campus & facilities, a chatbot's potential is immense!
3. Delivers a multichannel student support
Millennials now have access to any information they need in a matter of seconds. If they happen to stumble upon a doubt, they immediately search for its solution over the internet. And get the answers almost instantly. This generation isn't used to waiting, and much appreciate immediate responses.
Your University can come up to their expectations by leveraging automated student support services. You can deliver excellent immediate support on multiple platforms like Facebook, Instagram, WhatsApp, etc. by incorporating AI-powered chatbots into your daily interactions.
Kommunicate's Kompose is an AI Chatbot that is capable of answering all college-related common queries. And can seamlessly hand off complex questions to the concerned members of the team. You can easily automate their day-to-day interactions using AI-powered chatbots to provide immediate support 24/7 in different channels like WhatsApp and Facebook.
4. Creates a seamless chatbot human handoff
While the chatbot does answer most of the redundant queries on its own. Anytime, it faces a complication beyond its design, it connects the visitor with the concerned person on the team, in the most seamless manner. In cases where nobody from the team is available, it asks the visitor to drop their email so that the team can respond to their query asap.
5. Deliver an advanced & personalized learning environment
Chatbots can make education more personalized & engaging for students. It enables educators to easily respond to a large number of queries, quickly, with intelligent answers. Not just that! The AI & ML associated with the chatbot can create & deliver more appropriate learning experiences based on every student's past responses. It can analyze a student's grasp on a subject and can accordingly present the next lesson.
Does a chatbot for a university have any use beyond admissions?
As a matter of fact, yes! Chatbots indeed are quite a helpful post-admission season as well. Numerous Universities are employing chatbots to answer students' day-to-day questions, to make their campus experience much better.
Looking at the dropping retention rate, universities in the USA are even employing chatbots to learn about students' personal struggles. Their mental & emotional health issues, lack of resources, etc.
Bethel University is an excellent example of an institution using a chatbot for student retention. Bethel's retention rate was dipping for three straight years, and then they introduced EdSight's Wilhelm, an AI-laced text message bot that asked students reasons for considering dropping out.
The University staff would then help these students with external support or resources to make them stay at the university.
According to Forbes, "after one semester of Wilhelm's nudges, Bethel's retention rate increased 4%, and 85% of the students who used the app rated it very favourably. On average, over 95% of students offered the program opted for it."
Not just Bethel, many other universities witness an increase in their retention rate right after adopting a chatbot into their functionalities.
Wrapping up:
From Admissions to guidance to retention, a chatbot can help a university in multiple steps. Nowadays, students prefer going to a chatbot instead of a real human for generic questions that could be easily answered. Therefore, if you are planning to improve your university's admission numbers, invest in an AI laced chatbot now.
---
At Kommunicate, we are envisioning a world-beating customer support solution to empower the new era of customer support. We would love to have you on board to have a first-hand experience of Kommunicate. You can signup here and start delighting your customers right away.