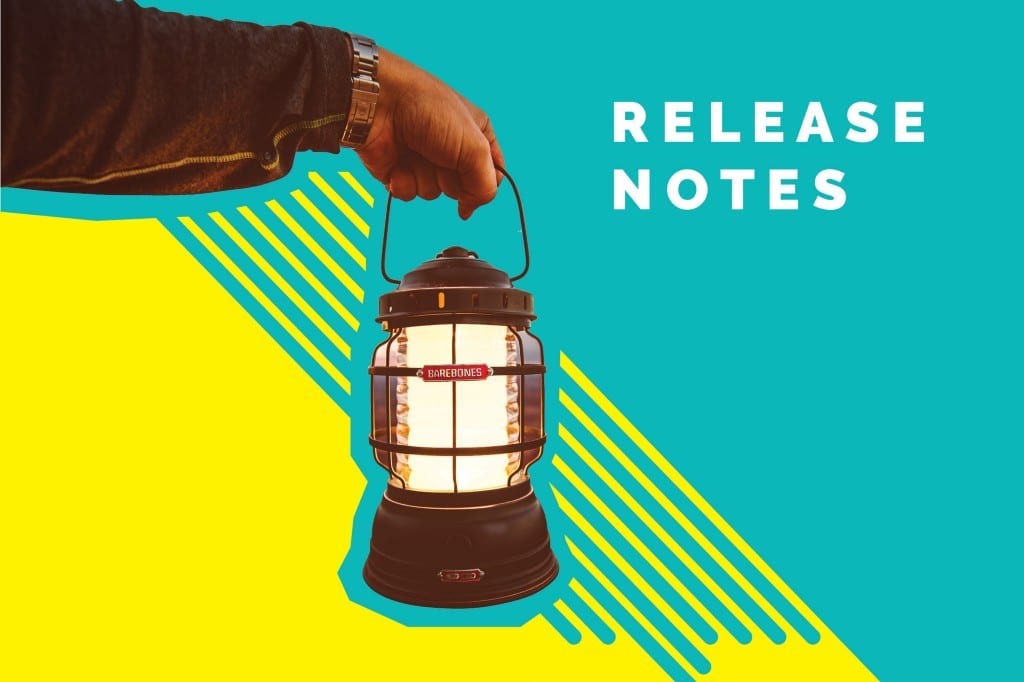 For the previous version of Kommunicate Product Updates, head here.
In the February version of the Product Updates, we have come up with some important feature releases, design and UX improvements, and a few bug fixes to improve your overall experience with Kommunicate.
Web App(Pipedrive integration, Custom domain mapping)
Pipedrive integration
Pipedrive, a leading sales CRM, can now be directly integrated with Kommunicate. You can now store the data of your users coming to Kommunicate in Pipedrive. Go to the Integration section and click on the 'Add' button in Pipedrive card.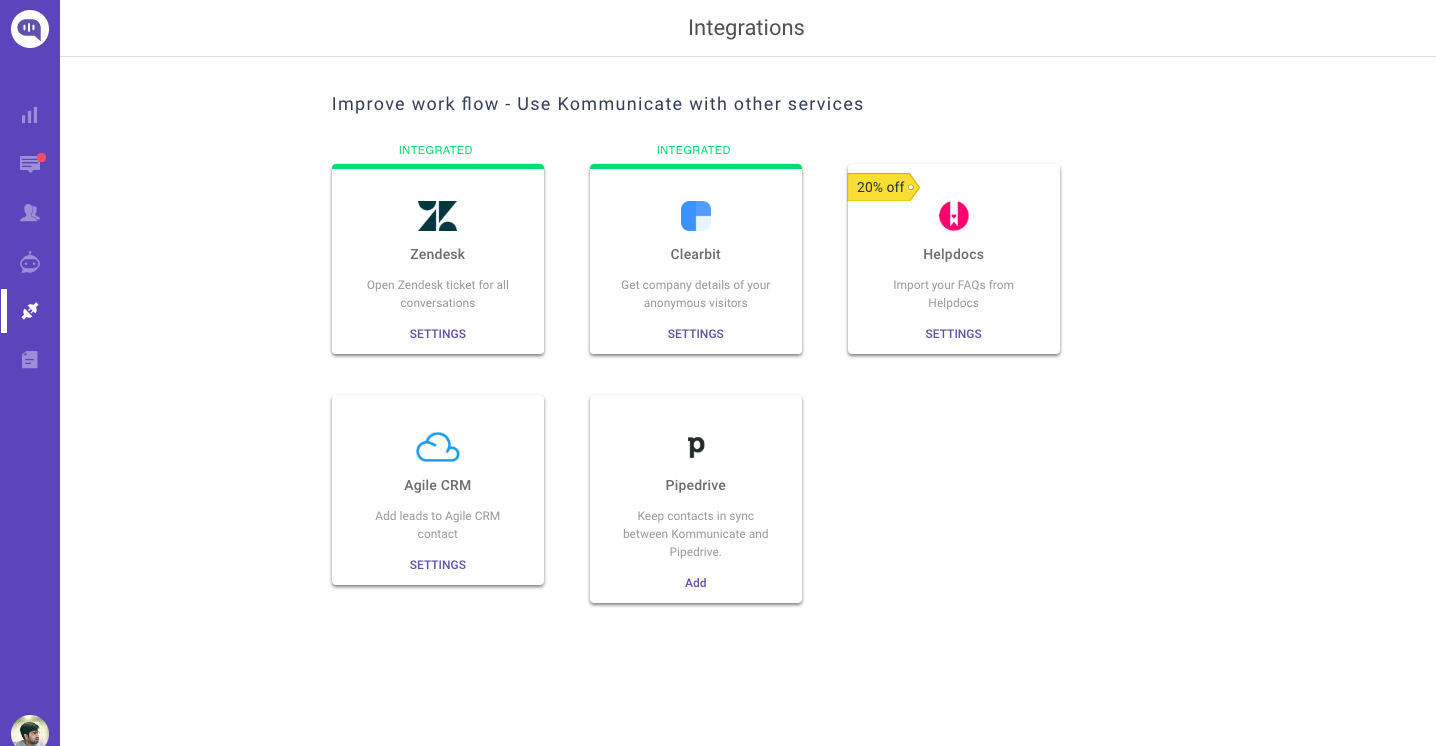 Custom domain mapping
If you want to host Kommunicate dashboard on your domain (such as support.yourdomain.com or kommunicate.yourdomain.com) to bring in extra authorization and security, you can achieve this using custom domain mapping in the Company section.
Note that, this feature is only available in the Enterprise plan.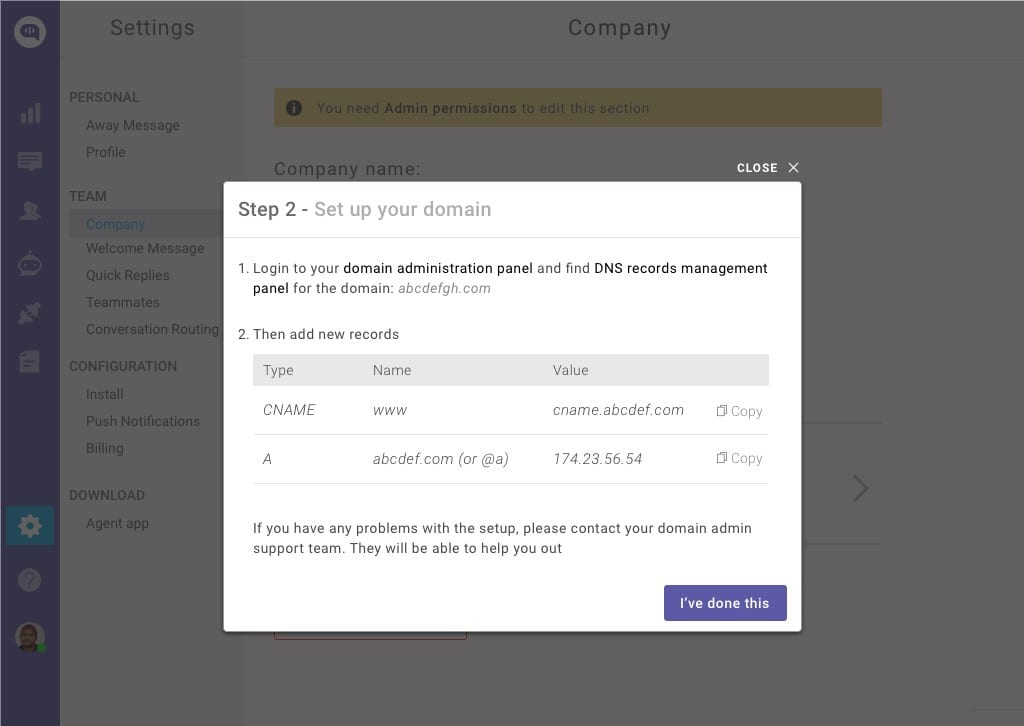 Support for multilingual chatbot
We had received a lot of requests for supporting multilingual chatbot in Kommunicate. Being a customer-first company, we have added the provisions to make you chatbot multilingual. Head to the docs to know more about it.
Analytics report based on your timezone
All the analytics report we send over email will now be based on your timezone for better convenience.
Editing team roles
You can not edit roles for your team members from the Teammates section. Here's are the editing permissions:
The account owner (Superadmin) can change the role for both admins and human agents
Admin can change the role of human agents to admin
Admin can't change the role of other admins
Human agents can't change anything.
Action buttons with hidden data
While using rich Actionable Messages in Kommunicate, you can send hidden data to your bot platform on click of an action button. For example, you can send the product serial number if a user clicks on the 'Buy' button from a List Template.
Dynamic properties in pre-chat lead collection
We have created provisions to add custom properties in pre-chat lead collection. You can create as many custom properties you want to ask your users before they start. Learn more about it here.
Added CC option in Mailbox
Now you can add emails in CC to add more recipients while replying to your support emails using Mailbox. You will see the CC option on the top right corner of the typing area.
Improvements in Mailbox
We have made quite a few improvements in Mailbox based on your feedback:
Fixed an issue where customer details weren't shown
Replies will now be sent instantly
Design and UX improvements
Adjusting the billing if you delete a bot
If you are deleting any bot from your account, we will reduce charges after bot delete.
Improvements in the chat widget
Chat widget now ignores the browser cache whenever we release a new version so that the new changes start reflecting immediately in your website.
Real-time updates over a firewall network
For real-time updates, we now support all firewalls and it is guaranteed to work in office network firewalls.
Mobile SDKs
What's new in iOS?
We have added a config option to disable the Actionable Message button clicks.
Now the message key will also come in the click action for Actionable Messages.
Updated the send button padding to make both the height and width same.
Fixed an issue where changing background color was not updating the background of conversation view.
We have also fixed the issue where clicking mute/unmute is going out of the screen if the title is long.

What's new in Android?
We have added audio recording functionality. Just tap on the mic button to record and left swipe gesture to stop/delete.
Full HTML support for ContentType 3 messages.
Now you can send images as well in Actionable Messages.
We have added a setting to change the corner radius of message bubbles.
Included a setting to change the fonts for some TextViews. You can set some external fonts using 'ttf' files or select one from the default android fonts.
Fixed a crash on pre lollipop devices.
Fixed the issue of conversation name was not showing up if 'CONVERSATION_ASIGNEE' key is missing in the conversation (in case of older conversations).
We have fixed the issue related to unread count not resetting after opening the conversation.
Fixed a NullPointerException in createSingleChat and ContactActivity for users that are not logged in.
Agent apps
We have released new versions of our iOS and Android agent apps with the following new additions.
Updates in the iOS agent app

Disabled Actionable Messages button clicks for agents.
Some icons have been updated such as send button in the conversation screen.
Now conversations will be refreshed whenever a user opens a different section in the menu bar.
We have updated status bar style to dark as it was not visible over the white background.
Fixed an issue where in some cases clicking the notification was not opening the conversation thread.
And some other minor bug fixes and optimizations.
Updates in the Android agent app
We have added an option to share conversation URL from the conversation menu. 
Now you can launch a conversation in the app from a conversation URL.
We have added full HTML support for all HTML messages.
Disabled the Actionable Messages button click for agents.
Fixed an issue related to assigned conversations not showing up in some cases.
Some other minor bug fixes and optimizations.
A future tease
We have released a beta version of Helpcenter – the knowledge base management tool from Kommunicate. You can host your FAQs and articles on a dedicated page on your domain with a beautiful UI. We have made it super easy to get your customer self-serve up and running in minutes.
Do you want to get the first-hand experience of Helpcenter? Reach out to us on hello@kommunicate.io to request access.
That is all from February, stay tuned for more updates on development, roadmap, and new feature releases. You can access all the previous release notes here.
---
Subscribe here to get the good stuff — we solemnly swear to deliver top of the line, out of the box and super beneficial content to you once a week.
At Kommunicate, we are envisioning a world-beating customer support solution to empower the new era of customer support. We would love to have you on board to have a first-hand experience of Kommunicate. You can signup for free and start delighting your customers right away.