Last Updated on August 23, 2022
When you are running a Shopify store, there are two numbers that you should always keep at the forefront – conversion rate and sales revenue. Sales are directly dependent on thewebsite's conversion rate. Higher the conversion rate, higher the sales revenue, and vice-versa.
Conversion rate is a percentage that indicates what composition of your website's visitors turned into actual paying customers. For example, imagine your website gets 1,000 visitors during a set time period. Now, out of that 1,000 visitors, 55 turned into paying customers.
Your website conversion rate is now 55/1,000*100 = 5%.
Does conversion rate always mean sales? Not necessarily. You can also use conversion to measure the desired action a website visitor takes on your website.
For example, downloading an eBook, subscribing to a newsletter, signing up for a trial, and scheduling a demo are all conversions.
However, for a Shopify store, Sales equals conversions. Always.
Needless to say, maximizing your conversion rate is fundamental to increasing your Shopify store revenue.
There are several ways to achieve this, some of which include:
Table of contents:
1: Integrate Live chat
2: Categorize your products logically
3: Optimize the product page
4: Solve Abandoned Carts problem with Email Marketing
5: Use FOMO to your advantage
6: improve your page-loading speed
Tactic 1: Integrate Live chat
As a website visitor, what would be the first thing that you will look for in an online store? The product or information that you need. If that is not easily found, you need someone to help you locate it. A live chat software does just that.
Imagine it to be an always-on virtual store assistant who can assist your website owners in finding the product or information that they are looking for. Integrating live chat software into your website offers several benefits.
To begin with, they help nudge customers closer to completing a purchase by providing them with the necessary intel. AI-based live chat software like Kommunicate can even populate and serve Frequently Asked Questions (FAQs) corresponding to the website visitor's queries.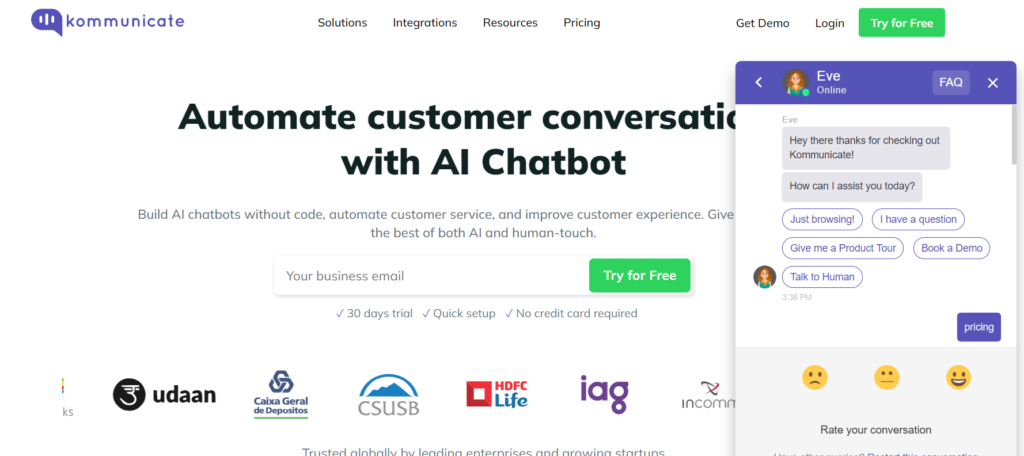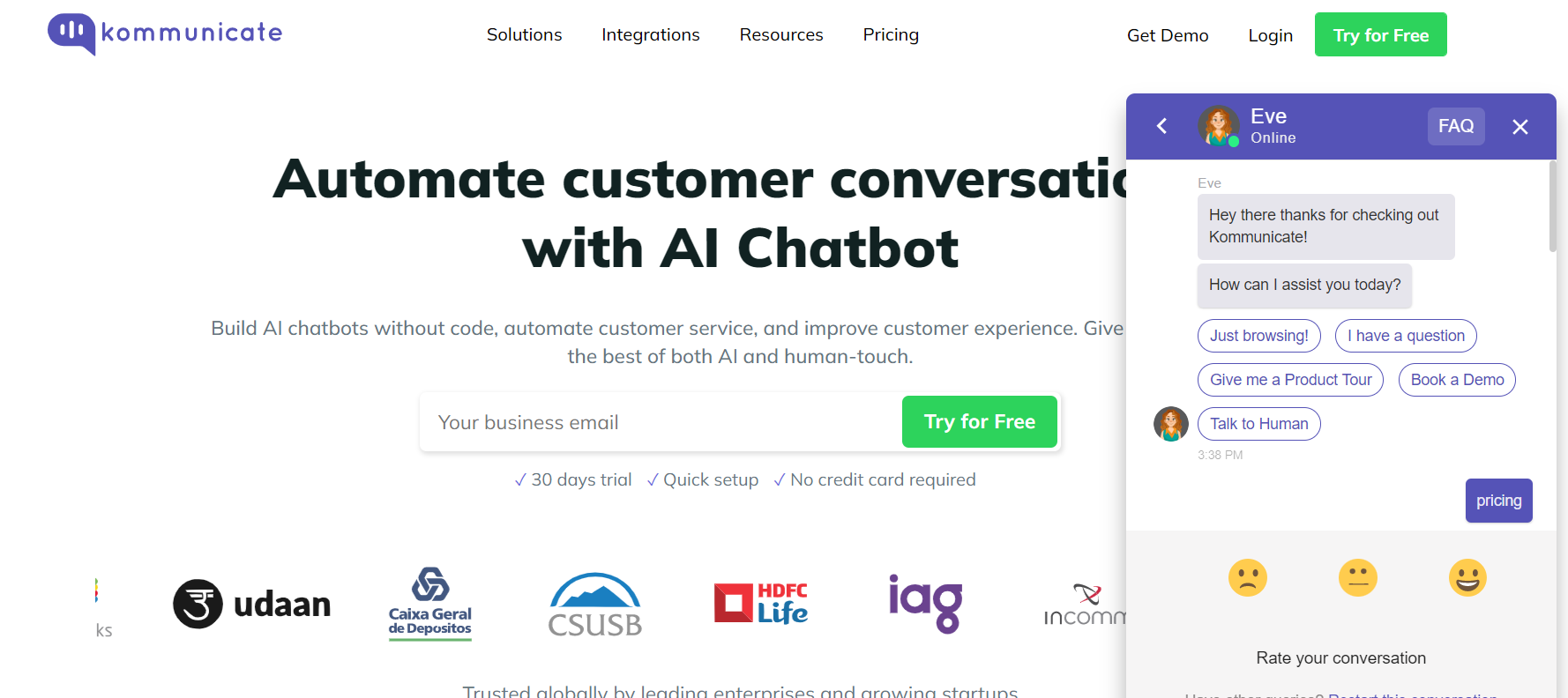 Second, thanks to their help, the customer has a rewarding shopping experience that instills trust in the live chat's ability and also the overall brand.
Tactic 2: Categorize your products logically
Although this is a basic trait that every online store must have, there are stores that get this wrong. Product categories and subcategories help the customer locate the exact product that they are looking for. They save a lot of time and effort, especially if your store has a vast inventory of products on offer.
To make things easier, you can also introduce a universal search bar on the website. The search bar can be made to remain static on all pages. Website visitors can use it when they want to look up information or find products.
Thanks to Google, we have all become habitual to searching for information and finding it instantly rather than going through a maze to locate it ourselves. So, having a logical product category and a universal search bar can make a huge difference to your website's conversion rate.
Further, a logical arrangement of product categories will also signal to Google which page to rank for maximum benefit. It is like telling Google that 'x' is a product category page while 'Y' is an individual product page.
Tactic 3: Optimize the product page
As much as product categories, individual product pages also play a significant role in maximizing conversion rate. In fact, we can consider them to be the crucial piece that covers the last leg in conversion. It is at the individual product page that a customer makes the final decision to buy or not.
Hence, it is necessary that the product page has maximum information that will help the customer make a decision quickly and confidently. Product description, imagery, and videos go a long way in aiding this.
The product description should be as descriptive as possible. Ideally, it should be more than what the manufacturer's description is. It should call out the product's benefits, the USPs, the do's and don'ts. Further, it should also indicate warranty/guarantee information, shipping, and returns policy.
Including product imagery and videos also help in blurring the difference between an online and offline shopping experience. Do invest in high-quality product images that depict how the product will be in a real-world scenario. Avoid using artificial or superfluous imagery that could be misleading. Wherever possible, use videos to show the product in action. Fortunately, Shopify allows for all of this and much more without straining your store's backend resources.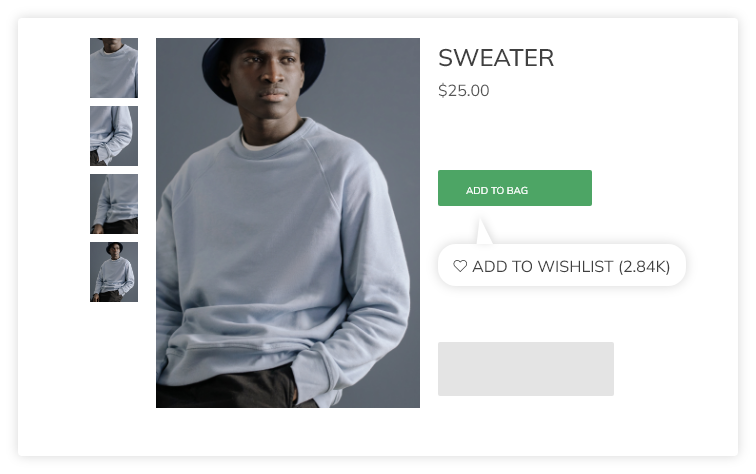 Tactic 4: Solve Abandoned Carts problem with Email Marketing
If bringing visitors to your website is half the battle, making them complete the transaction, that is, concluding a checkout, is the rest of the battle. Unfortunately, more than 77.5% of customers abandon their shopping carts. That is, they close the tab, do not make the payment, or just abandon the transaction. This phenomenon is commonly referred to as shopping cart abandonment and is a huge detriment to conversion rate maximization.
Like any other eCommerce challenge, shopping cart abandonment can also be solved, this time with the help of retargeting email campaigns. As the name suggests, retargeting campaigns send personalized offers, promo codes, and other messaging that will persuade the user to complete a transaction that they left midway.
The personalized email can act as a reminder and, along with the offer, might help in nudging the visitor to complete the purchase. Eventually, this lifts the conversion rate and also sales revenue.
Do play around with the subject line and the copy. Persuasive copy in a retargeting email for cart abandonment can go a long way in maximizing conversion rate.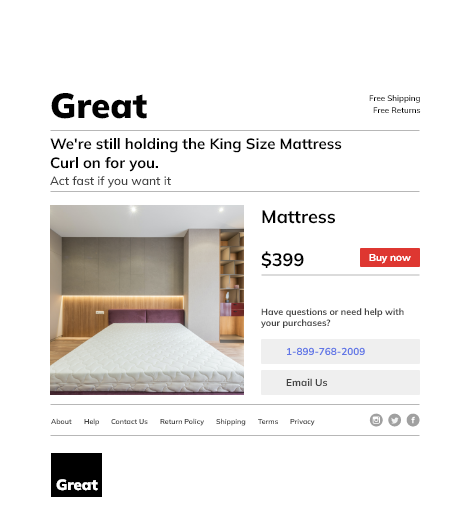 Tactic 5: Use FOMO to your advantage
FOMO or Fear Of Missing Out, is what is driving the world right now. FOMO creates a sense of urgency or limited availability that will push customers into making a buying decision immediately, or they might never get that opportunity again.
In eCommerce, this has tremendous benefits. Your business doesn't need a season or a special occasion to use FOMO. You can always use clearance sale, weekend sale, or XYZ as a trigger to create FOMO. The only limit is creativity. What FOMO does is make customers make impulsive purchases that otherwise they may not even consider had the offer been not presented.
While there are several ways to use FOMO, the most common way is to use a timer or a clock that shows a countdown for the offer's expiry. This can be displayed on your Shopify store's homepage or any product page.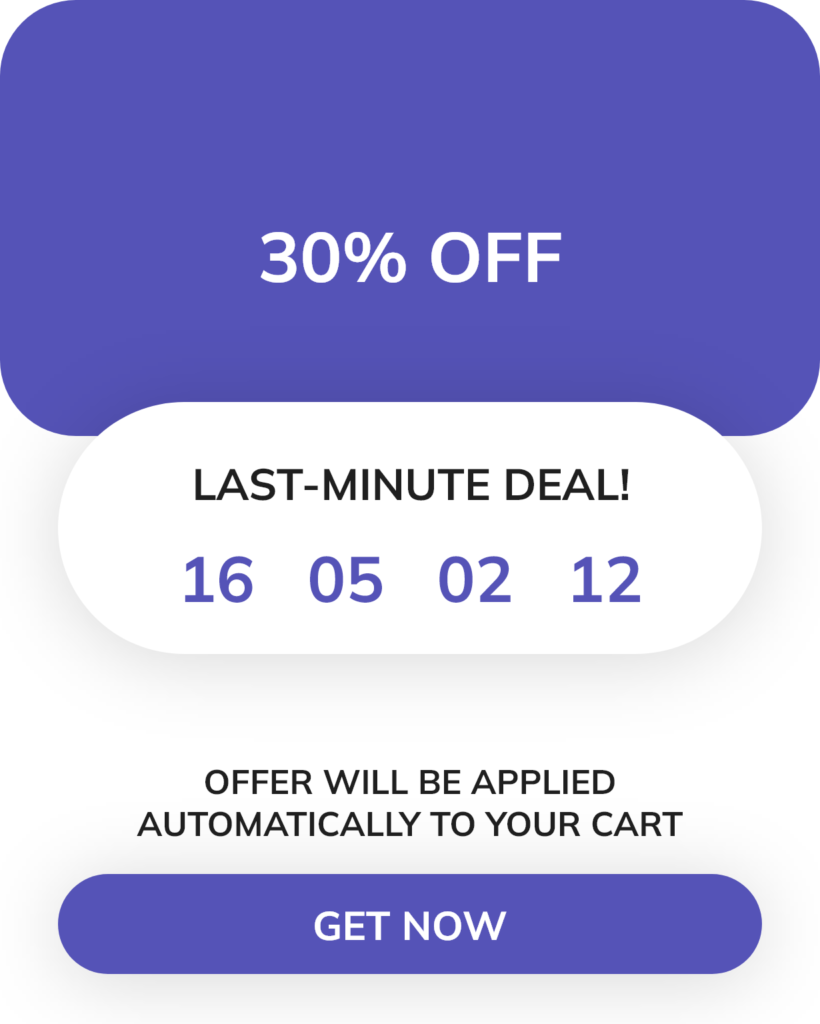 Alternatively, you also indicate a last date for the offer to instill a sense of urgency in the customer to make a purchase. The offer could be anything ranging from free shipping to express delivery, massive discounts, freebies, etc.
Tactic 6: Improve your page-loading speed
Page-loading speed is an often under-rated website experience signal. A fast-loading online store has higher chances of conversion than a store that takes forever to load. There are several elements that could slow down a page from loading. The HD images, product videos, or even cluttered backend code can cause a page to slow down.
A slow website is a serious stressor for website visitors. They would be quick to close the tab and move on to other tasks. Hence, the need to improve your page-loading speed.
As the time taken to load a page increases, the probability of bounce also increases significantly. Google has found in its study how at each stage of delay, the chances of bounce increase.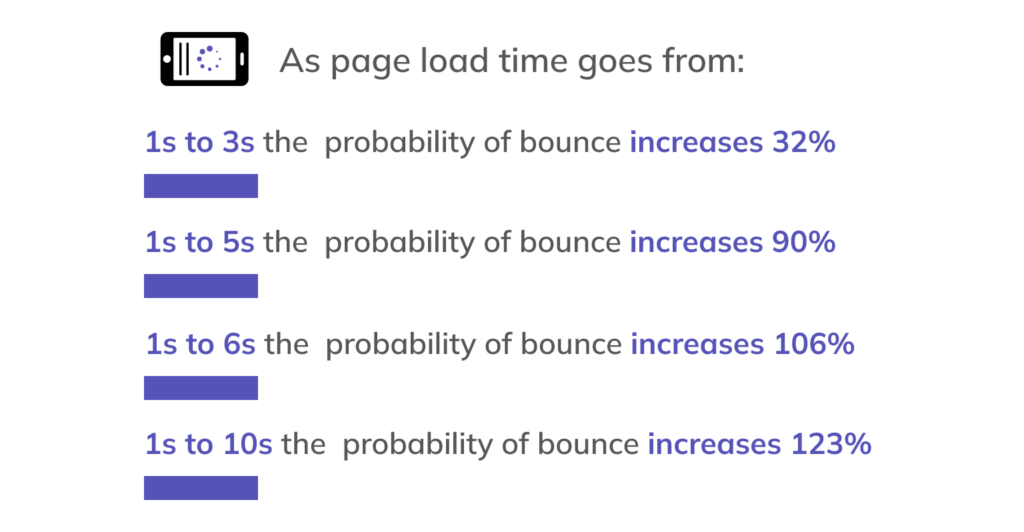 Here are some pointers that can help improve things:
Compress and optimize your images
Reduce page redirects
Minimize the use of CSS, JavaScript, and HTML
Use Content Delivery Networks (CDN)
Remove unnecessary website plugins
Use lazy loading of HD images
In a Nutshell
Building a Shopify store is easy. You don't even have to know coding to launch your Shopify store. But, converting your store visitors into paying customers takes a bit of effort and smart work too.
Although Conversion Rate Optimization is technical work, there are some things that you can do on your own to boost your conversion rates. This article focused on such tactics. They try to address basic customer wants and the impediments that could be stopping them from completing a purchase. Further, it is also about structuring your store in a specific way so that customers are slightly nudged and not forced to complete a transaction.
What other tactics do you use in your Shopify store to maximize conversions and sales?
At Kommunicate, we are envisioning a world-beating customer support solution to empower the new era of customer support. We would love to have you onboard to have a first-hand experience of Kommunicate. You can signup here and start delighting your customers right away.