Last Updated on October 3, 2022
The mention of shopping bots immediately brings up an image of a humanoid robot going about shopping for you while you wait at home for the "shop droid" to return. Same-day and one-hour deliveries by e-commerce giants such as Amazon, are helping us get closer to the "shop droid!"
In reality, shopping bots are software that makes shopping almost as easy as click and collect. It is highly effective even if this is a little less exciting than a humanoid robot.
A shopping bot or robot is software that functions as a price comparison tool. The bot automatically scans numerous online stores to find the most affordable product for the user to purchase. Shopping bots are also known as retail bots and order bots.
Such bots can either work independently or as part of a self-service system. The bots ask users questions on choices to save time on hunting for the best bargains, offers, discounts, and deals.
How are shopping bots helping customers?
You can program Shopping bots to bargain-hunt for high-demand products. These can range from something as simple as a large quantity of N-95 masks to high-end bags from Louis Vuitton.
While some buying bots alert the user about an item, you can program others to purchase a product as soon as it drops. Execution of this transaction is within a few milliseconds, ensuring that the user obtains the desired product.
Also known as order bots, shopping bots are usually part of a larger self-service system that works relentlessly to represent a business and provide instant responses to customers looking for help with a product or service.
Even a team of customer support executives working rotating shifts will find it difficult to meet the growing support needs of digital customers. Retail bots can help by easing service bottlenecks and minimizing response times. This will create a stable brand image for the online business.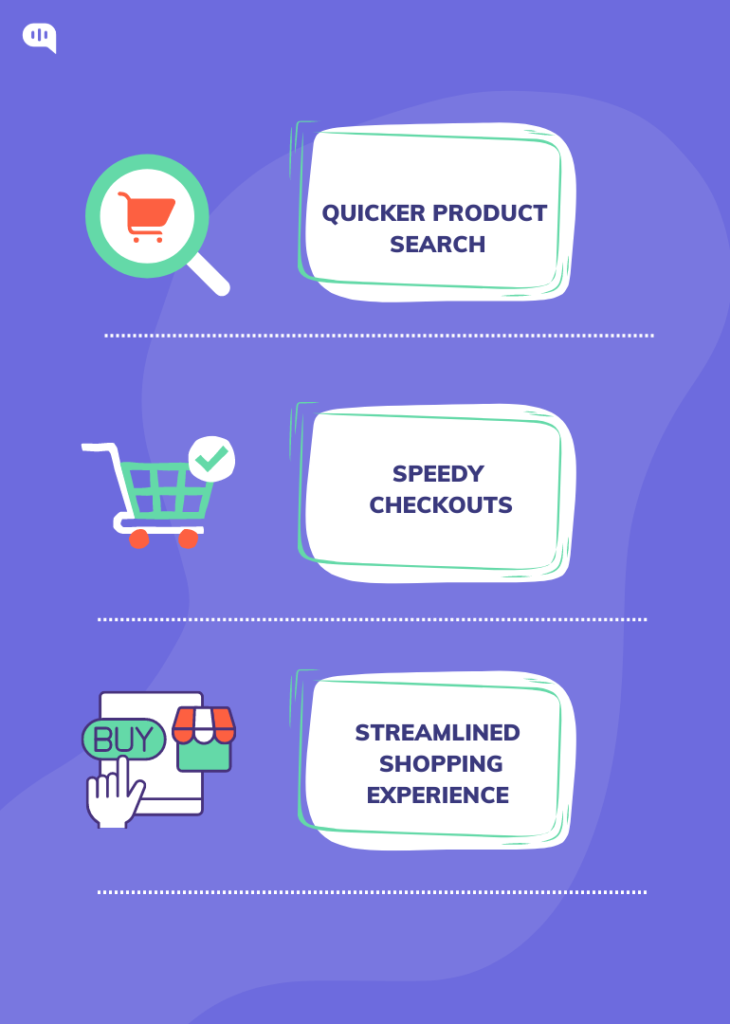 How online and in-store merchants benefit from shopping bots
Shopping bots can be found in any domain, from online apparel and banking to grocery shopping and buying electronics online. Here are some clear advantages they provide to e-tailers and more:
Quicker product search
If you have ever been to a supermarket, you will know that there are too many options out there for any product or service. Imagine this in an online environment, and it's bound to create problems for the everyday shopper with their specific taste in products. Shopping bots can simplify the massive task of sifting through endless options easier by providing smart recommendations, product comparisons, and features the user requires.
Speedy Checkouts
Cart abandonment is a significant issue for e-commerce businesses, with lengthy processes making customers quit before completing the purchase. Shopping bots can cut down on cumbersome forms and handle checkout more efficiently by chatting with the shopper and providing them options to buy quicker.
Streamlined shopping experience
Shopping bots cut through any unnecessary processes while shopping online and enable people to enjoy their shopping journey while picking out what they like. A retail bot can be vital to a more extensive self-service system on e-commerce sites.
Examples of popular Shopping bots
Shopping bots take advantage of automation processes and AI to add to customer service, sales, marketing, and lead generation efforts. You can't base your shopping bot on a cookie cutter model and need to customize it according to customer need.
Here are shopping bot implementations that every company can emulate for customer success:
1. Kompose Chatbot
With Kommunicate, you can offer your customers a blend of automation while retaining the human touch. With the help of codeless bot integration, you can kick off your support automation with minimal effort. You can boost your customer experience with a seamless bot-to-human handoff for a superior customer experience. You can increase customer engagement by utilizing rich messaging.
The Kompose bot builder lets you get your bot up and running in under 5 minutes without any code. Bots built with Kompose are driven by AI and Natural Language Processing with an intuitive interface that makes the whole process simple and effective.
You can easily build your shopping bot, supporting your customers 24/7 with lead qualification and scheduling capabilities. With the help of Kommunicate's powerful dashboard, customer management will be simple and effective by managing customer conversations across bots, WhatsApp, Facebook, Line, live chat, and more. The dashboard leverages user information, conversation history, and events and uses AI-driven intent insights to provide analytics that makes a difference.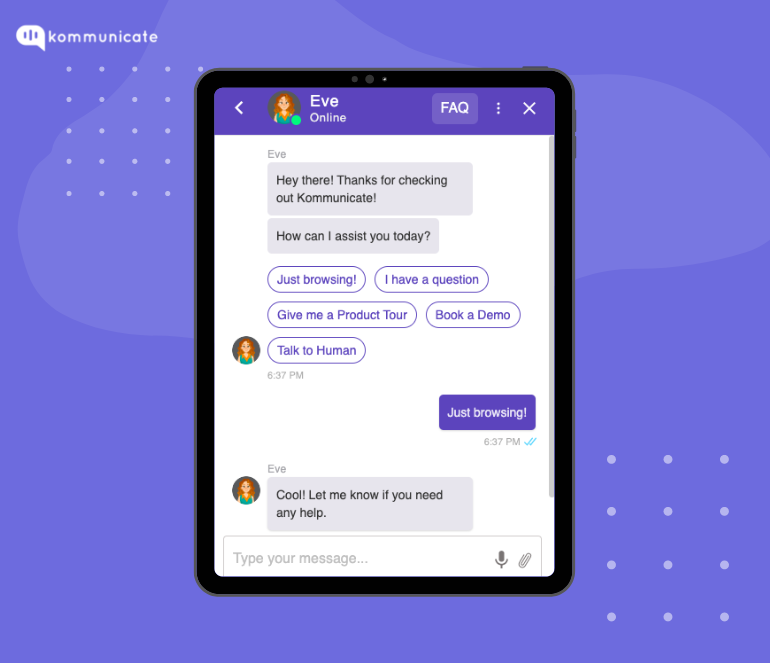 2. Shopify Messenger
The Shopify Messenger bot has been developed to make merchants' lives easier by helping the shoppers who cruise the merchant sites for their desired products.
The entire shopping experience for the buyer is created on Facebook Messenger. Your customers can go through your entire product listing and receive product recommendations. Also, the bots pay for said items, and get updates on orders and shipping confirmations. The consumers will also be able to make service requests.
Shopify Messenger also functions as an efficient sales channel, integrating with the merchant's current backend. The messenger extracts the required data in product details such as descriptions, images, specifications, etc.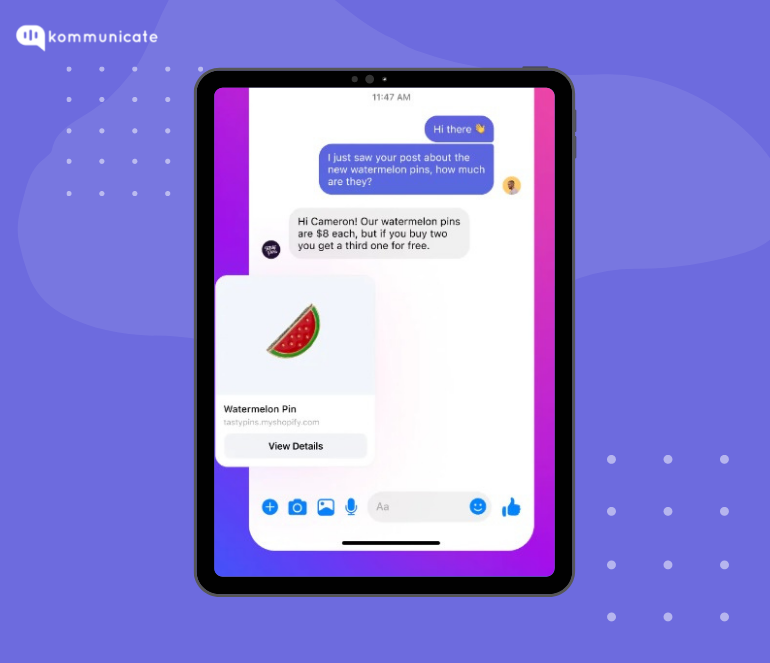 3. WeChat
Started in 2011 by Tencent, WeChat is an instant messaging, social media, and mobile payment app with hundreds of millions of active users.
Concerning e-commerce, WeChat enables accessible merchant-to-customer communication while shoppers browse the merchant's products.
The beauty of WeChat is its instant messaging and social media aspects that you can leverage to friend their consumers on the platform. Such a customer-centric approach is much better than the purely transactional approach other bots might take to make sales. WeChat also has an open API and SKD that helps make the onboarding procedure easy. What follows will be more of a conversation between two people that ends in consumer needs being met.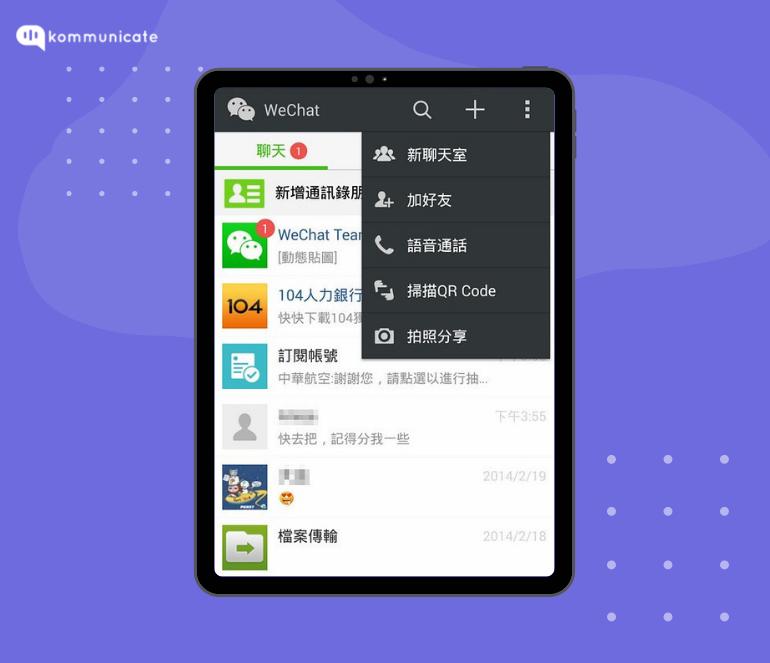 4. H&M
H&M is one of the most easily recognizable brands online or in stores. Hence, H&M's shopping bot caters exclusively to the needs of its shoppers. This retail bot works more as a personalized shopping assistant by learning from shopper preferences. It also uses data from other platforms to enhance the shopping experience.
The shopping bot helps build a complete outfit by offering recommendations in a multiple-choice format. This bot provides direct access to the customer service platform and available clothing selection.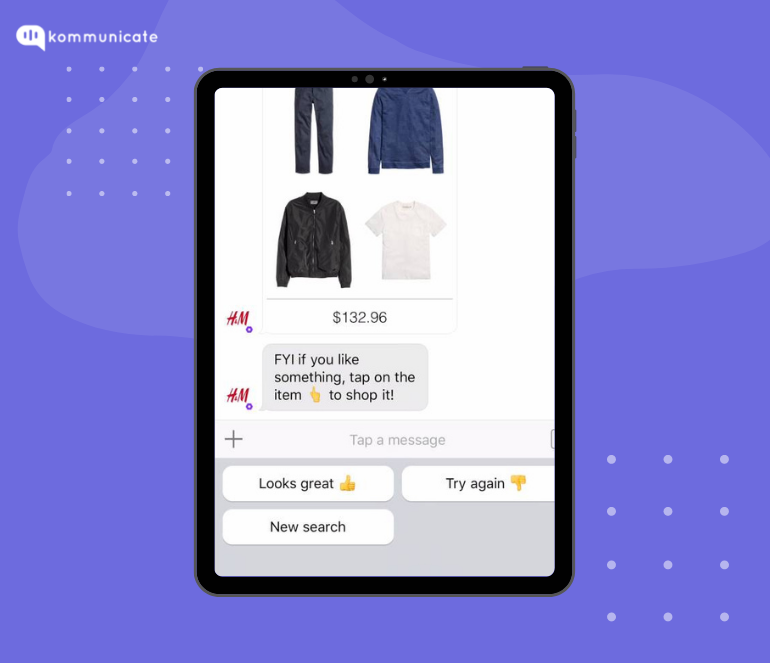 5. SnapTravel
Travel is a domain that requires the highest level of customer service as people's plans are constantly in flux, and travel conditions can change at the drop of a hat.
Global travel specialists such as Booking.com and Amadeus trust SnapTravel to enhance their customer's shopping experience by partnering with SnapTravel. SnapTravel's deals can go as high as 50% off for accommodation and travel, keeping your traveling customers happy.
Customers just need to enter the travel date, choice of accommodation, and location. After this, the shopping bot will then search the web to get you just the right deal to meet your needs as best as possible.
An added convenience is confirmation of bookings using Facebook Messenger or WhatsApp, with SnapTravel even providing VIP support packages and round-the-clock support.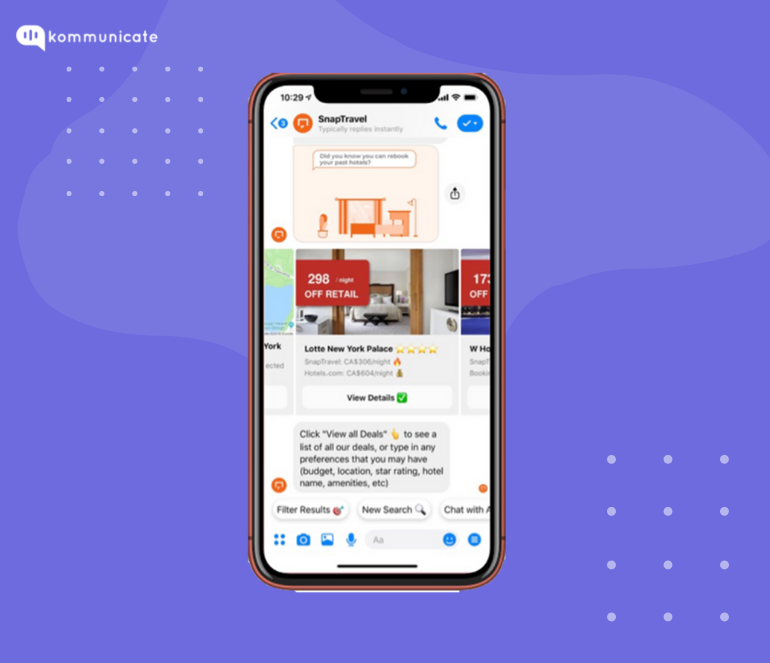 6. Madi
Madison Reed is a US-based hair care and hair color company that launched its shopping bot in 2016. The bot takes a few inputs from the user regarding the hairstyle they desire and asks them to upload a photo of themselves.
Once done, the bot will provide suitable recommendations on the type of hairstyle and color that would suit them best. By eliminating any doubt in the choice of product the customer would want, you can enhance the customer's confidence in your buying experience.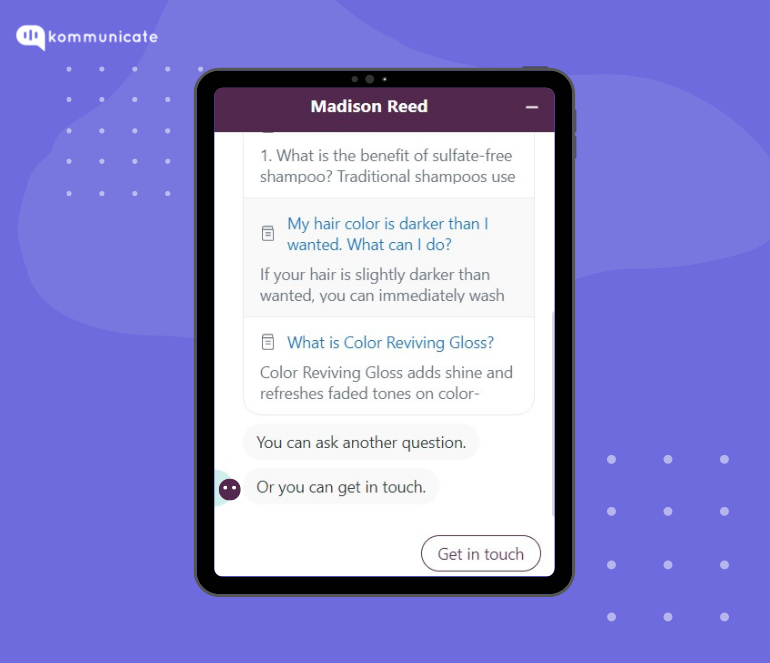 7. Kik Bot shop
Like WeChat, the Canadian-based Kik Interactive company launched the Bot Shop platform for third-party developers to build bots on Kik. Keeping with Kik's brand of fun and engaging communication, the bots built using the Bot Shop can be tailored to suit a particular audience to engage them with meaningful conversation. The Bot Shop's USP is its reach of over 300 million registered users and 15 million active monthly users.
For example, Sephora's Kik Bot reaches out to its users with beauty videos and helps the viewers find the products used in the video to purchase online. Furthermore, the bot offers in-store shoppers product reviews and ratings.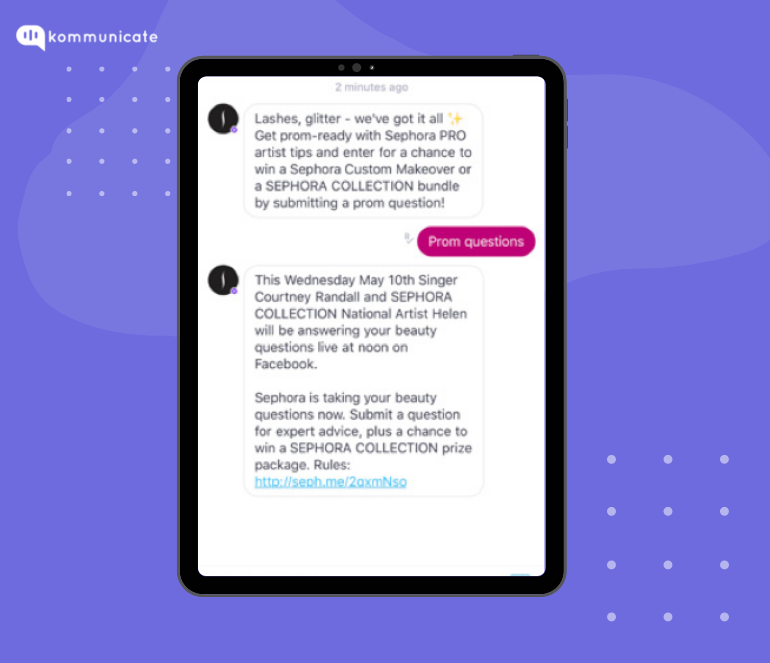 8. Readow
Readow is an AI-driven recommendation engine that gives users choices on what to read based on their selection of a few titles. The bot analyzes reader preferences to provide objective book recommendations from a selection of a million titles.
The user interface of Readow is simple, with options to purchase the book being suggested, delete it from your selection for other titles or save it for later for the user. Currently, the user is directed to an Amazon page to purchase different book versions. The books can be in paperback, hardcover, Kindle, and audiobook.
This bot is useful mostly for book lovers who read frequently using their "Explore" option. After clicking or tapping "Explore," there's a search bar that appears into which the users can enter the latest book they have read to receive further recommendations. Furthermore, it also connects to Facebook Messenger to share book selections with friends and interact.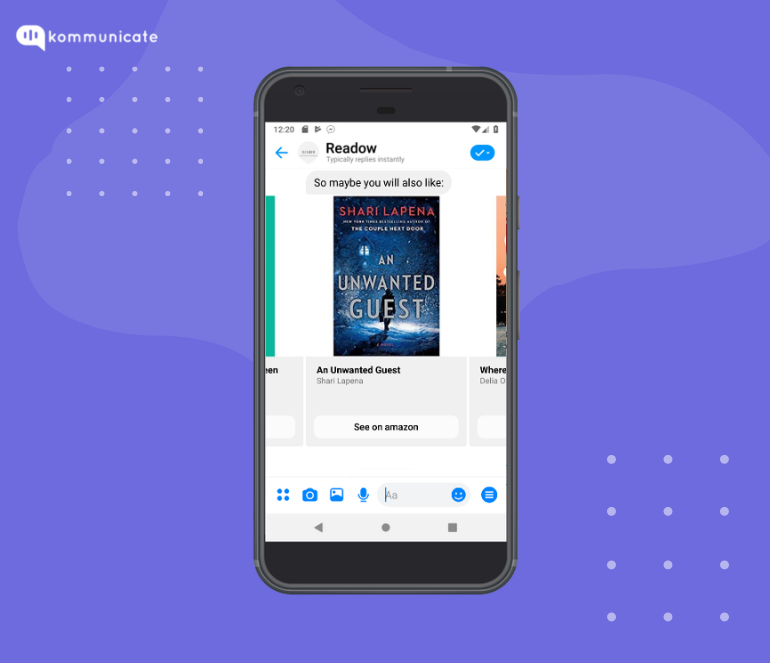 9. Operator
Headquartered in San Francisco, Intercom is an enterprise that specializes in business messaging solutions. In 2017, Intercom introduced their Operator bot, " a bot built with manners." Intercom designed their Operator bot to be smarter by making the bot helpful, restrained, and tactful. The end result has the bot understanding the user requirement better and communicating to the user in a helpful and pleasant way.
Operator lets its users go through product listings and buy in a way that's easy to digest for the user. However, in complex cases, the bot hands over the conversation to a human agent for a better resolution.
10. Mobile Monkey
Despite various applications being available to users worldwide, a staggering percentage of people still prefer to receive notifications through SMS. Mobile Monkey leans into this demographic that still believes in text messaging and provides its users with sales outreach automation at scale. Such automation across multiple channels, from SMS and web chat to Messenger, WhatsApp, and Email.
Also, Mobile Monkey's Unified Chat Inbox, coupled with its Mobile App, makes all the difference to companies. The Inbox lets you manage all outbound and inbound messaging conversations in an individual space.
The Final Word
Shopping bots are the face of conversational commerce. They help bridge the gap between round-the-clock service and meaningful engagement with your customers. AI-driven innovation, helps companies leverage Augmented Reality chatbots (AR chatbots) to enhance customer experience. AR enabled chatbots show customers how they would look in a dress or particular eyewear. Madison Reed's bot Madi is bound to evolve along AR and Virtual Reality (VR) lines, paving the way for others to blaze a trail in the AR and VR space for shopping bots.
If you aren't using a Shopping bot for your store, you might miss out on massive opportunities in customer service and engagement. Get in touch with Kommunicate to learn more about building your bot.
---
At Kommunicate, we are envisioning a world-beating customer support solution to empower the new era of customer support. We would love to have you on board to have a first-hand experience of Kommunicate. You can signup here and start delighting your customers right away.