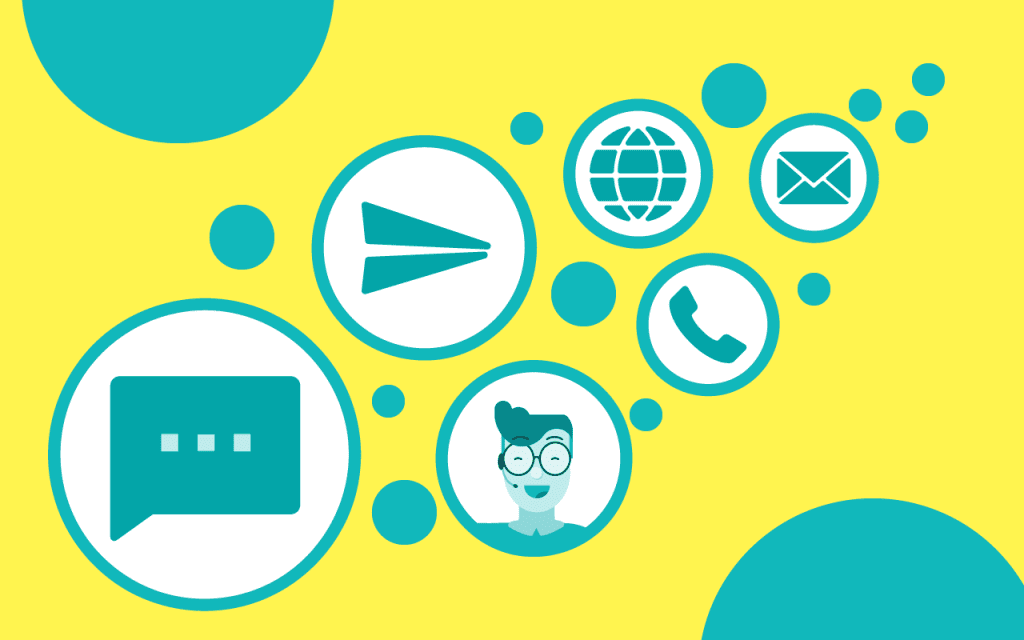 Businesses across the globe rely heavily on innovating & designing great products to add unique value in the lives of their customers. However, a majority of enterprises fail to fully understand the effectiveness of good customer support in establishing an effective marketing strategies.
Your customer is your most vocal supporter who unknowingly & happily indulges in the word of mouth advertising. It is only when they share, the world gets to know about your brand. Therefore, it is essential for your business to not only create world-class products but also deliver wow customer service.
More and more businesses are learning about the intricacies of customer acquisition & retention. As a reason, their focus is slowly shifting towards offering consistently great customer service. Lately, a variety of customer service solutions have emerged. Companies are utilizing them to make their support more responsive & personal.
In this blog, we are going to break the essence of "5 types of Customer Service" to help you decide what works the best for your business. Also, we are going to reveal our personal favourite solution for customer support teams.
Types of Customer Services
Don't waste your time and money experimenting with different kinds of customer services. Check out this blog to understand which is the most suitable service type for your business.
Customer Self-Service
The primary idea behind this blog is to help businesses strengthen their customer support teams. However, "self-service" is the kind of support that enables customers to do their own research, mind make-up, and investment. Self-support lets people take decisions in peace, without any interference.
It's best suited for Introverts who although are a little shy to converse, yet, are willing to learn & invest. Even after making the purchase, if and when they face any sort of difficulty, Introverts have a tendency to avoid customer reps. They like to solve their problems on their own.
Another reason why someone would avoid contacting the customer team is, they are already an expert. They know full well how to operate the software. Troubleshooting things by oneself saves one both time & effort.
Considering all this, businesses must ensure some kind of self-service customer support solution in their processes. This ensures introverts and industry experts are comfortable with your services.
Live Chat
Live Chat is fast & effective. Usually, when someone is looking for a quick & comprehensive response, they go to the live chat option and talk with the experts. Customer reps can use Live Chats to quickly troubleshoot customers' issues through clear and concise responses. The process is simple: understand their problem, find the solution, and fix it for them.
Get the Live Chat planted on the website page. So, they can get their problems resolved simply by chatting with your support team. The faster the response, the better is the customer experience.
At this point, it is important to understand that every product breaks down at some point in time. But if you can comfort the customers with honest follow-ups and right solutions, there is nothing to worry!
The USP here is, with Live Chat in place, your customers won't have to fret too much for answers. As long as potential Leads and loyal customers are getting their answers, they will not want to look anywhere else.
ChatBot Support
A ChatBot is a great example of self-service support. Not only it eliminates your first response time but it also provides your customers with an efficient 24*7 support system. No matter what time zone you are in, chatbots function at all times, and are great at handling common repetitive queries.
A chatbot is like a close ally to your customer service team. It resolves a major chunk of the customers' issues, giving the support team ample time to focus their attention on handling big problems. You have to set the flow of questions & answers in a way that you customers or leads reach a satisfying solution quickly and without any hassle.
For instance, Kommunicate helps you build AI powered advanced chatbots that resolve customers queries with personalized responses, in a jiffy. It also does a wonderful job of handing off unresolved issues to a human.
However, what separates Kommunicate from its competitors is its ability to knit a 360-degree support system around an entire business. Together, Kompose (Chatbot builder), Help Center (a knowledge base), and social media integrations, ensure no person goes away feeling unattended or uncared for.
Email Support
Unlike Live support, Emails are more convenient for a certain kind of customer who finds asynchronous conversations more comfortable. They can simply raise their question or doubts through an email, and can then read & reply to the customer team's response at a time of their convenience. But asynchronous shouldn't translate to inconsideration. The customer team should try to respond to any query asked via an email within 24 hours.
Emails are a great way to forge meaningful bonds with your customers. While it is important to remain professional in all your responses, you can use a bit of humour or personalization at times to create a human-to-human bond.
In fact, a great way to utilize email support is to first guide the customer in the best possible way. And then, when they seem pleased by your successful assistance, ask them to rate your product or leave a review, as a mark of support to your business.
Social Media Support
In 21st century, you cannot build a business without utilizing Social Media to the best of its capacity. What makes social media, esp. Facebook, great is that it provides its user-base an easy to use platform that they can use to share their experiences on a product or a service, with their connections.
A good way to start exploring social media is to first analyse the platforms that your competitors use, and see where your target audience hangs out digitally. Install a software that will inform you anytime someone mentions your brand on any of the social media platforms. This platform can be best used by installing a live chat on your social media pages.
Then the support rep can talk with the person and get them in the loop directly from the social media platforms. This is a good way to increase your customer base.
How to choose the best one for your business?
The best has to have all the above given qualities integrated in one solution!
Now, that we have told you about the 5 major types of Customer services, let us introduce you to a pioneering modern-day solution that gives your business an all-round customer support 24*7.
Whether you are looking for live chat solutions, or for smart chatbots, ready to undertake most mundane & time-consuming conversations, we offer a one-stop customer service solution for all your support needs.
Kommunicate provides a complete customer support ecosystem that comes equipped with a powerful dashboard, integration with your favourite CRM platforms, Live Chat support, ChatBot integration, and so much more.
Manage all your queries at one place, and use Templated quick replies to save yourself the effort of construing smart responses in a short time. It also lets you build intelligent FAQs to help navigate your visitors towards the exact solution they are looking for. Now, build a self-serve knowledge base for introverts who like to research on their own.
Effectual Live Chats help fasten the process of converting leads into customers by answering their doubts on products & pricing. It is a low friction way of contacting the support team, understanding their product, and buying from the brand. Remember, the better their experience, the more likely they are going to buy from you!
Take your customer service Experience a notch higher
We hope this blog really helped you understand the 5 types of customer services, and decide which one is the best for your business.
To learn more about customer success and Kommunicate, stay tuned & keep checking this space!
Suggested Read: Customer service terms
Suggested Read: Building a Strong Customer Success Team