Last Updated on September 12, 2022
Table of Content:
Once upon a time, chatbots were just boxes that answered basic questions. But today they have got a highly-functional brain for themselves. They have become intelligent. And can perform advanced functions to quickly & easily help customers find what they are looking for. You can get them built either by an efficient Chatbot application development team or by yourself.
In earlier times, building a Chatbot required huge financial investment. It still does. If you want a super-functional bot made by a chatbot development team. However, these days you have an equally competent but more economical alternative: a chat builder platform.
A highly competent chat builder platform like Kommunicate can help your brand build a smart bot in less than 10 minutes. Such chatbot development platforms have given companies the power to customise bots according to themselves. Without knowing a single line of coding. What else does one need!
Benefits of having a chatbot for your business
Your company's first touch point: In many cases, a customer's first conversation with a brand happens through their chatbot. This is the first time they interact with you and get to understand your brand. For a brand, it is a great opportunity to showcase their product's USP. You can jazz up things a bit by giving your Chatbot a name, profile picture, and a personality that resembles your brand's.
24*7 Customer Support: You or your team members cannot be available on emails or phone calls 24*7. But your chatbot can! They can in fact answer most of the repetitive or generic questions on your behalf. And can even hand off support to humans in case of a complicated or more personalised query. Customers don't want to wait. And appreciate your brand for such a quick response!
Improved Sales: Yes, you heard us right! Having a chatbot on social platforms and websites can help accelerate your sales. How? When you customers get the information exactly at the time they are looking for. They are more likely to buy from you. According to AI stats news, companies can increase their sales by 67% by having a chatbot in place.
Conversational Marketing: In today's time when big brands are putting so much effort to know their customers personally, customers have got used to conversing with their favourite brands. Chatbots help you converse directly with your customers, get their feedback, and understand them. Earlier this exchange of ideas happened through static forms. Today, nobody wants to fill them up. So, replace those old forms with the modern way of doing conversational marketing.
Deciphering Customer Behaviour: There is a lot that you can learn through your chats with your customers. Your chatbot keeps the history of all your conversations. You can easily see what is trending amongst the customers. Which products they like the most. What are the major problems they are having? What product update would they like to see in the next version? Once you know which products they like more, you can highlight them even further. And can upgrade the others as per customers' feedback to make them more user-friendly.
Serves a Variety of Industry: The best thing about a chatbot is that it isn't industry-specific. From marketing to medicine to energy conservation, any brand can use a chatbot for enhancing their business.
Help with Human Resource: Did you know, not just customers but even applicants who want to join your company ask questions to your bot? Yes, many times applicants come to ask doubts related to a position to the company's bot. Imagine how smartly you can design your chatbot to answer all kinds of company related questions. This will help the applicants a lot. And will also help your Business as you will get the right candidates.
Bots have multiple applications: If you thought bots just help with marketing, think again! From customer support to IT to Hr, They genuinely contribute in every aspect. Additionally, they also help support the sales funnel, and ensure customers don't get off it.
You can use a Chatbot builder platform to bring your first ever Chatbot alive. There are multiple platforms that would help you establish an intelligent Chatbot for your business.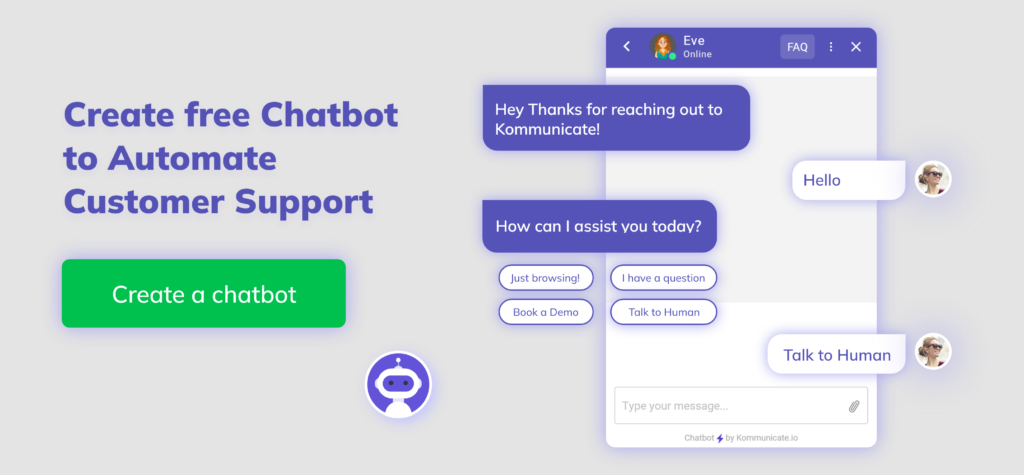 Some of the renowned chatbot building platforms
Let's talk about Kommunicate.
Kommunicate allows you to deliver a complete Hybrid (Human + Bot) support to your visitors & customers. You can, using our bot building tool the "Kompose", create a Chatbot in JUST 10 MINUTES. What's great is that you are going to need "Zero coding" knowledge to build a bot with us. Yes, you heard us right: Kompose lets you build a smart AI-driven Chatbot without entering a single line of code.
The problem with most Chatbot building platforms is they give users very little scope for customisation. So, even when you get your bot built through them, you have to employ a dedicated chatbot development team to improvise it for further essential functionalities.
If your tech team has to spend a good amount of time improvising a chatbot you built using a builder platform, it's time to switch to another.
Intercom: Intercom is one of the finest chatbot building platforms. It gives you the flexibility to give customers personalized customer support experience. Also, it allows/encourages customers to solve basic problems on their own by offering them contextual blogs. It gives better results in less effort & time!
Chatfuel: Chatfuel is another great chatbot building platform. It allows you to build an effective chatbot in a few minutes. Its chatbot building interface is quite intuitive and visual so the process is very simple to follow. Also, the great thing is that one doesn't have to have any coding knowledge to build a chatbot here. You can create an effective chatbot with 0 knowledge of coding.
Flow XO: It is again a well-known chatbot building platform that requires no coding knowledge. You can use it to create intelligent chatbots that can hold personalized communication with customers across numerous platforms, websites, and pages. What's more, it lets you create a powerful workflow. Additionally, you can integrate it with 100 cloud-based apps.
Tidio: Already 3 lakhs plus websites are using Tidio, which speaks of its quality. It has one simple dashboard that lets you connect & reply to your customers from all different platforms. So, you don't have to switch platforms. You can do a lot more, in less time and in a more streamlined manner.
Drift: Drift has mastered the art of conversational marketing. Their bots could create an engaging experience for the clients. So when your sales team interacts with them, they already are half impressed by the customer support experience they received. What's great is that Drift's chatbots qualify prospects in advance before setting up their calls with the sales professionals. So, the sales team know what kind of approach they should use for each lead.
Pin-point areas where your chatbot can support
You first need to figure out which all processes can a chatbot help you perform more efficiently. Chatbots are usually good for client-facing recurring work like answering common customer support questions.
Employing human support for common repetitive tasks is a complete waste of Human Resource. Instead get a Chatbot to answer your customers' basic technical queries, pricing related doubts, and product related confusion.
In order to make your chatbot efficient, you need to figure out the most common problems your customer faces. For example, let's say your customer support gets numerous questions around the pricing of the product.
You can group these questions in one category.
What is the pricing for customized support?
If I don't take one of the services from your package will I still be charged for it?
Can I get a discount?
How to apply my coupon to avail discounted pricing?
Now that you have compiled this list in each category, curate smart answers that your chatbot can share every time a customer asks it.
Having a chatbot in place can help your company at multiple levels:
Ease of learning: Customers easily find answers to their doubts.
Saves Immense Time: Customers can quickly & seamlessly find answers to their queries.
Customer Delight: A strengthened customer support speaks volumes about a brand.
A chatbot built to talk in multiple languages through customisation
Potential leads might find you at different places on the Internet. Wherever they are, they will try to reach you out on the same platform. Website, Instagram, WhatsApp, Linked In etc. It could be anywhere. So, it is important for you to figure out which communication channels you should automate!
Additionally, if you are getting numerous queries from an area where individuals' preferred language of communication isn't English, then customize Bot's language preference as well.
Deploy a bot at the channels that are experiencing a respectively high volume of customers. Note the language they prefer to speak in. What is the intent of customers you talk with on these channels? Do they convert easily? Is their number increasing or decreasing? Accordingly, create a few metrics to measure if or not you require a chatbot in a certain language for a certain communication channel.
Important integrations that would enhance chatbot's efficiency
Integrations help your chatbot become smarter. To understand which integrations should you add, see how each one will help your bot function more efficiently. Start from the ones that are unmissable. Slowly add more integrations based on their utility.
This could be something like:
– CRM like Hubspot, Zoho, Salesforce, etc.
– Calendar like Google Calendar, etc.
– Payment systems like Stripe, PayPal, etc.
– Maps like Google Maps, Apple Maps, etc.
– Cloud storage tools like Dropbox, Google Drive, OneDrive, etc.
– Or, any other Business software that your company is utilising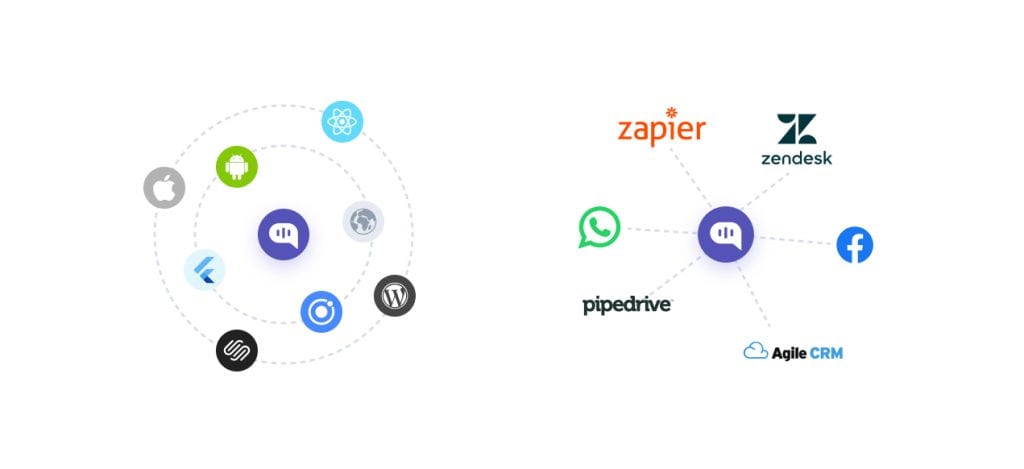 Integrations will help you save time and efforts in performing a certain task. Make a priority list that would tell you which integration would make the job easier for you and your bot.
Chatbot building team that is right for your business
When it comes to building a smart chatbot for your company, you generally have 2 options. You can either hire a chatbot development team or you can build it yourself on a Chatbot builder platform. Now, how do you decide which option to choose? Both the options are great depending on what exactly you want to achieve with your chatbot. A chatbot development team can help you build a really smart multi-functional chatbot. They can help you build a chatbot laden with great features like multiple integrations, languages, and functionalities.
However, if you are looking for a smart Chatbot that you can build yourself and economical, go for a chatbot builder platform like Kompose. It is a very helpful option to have in a limited budget, and timeframe.
Now, talking about the chatbot builders, you can create a Chatbot on Kompose in 10 minutes.
Kompose is a GUI bot builder based on natural language conversations for Human-Computer interaction. You don't need any coding skills to master Kompose. It has a simple, intuitive, and easy-to-use interface.
Developing a roadmap to a smart chatbot
Now that you know you can easily create a chatbot on a chatbot builder. It's time to learn about devising a smart user roadmap for your chatbot. A roadmap is a path that users can follow to get answers to their queries. Here are things that you need to discuss with the chatbot development team in order to successfully get through the process:
Define clear objective or KPI's
Features you want to have
Calculate your budget
Analyse the dynamic & presence you want to have in the entire process
Prediction of future maintenance
Also, ensure you clearly discuss with the Chatbot development team about how often your organization will want to connect. Don't forget about the demos. Please make sure you convey your Chatbot development team very clearly of what kind of story you want your chatbot to convey. Whether you want its tone to be conversational or just crisp and concise. It is very important that you highlight each point to the team very clearly. Only then can they create the kind of chatbot that best serves your product & organization.
How to create use cases
Use cases help you define specific actions for a Chatbot. Imagine all the questions or doubts a user can have when they first land on your website. When defining use cases for your customers it is important to get in their shoes and look at the product from their perspective. Tell the chatbot builder team all the functionalities that your chatbot should be able to answer
Try to have multiple short questions. So, for example, the user can ask what the pricing of the marketing service is. Instead of them asking about what the pricing is, which constitutes all technical, Sales, and Marketing sections. The more specific the questions are, the more insight they can provide to the users.
🚀 Bonus: Check out the free AI Chatbot Template
Next up comes the security of your chatbot
Did you know in 2020, there were a total of 304 million ransomware attacks worldwide? Well, cybersecurity is very important. You have to ensure with the chatbot building team about the measures they are going to take to make the chatbot safe for users. Cyber security is very important for your business. Because it might hamper you both financially as well as in terms of brand reputation in the market. While one might recover from financial loss, it is hard for a business to recover from the absolute loss of reputation.
Creating a chatbot persona to suit your customer
It is important to know your customers so that you can give your chatbot a similar persona. If you know your customers' profile well, you can create a chatbot that delivers a great experience to your customers. Your user persona tells you everything about your customers. What they do, their interests, the problems they face, their conversational tone, their vocabulary etc.
Now, here comes the most important thing about your Chatbot. How do you know which questions to cover? And how to develop a logic tree? One easy way to find out doubts that customers often come across is to check your email script. Look through your FAQs, then customer support history, and social media. You will find out questions that have been asked repetitively.
Connect the chatbot development team with these questions
It is important that you impart all this information to your chatbot development team. A good way is to ask your team to collect all these repetitive questions, prepare crisp-effective answers for "em all, and send them to your vendor. The latter can create a logic tree and chatbot flow based on these questions & answers.
However, if you are developing a chatbot on a builder platform, it is important that you teach your bot to understand alternative words for important terminologies. This ensures that whatever search your customer makes, they could easily find the answer. This is called training the bot.
For example: Is it a video making app? Is it a video making app for android? Is it a video making app for iPhone? Is it good video making software?
You will have to teach the bot to understand various phrases of the same question. How to do that? Try to get into your customers' shoes and write the questions in as many ways as possible. Then feed it into your bot.
Test before you scale it
Before you scale your bot, test it on a small group of people. Get their feedback, review your bot, and redo it again. Once you think it is ready to go big, scale it and get it live.
Remember that a bot improves continuously. So, you can continue to correct it over time with new ideas and the feedback you get. Also, as your product or business develops, you will have to keep on adding new stuff to your bot. It is very important that your bot stays relevant to your business.
Conclusion
The process of building a bot is more important than building the bot itself. You need to have a very clear idea of how the bot is going to help your business. Have a clear understanding with your chatbot development team. You must convey to them the real idea and expectations behind the bot. Once you have thought about everything, have a clear roadmap for the bot.
Discuss it with your chatbot application development team. Add integrations that will help increase their efficiency. Finally, get it tested, play with it, see how efficient it is. Now that the prototype is ready, it's time to scale it and get it live. A chatbot can help you at multiple levels. It can help you communicate with your customers in their preferred languages.