Last Updated on May 12, 2023
Admit it, a majority of you love it when you get a correspondence with your name written on it.
It is like receiving a handwritten letter in this era of Instagram DMs and cold emails.
But what purpose does personalization serve?
How do you effectively carry out personalization using chatbots?
We answer all these questions and much more in this little blog post, along with giving you 5 different methods to carry out chatbot personalization.
Here we go:
What purpose does personalization serve a.k.a Why personalize?
Why does your chatbot need to talk to your customers as though they have known them for years? Simple, really. In today's hyper competitive world, customers expect businesses to anticipate their needs well in advance.
According to research by Salesforce, for instance, 66% of the customers expect businesses to understand their needs. So personalization is a sphere of marketing that you simply cannot ignore. Here are 3 reasons why you must accommodate personalization in your chatbots, if you want to stay ahead of the competition.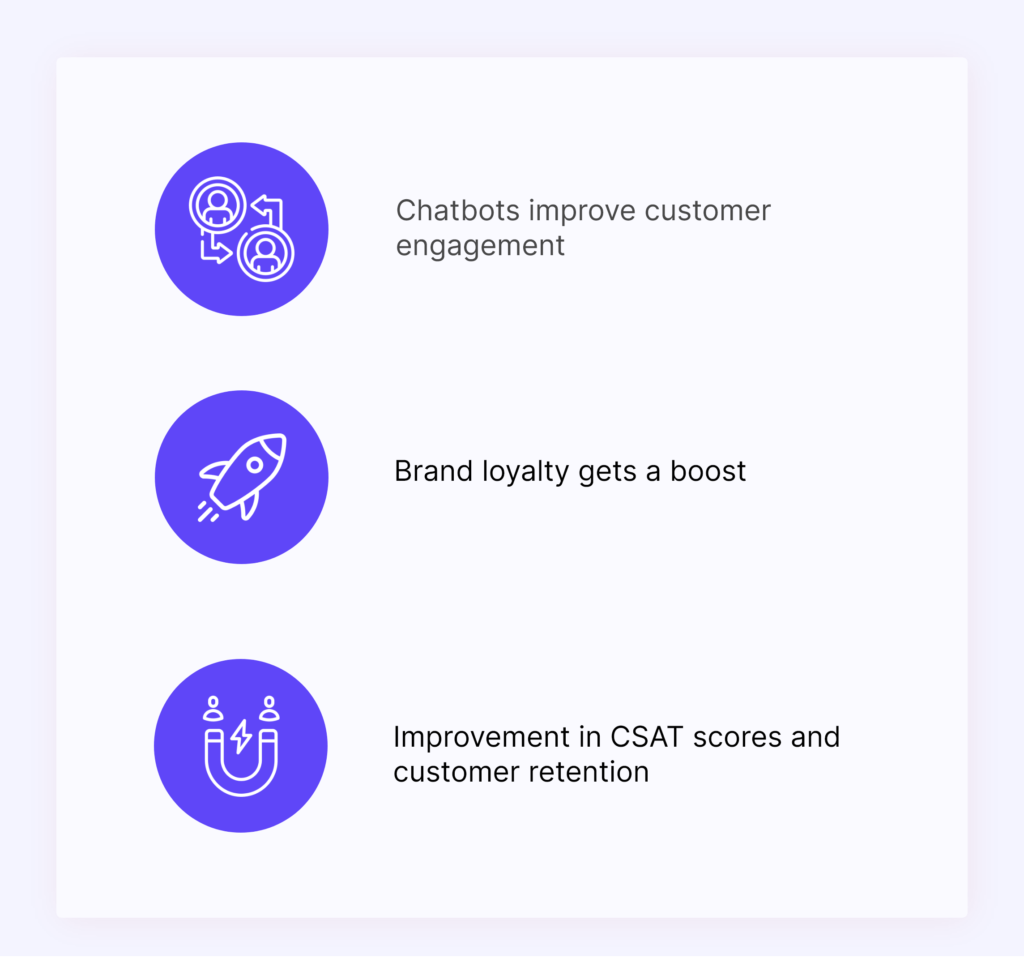 1. Chatbots improve customer engagement:
Chatbots can improve customer engagement, by providing a personalized experience to your website visitors. They can bring to the forefront relevant offers and discounts, which your customers will surely appreciate. This will leave a positive impression about the brand in the mind of your customer, which, in turn, will boost conversion rates.
2. Brand loyalty gets a boost
Build a bot that has a bit of personality in it and that connects with the customer on an emotional level. This will leave a good taste in the mind of the customer. Customers feel happy that they have decided to buy from you, because you seem to actually care for them. This will boost your brand loyalty, as more and more customers will continue to see you as a solution to their problems.
3. Improvement in CSAT scores and customer retention
You need to design your chatbot in such a way that when a customer is interacting with it, they are genuinely surprised by how much the bot already knows about them. A good level of personalization will position your brand as someone who cares, meaning it will increase customer satisfaction. This will lead to a natural improvement in CSAT scores. Retaining customers also is a breeze, since most of the customers who like your bot will prefer to continue using it.
How to carry out effective Personalization using Chatbots
Your customers will provide you with a lot of information. This is data in its raw form, and you can use this data to provide a truly personalized customer experience. Let us see how:
1. Guide the customers based on the problem statement
Imagine you have built a chatbot for a banking website, using a bot builder such as Kommunicate. Kommunicate has a list of pre-built chatbot templates, including one for the banking sector. Now, when a customer is visiting your banking website, you can send them a simple Welcome message. This can be a "Hi," or a "Hello, welcome to ABC Bank."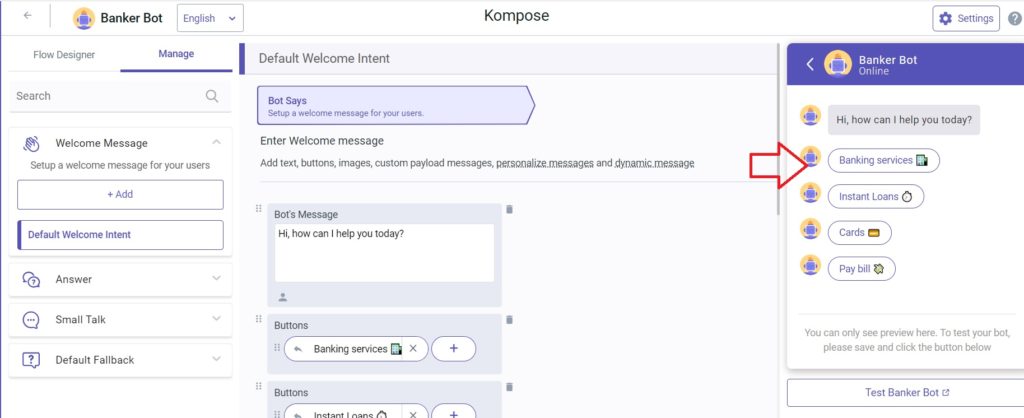 2. Use Entities to personalize conversations
A chatbot can act as a great lead magnet, this much you know by now. You can use a chatbot to collect a host of information, including a user's name, email address, phone number etc. Kommunicate's NLP engine stores all this information within the system, and we like to call these Entities. Once your chatbot collects the entities, it can use it to personalize the conversation that follows.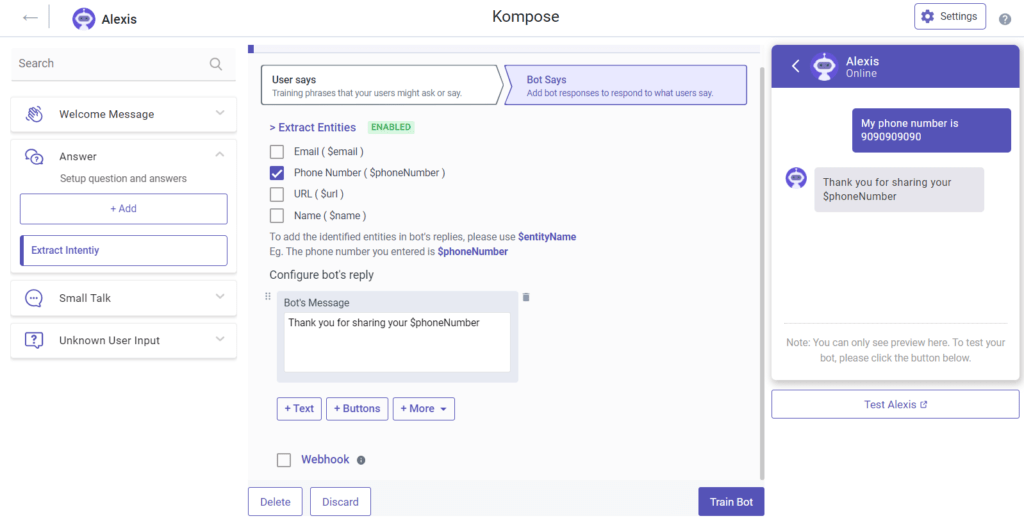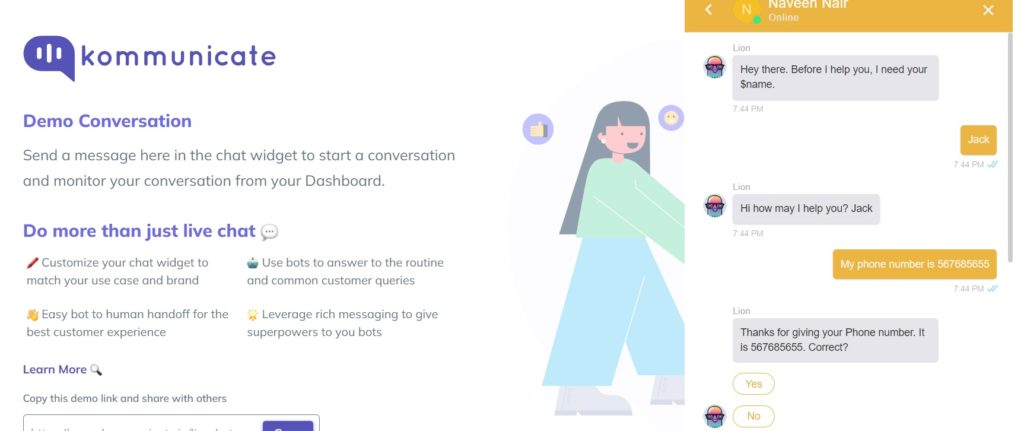 As you can see, we can make the chatbot familiar with your name, email ID, phone number etc in a matter of seconds. Extraction of entities is a major feature that your customers will thank you for once they get around using it. Talk to your customers as if talking to a friend, and watch magic happen!!
3. Use your customer's data to offer product recommendations
When a customer is visiting your website for the first time, he or she may not know where to look, if the website design is clumsy. For example, this website by Pacific X-ray, which has no landing page, nor tells about its offerings on the main page.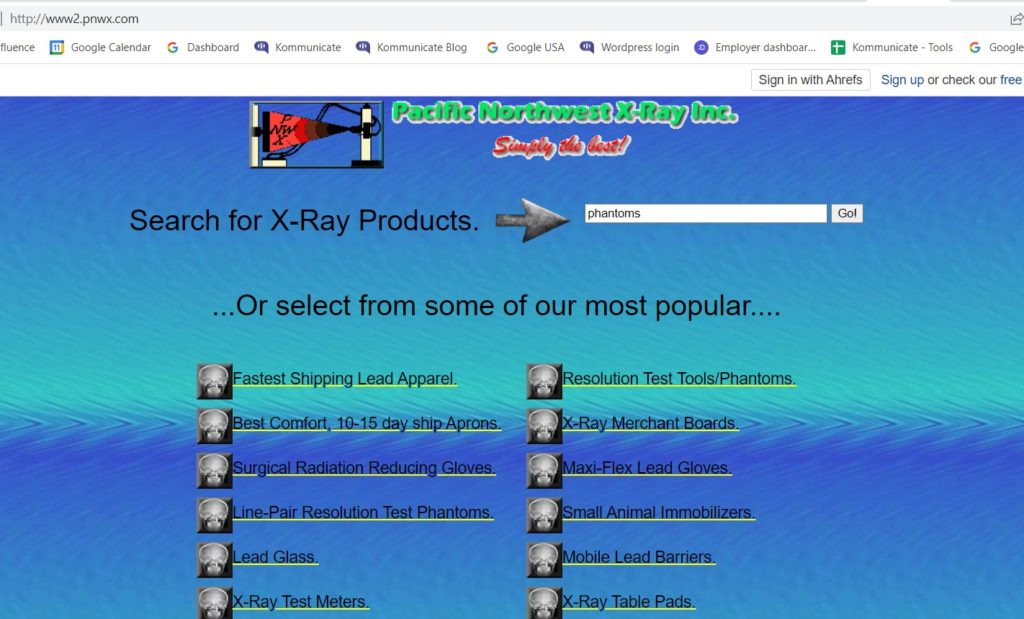 This website may make you think you have been transported back to the 90s, with its use of outdated gradients and cheeky color themes, but no, it is an actual website.
Give a smooth website experience to your users, especially if you run an eCommerce website. Make sure they don't feel like Indiana Jones looking for some buried treasure. A chatbot, for instance, can save a lot of time for your shoppers. Encourage users to type in the kind of products they are looking for, and give product recommendations, right within the bot.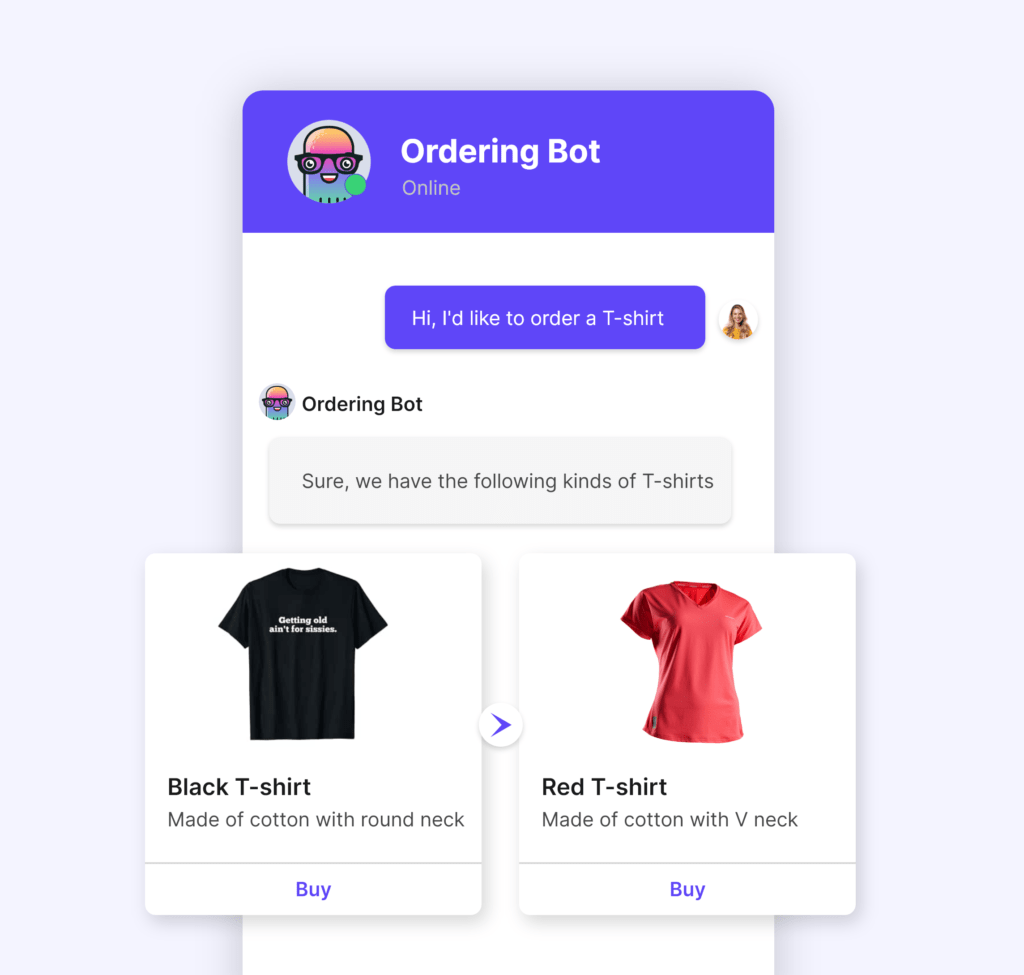 These product recommendations can be in the form of carousels, and users can then click on them which will lead to the checkout page. This will also lead to less abandoned carts, since a chatbot can remind them that there are already items in their carts, if they navigate away from your website.
If you do have access to a customer's historical data, you can also use this information on your chatbots to give them brand new recommendations. Say, for instance, a customer bought running shoes from your store 6 months ago.
Now, when they return to your website, you can ask them if they would like a fresh pair of shoes, since the old ones might have worn off. This level of personalization is sure to improve a customer's experience, and in turn, reflect on your bottom-line.
4. Speak to the customer in their language
English is a great language to communicate in, but did you know that only about 17% of the world's population understands the language? The most commonly used language in the world is, in fact, Mandarin (Chinese) followed by Spanish. So building your bots in just 1 language leaves out a lot of your potential customers.
Customers today want the bots to be able to converse in their own language. This is the reason we here at Kommunicate have built Multi-lingual bots. A multilingual bot can converse with customers in multiple languages, making it one of the most versatile tools in your personalization arsenal.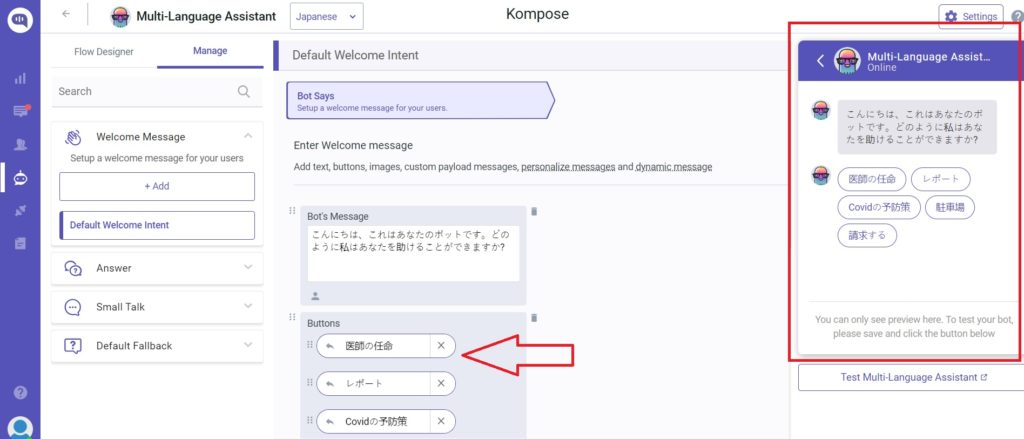 The chatbot must not just be able to understand a customer's request. It must also reply in the same language as the customer. Kommunicate's multilingual bots, for instance, supports over a 100 languages.
5. Empower customers to choose other modes of communication
This last point may be a bit counterintuitive to what is written above, but sometimes a customer just wants to speak to another human being.
No chatbots. Nada to SMS. No options on a telephone menu that are pointless and outright annoying. Customers just want to know that there is a human being on the other side of the business, who actually cares for them.
In such cases, it is always important to incorporate this feature into your chatbot, so that if your customers want to speak to a live agent, all they have to do is ask.
We at Kommunicate understood the importance of this feature quite early in our journey of making the perfect chatbot builder, and we call it "seamless bot-to-human handoff."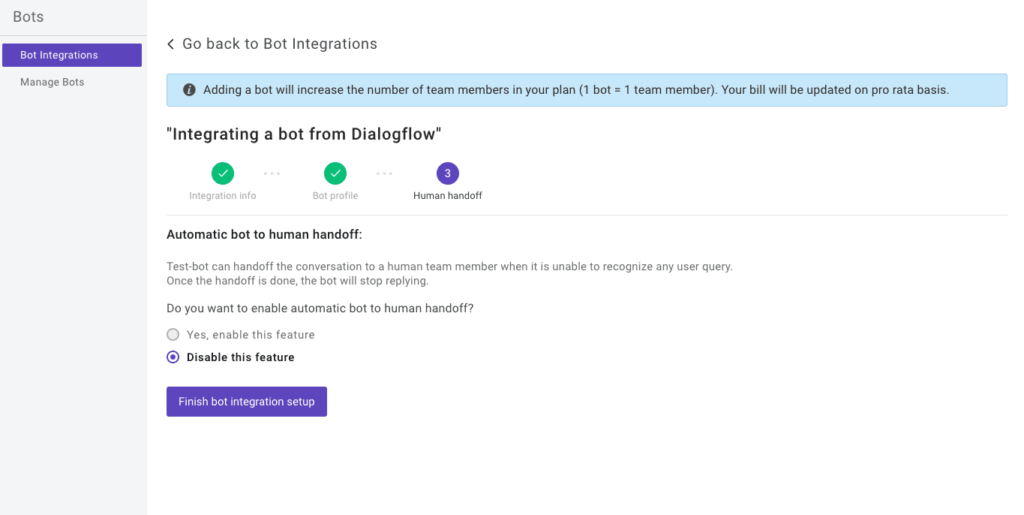 When we "Enable" the Bot to Human Handoff feature, all the conversations that a chatbot cannot handle will automatically be assigned to a human agent, visible on our dashboard.
At the end of the day, you are not just marketing and selling to customers, but are in the process of building lifelong relationships, which may or may not involve money.
As Henry Ford put it:

---
At Kommunicate, we envision a world-beating customer support solution to empower the new era of customer support. We would love to have you on board to have a first-hand experience of Kommunicate. You can signup here and start delighting your customers right away.