Last Updated on July 9, 2023
The average patient waiting time for a new doctor's appointment is 10 days in the United Kingdom, according to this report. In the US, this time can go as high as 22 days.
Booking a doctor's appointment is a cumbersome process, and it must be seamless considering the fact that we are dealing with sick people. According to this report, over 67% of patients prefer to book online appointments. This is a testament to the fact that technology is solving a real-world problem.
With over $150 billion lost due to missed medical appointments every year, this is a sphere that is ripe for disruption. And in this blog post, we take a look at how important online doctor booking is. We will also see how the future of healthcare is slowly but surely gravitating towards going online.
The US Healthcare services: A pandemic that changed everything
Before the COVID-19 pandemic the US healthcare industry was under the assumption that communicable diseases were "not for the developed world." The virus changed all that.
According to MIT professor Dwaipayan Banerjee, " To put it plainly, the pandemic did not create a crisis in U.S. health care. For many in the United States, the crisis was already a precondition of care, delivered in emergency rooms and negotiated through denied insurance claims."

When the pandemic was raging, the dependency on telemedicine and telehealth services skyrocketed. Parks became field hospitals and high school basketball courts became diagnostic testing centers. The Trump administration, which was widely criticized for not taking the pandemic seriously enough, quickly stepped in.
Many of these changes included ways in which beneficiaries can avail access to telemedicine facilities more easily. The Center for Medicare and Medicaid Services (CMS), increased its coverage of telemedicine services. The government also put an end to one of the most difficult barriers that physicians had when practicing medicine – requiring a separate license for every state they intend to practice.
In spite of the government's best efforts, a huge section of the population still had limited access to healthcare facilities. This is where digital medicine stepped in.
Digital medicine – Technology to the rescue
The years from 2020-2022 were crucial in the case of digital technology and telemedicine. It saw the emergence of advanced technologies such as networks like 5G, Artificial Intelligence that uses deep learning, the Internet of Things, among others. This rise in technology also intersected with the worst pandemic that the world has seen in the last few decades.
The Coronavirus pandemic caused more than 80 million infections, with more than 1.7 million known deaths. While this was an unprecedented humanitarian tragedy, it also led to an opportunity. Telemedicine, which was so far seen as a fancy gimmick by the tech geeks to show off at medical fairs, soon became mainstream.
There was widespread adoption of smartphones, powered by superfast internet in the form of 4G/5G networks. Add to this increased internet penetration to rural areas, all contributed to the rise of telemedicine.
Doctors were able to now diagnose and treat their patients, even at a distance. You could still implement all the restrictions caused due to the virus, like social distancing and quarantine. The digital disruption, on the other hand, was taking the world by storm.
Significance of online doctor booking
The modern day healthcare consumer is increasingly becoming more choosy. If he or she doesn't have quality access to a healthcare support system, chances are high that they will switch doctors. This is irrespective of the time of admission or how long they have been visiting the same practitioner,
In fact, according to this NRC health report, patients are no longer concerned about a particular healthcare brand. In the survey covering more than 300,000 American households, a whopping 36% stated that they have "no preference" to a healthcare provider in 2021, up from 31% in 2018.
Online appointment booking is a key add-on by any healthcare provider when it comes to enhancing patient experiences. A Zippia report also goes on to say that more than 34% of doctors appointment bookings are after office hours.
There is an entire industry dedicated to making appointment scheduling software. The global market for appointment scheduling software will grow from $224 million in 2019 to $588 million by 2027. This is a CAGR of approximately 13.1%.
Here are some of the reasons why patients prefer online doctor's appointment booking:
1. Increased Flexibility
The NRC report also states that aside from insurance, convenience is the top factor that patients consider when making the choice of a healthcare provider. The first point of contact for any patient with a hospital is the reception. If the patient has a positive experience here, you can rest assured that they will continue with the same provider.
When you offer patients the choice of making an appointment online, customer experience is what any healthcare provider should aim at. This starts right from the way appointment scheduling is done.
2. Time and Cost Savings:
Online doctor's appointment booking is a boon for both patients and healthcare providers alike. Some of the benefits of online doctor's appointment booking include:
More revenue for healthcare service providers: Ease of appointment booking will increase the number of appointments booked. This will lead to an increase in revenue. To drive our case home, a study published by the Journal of Healthcare Information Management showed that implementing an online booking system led to 21% increase in number of appointments booked.
Less administrative costs: Imagine a hospital gets 100 patient enquiries every day. You can automate most of these enquiries, like, for instance, let a chatbot handle it. This could lead to a direct reduction in administrative costs, where you don't have to hire an employee just to handle incoming enquiries. Say goodbye to costs associated with manual scheduling, since an advanced chatbot can handle the most complex of queries.
Patient's time savings: An Accenture survey found that over 64% of the patients who booked doctors appointment online found that they had savings in time, compared to those who booked appointments in person. A digital appointment booking system means patients can be done with the entire process in a matter of minutes. Compare this to to the old school way of navigating complex phone trees.
3. Enhanced doctor – patient communication:
Digital appointment bookings for doctors also improves the communication between the patients and doctors, according to multiple studies.
A study by the University of Rochester Medical Center showed that patients who availing telemedicine facilities had a 30% lower rate of patient readmissions compared to patients who recieved in-person care
Improvement in doctor-patient communication also means that patients feel more confident when approaching healthcare provider. Take this survey by Software Advice, for instance, which shows that an online appointment booking improves their overall healthcare experience.
Doctors can now diagnose patients in remote locations using telemedicine. Patients can also book appointments and get access to treatment from the comfort of their homes. Also, when a patient books an appointment for a doctor online, doctor's can ask for all their previous medical records. This will help them make more informed decisions about their patients' medical needs.
4. Helps fill appointment gaps:
Patient no-shows is something that is hindering the advancement of many clinics, leading to hundreds and thousands of dollars in lost revenue. Online doctors appointment booking will go a long way in addressing this problem, and also avoid last minute cancellations.
If you offer online doctor's appointment booking, patients can quickly browse through the available slots and book a slot, which may have otherwise gone empty. This also ensures that the doctors at the healthcare facility are always engaged.
Appointment booking softwares also come with automated reminders that help reduce last-minute cancellations.This can further help boost revenue of the healthcare institute, keeping you on track for your long term growth strategy.
While we can further extend the list of benefits of online doctor's appointment booking online, we will now look at a few challenges to its implementation.
The Challenges of Online Doctor Appointment Booking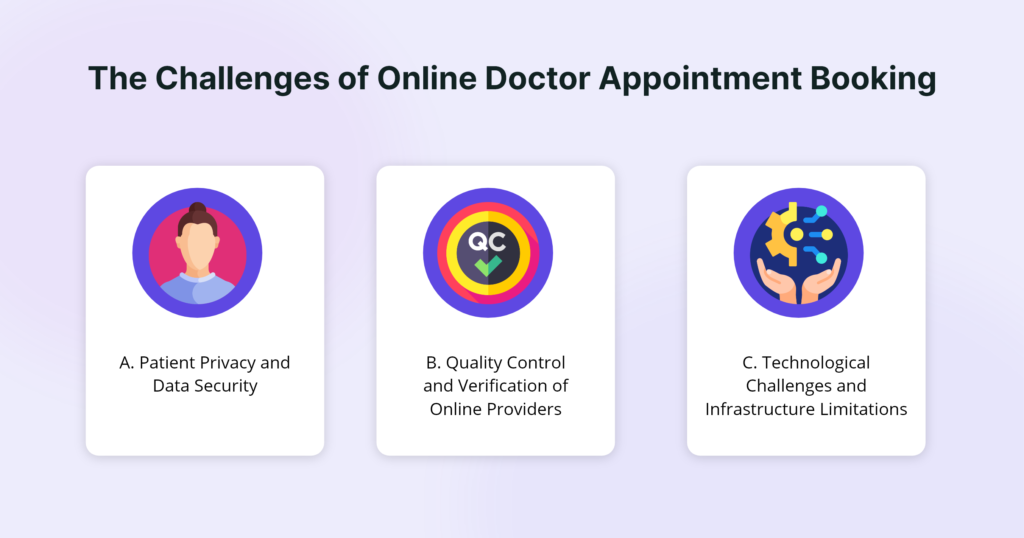 A. Patient Privacy and Data Security
One of the key challenges in implementing online appointment booking is to make sure that you store patient's data safely. Medical information is one of the most sensitive data that patients part with after trusting you implicitly. It is only common courtesy that you treat it with extreme caution.
This being said, data breaches are becoming more and more common by the day. In 2020, there were 642 reported data breaches involving 500 or more medical records, and that number went up to 714 in 2021.
The healthcare sector saw losses of approximately $25 billion from cyber attacks alone in 2022. With stakes this high, it is only imperative that you protect your patient's sensitive information as diligently as possible. Make sure all your systems are HIPAA and GDPR compliant. Also ensure there is no chance of a data leakage at any point in your system. For example, HIPAA-Compliant video conferencing from Updox ensures security and compliance, optimizing the patient experience while protecting your bottom line. 
B. Quality Control and Verification of Online Providers
A challenge that you might face while implementing online doctors appointment booking is ensuring that the service providers are of the highest quality. Vetting third party vendors is a challenge that most hospital administrators avoid like the plague. This is because of the sheer number of variables it involves.
Another interesting problem to solve is the accuracy of information that is provided by both the patients and the doctors themselves. This information can be in the form of a patient's personal information and medical history. As for doctors, it can be information in the form of their credentials and their schedule/ availability.
Fake patient accounts and fake healthcare providers can cause significant damage to the reputation of an online platform. This is something that is difficult to regain. In order to prevent such fraudulent activities, one must conduct thorough background checks and also ensure that the system is compliant with data protection laws such as HIPAA and GDPR.

C. Technological Challenges and Infrastructure Limitations
The final challenge to providing a smooth online doctor's appointment booking system is more technical in nature. Although technology has caught up rapidly in a post COVID world, there are still widespread discrepancies when it comes to adoption and availability.
Only 17% of all smartphones sold in North America in 2021 was 5G compliant. Although this number is slowly growing, it will take some time before more and more Americans upgrade. In 2022, over 62% of Americans had access to 5G networks, which still leaves a significant portion of the population without access to this technology.
Without high speed internet and access to high end devices, delivering a smooth experience to patients while online appointment booking is a big hindrance.
All said and done, the benefits of online appointment booking far outweigh the drawbacks and challenges. There are a lot of ways technology can help healthcare providers to move appointment booking online, including chatbots. The will to implement the technology is the final challenge that all healthcare providers must face.
---
At Kommunicate, we envision a world-beating customer support solution to empower the new era of customer support. We would love to have you onboard to have a first-hand experience with Kommunicate. You can signup here and start delighting your customers right away.