Last Updated on June 3, 2022
You never get the same opportunity twice, at least in the case of creating the first impression. Leaving a solid first impression is essential to lay a powerful connection with your prospects. It pushes them down the funnel and accelerates the process.
A study showed that sending the best welcome message increases customer engagement by 33%. Thus, it indeed is a great strategy to grab your customers' attention towards your brand.
No wonder, nurturing your customer relationship comes first to lead a successful business. A well-crafted short welcome message for customers provides them with a sign of care.
That's why it's always a good idea to give them a welcoming experience. Deliver a warm welcome message in their inbox and leverage this opportunity!
With that said,
To learn more about Kommunicate chatbot features and benefits, visit our page dedicated to chatbots.
What is a Welcome message?
A welcome message is itself a self-explanatory term. But, the convention isn't limited to welcoming someone. It can be used in multiple ways to achieve distinct goals and is vital to bring immense value to your business.
Simply put, a welcome message is a communication form that brands and businesses use to achieve a specific goal. That goal can be:
Onboarding the visitors on your website or application
Guiding them through the process
Informing your customers about a new launch
Telling them how to connect with you
and so on.
Welcome messages for new customers are vital to make them feel pleased and welcomed. They make them decide whether to leave or explore more about you.
Bonus: Automate Greeting message and Away Message in WhatsApp
Why does it matter to send a good welcome message to your customers?
Your customers can be your biggest brand ambassador (for free) given you treat them right. Greeting them at your first meeting can move the staircase in the right direction.
Let's get you a sense of perks welcome message for new employees and customers bring in:
Sending the right welcoming emails can boost your business revenue by 320%.
Customers engage with a welcoming email 33% times more than the usual email of any campaign.
Out of employees who receive welcome messages, 58% of them are assumed to stay with the company for over 3 years.
Companies that use chatbots for welcome messages to new employees and customers save around $8 billion every year.
Welcome messages can serve many purposes for your business rather than just welcoming your customers.
Let's discover more!
Benefits of sending welcome messages to new employees and customers
Picking the right words matters! Sending a well-crafted welcome message can place your foot on a good new journey.
The first and foremost benefit of sending a warm welcome message is that it gets you a competitive advantage. It makes you stand out and your customers get a good reason to choose you over the others. Greeting your customers to get that first impression right pays you back in the long haul.
Additionally, it has tons of other benefits as well:
Higher open rate
Welcome emails are more likely to get an 86% more open rate and higher engagement than any other marketing email. They are destined to give a crisp and clear introduction of the brand and assure the customers/employees of their right choice.
Depicts professionalism
47.7% of the brands do not even bother to send welcome emails after a confirmed subscription. So, if you do, you'll get the advantage. Welcome messages are a good source to give your customers/employees a sneak-peak of your culture and turn on the lame light.
Boost engagement
As mentioned above, welcome emails get 4-5X more clicks than standard email campaigns. The average opening rate of these emails is as huge as 50% making them more effective.
Ensures effective welcome
Short welcome messages for customers are essential to introducing all the crucial nitty-gritty to the customers and encouraging them to act upon it. It assures that you've successfully onboarded them. Welcome messages are a great way to deliver a better experience to your customers.
Take them to the next step
Welcome messages can be in the form of a compact helpful guide that leads them through the process of using a product or service. You can add CTAs to notify them of what to do next to take this forward.
A welcome message can be sent through various channels. To name a few, you can set up them on WhatsApp business, live chat, or else sending welcoming emails yields great results as well.
Moreover, a welcome email can be the most profitable email of your marketing campaign. As said above, it has an 86% higher open rate than normal emails and can be a great chance for you to hit upon the nail on your first impression.
You can make your best bet by sending an irresistible welcome message to your customers or employees!
14 Irresistible Examples of Good Welcome messages
Sending welcome messages is the coolest way to lead them to the best course of action without being "salesy". Regardless of your goal, they are your best chance to get into the lame light in one fell swoop.
With that said, let's now hop onto the most awaited part of this post; some of the best welcome message examples for customers.
Value Proposition
This email by Hubspot is our favorite example of achieving your goal and proposing value at the same time. The message is clear, organized, meet the goal, and talks to the point.
The ultimate goal of sending welcome messages to new users is to encourage the users to culminate. And Hubspot has nailed the purpose with this example. Users receive this email right after confirming their subscription.

Make your welcome messages more powerful! One proven way to leave a powerful impact through your welcome message is by proposing all the juicy benefits in it. Tell your customers how you can add value to their lives.
Pro Tip: Sending personalized emails (addressing their names) increases their chances of purchasing by 80%. 
Onboard New Customers
The main and the old-school purpose of welcome messages is to welcome your customers aboard. By sending welcome messages to customers, you can make their experience welcoming and successful.
Medium has done a great job in delivering a greeting experience to the customers. They have kept the customer at the forefront and given a concise introduction of their services.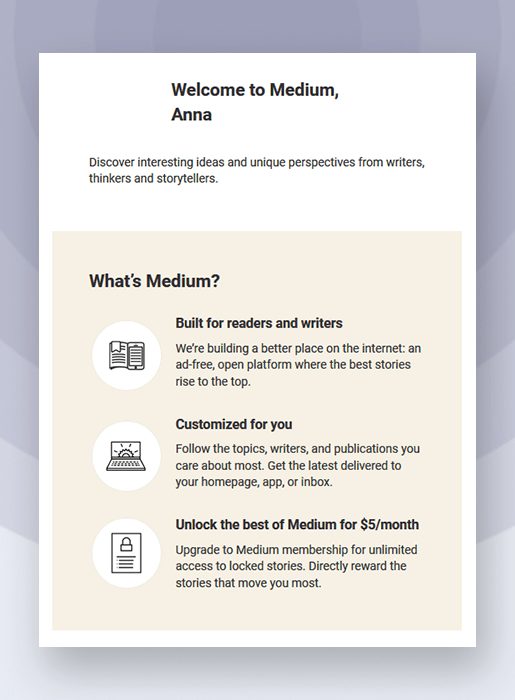 The design is very easy-on-eyes yet sleek. Further, the message clearly explains what the customers should expect from the platform.
Pro Tip:  Spice up your onboarding by using a positive tone and show them you're grateful to have them on board. 
Send them some freebies!
Offering freebies in the welcome message is a sure-fire way to home in the customer's or employees' minds. While every brand is trying to grab the customer's interest with welcome messages, you can stand out by showing care.
Expressing gratitude and greeting the customers is all good. But, sending some freebies to get that first impression right takes it to a different level. It shows that you care for them.
Here's a great welcome message to new team members as an incentive or to customers that made a good impact in the very first meet. They're giving away $15 off on the customers' orders. It sounds exciting, talks in the first person, and is relevant to the customer.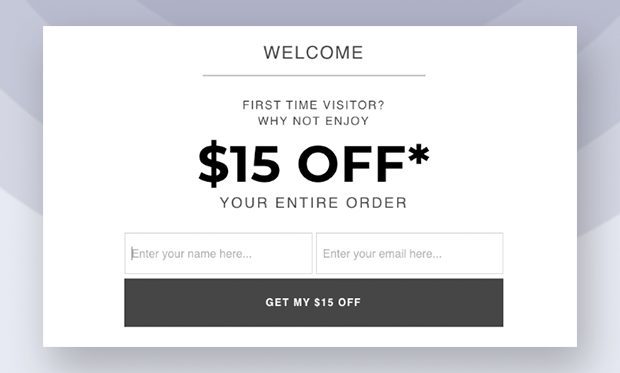 Pro Tip: Tie the two nodes with the help of a freebie. If you're in the service-based industry, try offering some templates, relevant resources, ebooks, etc as a freebie. 
Lead generation
Thanks to chatbots, lead generation is no longer a tough grind. Here's how Kommunicate has excelled in terms of using chatbots to create a short welcome message. The welcome message aims to generate leads by offering a free trial to visitors.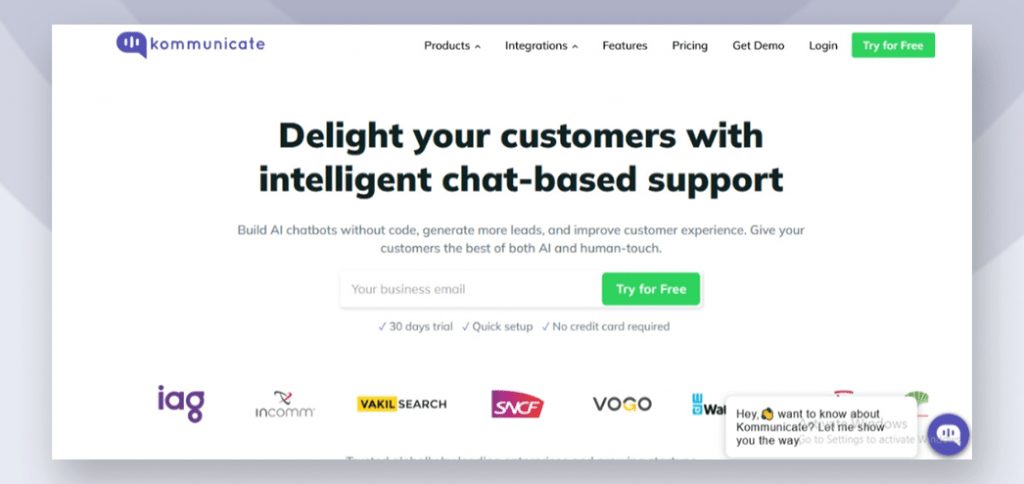 The chatbot asks the visitors whether they'd like to generate more leads and improve the customer experience. What's more, the message is informing the customers of the insider benefits to getting them hooked.
Lead generation chatbots are destined to work 62% more when having unique messages.
Pro Tip: For lead generation, give them only one option (CTA) to proceed. Don't juggle up having multiple CTAs. Note that, the more CTAs you add, the lesser will be the actions. 
Greet them after subscriptions
Whenever someone finds their way through the clutter of your marketing database and clicks the subscribe button, it's like winning the lottery.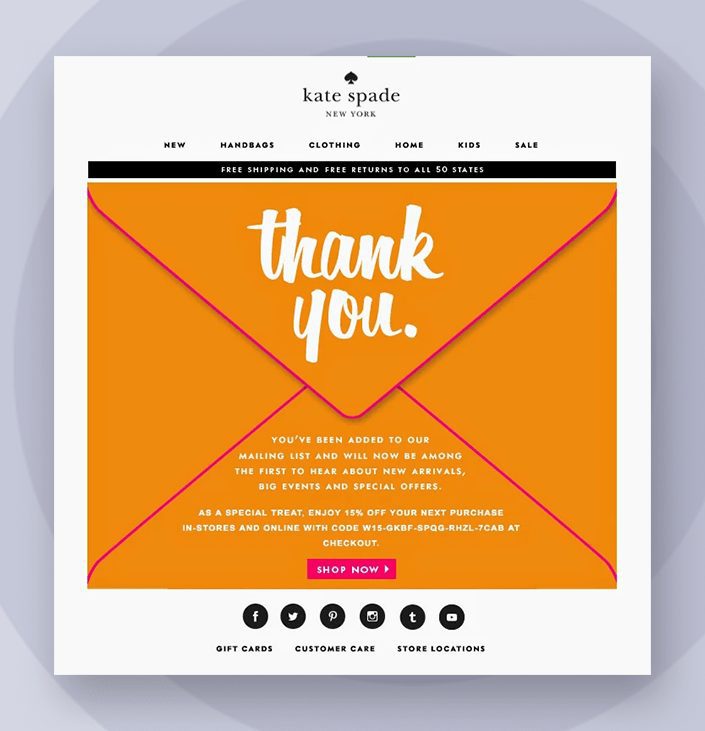 To further allow these personalities to feel honoured specifically by how much they mean to us, Kate Spade uses an envelope as a background image on their welcome email template. By saying "Thank You" in big white letters across this digital envelope, Kate Spade reminds visitors that people were very gracious in allowing them into their inboxes.
Pro Tip: On top of greeting them after the subscription is done, tell them what will get delivered to their inbox from you. It will evoke curiosity in them. 
Welcome your visitors to your website
The app Flipp has a creative solution for this use case. When new users scroll to the shopping tab for the first time, they get a short explainer about how combined shopping lists work and are then given an incentive to invite their friends instead of just learning about the product.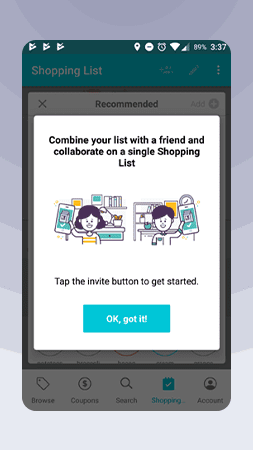 By priming new users with reasons why they should send invites, the in-app short welcome message for customers achieves two goals: to introduce them to how Flipp works and also offer a direct incentive for downloading the app to increase their acquisitions free of cost.
Pro Tip: Setting up a chatbot for greeting the visitors works great. Chatbot's welcome messages as short yet compelling, which makes it easier for the customers to act upon. 
Welcome messages reminding them of their cart
When you're looking at a page, you're bombarded with information and that often leads to distraction. A lot of efforts are made to get visitors to your site, and only a few are made to get them to complete the purchase.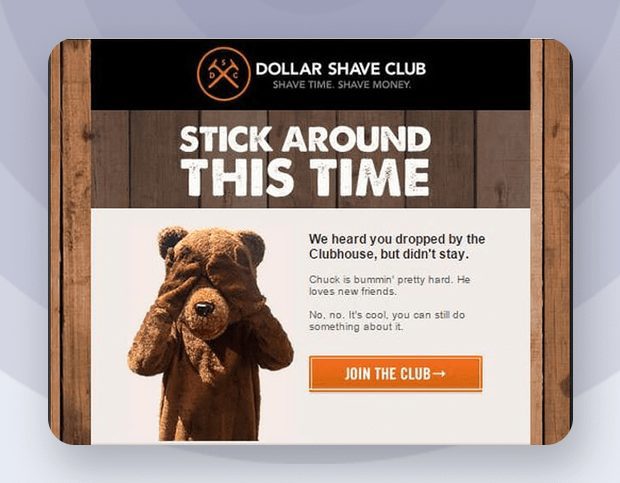 A warm welcome message for customers reminds them of their cart items and might further motivate them to take action. Reiterating on things that'll help you convert customers is important to look upon.
Pro Tip: Using humour and making them laugh can be your best to do this favour. A chatbot can help you create a friendly and engaging welcome message for this purpose. 
Ask them for engagement
Engaging customers is a great way to get them interested in your material from the beginning. Ask yourself questions that are specific to the idea you're promoting and you'll draw the attention and interest of the visitors that land on your page.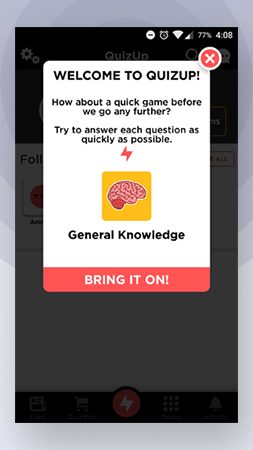 Asking them to take a quiz will help get them engaged right away! But don't ask for their email or any personal information as they might feel annoyed; just give them something fun to do and something they will appreciate.
Pro Tip: Your motive is to get engagement from them. For that, always talk in the first person and use an irresistible CTA (also in the first person).
Referral messages
You must give your customers the ability to refer to your website. It'll help you to spread your business by word of mouth. If a customer likes your product or service, he or she will certainly refer it to others.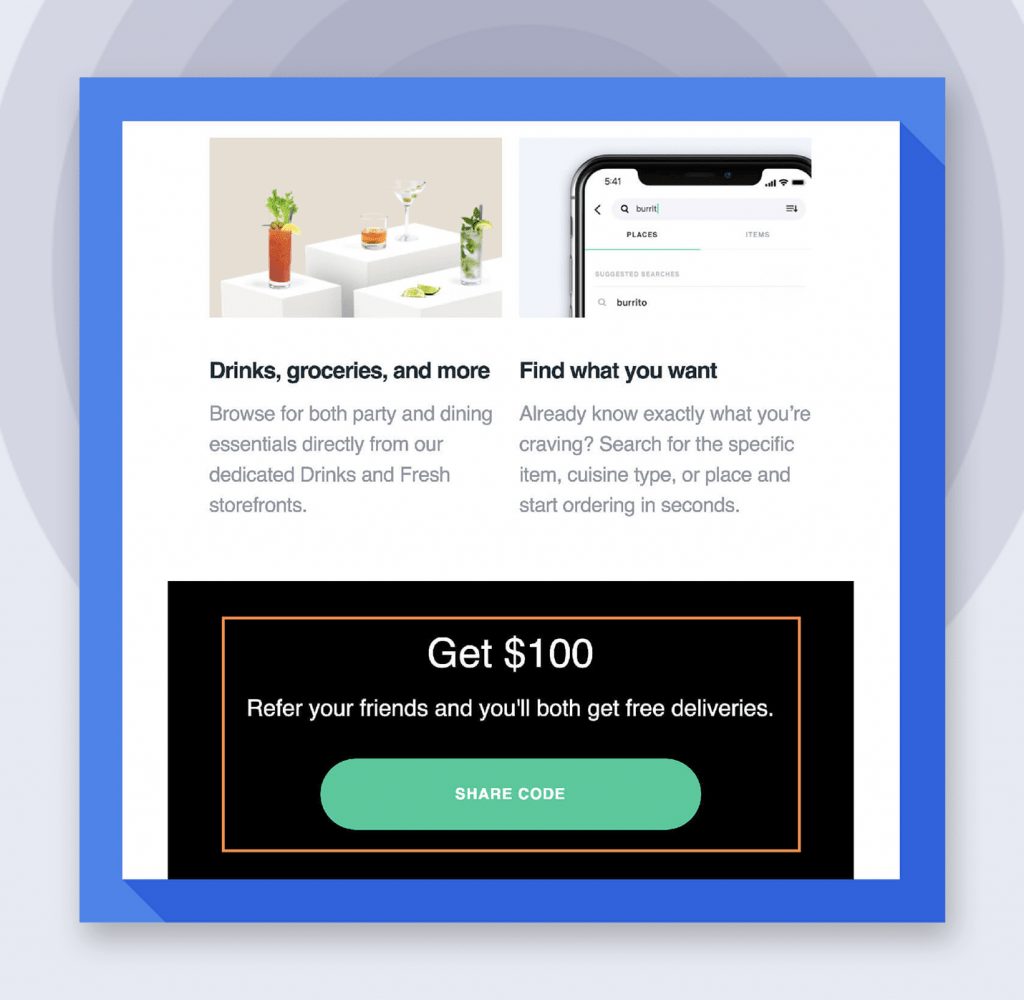 The right referral message will encourage your customers to share your business with their friends and family. You can give them a special referral link with a personalized and warm welcome message to share with others and earn through it.
Pro Tip: Your referral welcome messages must be favorable for the referring user. Make sure you keep things transparent and real to work in the long run!
Send over some value!
One of the best ways to onboard your customers is to deliver a value bomb in their inbox. Direct them to your most valuable resources to ease out their hunt. It may not sound interesting, but it's vital for a smooth user experience.
While your product or service may not be the easiest to figure out, a brilliant and the best welcome message with all the necessary information can do wonders. Give out all the relevant resources to tell them what to do, how to do it, what can help them, and so on.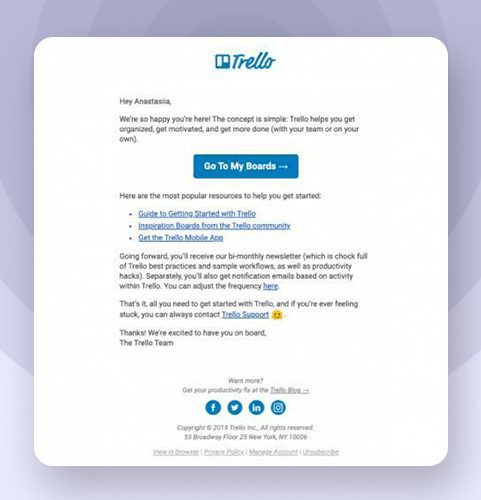 Trello's welcome email says all that the customer may need. The coolest part about this is the engagement it'll create along with being helpful.
Pro Tip: List the most valuable resources in the welcome email. Regardless of how easy your tool is, seeking your help will not hurt your customers. 
Welcome your customers on their revisit
Your customers will notice the "extra" efforts you put in and will appreciate it too. During their revisit, greet them with a welcome back message for customers. You can set up a bot for that. It even works the best for this purpose.
They were already your warm leads, you'll most probably have their deets. Thus, recognizing them would not be a big deal. What's more, customers love receiving personalization.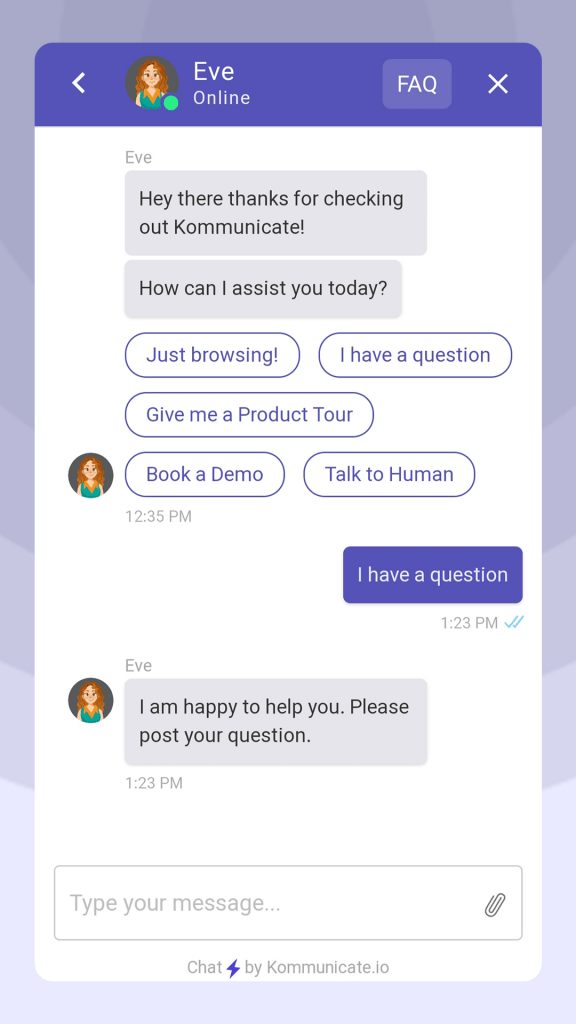 Here's a great example of short welcome back messages for customers. The bot is expressing gratitude to have them back. And helping them out further to find what they're looking for.
Pro Tip: Use an automatic engaging welcome message to hook your customers. It's as easy as setting up a chatbot! 
Feedback time!
Getting customer feedback is like grabbing a great deal in the supermarket. To run a successful business in this modern world, brands should see their customers as the real heroes.
Hearing their feedback and working towards it is a must if you want to thrive in this competitive world. Starbucks has stunned their feedback game and showed the customers that they matter the most to them.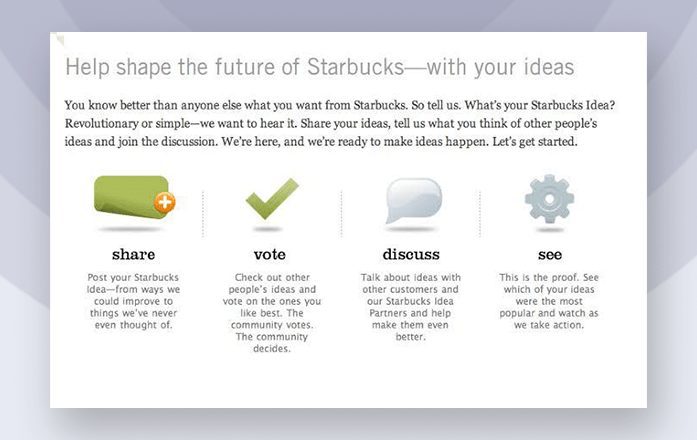 The message is engaging and understandable. They ace their business game by asking the customers for their valuable contributions and by acting upon them.
Pro Tip: Express why you're asking for feedback. What does it mean to you? And how will you use it to improve things? Flaunt your past records if you've ever worked on customer feedback. 
Set them free to leave!
Someone has just subscribed to your email list. Did they mean to do so? Or was it a mistake? Let's ask them right away! While some customers may not find your emails relevant, it's okay to let them leave.
It doesn't degrade anything, nor does it mean they're not precious to your business. Brands must appreciate their decision and set them free to go!
Users appreciate it when they get the unsubscribe button. Buffer has mentioned a clear CTA for the customers who want to leave. Thus, this short welcome message for customers establishes trust between the brand and them.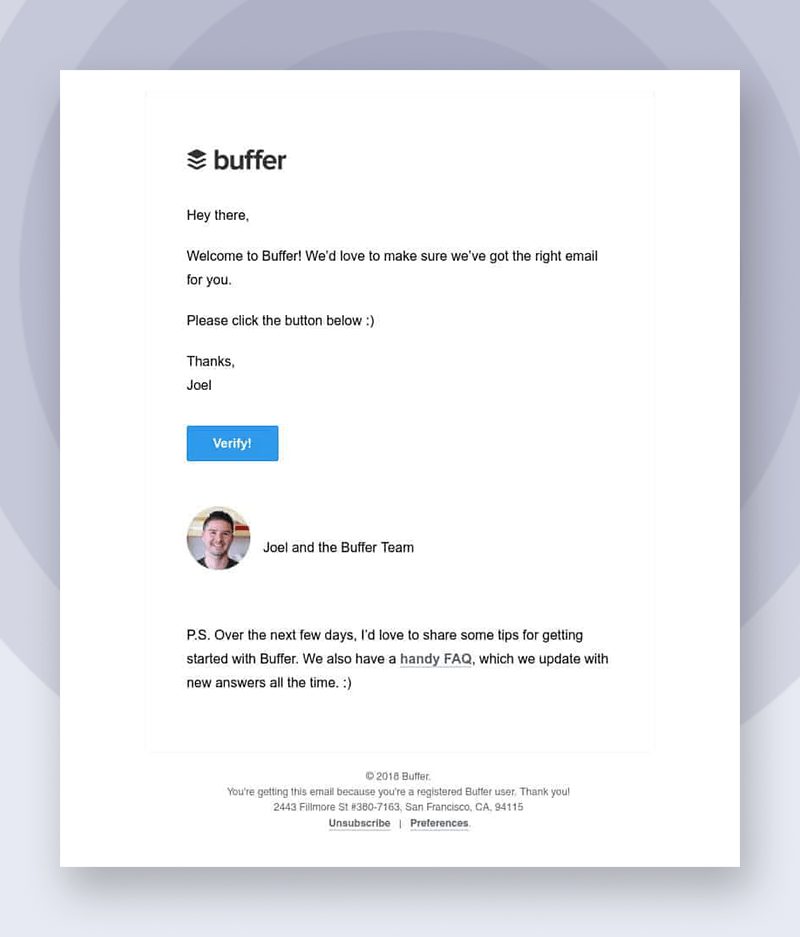 Pro Tip: Tell them that they're leaving value on the table with a "PS" section. Explain what will happen and how you can change their lives. 
Direct them what's next?
Giving the customers a green light in the right direction is your responsibility. This welcome message by Airbnb sets a whole new standard for taking them through the next step. They're clear with the goal; introduce yourself, verify, and start exploring.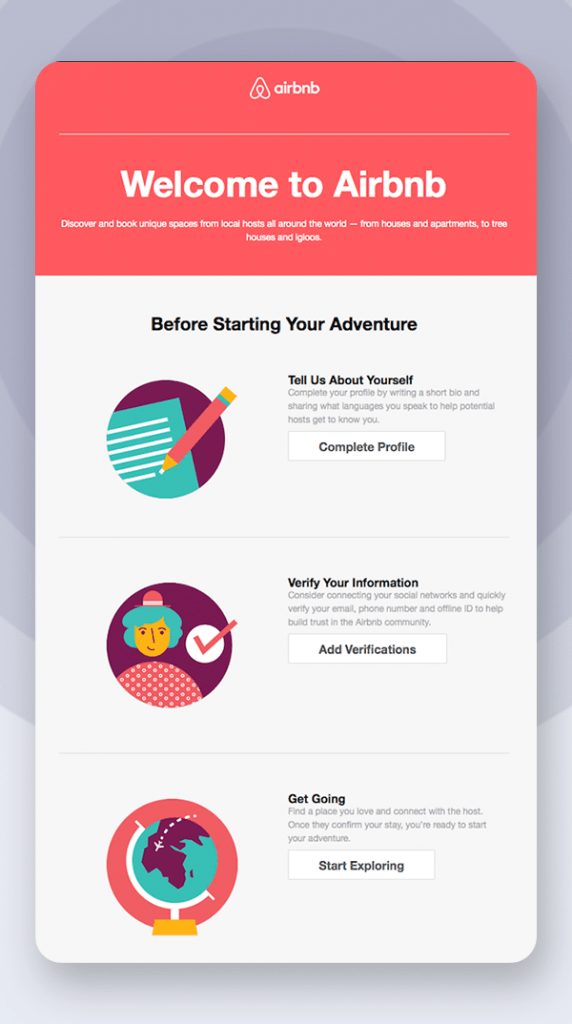 The way they've laid the three-step process, it'd be convenient for the customers to kick-start their journey with Airbnb.
Pro Tip: If your industry requires the user's information such as name, email, or anything else, you can remind them through a welcome message. 
Key Takeaways
Be straight and concise
Express gratitude and happiness
Try to offer help
Guide them through the next step
Freebies are always a thumbs up!
Be sleek or crazy with your design, whatever you like!
Personalize their experience
Tell them how to engage with you
Conclusion
The right words can have a significant impact on your customers. Regardless of the aim of your welcome messages, it's a sure-fire shot to get them hooked. What's more, new leads are more likely to engage within 48 hours of subscribing. Make sure you leverage this time! On an endnote, hopefully, you must have got the perfect and the best welcome message example for your customers or employees!
---
At Kommunicate, we are envisioning a world-beating customer support solution to empower the new era of customer support. We would love to have you on board to have a first-hand experience of Kommunicate. You can signup here and start delighting your customers right away.