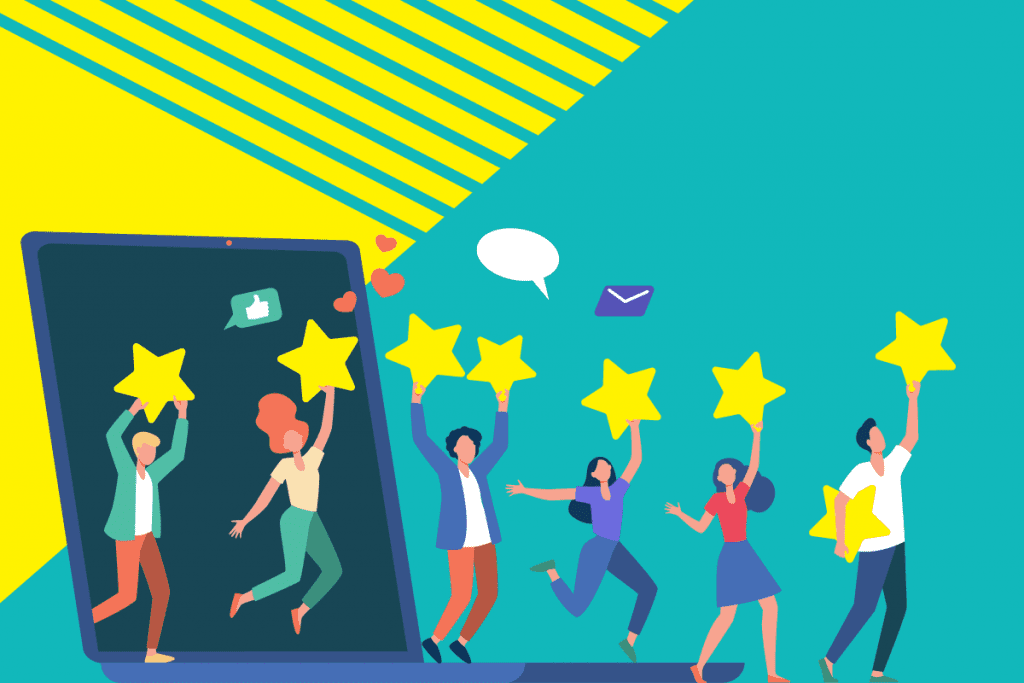 "Companies that listen to their customers grow faster." When you put your customers at the heart of your business, you are more likely to increase your market share, and outgrow your competitors. Profitability and growth are essential to any business. To achieve and sustain both, you must first garner a base of loyal customers who repeatedly buy from you. But how do you measure a customer's loyalty?
More than 50% of customers in the U.S. believe that most brands take action on feedback provided by them. There are many ways to increase customer loyalty, but a simple and direct way is by genuinely listening to and capturing your customers' opinions and feedback. You are likely to increase customer loyalty when you acknowledge your customers' feedback and when you show and make them feel that you value their opinion. Customer feedback is also important to help businesses identify and understand the things they do well and those they can improve on. Feedback can be a compliment, a suggestion, or a complaint.
What is complaint management, and why do you need it?
Complaining psychology allows us to turn crisis into opportunities, to demonstrate we have the customer's back, and by doing so to make them more loyal than they had been before a problem arose.
A licensed psychologist, Guy Winch, Ph.D., explained that using complaining psychology allows us to turn crisis into opportunities, to demonstrate we have the customer's back. By doing so – make them more loyal than they had been before a problem arose. No business is immune to complaints from customers. As your business grows, so does the number of critics. But regardless of how big your business or brand is, you must have a process of handling customer complaints. This will impact how fast and well your business could grow.
When a customer feels that you are not considering their feedback, they probably will no longer trust your offering and vent their frustrations to other people. In the past, unhappy customers only share their bad experiences with a few friends or family members, but with social media becoming popular, customer complaints often reach endless users.
With complaints coming in any time from various channels, you need a complaint management process that allows you to work with your customer towards a resolution. When handling customer complaints, the general management structure includes a timely acknowledgment, a process towards a resolution, and a settlement that benefits everyone.
Key Elements of Effective Complaint Management
Complaint Channel
Customers feel more confident if they are provided with flexibility and options, including the channels from which they can provide their feedback. Allowing them to submit feedback on their preferred channel might help lessen their frustration on an active complaint.
Categorize Feedback
Categorize your customers' feedback, and always look beyond their message. Some feedback may sound like a complaint, but in reality, it is just a suggestion that a customer might want to experience or have in the entirety of your relationship.
Complaint Handling Procedure
A direct, easy, and timely complaint handling procedure is necessary as this will help rectify your customer's frustration. The goal is to turn a bad experience into a good one, so make your communication as smooth as possible.
Complaint Analysis
All types of feedback help you determine and realize things about your business and your process. A complaint lets you identify aspects of the business that need to be improved — this will also result in increased customer satisfaction.
Resolution
When you provide a resolution, you may need to bend a little, but always try to uphold your business policies correctly. You may decide to explain the procedure to the consumer or allow one-time courtesy. Regardless of how you decide on a final resolution, remember to document everything as this will help you discover things that you need to improve on to help your business grow and become successful.
Customer Complaints Handling Procedure
1. Listen and acknowledge the complaint
Acknowledge the complaint and thank the customer for bringing the issue to your attention. Take ownership of the issue and empathize with your customer.
2. Take note of the details of the complaint
Listen thoroughly and take note of the details of the complaint to understand what the problem is. It's beneficial that you keep a record of all complaints as this will help you identify any trends or prime issues. Asking further questions about the complaint may also help identify underlying problems.
3. Provide and discuss options for fixing the issue
Based on the details provided about the complaint and other issues that may have been opened or identified, offer, and discuss the customer options for fixing the problem. It may be helpful to also discuss with the customer what type of resolution they are looking for, and decide if it's doable.
4. Be thorough, but act quickly
Always aim to resolve a complaint quickly. There may be many options to resolve the issue. Some may require that you speak to other people in your company before deciding on one. Still, you must ensure that this will be done promptly because chances are your customer might feel disregarded if it takes a complaint a long time to resolve, and the issue might escalate.
5. Deliver on your promise
Once you decide on a resolution, make sure that you deliver this. Should there be additional conditions to consider, always keep your customer informed and make sure you're both on the same page throughout the process.
6. Provide a follow-up
Reach out to the customer again and ask if they were happy and satisfied with how their complaint was handled. Inform them about what you are and have been doing to avoid the same issue in the future.
Wrapping Up
Effective handling of customer complaints is vital for businesses in almost all industries. Achieving and sustaining profitability and growth means a base of loyal customers.
Ensuring customer satisfaction in every interaction is critical as this can make or break your business. Providing your customers with the best experience and satisfying their needs should be a top priority. This will inspire brand loyalty. Hence complaint management should be a top priority for every business.
While the goal of any business is to make money, a wise business owner knows that this can only be achieved when you listen to your customers, understand their needs, and put into action additional plans and strategies to improve the business and its process as a whole.
---
This is a guest post by Allaine Pelejo. Allaine is an ambassador of the unlimited graphic design service Delesign.
---
At Kommunicate, we are envisioning a world-beating customer support solution to empower the new era of customer support. We would love to have you on board to have a first-hand experience of Kommunicate. You can signup here and start delighting your customers right away.