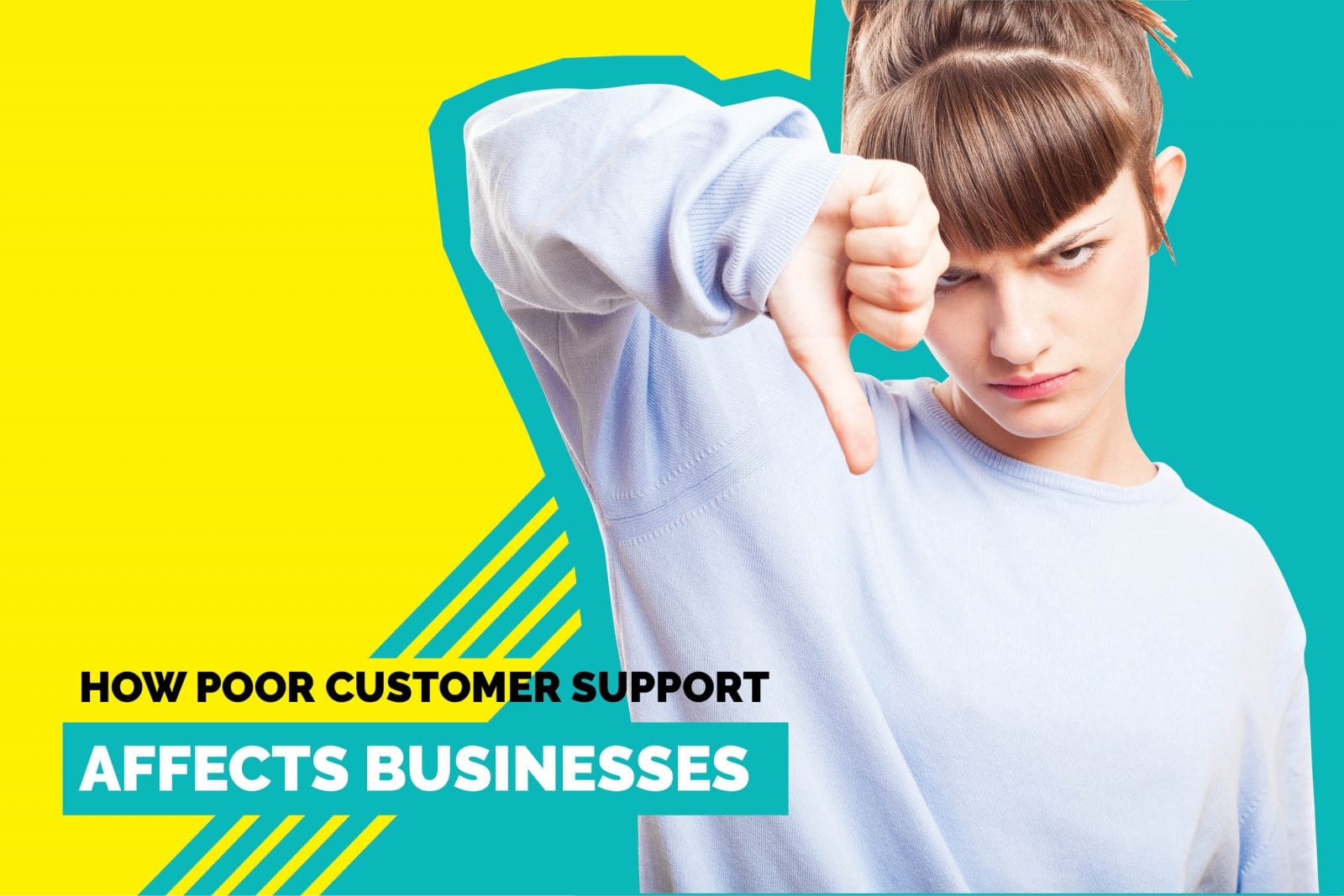 $75 billion!  
Yes, the US companies leave such a massive amount on the table simply because of poor customer service. Although this number includes brands only in the USA, you can speculate that the number would grow exponentially large for global companies combined. In other words, focusing on quality of customer service would certainly yield many rewards including edge over competitors and higher revenues (that your competitors would have earned otherwise).
Emotive customer experience, that's the thing! Sentiments play a significant role when customers make purchase decisions. In essence, bad or unsatisfactory experience with your business could influence them to discontinue buying from you.
Suggested read: How provide better customer experience.
Essentially, it is evident for a business to lose some of the clients from time to time for one reason or the other. However, you can/should certainly be mindful of re-engaging with those who leave you after bad experiences with your support staff or work on averting their withdrawal in the first place.
Do you know how many of them leave because of your poor support in need of the hour? Well, if you run a survey by yourself, you'll be shocked to see the results.
Going forward, can you still afford to neglect this fact? Not really.
Then, what happens if you don't pay mind to delightful experience and high-quality customer service? Read on, this article tells you exactly that and more.
The aftermath of Poor Customer Service: This is why you should take it seriously
It is a commonly known fact that consumers (especially millennials) can quickly abandon one ship and jump to another when it comes to service (dis)satisfaction. In today's era, the consequences of delivering poor customer experience are rather immediate.
Unsurprisingly, this is what happens when your pre or post-selling services are not satisfactory or below par level for customers.
Your clients would consider switching to a different business (read competitor) after undergoing a bad experience with you.
Sour dialogues result in aborted transactions that could have yielded you more revenue.
Bad experiences travel faster. People tend to communicate more about unhealthy encounters with support personnel of companies. Indirectly, this fact hinders you from attracting fresh leads and clients.
Seriously, they can tell their friends, family, and networks not to buy from you. That's too big a price to pay for not considering good CX quality. (Don't forget that social media and online public forums are accessible and active more than ever)
In B2B space, poor communication can hold a party back from renewing a big contract. Consumers would even change suppliers when it comes to restocking.
Old fashioned and slow customer service definitely doesn't impress the tech-savvy consumers. They tend to prefer the technology equipped service providers.
In all cases, YOU are at the losing end. At the end of it all, it is high time you must take the customer-focused route to go about doing your business and emerge as a customer-friendly brand.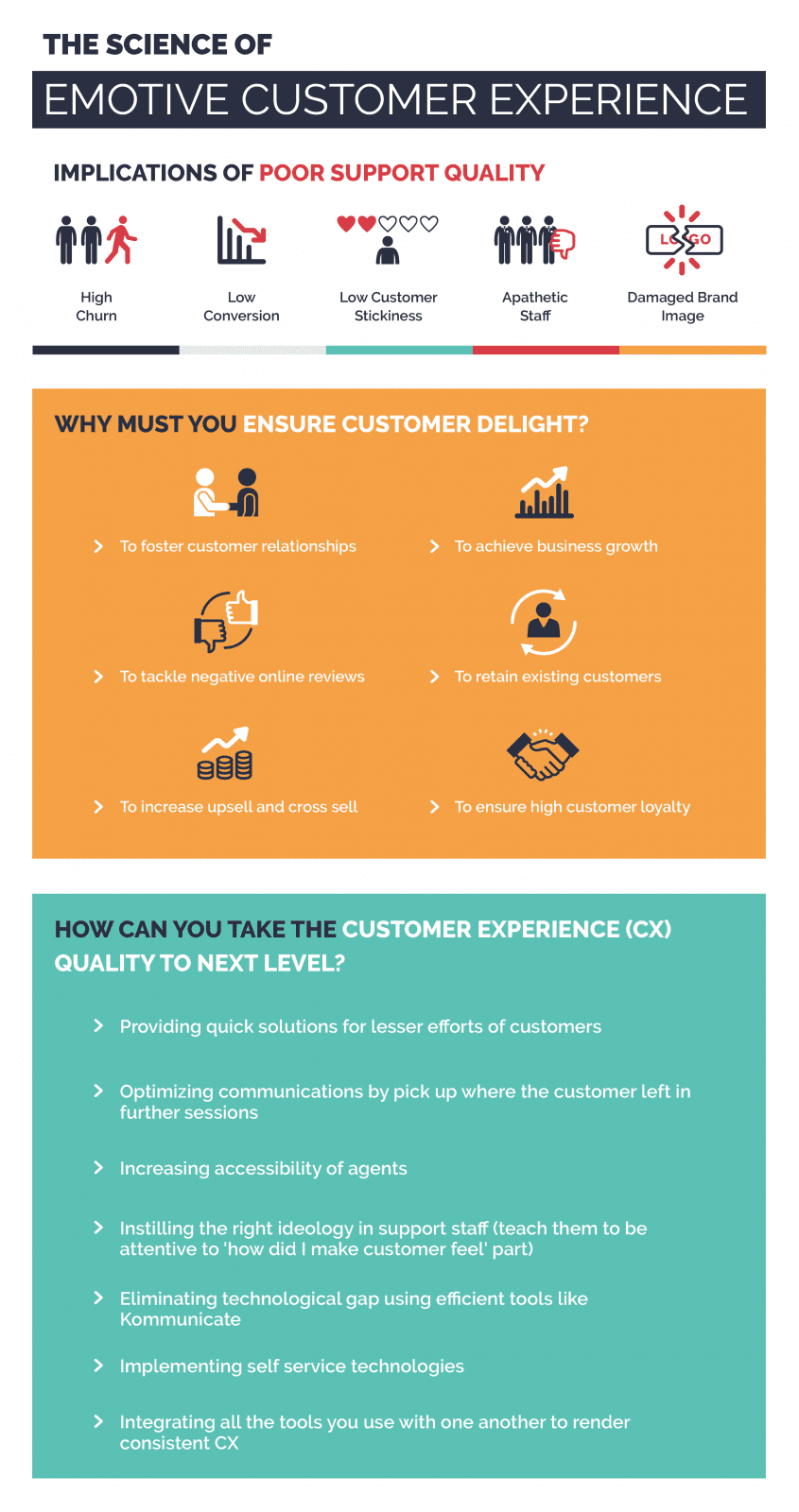 In a nutshell, you must provide a seamless experience. The better is your service, the higher are the rewards!
What do customers expect from businesses?
A pleasant experience!
Naturally, a customer doing business with you would want an easy interaction and hassle-free solutions to their problems. And, just developing and offering a range of products and services makes enough business sense to you? Well, there is much more than just that. When a customer decides to make a purchase with you, they expect
Domain expertise
Value adding solutions to their problems with products or services
Service quality
Quite obviously, customers are ready to reward the companies that win them over with amazing service. In essence, the quality of support is as important as the value proposition of your business for customers.
86 percent of the US customers are of opinion that, if the customer service agent cares enough to connect with them emotionally, they'd consider doing business again with the same company. Doesn't it look like an opportunity to generate recurring income? All you have to do is, make the customer feel good.
Sadly, on the flip side, the same set of customers expressed that they felt emotionally connected with merely 3 out of 10 companies they interacted with.
How to tell if your customer support is of poor quality?
Well, that's not very difficult to judge. On a lighter note, you can try calling the help desk as a customer and see for yourself how your staffs treat you. To begin with, ask yourself,
Is your staff helpful for real?
How long it takes for customers to pass automated phone lines and reach a human agent?
Are the callers made to hold the call for too long?
Does the customer have to repeat their issues to multiple agents, or while switching from one channel to another?
Are their pain-points successfully addressed and resolved?
Are you delivering consistent service across multiple channels and multiple devices?
How many people are complaining about you in public forums?
From time to time, how many negative reviews, grievances, criticism or suggestions you receive on social media, emails, or letters?
Last but important, are you using latest customer service techn
ologies to serve better for lesser efforts?
Then, how about using integrated tools?
Answers to these questions and your own findings should be enough to tell you how good is your support quality and thereby how satisfied your customers are with you.
How to bring your support quality back on track?
Essentially, your support team must practice the attributes that deliver a pleasing emotive experience at the customer level. Some of the hacks are,
Develop a customer-focused attitude.
Your team has to be trained on how to build and foster the relationship with clients and thereby deliver personalized services.
Suggest how the customer can leverage their existing usage with additional features or services. Most customers appreciate when support agents proactively go an extra mile.
Ensure a quick response or try to minimize the delay or wait-time in query resolution.
Make them aware of using your services in a better and effective manner.
Going forward, you must build a team of agents that can handle trickiest of queries efficiently, without having to transfer the query through multiple agents.
Technology to fine-tune customer service: Kommunicate
A seasoned platform to administer customer service and support, Kommunicate is all you need to make yourself accessible for your clients as well as potential buyers. Implementing Kommunicate would empower your support teams to deliver efficient support using advanced communication technologies.
All inclusive dashboard that presents an overview of support activities
Chatbot support
Performance and progress tracking
To-the-purpose FAQs for customers to refer to
Can be integrated to your CRM or other apps you use
Canned replies and templated messages to save time
Custom welcome messages for onboarding
Integrated Calls To Action in messages
Along with these advantages, Kommunicate comes with our expertise in managing business communication with intelligent tools and technologies. Take a free trial to experience how Kommunicate can transform the way you deliver customer service.
The Bottom Line
Bottom line is: The better you serve, the more you earn!
"A satisfied customer is the best business strategy of all." These words of American business author Michael LeBoeuf have never been truer. In the digital business age, the customer is tech-savvy and has access to information more than ever. You must,
Identify what sort of experiences drive your customers away, thereby try not to repeat them.
Use the technology to optimize your business processes and leverage service quality.
Aim to exceed the previous best experience the customer had.
Evidently, customer service space is not B2B or B2C; it is a 'human to human interaction space' where emotions matter. Therefore, whatever industry you belong to, you must acknowledge how you make your consumers feel.
These numbers might startle you, but the grass is definitely greener on the other side. For all your efforts of delivering delightful service, the customers would reward you with loyalty, profits, and recommendations. Isn't that the best deal you could ask for? At Kommunicate, we strive to empower you with technology and our expertise in CX domain, so that you can hold on to your clients and add some more too.
All statistics and results mentioned in the article are credited to the recent survey "Serial Switchers Swayed by Sentiment" conducted by NewVoiceMedia.
---
Subscribe here to get the good stuff — we solemnly swear to deliver top of the line, out of the box and super beneficial content to you once a week.
At Kommunicate, we are envisioning a world-beating customer support solution to empower the new era of customer support. We would love to have you onboard to have a first-hand experience of Kommunicate. You can signup here and start delighting your customers right away.