Last Updated on January 28, 2023
Shopify is one of the most widely used e-commerce platforms that have helped many businesses globally to go online by building their marketplace. It's used by more than 800,000 vendors worldwide. While the customer is the pivot around which the eCommerce business works, it is essential to have effective customer engagement to enhance their experience and improve overall sales. This is where the Shopify Chatbot comes in handy.
Chatbots have played an instrumental role in addressing the customer's queries and converting them into active sales. Due to limited person power and the ever-increasing volume of customers in e-commerce stores, it is impossible to keep up without automation, AI and chatbots.
Benefits of Shopify Chatbot
In the e-commerce world, Chatbots are bringing about a transformation. They are recreating the user experience with businesses and replacing it with an experience they have with friends. Some of the benefits of Shopify chatbots include,
24×7X365 support, they do not go on holidays
Resolving queries
Personalization
Reduced costs
Product guidance and onboarding
Generating leads
Driving sales
Now that we have concluded e-commerce stores need chatbots, let's jump into making AI bots and deploying them on Shopify websites.
You can also directly install kommunicate chatbot from Shopify app store.
Why do you need chatbots for your Shopify store?
Shopify stores are great in visual appeal and customer experience. However, any website inherently is static in nature. It cannot respond to the queries of website visitors. It can only offer one-way information.
To listen to customer queries and offer timely solutions, your Shopify store needs a chatbot. Integrating your Shopify store with a chatbot delivers several benefits.
Solve cart abandonment
Nurture and qualify leads
Re-engage with customers on multiple platforms
Automate customer support
Solve cart abandonment
Cart abandons happen due to a variety of reasons. Unclear returns policy. Better prices offered by competitors. Payment security concerns. And several other reasons.
If your store does not capture what made your customer abandon the shopping cart, you will have no absolute control over it. Your Shopify store needs a mechanism by which the reasons leading to shopping cart abandonment can be captured.
The solution for the same comes in the form of live chat software or chatbot. A chatbot is ideal since it can engage in contextual conversations with the customer. It can figure out from customer conversations the specific reasons leading to cart abandonment and what can be done about it.
Nurture and qualify leads
Small businesses work with a lean workforce. Their sales teams are tied for time and often have to prioritize which leads to pursue and which ones to ignore. However, haphazard lead qualification is not recommended since it can filter away hot leads thereby stunting revenue growth.
Chatbots can act as virtual sales assistants who can ask basic questions to prospects and qualify them as warm or cold leads. By nurturing and qualifying leads, they can support sales teams and enable them to pursue those leads that have maximum chances of conversion.
Re-engage with customers on multiple platforms
When Mark Zuckerberg introduced Facebook Bots in 2016, it began a new era in the automation space. Today, chatbots have become capable of interacting with customers through multiple platforms including Facebook, Instagram, WhatsApp, and even some other instant messengers. The result is omnichannel customer communication and superior customer experience.
Automate customer support
The biggest benefit of having chatbots is that it allows businesses to automate their customer support. Chatbots can be programmed to respond to FAQs, track order details, provide updates on product offers, and much more. All these activities can be automated thus ensuring that the process remains largely free of manual intervention.
Suggested Read: Shopify Pricing in 2022: You can't miss this Guide

A quick search for chatbots for Shopify on Google will give you 15,20,000 search results. Each SERP is going to list down 10-20 chatbots that they think are the best. Needless to say, the decision-making process is not going to be an easy one. This might appear to be yet another listicle, however, we have tried to include as much information, including pricing to help you narrow down the chatbots that you can use for your Shopify store.
9 best Chatbots for your Shopify store
Kommunicate chatbot
Kommunicate's chatbot is the easiest and simplest way to automate your customer service function. Kommunicate offers codeless bot integration which means you don't have to sweat long in coding to have NLP-powered support bots up and ready on your website.
Further, you can also build bots for various purposes with the chatbot builder. These chatbots can perform a variety of tasks including lead qualification, responding to website visitors, scheduling meetings, and much more.
Source: https://docs.kommunicate.io/docs/bot-samples
Pricing:
Start – $400 per year
Scale – $4000 per year
Business – Custom pricing
Pros:
Maximum uptime
Multiple integrations for every platform
Great customer service
Easy User Interface.
Setup is easy to configure
Relish.ai
Want to run your sales and support smoothly even when you are offline? RelishAI can help with that. Although built specifically for Shopify stores, RelishAI can be relied upon to offer personalized, smart, AI-powered chatbot assistance to your website visitors, app users, or prospects. The chatbot tool is an excellent way to turn conversations into sales opportunities.
In terms of customer support, the tool can help reduce the manual effort of customer support executives by reducing support ticket volume, automating responding, and ultimately sparing agents to spend time on high-priority tasks.

Pricing:
Grow – $29
Pro – $99
Premium – $299
Enterprise – $599
GoBot
GoBot aims to make shopping more personalized and convenient for customers with intelligent product recommendations and helpful content suggestions. At the heart of the service are chatbots. GoBot helps co-create unique shopping experiences with customers by taking personalization to the next level. It achieves hyper-personalization by asking questions that lead to the right choice of products. This customer-led customer shopping experience helps in elevating the shopping experience while reducing reliance on customer support.
Source: https://www.getgobot.com/
Pricing:
Gobot offers custom pricing. You can request a demo for a walkthrough of the product and get a customized quote.
JivoChat
JivoChat calls itself a live chat software for websites. However, it is also an excellent service to connect with your customers through messengers. Messengers include all forms of instant messengers including Facebook, Telegram, WhatsApp, Instagram, and much more. Further, JivoChat also integrates with popular CRM software like Pipedrive, Wix.com, Slack, and Zapier, among many others. By integrating all these messaging channels, you can converge your customer service and automate eCommerce operations easily.
Source: https://www.jivochat.com/
Pricing:
Basic – $0
Professional – $19
Enterprise – Custom pricing
Engati
If you thought creating a chatbot requires writing code and developmental expertise, Engati is a deviation. It is one of the best low-code AI chatbots and live chat platforms that will help you create a chatbot without writing code. With Engati, you can stitch all your customer conversations into one place. Further, Engati also allows you to scale conversations at an enterprise scale thus helping you with unhindered business growth.
Source: https://www.engati.com/
Pricing:
Engati offers three pricing models:
Standard
Enterprise
Partner
The pricing for each plan can be obtained by placing a request.
ProProfs chat
Chatbots usually help automate customer conversations and provide instant support. Further, ProProfs chat also helps transfer conversations to human agents for complicated conversations that cannot be resolved with canned responses. The canned responses can be further enriched with self-help articles that can help customers resolve their issues on their own.
Source: https://www.proprofschat.com/
Pricing:
Essentials – $20 per month
Premium – $60 per month
Business – Custom pricing
HeyDay
There are several chatbot applications out there in the market that tend to target all kinds of businesses. heyDay is a chatbot offering specifically for retail businesses. It promises to drive more eCommerce sales through engaged customer conversations. From responding to customer queries to guiding customers from the product page until checkout, there is so much that HeyDay can do. Further, if your eCommerce store is running on Shopify, then there is a pricing plan that is tailor made for Shopify merchants.
Source: https://heyday.hootsuite.com/
Pricing:
For Shopify merchants – Starting $49 per month
For larger brands – Starting $1,000 per month
Maisie.ai
Maisie, like most chatbot programs, helps you drive engaging conversations with customers. What makes it different is that it offers customers many options at each stage of the conversation. It essentially puts the customer in the driving seat of the conversation. As a result, customers are able to find the exact product that they are looking for with the shortest effort possible. Maisie has proven to result in a direct increase in conversion rates, customer engagement, and a reduction in customer tickets.
Source: https://www.maisieai.com/
Pricing:
Maisie's pricing begins at %15 per month for 5,000 unique visitors. You can choose a pricing plan based on the unique visitors.
For example:
For up to 50,000 unique visitors the pricing is $79 per month
For up to 100,000 unique visitors the pricing is $149 per month
For up to 200,000 unique visitors the pricing is $299 per month
There is also a 14-day trial available to check out the product.
Autochat.io
Autochat.io is a conversational customer engagement solution that takes a long shot that extends beyond chatbot conversations. The tool wants to enable businesses to sell better and faster to customers by assisting them in their customer journeys. Also, Autochat.io uses a graphical interface which ensures that building a chatbot does not require extensive coding or development effort. With a couple of clicks, you can easily integrate your eCommerce CMS platform or set up the chatbot on your website.
Source: https://autochat.io/
Pricing:
Free tier – Free up to first 5,000 shopping sessions
Paid tier – $1 per month for every additional session above 5,000 sessions
Volume pricing – Custom pricing
Octane AI
Octane AI is not a typical chatbot solution. It positions itself as a powerful quiz platform for Shopify. In other words, it helps create quiz questions that will gather as much information as possible from customers and lead them to the right products through suggestions. The tool does not require any coding and is available completely with conditional logic, advanced design, and in-depth analytics.
Source: https://www.octaneai.com/
Pricing:
Octane AI's pricing progresses based on sales revenue. There are four slabs based on revenue:
< $1 Million
$1 to $5 Million
$5 to $10 Million
$1 to $15 Million
$15 to $20 Million
$20 Million+
Under each slab, there are two plans: Octane and Octane Plus. for businesses with <1 Million in revenue, the pricing plan is as follows:
Octane – $ 50 per month
Octane Plus – $200 per month
Setup & Activate Chatbot for Shopify
Step 1: Setup an account in Kommunicate
We will be using Kommunicate's bot builder and chat UI plugin for this example. First, login to your Kommunicate dashboard and navigate to the Bot Integration section.
If you do not have an account, you can create one here for free.
Locate the Kompose section and click on Integrate Bot. Kompose is Kommunicate's AI-powered bot builder.
Now, set up your bot by providing the bot name, bot language, and human handoff setting, and finish the bot setup.
Additionally, Kompose has an in-built e-commerce bot template that you can use. It has multiple intents related to Shopify store operations such as order status, product catalogues, recommendations, FAQs, etc.
You can check your newly created bot in the below section:
Dashboard →Bot Integration → Manage Bots.
Step 2: Create welcome messages & answers for your Shopify Chatbot
Go to the 'Kompose – Bot Builder' section and select the bot you created.
First, set the welcome message for your bot. The welcome message is the first message that the bot sends to the user who initiates a chat.
Click the "Welcome Message" section. In the "Enter Welcome message – Bot's Message" box, provide the message your bot should be shown to the users when they open the chat and then save the welcome intent.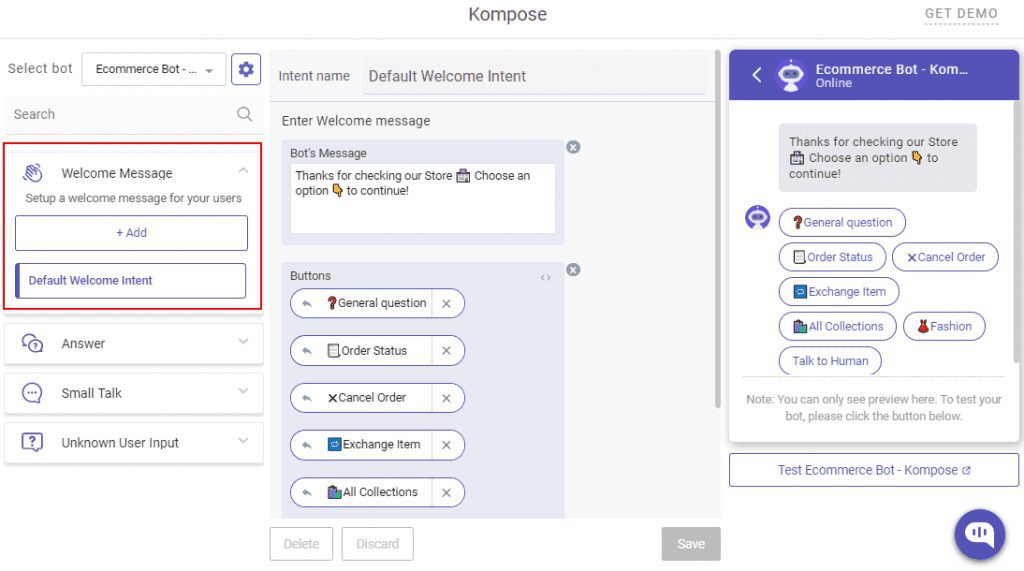 If you are using the template, feel free to edit the intents as you wish.
After creating the welcome message, the next step is to create possible questions and answers for your Shopify bot.
The answers section is where you've to add all the user's messages and the bot responses.
Go to the "Answer" section, click +Add. Give a name to your Intent.
In the Configure user's message section – you need to mention the phrases that you expect from the users that will trigger.
Configure the bot's reply section – you need to mention the responses (Text or Rich messages) the bot will deliver to the users for the particular user's message. You can add any number of answers and follow-up responses for the bot.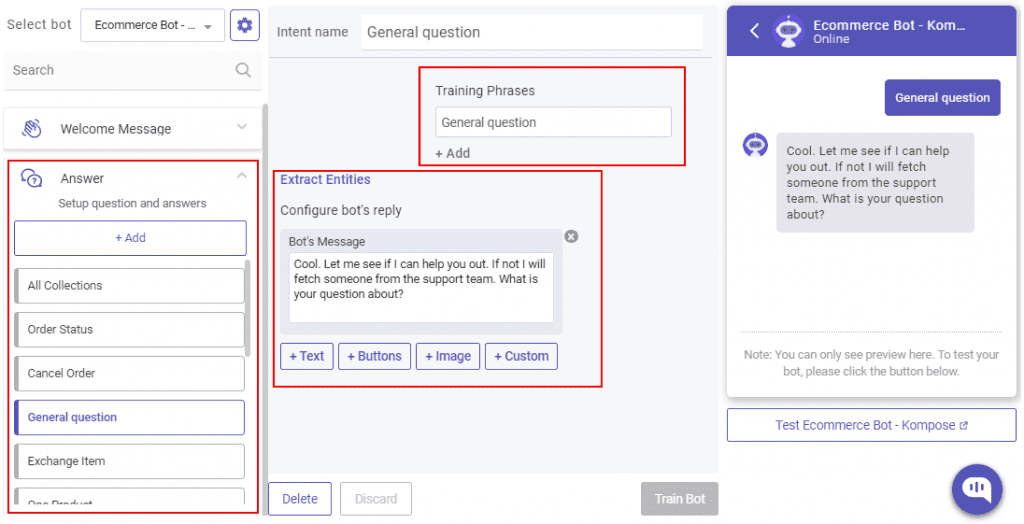 You can also refer to this blog or the video below for Kompose bot integration with Kommunicate.
Step 3: How to activate the chatbot?
Once you create a bot, then you can set it as a default bot in the conversation routing rules section, as shown below.
Click on ⚙️Settings >> Conversation rules >> Routing rules for bots >> Then click on bot like below and select your bot.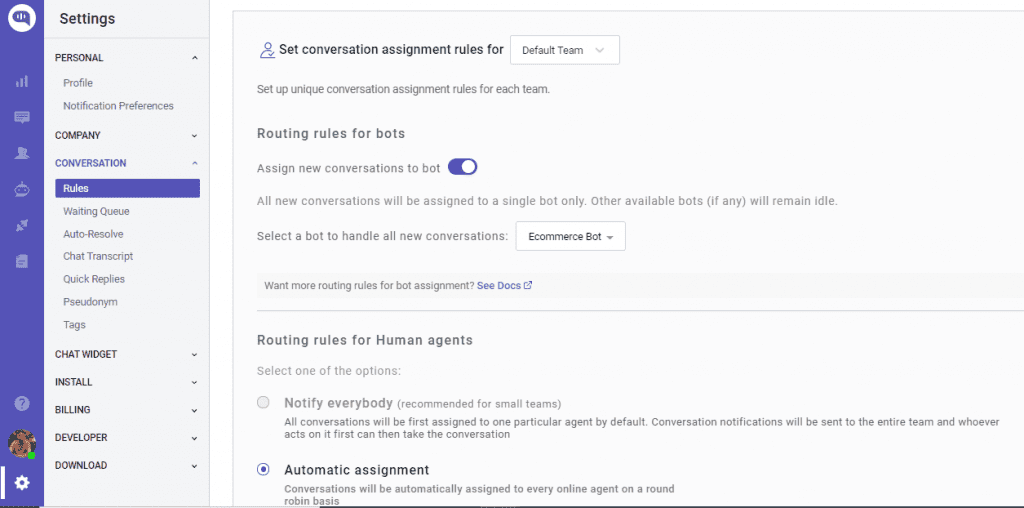 We have completed the bot setup. Now, this bot will reply in all the conversations. Next, let's jump into deploying the bit on your Shopify store.
Suggested Read: Top Shopify Bots & Sneaker Bots for Your Store [2022]

Add Chatbot to Shopify Websites
Step 4: Install Kompose bot into Shopify
Login to the Kommunicate dashboard. Navigate to the Install section under ⚙️Settings, where you will get the live chat plugin script. Copy the script.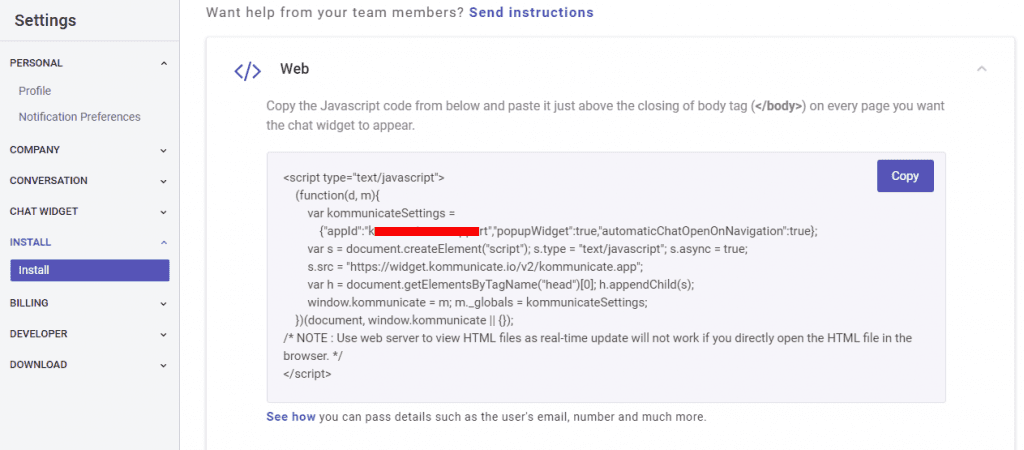 Step 5: Log in to Shopify
Log in to your Shopify account. Click on Online Store.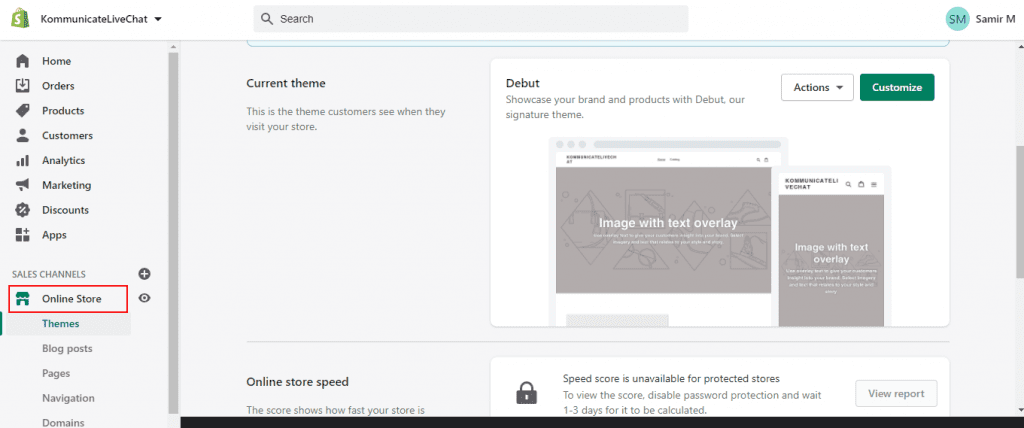 Step 6: Edit code
Navigate to the Themes section. Click on the Actions button and then click the Edit Code option.

Step 7: Add a Live-chat script
In the Edit Code section, go to the left side Edit Code for Debut panel and click on Sections.
Open the footer. liquid section and paste the copied live-chat plugin script just below </footer> tag. Click on Save.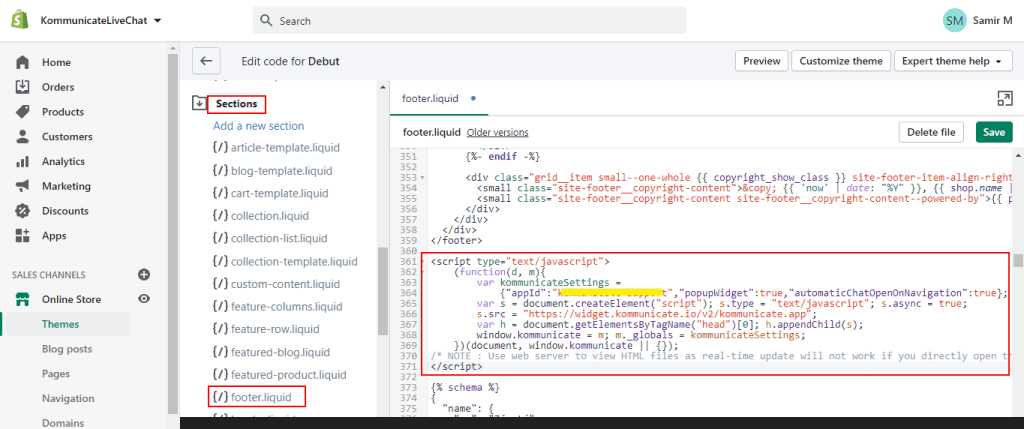 Step 8: Preview & Publish
After saving, click on Preview to see the changes. You will see the chat widget on the bottom right corner of the Shopify website.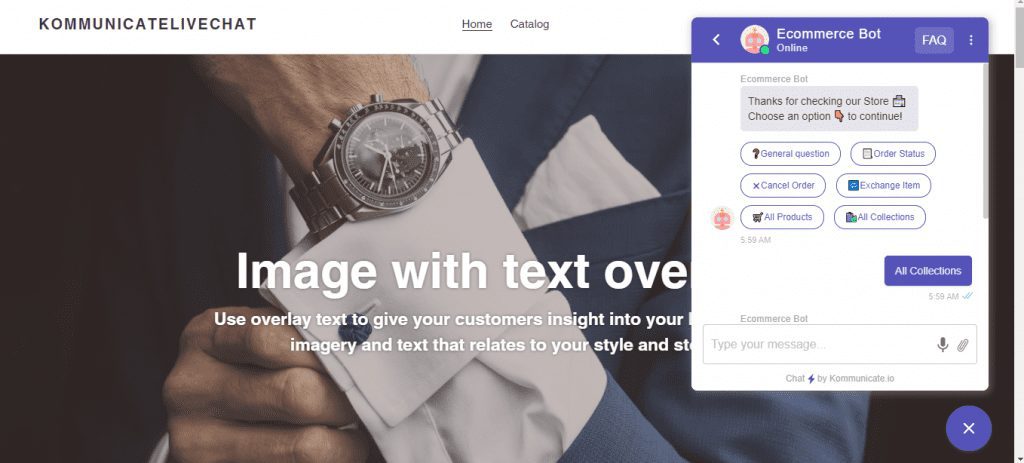 Here's a video to walk you through the Shopify integration with Kommunicate:
How to choose the right chatbot for your Shopify store
Shopify might have made it easier for you to build and launch your online store. A chatbot can help run the online store easier.
You don't have to remain online round-the-clock to attend to website visitors.
You don't have to provide order updates manually.
You don't have to respond to customer FAQs case by case.
With chatbots, you can automate a large chunk of activities without breaking your bank.
To make the right choice of a Shopify chatbot, make sure you follow these pointers:
Choose a chatbot that integrates with all CMS and third-party applications you use
Ensure the pricing plan is affordable and matched to your scale of operations
Ensure complete customization of the look and feel of the chatbot
Look for backend customizations to offer the right product recommendations and solution article suggestions
Review the customer service records and reputation of the chatbot brand
Apart from these pointers, it is also highly recommended to take the chatbot for a spin for a trial to ensure that your choice is indeed ideal and right in manner.
Wraping Up
That's all! In these easy steps, you can install the chatbot on your Shopify website. You can use your newly created Shopify chatbot to improve customer support, customer experience, and lead generation.
---
At Kommunicate, we are envisioning a world-beating customer support solution to empower the new era of customer support. We would love to have you on board to have a first-hand experience of Kommunicate. You can signup here and start delighting your customers right away.