Last Updated on December 19, 2022
Table of Content
Shopify has a simple and easy-to-understand pricing plan.
Still, picking the right plan for your eCommerce business could be difficult.
You cannot go for the basic plan and feel short of features or go for a higher plan only to realize that it is too expensive for your current state of finances.
So, how to make the right choice of a Shopify pricing plan?
Leave it to us. We did some digging to figure out the right pricing plan for each business scenario. Armed with the knowledge we will provide you, you will be spared the hard work of making a good choice.
Before we get into the details, here is a snapshot of the latest Shopify plan (* as of November 2022).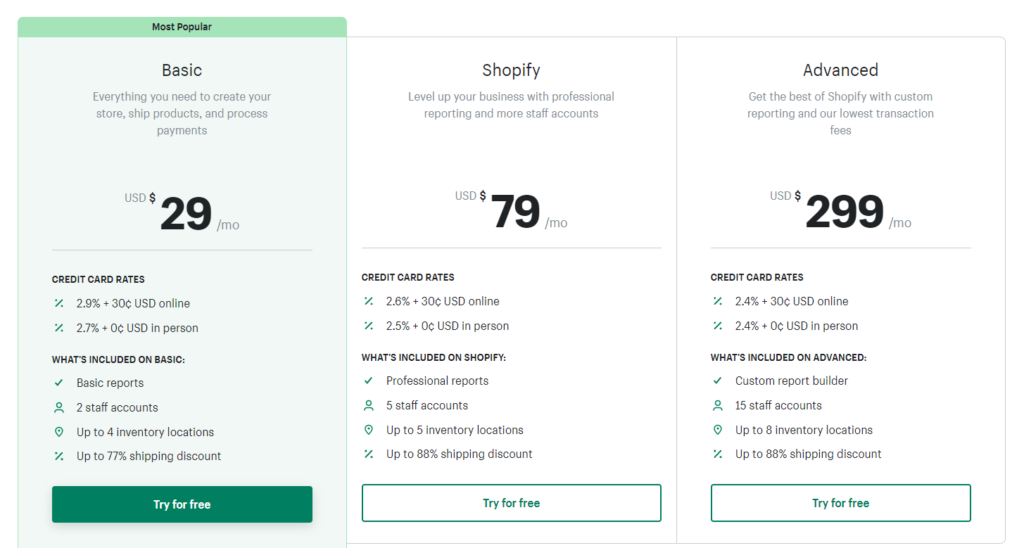 The Basic, Shopify, and Advanced plans offer options for an online store, Shopify POS Lite, and upgrading to POS Pro.
Furthermore, all the plans will include
Shareable product pages
Unlimited products
24/7 support
Fraud analysis
Abandoned cart recovery
Manual order creation
Sales channels
Fast and reliable checkout
Free SSL certificate
Sell in over 133 countries
App ecosystem with 4,100+ apps
Gift cards
Here is a snapshot of how the three plans differ from each other. Apart from these features, the rest remain uniform across all the plans.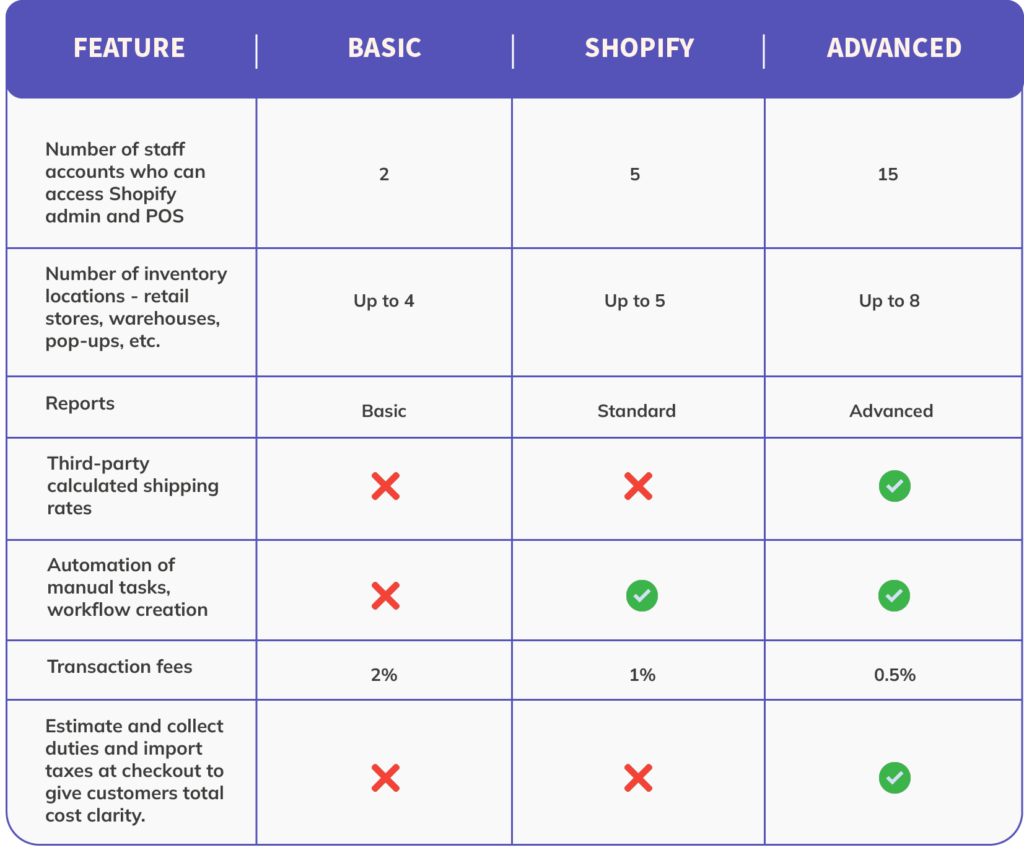 Explore the complete list of plan-wise features on the Shopify pricing page.
In addition to the three pricing plans, Shopify is also offering an additional plan called 'Shopify Starter.'
Shopify Starter: A perfect choice for the just-launched ecommerce business
Shopify Lite allows small business owners who have just launched their businesses to grow faster with the power of Shopify.
Key features of Shopify Starter:
Sell faster with the 'Buy' button
With Shopify Lite, you can turn any website into an online store. It allows integrating a 'Buy' button that allows selling merchandise or digital services. The option is available for most popular CMS platforms, including WordPress, Tumblr, Squarespace, etc.
Accept payments with your iOS or Android devices
If you are someone who sells in person or wants to collect payments from customers at their location, or even with a moving POS, Shopify Starter can help with that. You can use your Android or iOS devices like iPhone, iPad, or Android with the Shopify app to collect payments.
Create professional invoices and manage receivables
Most business owners either create invoices manually or rely on dedicated invoice-creating tools that are expensive and do not always sync with the eCommerce platform they are using. With Shopify Starter, invoicing and managing receivables is bliss. You will have more time to sell and grow revenue than meddle with invoicing.
In addition to these small business-friendly features, Shopify Starter comes with real-time data synchronization, complete access to Shopify's content (free podcasts, marketing resources, templates, etc.), and 24/7 support.
You can take a free trial of Shopify Starter for 14 days. After that, the plan is billed at $9 USD/month (billed every 30 days).
Note: Shopify transacts in the American dollar, and hence all payments will be billed in USD.
What costs do not form part of your Shopify plan?
The following costs are more or less essential for any Shopify store and do not form part of the plan.
Domain hosting
The website domain you can purchase within Shopify or some third-party provider, like GoDaddy, will require additional payment. To save this cost, you can always use a free myshopify.com domain name for all stores on sign-up.
The average cost of a website domain could go anywhere upwards of $10-$20.
Shopify apps
Shopify apps can do myriad tasks that otherwise cannot be done on a Shopify store. They extend your productivity as an admin and help you run your business smoothly. For example, there are Shopify apps for SEO, retargeting emails, shipping management, referral management, and so on. You will have to pay for these apps out of your pocket if not free. Here is a blog post on 7 Shopify apps you need to have on your Shopify store.
The cost of Shopify apps is dependent on two things. The individual cost of each app and the number of apps you integrate into your Shopify store. That said, the price range for most Shopify apps is in the range of $10 to $20.
Suggested Read: Top 7 Shopify apps for your store.
Website theme
While Shopify offers thousands of website themes that are visually enticing, you might still feel like opting for a third-party theme. If this is a paid theme, you will have to purchase it for a price that is not included in the plan.
A premium eCommerce website theme could cost you anywhere from $100 upwards.
In addition to the plan subscription, you will have to shell out a small amount for credit card and third-party transaction fees.
Development
In some scenarios, enterprises might need to recruit web developers to design a Shopify site according to brand requirements. Such development costs will be significant when the site needs a superior look and feel.
The credit card rate for each plan is given below:
Costs in addition to the subscription: Credit card and transaction fees
Basic Shopify – 2.9% + $.30 per transaction
Shopify – 2.5% + $.30 per transaction
Advanced Shopify – 2.4% + $.30 per transaction
The transaction fees for each plan are as below:
Basic Shopify – 2.0%
Shopify – 1.0%
Advanced Shopify – 0.5%
Further, using any third-party service provider will cost you an additional 2% per transaction.
Also, if you are providing a refund to your customer, you cannot expect a refund on this transaction fee.
Cost for other countries
The credit card fees for countries other than the US vary and can be significantly different compared to US rates.
For example, in the UK, the credit card fees for the Starter plan are less expensive than the US one. It is 2% +25 pence for online transactions and 1.7% for in-person transactions.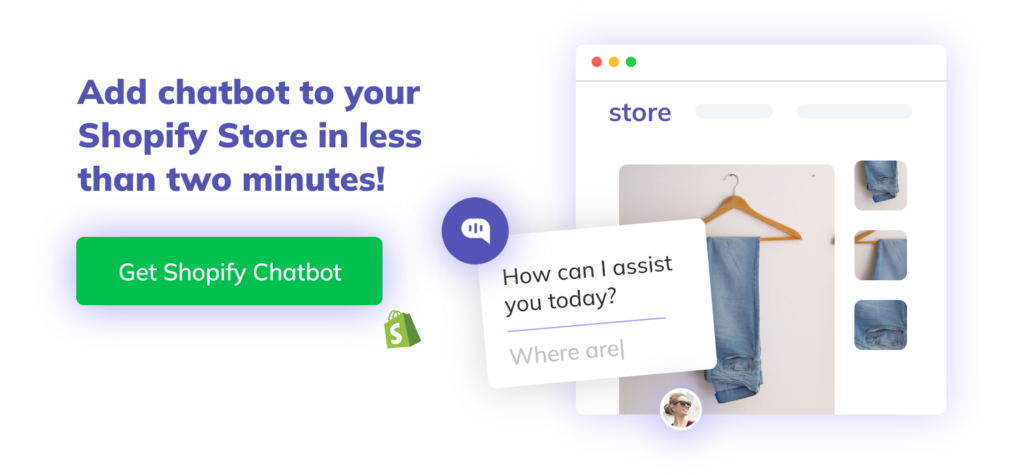 How to reduce your Shopify plan cost?
If you are planning for the long-term, Shopify offers a 10% discount on annual plans and a 20% discount on biennial plans when they are paid upfront. The best part is that you don't have to start with higher plans. You can start with basic plans and then move to a higher plan when your business grows. The discount also gets carried forward to the higher plan.
Choosing the right plan
To select the plan that suits your needs best, you will need to ask the right questions, such as:
What are the product types and volumes to sell?
Are the products digital or physical?
What is my team size to consider Shopify access for all team members?
What are the current and forecasted customer volumes?
How much revenue is my business generating per month/year?
What's my budget for transaction fees?
How critical are my analytics needs?
When you have a website and want to sell through it
The Shopify Starter plan is the ideal choice. It will let you turn your already existing website into an online store without having to opt for a higher plan and build a new store from scratch.
If you have a small online store
The Basic Shopify plan fits the bill since it will let you build a store with unlimited products and essential features like discount codes, abandoned cart management, etc. It is also the most affordable plan among all the three.
When you want to scale your online store
The Shopify plan offers advanced reports, more staff access to the admin panel and POS, and better transaction rates than the Basic Plan. The default reports will go a long way in telling you what's working with your store and what needs improvement.
When you are running a reasonably sized eCommerce business
When your business is running at scale, you need the power of an Advanced Shopify plan. It is ideal for medium and large-scale businesses with more employees on board and a growing product catalog, and also needs to leverage custom reports to its advantage.
Suggested Read: A step-by-step guide to building an E-commerce website.
When you want a customized Shopify store
The Shopify Plus plan can be customized to suit your eCommerce needs.
If you are considering selling on Shopify, we would also highly recommend this blog post that we have written to inspire you with your Shopify store design.
You don't have to be a programming wizard or eCommerce expert to sell with Shopify. It is a relatively simple and easy-to-use eCommerce platform. Start your trial to know it up close.
---
At Kommunicate, we envision a world-beating customer support solution to empower the new era of customer support. We would love to have you onboard to have a first-hand experience of Kommunicate. You can signup here and start delighting your customers right away.