Last Updated on September 28, 2022
Table of Content

In case you are not aware, collecting and trading sneakers is a big-time hobby in the US and several other parts of the world. It all began in the 1980s when hip-hop and basketball were reigning supreme. The release of Air Jordan in 1985 perhaps led to the mushrooming growth of the sneaker collection as a serious hobby. 
Today, all major footwear and sports brands like Nike, Reebok, Adidas, and many take serious interest in creating collectible sneakers.
This spurting growth of the hobby means we have people using technology to buy the latest 'drops' as and when they happen. Bots, which automate the online store checkout process, have become commonplace. Sneaker bots are a term used to indicate such bots that help with the online purchase of limited edition sneakers.
The world of sneaker bots is large and continues to grow. As the rush to buy the latest drops thickens, the support from bots can make things easier. Of course, that is a good thing to have for anyone who is running an online store.
Let's take a deeper dive into the world of sneaker bots and their legality.
We will also look at how they work, and the top sneaker bot websites out there.
Let's begin with understanding sneaker Bots.
Sneaker bots – What are they? Why are they relevant?
First things first. What is a Shopify Sneaker bot?
A sneaker bot is a program that automates the process of buying sneakers from online stores. It uses sneaker proxies – a way of creating multiple accounts that allow users to buy high-end and limited-edition sneakers on a website.
How did Sneaker bots get popular?
There is a huge reseller market for limited-edition sneakers. You can only buy them online through the branded website. Due to high demand and limited supply, these sneakers often get sold out even before most buyers can check into the website.
In fact, brands like Nike launched their own SNKRS app, while Adidas launched their Confirmed app to bring limited-edition sneakers straight to customers. The idea behind these apps was also to remove or eliminate middle people who tamper with the pricing, often also introducing counterfeit products that tarnish the brand image.
Resellers often buy a significant volume of these sneakers,and then resell them at a premium price to interested buyers. This practice has made a lot of resellers rich. These resellers rely on sneaker bots to beat the queue and buy the sneakers quickly. Simply put, sneaker bots help find and buy high-value limited edition sneakers earlier than market releases.
A note on the legality of Sneaker bots
Sneaker bots are not illegal per se. You cannot trace them back to any dark web connections, nor are they violating any trade laws.
However, most sneaker brands find these bots to be an annoyance that disrupts the usual way of doing business. Buying and using sneakers bought through sneaker bots are legal.
With the sneaker industry booming and with no sign of slowing down, there is going to be a surge in demand. This is especially true on eCommerce platforms like Shopify, which is making it easier for anyone to build an online store.
Now let's take a look at some of the top Shopify Sneaker Bots.
Top Sneaker bot websites built on Shopify
Shopify, as you might already know, is one of the leading eCommerce platforms. It is one of the go-to destinations for anyone who wants to build an online store effortlessly. That makes it a natural choice for anyone who wants to build an online store for limited edition sneakers. The fact that you can integrate it with sneaker bots makes it more worthwhile.
As the name suggests, this is the go-to site to find the latest Nike sneakers. Nike Shoe Bot claims to be the original creators of sneaker bots. They have a fairly easy-to-use interface. However, if help is needed, there is a robust customer support system that can help you find your way to your sneaker.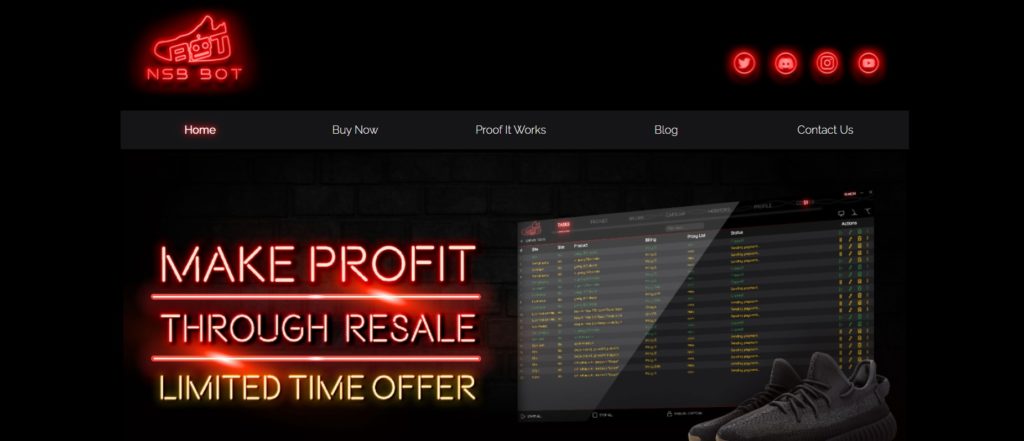 From Jordans to Bapes, the AIO bot promises to make it easy and fast to find the sneaker of your choice. AIO Bot allows users to start buying sneakers with four simple steps that anybody who knows their way around computers can do. No coding or development expertise is required.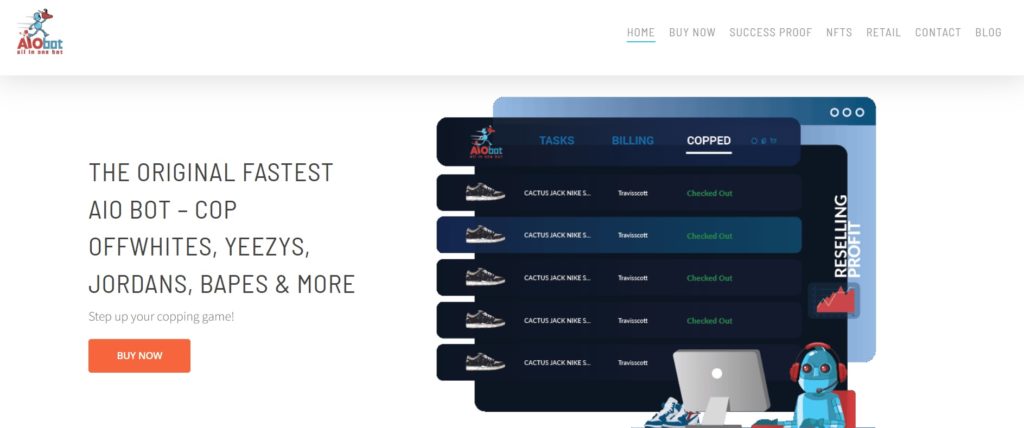 Don't be misled by the name. Their fast checkout automation process is what has put them as one of the top sneaker bots in the market. They also have an elaborate team of developers who are available for anytime support.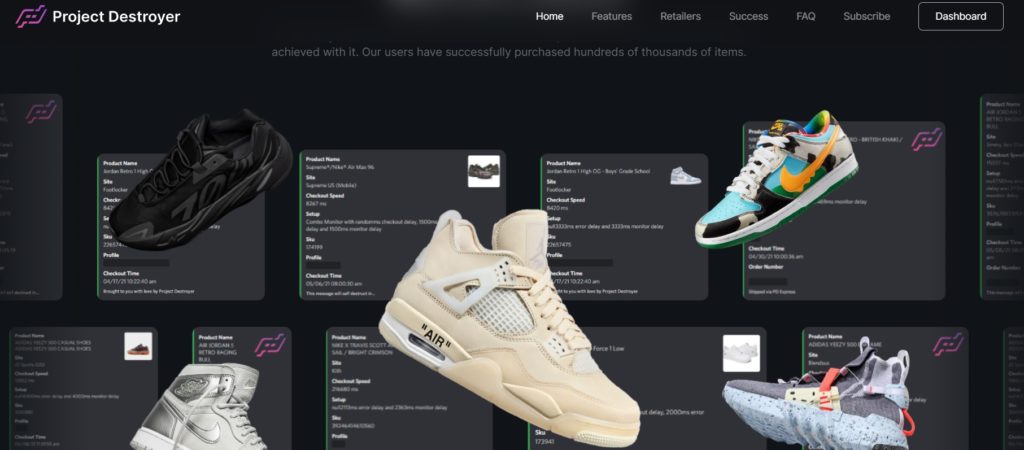 Cybersole is another renowned name in the checkout automation space. It supports over 2M checkouts and has and has a network of 250+ retailers.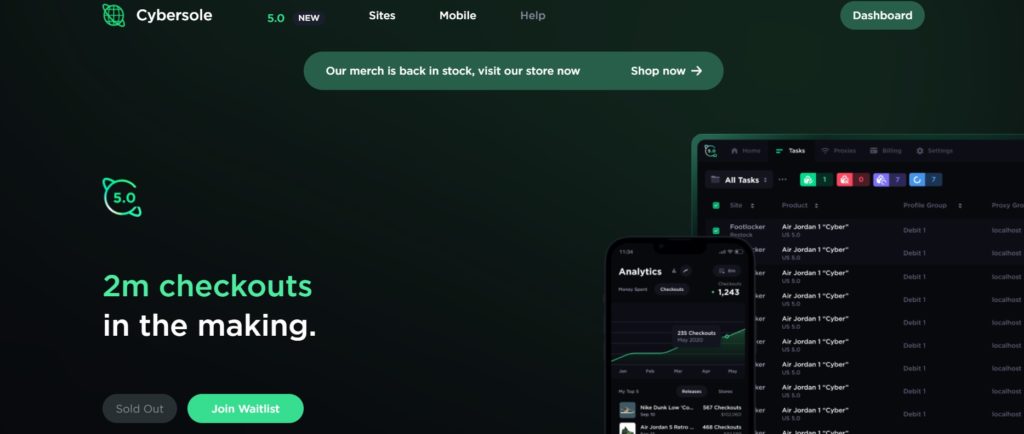 Most Advanced Bot is the amazon of sneakers. It offers sneakers from every major brand you can think of. MAB's Titan Bot allows auto addition to cart and checkouts at a rapid pace. It ensures that you get the sneaker you need even before anyone can set their eyes on it.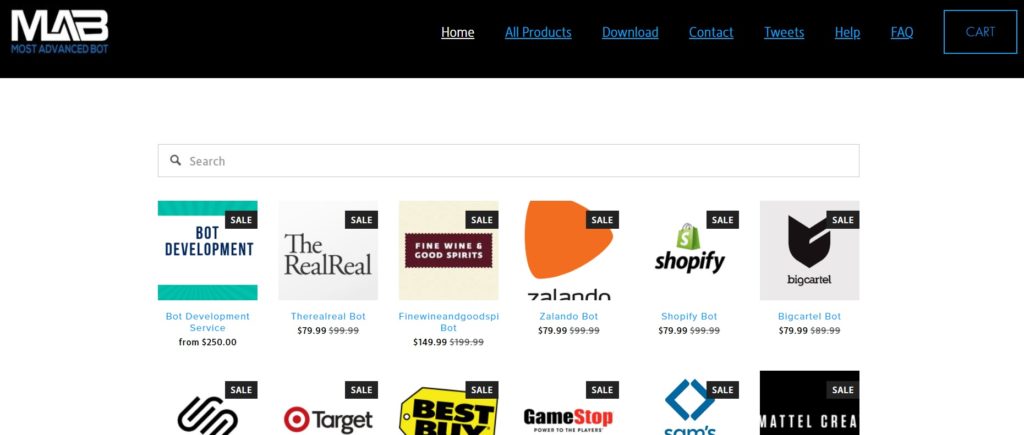 Better Nike Bot is a Nike Snkrs/Web Bot that allows users to buy sneakers from a growing range of Shopify websites. BNB offers two products – Better Bike Product and BNB All in One, both of which support buying sneakers from a wide range of stores, including Footlocker, Footaction, Eastbay, Champssports, etc.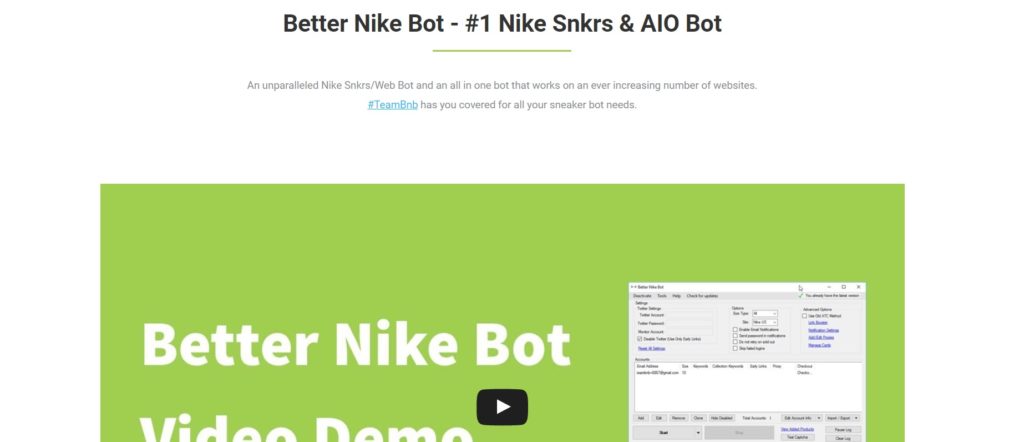 Here are some reasons that will elaborate on the need for Shopify Sneaker bots.
Advantages of Shopify Sneaker bots
Sneaker bots can help sell premium models and limited edition sneakers better, all while treating customers with positive customer experiences without over-burdening your existing workforce. They also offer several other benefits like the ones detailed below:
Automate processes
Sneaker bots can automate the checkout processes that otherwise require a lot of manual effort. As mentioned earlier, bots are rules-based systems. You train them for a logic and They approach each and every instance according to it. This makes them perfect for handling processes and workflows that are identical and uniform in nature.
Sell faster, Sell better
Even in a well-designed online store like Amazon, customers often struggle to find the right product that they are looking for. You need to assist them to find the right product page that suits their preferences. Bots can do an amazing job of taking inputs from customer queries and providing links to products.
They become capable of doing this with the help of Natural Language Processing which identifies text input, compares it with the dataset that the bot is fed with, and ultimately helps it narrow down on the right options. The benefit that store owners get from this is that they get to make sales faster and better.
What are Shopify bots?
A bot is a computer program that automates a rule-based process. A Shopify bot is a bot that automates processes on a Shopify website. For example, responding to customer queries on a website, providing shipping or returns-based assistance, helping customers find related products, etc.
Bots shot to popularity with the widespread adoption of Artificial Intelligence and Machine Learning (ML). Today, almost every application that we interact with comes with at least a tony dose of AI infusion. In a rapidly scaling industry like eCommerce, bots have tremendous scope. Shopify, which is one of the leading eCommerce platforms, is enabling e-retailers to take their businesses to new heights with Shopify bots.
Suggested Read: How to build a Shopify ChatBot in A Minute
What types of Shopify bots does your business need?
In essence, Shopify bots are like chatbots that are commonplace today. Chatbots provide intelligent chat-based support that empowers businesses to delight their customers and extend their relationships. From lead-gen to marketing and customer support, there are countless bots available in the market today. For a Shopify store, four types of bots offer maximum value:
1. Bots for lead-generation
A lead-gen does the job of collecting primary inputs from prospects and segmenting them as leads who might have the potential to convert into a sale. They engage the prospect in conversation by offering product recommendations, showcasing content relevant to the products that the prospect has shown interest in, etc. You can transfer the details of the leads so collected to a CRM or a lead base from where you can take care of outreach activities.
2 . Bots for self-service
Self-service has become synonymous with customer service. According to the Harvard Business Review, 81% of all customers attempt to handle things themselves before reaching out to a live representative – across industries. Needless to say, offering self-service is paramount for an online store. However, a FAQ section on the website or a knowledge base does not qualify as self-service offerings. A bot that can interact with the user and provide contextually relevant suggestions is the need of the hour for every Shopify store. Here's
3. Bots for marketing
Have a new product launch or an offer that needs to be broadcasted to all your prospects and customers? Shopify bots can help with that. Unlike email, which suffers from deliverability issues, bots can ensure that their messages are reaching customers directly. In a way, bots can help your Shopify store take the first step into conversational commerce. There are also chatbots and messenger bots that can reach customers on their instant messengers or social media inboxes. They help make marketing activities a smooth sail.
One of the common challenges that startups, growing enterprises, and even fully grown enterprises face is building a chatbot from scratch. The truth is, you do not have to build a chatbot from scratch. There are tools that can save a lot of effort and help you build your own chatbot for any purpose.
Conclusion
Bots of any kind can make life easy. They automate tasks that are predictable, follow a specific path, and do not always require human intervention. Shopify bots specifically are primed to help online business owners optimize their operations for speed and accuracy. They also help serve customers better by delivering conversational experiences. In fact, Shopify bots can also be used to lead generation on online stores.
Sneaker bots are a different avatar of bots. They help enthusiastic buyers get their hands on the latest premium edition sneaker models without missing the sale. These bots are intelligent at automating the checkout process and can complete the transaction swiftly without much trouble.
To spare you the trouble, we have listed the biggest benefits of using Shopify bots and also the several sneaker bots that you can rely on to automate the checkout process while buying sneakers. We have also written a blog post about 7 Shopify apps you need to have on your store.
For more on Shopify, keep watching this space.
---
At Kommunicate, we are envisioning a world-beating customer support solution to empower the new era of customer support. We would love to have you onboard to have a first-hand experience of Kommunicate. You can signup here and start delighting your customers right away.