Last Updated on May 8, 2023
Everyone's on WhatsApp these days. And by everyone, we mean everyone!!!
2.24 billion people use the app!!
It is the most downloaded app on the App store in over a 100 nations.
So the chances are high that your customer is on WhatsApp. If you are a growing business that is looking to connect to your customers wherever they are, you better be on WhatsApp too.
Getting a WhatsApp Business account is the first step in getting closer to your customers.
But how do you build trust? How do you tell your customers that buying from you is better than buying from the competition?

One way is to provide lightning fast responses to customer queries over WhatsApp, using a WhatsApp bot.
Meta has introduced the Green Tick as one of the methods to do precisely this, and, in this article, we are going to teach you how.
You will learn:
What is WhatsApp Green Tick?
Benefits of having a green tick for your business account.
How do you apply for a Green Tick verification – Step by Step guide
Cost of applying for a WhatsApp Green tick?
FAQs
Let's jump right in.
1. What is WhatsApp Green Tick?
If you are reading this, there must have been an instance where you have interacted with a business over WhatsApp.
This may be your local grocery store who sends their bills to you over WhatsApp, or a ticket booking app, like the one shown below.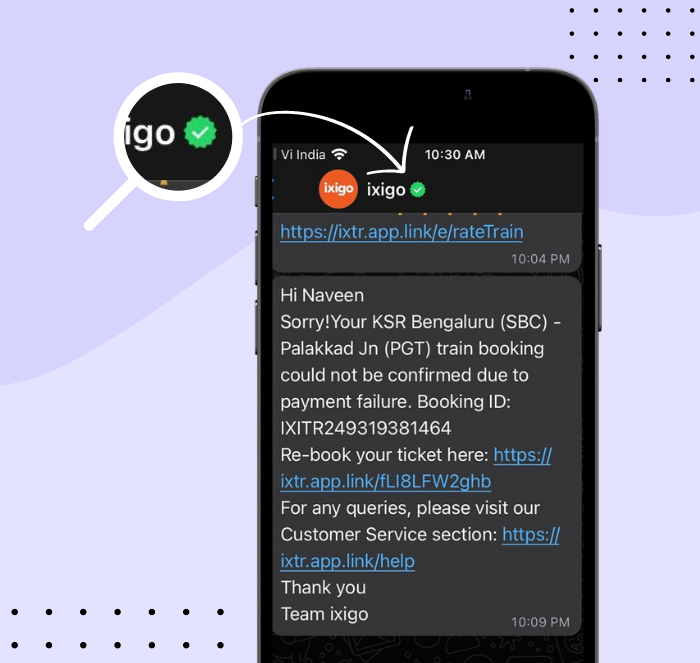 See the green tick next to the name? That is the WhatsApp Green tick that we are talking about, and WhatsApp only gives it out to verified businesses that have an official WhatsApp Business Account.
Having this Green Tick on your WhatsApp Business Account is WhatsApp's way of telling your customers that they can trust you.
Let us now see the advantages of having a Green Tick on your business account.
2. Benefits of having a WhatsApp Green Tick
Boosts your brand presence: Like the "Verified purchase" on Amazon, a WhatsApp Green tick tells your customers that your brand has been endorsed by WhatsApp as being trustworthy. This can help your overall branding activity.
Less chances of messages being deleted: With a Green Tick, customers will be able to see your business name instead of a number in their WhatsApp chat list. This will reduce the chances of your messages being deleted, since they know who the message is coming from.
Shows that your business is genuine: With a WhatsApp Green tick, customers know that it is safe to interact with your business. They may not block your number, and this can also increase the returns on your messaging costs.
3. How do you apply for a WhatsApp Green Tick?
Here is the step by step way to apply for a WhatsApp Green tick.
There are a few prerequisites. You need to have a Facebook Business account before you proceed and also have Two- Step verification turned on.
Once you log into your Facebook Business account, follow these steps:
Step 1: Navigate to the Business Settings page.
In your browser, navigate to https://business.facebook.com/settings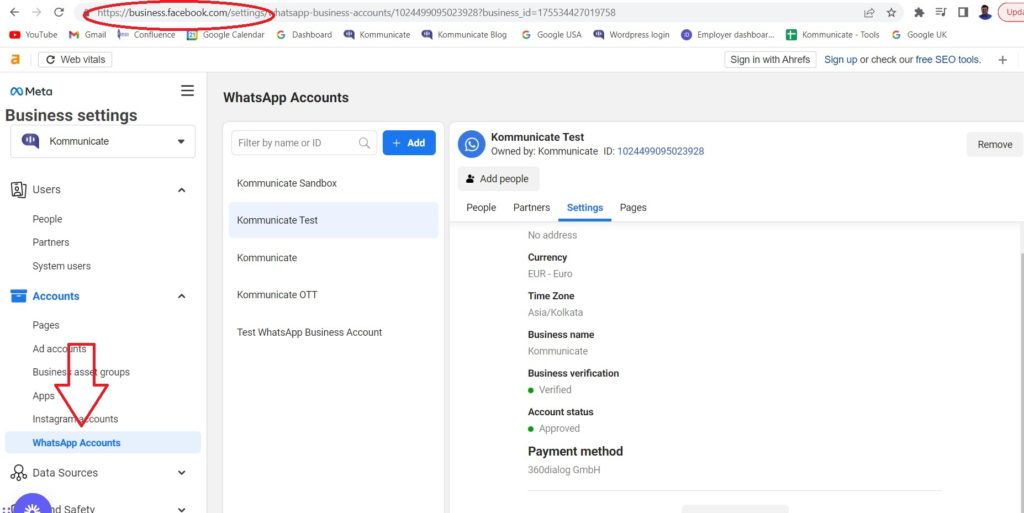 Click on the "WhatsApp accounts" on the left hand side of the window, which will bring up the list of WhatsApp accounts linked to your Meta Business Manager.
Step 2: Navigate to WhatsApp Manager
Select the WhatsApp Business account that you want Green Tick for and go to Settings. Scroll down to the "WhatsApp Manager" button and select it.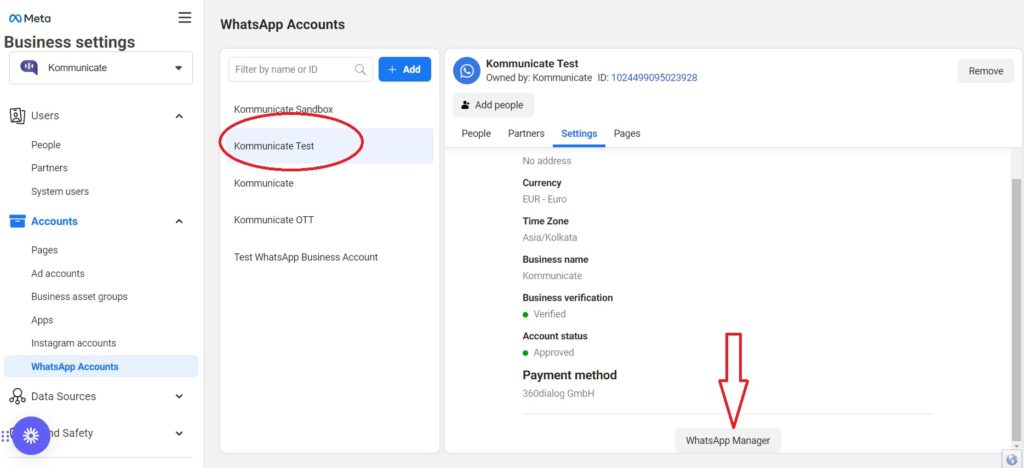 WhatsApp Manager will now show the phone number associated with your Business account. Hover to the "Account Tools" setting on the left and click on the "Phone Number" tab. From here, go to "Settings."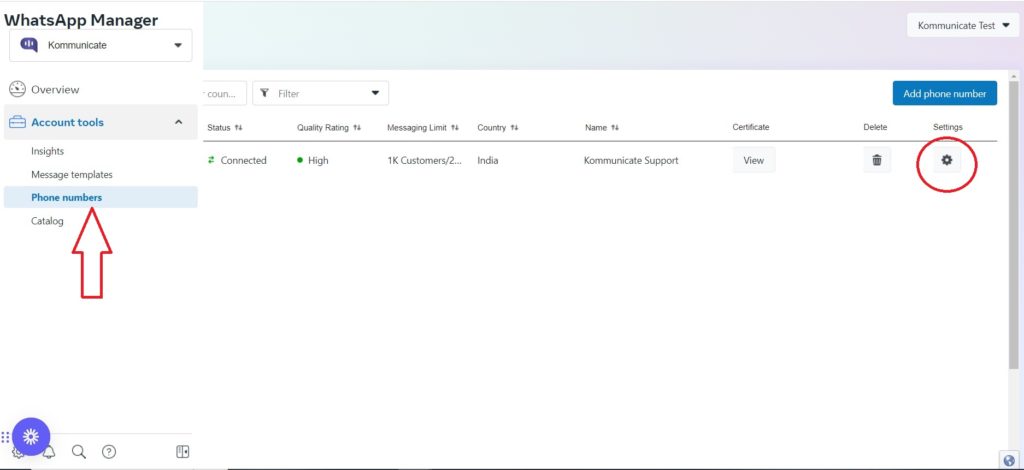 Step 3: Make changes in the Profile section
Once you click the "Settings" button, you will land on the profile section, where you can see the "Submit Request" feature under the "Official Business Account" section.
Click on "Submit Request."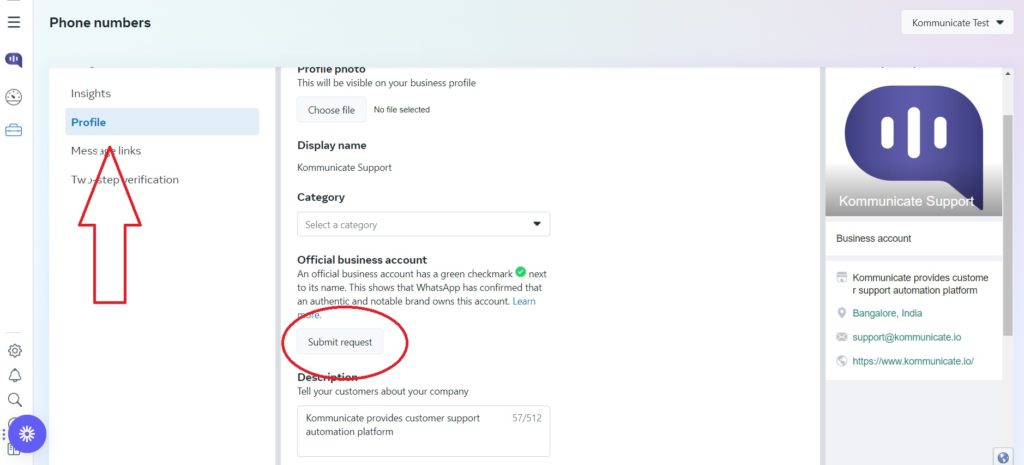 in the next page, you will have to fill in a few basic details such as Business Website, Reason for Request and Links.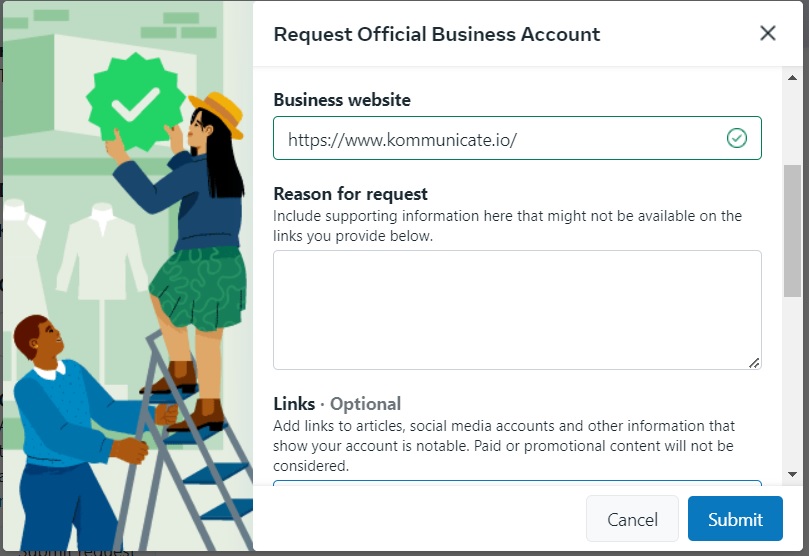 Remember, Links are news articles or social media mentions that cement your brand authority. You can input 3-4 links to show WhatsApp that your brand has credibility.
Hit the "Submit" button and bam, you are done.
WhatsApp will get back to you in one to two working days. Once your business verification is done, you can find a Green Tick next to your WhatsApp business name.
There is also another way of getting a WhatsApp Green Tick, which is to go through a WhatsApp Business Solution Provider(BSP). Here at Kommunicate, we have partnered with Twilio and 360Dialog to provide you this service.

All you have to do is sign up for a Kommunicate trial, and our support team will be more than happy to guide you through the steps.
4. Cost of Applying for a WhatsApp Green Tick badge
Currently, WhatsApp Green Tick is given free of charge, and all you need to have is full the prerequisites criteria listed above.
If you do go with a BSP to get yourself a WhatsApp Green Tick, then there may be additional charges, depending on the provider.
---
At Kommunicate, we envision a world-beating customer support solution to empower the new era of customer support. We would love to have you on board to have a first-hand experience of Kommunicate. You can signup here and start delighting your customers right away.