Last Updated on February 19, 2023
There is no other industry in this world where time plays such a critical role in saving lives other than the healthcare industry. Providing timely healthcare to an individual can make a difference to their health and well-being. In today's world, where pandemics and sudden spurts of flus have become rampant, the healthcare industry needs some amount of technological infusion to level up its game.
That said, there are plenty of technological applications that the industry is already using. However, the latest crop of instant messaging apps, consisting of WhatsApp and the likes can go further in assisting the industry and its stakeholders. This can be done by doling out high-quality and time-sensitive services.
Chatbots in healthcare like WhatsApp forms a bridge of communication between the both sides. This ensuring timely rendering of healthcare services. WhatsApp can help reduce in-person appointments which otherwise exerts too much of physical and mental energy of physicians.
According to Israel Journal of Health Policy Research, at least 96% of healthcare specialists stated that these consultations have reduced the need for in-person appointments at least once a week.
Reducing in-person appointments is not the sole benefit that medical chatbots can offer. It can also bring to the industry a whole new way of consulting and rendering healthcare services that can help the world become a safer and healthier place to live.
WhatsApp chatbots in healthcare industry improves communication
Here are some benefits that WhatsApp chatbots can bring to both sides of the healthcare industry.
Booking appointments made easier
Handles Frequently Asked Questions (FAQs) at scale
Real-time communication about patient information
Single-point destination for storing patient data
Manages medical insurance queries
Integrated in-chat payments
Cross-sell or upsell new healthcare offerings through chatbots in whatsApp
Aids in sending health checkup reminder to patients.
Sharing medical test reports

1. Booking appointments made easier
Until mobile apps and mHealth became commonplace, patients had to either call the doctor's clinic/hospital and book an appointment. Any changes to these appointments were not easy to make and caused difficulties for both the parties. In most cases, it also required the patient or their bystander to visit the hospital to make the necessary changes. This was almost impossible in most cases, which led to missing appointments.
On the other hand, when the doctor's schedule changed, the unaware patient would present themselves for the appointment only to know it has to be rescheduled again. In short, life was not easy.
With mobile apps taking over, and instant messaging apps like WhatsApp becoming the one-point stop for all communication, such difficulties come to an end. They make booking appointments easier and ensure that the communication loop is always maintained at both ends.
This avoids any miscommunication and resultant events like turning up for rescheduled appointments or not being able to make changes to preset appointments.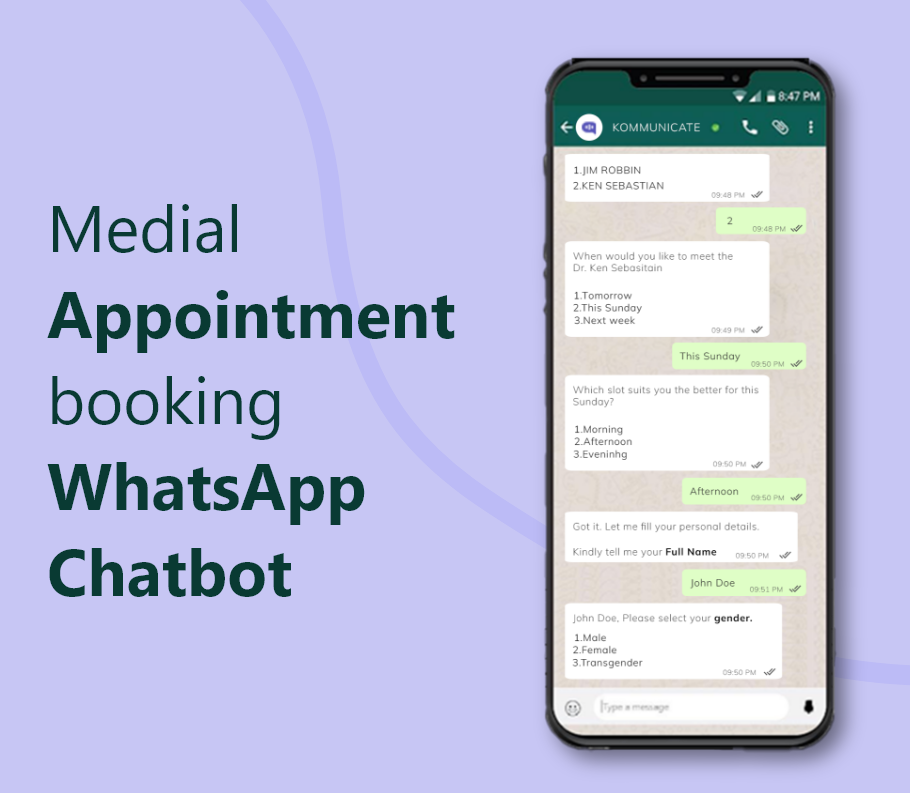 2. Handles Frequently Asked Questions (FAQs) at scale
Let's face it. Even while shopping online, there are hundreds of questions running through our head before we make a buying decision . For a healthcare related decision, the patient will have countless questions. Some of them could be basic in nature, like wheelchair accessibility at the hospital, insurance services, ambulance services, payment modes, etc.
Most of the patients repeat these questions over a period of time. These frequently asked questions do not need the time and attention of a doctor or a healthcare provider. You can program a WhatsApp chatbot to provide real-time answers to such FAQs.
The chatbot answers FAQs by seeking keypad-based input from the user. For example, pressing 1 to an option will deliver answers about the services offered in the hospital, pressing 2 will offer answers about doctors on duty, etc.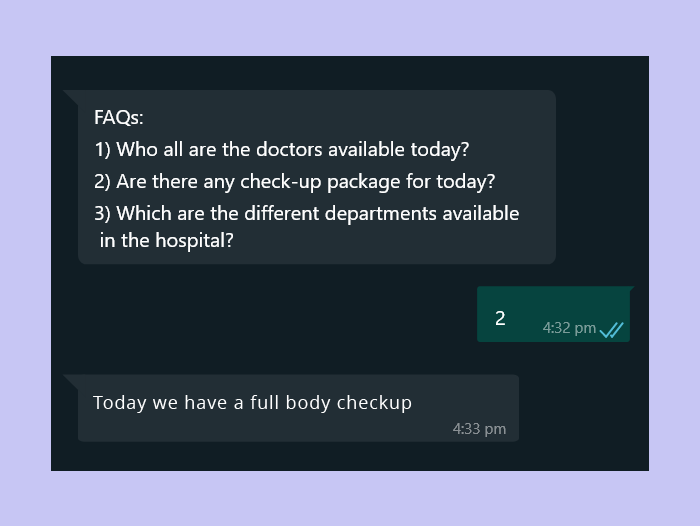 The biggest benefit is that this can be done at scale. Chatbots can respond to a dozen or more queries at the same time and still deliver contextually-relevant responses to all the users.
3. Real-time communication about patient information
In most hospitals, doctors work on shifts. Implying there is a specific working hour during which a doctor will be present in the hospital after which another doctor will take their place. However, the patients assigned to the former doctor will still be monitored by the hospital staff.
Any queries or communication regarding the patient's health status can be sent through messaging apps. Whatsapp chatbots make it easy to share soft copies of scan reports, any images of wounds, etc. in real-time. Further, since these chatbots are encrypted, the data transfer is also secure and immune to cyber security threats.
This facility ensures that doctors are able to continue monitoring the patient even if they are not physically present. They are able to delegate tasks to their assistant healthcare providers until the need arises for them to be back in their shift. Further, in case of any emergency situations, the attendants on duty can immediately arrange real-time communication with the doctor through video calling and voice calling. It takes organizational collaboration to a whole new level.
4. Single-point destination for storing patient data
Healthcare data has remained a sensitive topic even before computers and mobile made their foray. It is one of the most sensitive data about a person, which in the hands of the wrong person could lead to mishaps. Doctors and healthcare providers, apart from the patient themselves, are the primary custodians of such data.
However, destroying such data after treatment is not a wise decision, since it terminates the thread of the patient's health journey over a period of time. There is a pressing need for a safe and secure way of storing healthcare data. WhatsApp chatbots can lend a helping hand here.
In addition to being capable of real-time communication, they can also ensure that the data exchange is safe and information is available on cloud servers. Users should be able to access this data whenever the need arises. This strikes a fine balance of anytime accessibility and high-end data security.
5. Manages medical insurance queries
Claiming health insurance is a tricky process for any patient. Thanks to the varying plans and coverage offered by several health insurance providers, it is not possible for a patient to understand the terms instantly. Quite often, when the need for claiming insurance arises, they have to scramble to find the agent's contact or wait forever until they are able to get in touch with a phone support agent.
Whatsapp chatbots can turn around such a situation. They can act as a real-time support system that provides patients with immediate queries about health insurance coverage details. Further, they can also act as the communication channel between the insurance company and the insured. This keeps the communication thread for future reference intact. Through WhatsApp chatbots, patients can also receive real-time status updates about their claims and settlements.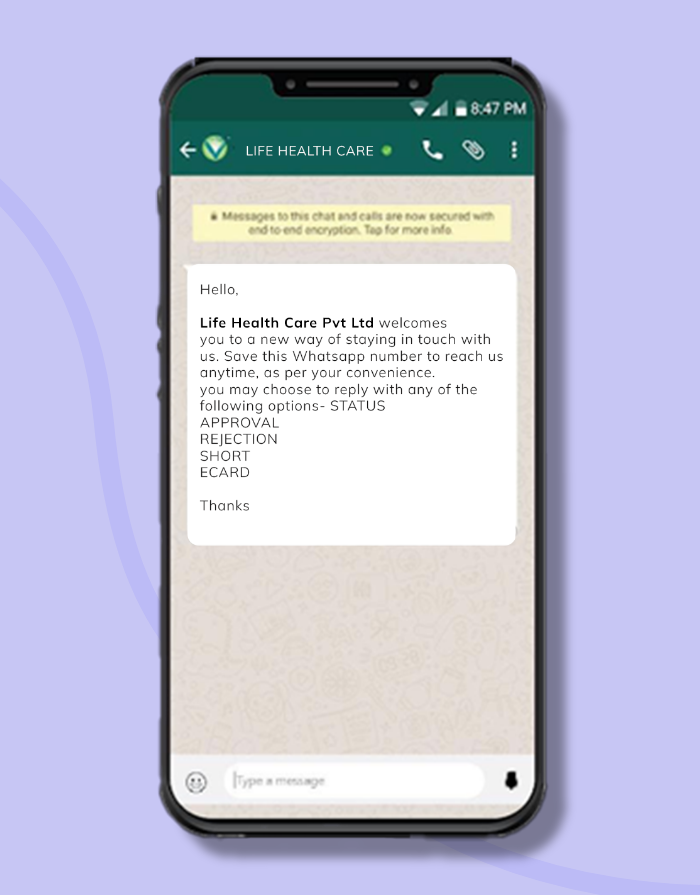 6. Integrated in-chat payments
WhatsApp has recently made its foray into in-chat payments. With this feature, users can now transact financial transactions with those in their contacts seamlessly. While this feature might appear like a run-of-the-mill payment integration, in the healthcare space it has more benefits than what meets the eye.
For example, the patient can have a single unified channel through which financial transactions can be initiated and completed. The insurance settlements and claims are also converged in one place ensuring that there is no overlap or lack of communication. It makes the process of availing healthcare and paying for it easier.
7. Cross-sell or upsell new healthcare offerings through chatbots
Healthcare sector has been evolving during the past decade. New services and offerings that promise to upkeep and sustain the health of patients have been introduced. Periodical health check-ups, tailor-made dietary programs, exercise regimen personalized to health conditions, etc. have become commonplace.
All these offerings do not take the standard route of a doctor's prescription. Instead they are marketed to users through in-app messages. The introduction of Facebook Bots in 2016 led to a huge upheaval in this space. Today, WhatsApp bots carry forward the legacy. Thanks to the still-growing user base, WhatsApp chatbots can access a huge market and capture it with great ease. From communicating to offers to winning customers, and keeping all their communication in one place, there is so much that WhatsApp chatbots can do for a healthcare service provider.

8. Aids in sending health checkup reminders to patients
Healthcare is an ongoing process. Except for a handful of ailments, most patients have to visit the doctor for follow-up sessions to ensure that the recovery is on track. One can plan these follow-up sessions with two to three days of interval, or as in some cases with a week in between. Either way, it is the patient who has to ensure that they present themselves for the follow-up session without fail.
For elderly citizens who get quite forgetful with age, this is a difficult challenge. Thanks to medical chatbots, they can avoid such instances. The app can send timely reminders to patients when their checkup is due. This will ensure that the patient can plan ahead to present themselves.
Right from planning logistics to keeping all records ready for review, one can organize everything better without any last-minute hurry. In fact, there are parts of the world where wearable devices are patients have devices that notify when it is time to take their medication, perform daily exercise routine, and plan for doctor reviews. WhatsApp chatbots are part of the same ecosystem.
9. Sharing medical test reports
In developing countries, hospitals don't always have facilities to provide scanning and medical tests. It is usually an outsourced service where the patient has to visit an authorized medical scanning or testing center to conduct the tests that the doctor has prescribed.
In the past, the results were available on paper and handed over to the patient. There was a delay between giving the patient the results and an appointment slot becoming available to the patient to share it with the doctor. This further delayed the treatment process.
However, with medical chatbots, these medical test centers can directly share the results to the doctor or to the hospital's WhatsApp group which maintains patient records. This timely sharing of results helps accelerate the treatment process. Further, thanks to the digital formats in which the results are available, it is easier for the doctor to zoom into scan reports and get granular level information about the patient's health. This was not the case with paper-printed records.
Bringing it all together
WhatsApp chatbots are new to the market. Within a short span of time they have made sweeping changes across industries, healthcare being prime among them. Thanks to the real-time communication and collaboration capabilities of WhatsApp chatbots, healthcare givers, medical professionals, and patients can have better control over their time and the services provided or availed.
What WhatsApp chatbots do is to create a unified communication channel where you can effortlessly transact communication, data, and even payments. It reduces the confusion and the complication that erstwhile systems had and were taking the healthcare sector almost close to a breakdown. Chatbots eliminate the need for sophisticated enterprise software, which is beyond the understanding of most layman users.
It makes everyday healthcare accessible to everyone without distinction. Anyone who knows how to use a smartphone can easily use a WhatsApp chatbot for taking care of their healthcare. Also, you don't need to install additional software or apps at an expense. WhatsApp continues to be a free app for all.
It is not surprising to know that WhatsApp chatbots have drastically reduced in-person booking times and the waiting periods. They've made lives easier for doctors and patients alike who have been struggling to get on the same page due to real-time communication gaps.

---
At Kommunicate, we are envisioning a world-beating customer support solution to empower the new era of customer support. We would love to have you on board to have a first-hand experience of Kommunicate. You can signup here and start delighting your customers right away.