Last Updated on October 17, 2023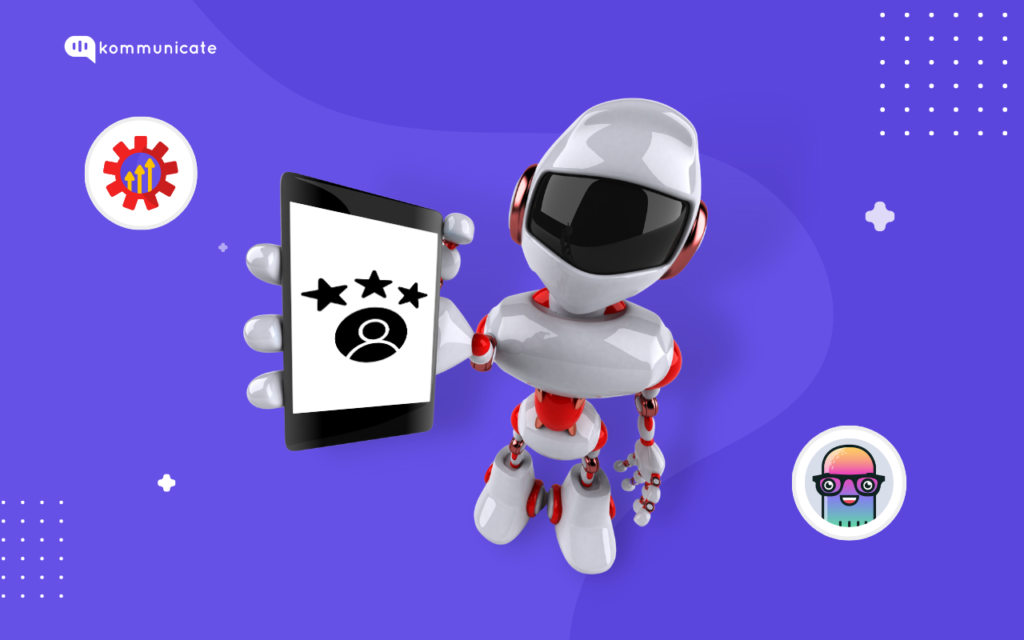 A customer service chatbot has become a requisite for achieving great customer satisfaction. 60% of millennials prefer chatbots to have their queries addressed! While chatbots make a route to savings on customer support costs and valuable time, their interaction with your customers can also be a game-changer in the customer experience domain – for good. 40% of people do not bother whether it is a chatbot or a human agent as long as their query is answered efficiently. Using a customer experience chatbot can be good for your business's health. Let's read on it a bit more.
What is a Customer Service Chatbot?
A customer service chatbot is a bot that is programmed to communicate with customers. You can build the bot using Artificial Intelligence (AI), Machine Learning (ML), and Natural Learning Processing (NLP) to interact with the customer. A customer experience chatbot mimics human speech and works as an agent in many ways that make a win-win for both customers and the business.
Automates everyday tasks
Simplifies the sales process
Facilitates 24/7 assistance
Eases the workload off agents' shoulders, and
Prevents long queues
The help a customer service chatbot brings can unfold consistency and greater possibilities for desired customer satisfaction, given the straightforward truth that no customer wants to wait!

Factors Impacting Customer Service in an Organization
The absence of streamlined customer service can injure an organization's brand image and lose the hard-earned trust of customers. You need to consider several factors affecting customer service in a company to retain customers and the reputation of a business. A customer experience chatbot can be of great use in ensuring its implementation.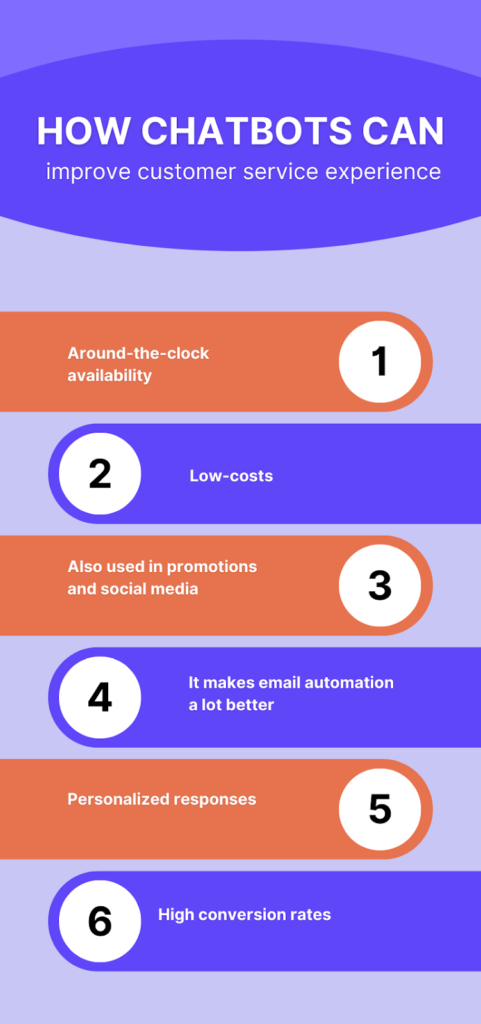 1. Quick Replies
Quick replies and minimum to no wait time are the way to winning a good customer experience. No customer on earth would be fine waiting in line when they've got an issue related to their recent order or service. If this scenario extends to long hours and no see, it'd call for a marketing disaster.
Moreover, agents may or may not be available 24/7 for customer interaction. When implemented correctly, you can mitigate the challenges associated with wait time using a customer service chatbot. You can prevent customers' queries from going unanswered through automation, keeping customers happy with consistent availability.
2. Personalized communication
Every customer is an essential asset to your business. Each looks out for straightforward and helpful information in regard to their query. A personalized experience is a non-negotiable factor in any customer support process. The challenge is that agents can have difficulty framing personalized responses in real-time.
Offering personalized communication is also a challenge for agents when the process is working omnichannel. It can be due to a lack of data management and trouble fetching data in time. A customer experience chatbot is wonderful with personalization as it fetches data from previous interactions and can respond to the customer as expected.
Bonus read: Chatbot Strategy: Increasing Customer Engagement Through Messages
3. Faster resolutions
Customers expect a fast resolution to their problems while seeking help from the customer support desk, whether on the phone or via chat. Every customer has their issue, and to deal with that, an agent needs to be proactive with everything – from data to effective replies.
Lack of orchestration and extra workload can sometimes hinder this process and result in a delayed response. Companies use customer service chatbots to look after recurring issues and solve them quickly. If the issue is too complicated to address, a customer experience chatbot can fetch related details and forward them to the live agent. It quickens the resolution, making customers feel at ease.
4. Access to various features
An effective customer support process is ideally composed of various offerings that simplify the customer journey and make it conclude on a good note. From personalized replies to languages, these are small details that make a huge impact on customer experience. So, the agents must be trained and well-versed to keep up with customer expectations – on different platforms.
It's not as simple as it sounds! Employing live agents and then training them can take time. Moreover, it will come at increased expenses. Thankfully, customer service chatbots are easy to train and comparatively more cost-effective than human agents. The best part about a customer experience chatbot is that you can add as many features as you want and deploy them on omnichannel platforms. So, it's all set no matter which language your customer speaks or which platform they prefer for communication.
5. Making customers feel important
This factor is a summary of the ones mentioned above. Faster replies, prompt resolution to customers' problems, customization, and a variety of handy features at your disposal are essential to making a customer feel important and heard.
With human agents, there's always a possibility for delays in response, obstacles in solving customer issues, offering personalized experience in real-time, and so on. It can translate to a bitter feeling from the customer's end, making them feel like they have not been looked after. Hence, many companies have started adopting customer service chatbots to mitigate the risk and meet customers' expectations.
You might also want to read 9 Of The Best Books On Customer Service That You Can't Miss
How Chatbots Can Improve Customer Service Experience
Implementing a customer experience chatbot is a good way to combat the challenges you may face while juggling many tasks. Here are the indispensable aspects of a customer service chatbot that can accelerate the pace of a business in the long run.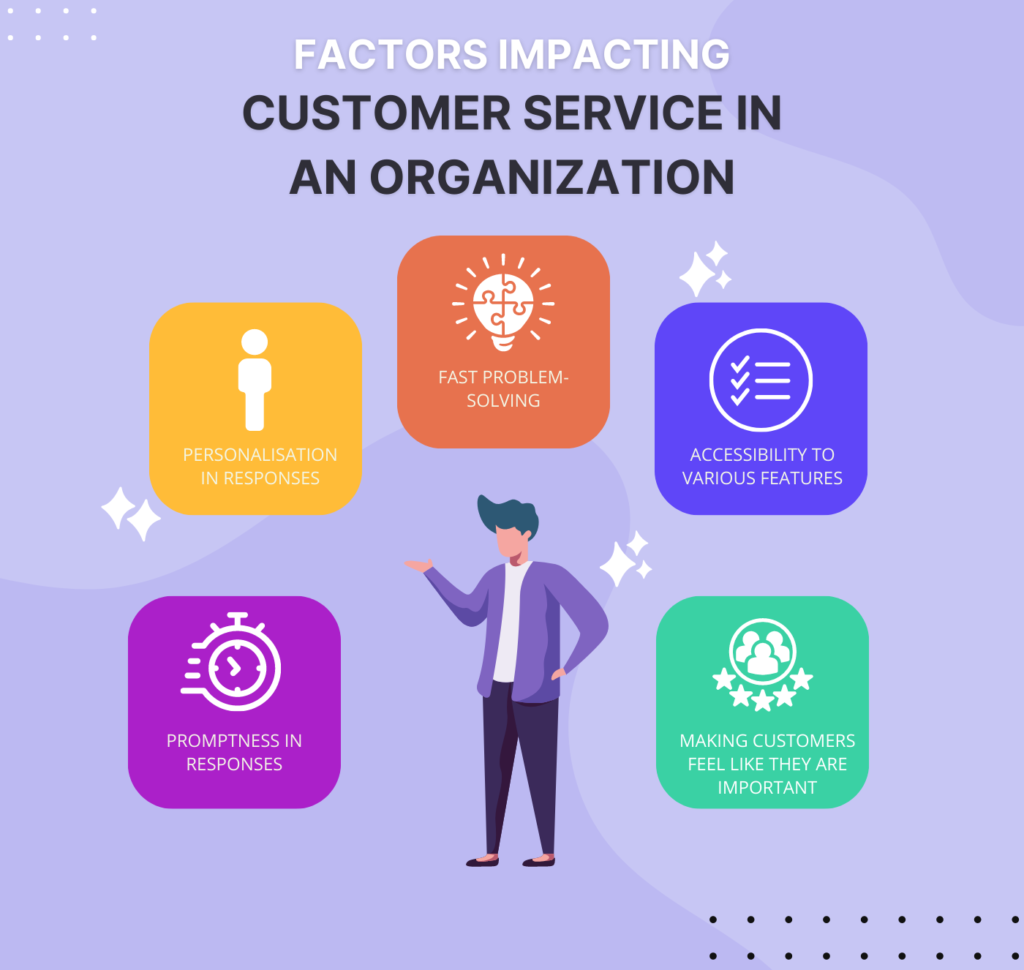 1. Around-the-clock availability
Here's to the greatest advantage of a customer service chatbot! According to research, customer experience chatbots will be responsible for savings of 2.5 billion hours by 2023. These agents, backed by AI, ML, and NLP, are there for your customers when the world is asleep. So, you don't have to worry about the queries as a customer service chatbot can address them when they arrive and solve them at their best.
2. Reduced costs
Customer support chatbots are always available to help. They reduce the wait time, resolve issues quickly, and can handle significantly more customers than human agents. It sums up the cost-saving role they play for a company. With a customer experience chatbot available at service, you won't feel the need to hire many agents since the bot can handle 30% of the interactions.
3. Also used in promotions and social media
One of the amazing benefits of customer experience chatbots that add value to your overall customer support process is that a bot can work a variety of features on different platforms, such as social media, website, etc. You can also use it for promotions and marketing by capturing customer data. Since chatbots are available on various platforms, including social media, they can bring a new pace to your sales funnel.
4. Improved email automation
Customer experience chatbots can boost your email marketing errands to a notable degree. An email with a personalized subject line is likelier to be opened by a customer. The personalization is extracted from various data such as customer intent, location, previous experience, etc.
Chatbots are quick at fetching such data and provide valuable insights. Since a customer service chatbot personalizes the entire communication, it allows you to follow up on specific queries or topics. To top it all, integrating chatbots in email also saves time when a customer wants to reach out to you with a query – thanks to the 24/7 availability of the bot.

5. Customization
Another important benefit of a customer experience chatbot is that it provides easier communication with personalized responses. The bot is fast at gathering data and translating that into the responses that best resolve the customer's problem. From customers' order history to shopping preferences – a chatbot can frame answers based on their data and simplify communication for them.
6. High conversion rates
When you assist a customer with your product or service by a customer service chatbot without any wait time or other limitations – they are likely to be more engaged in moving further. Since chatbots are on time, offering personalized experiences to each customer leads to higher conversion rates for a business. Personalized messages, engaging conversion, integration with social media platforms, multi-lingual support, promotions, etc., are some constituents of a customer experience chatbot that make it a wonderful tool for qualified leads.
Also read, How to Increase Conversion Rate Using A/B Testing by 200%?
Wrapping Up
A customer service chatbot is not just a fad in the business world. It is here to stay. The global chatbot market is forecast to reach a whopping US $1953.3 million by 2027. Consistency, personalization, and omnichannel assistance are the features of a chatbot that make it a choice among businesses and customers. If you plan to employ one for your business, it is time to plan and consider the best ways to utilize an efficient bot.
---
At Kommunicate, we are envisioning a world-beating customer support solution to empower the new era of customer support. We would love to have you on board to have a first-hand experience of Kommunicate. You can signup here and start delighting your customers right away.