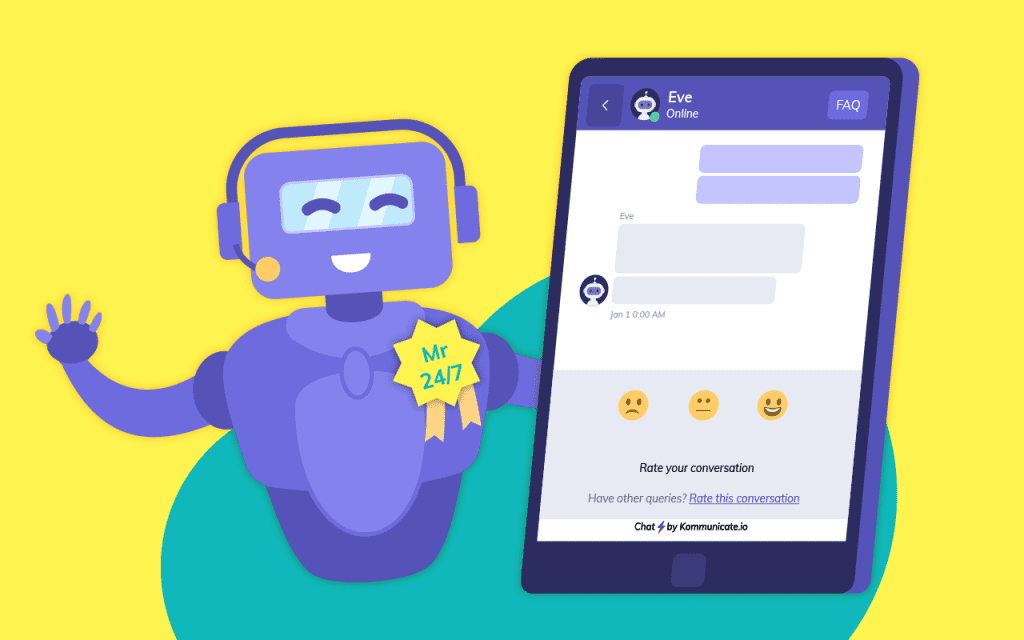 In the past couple of years while working with large financial institutions and educational institutions we have learned a lot about customer service. When we started we saw customer service as a process to answer customer queries. However, soon we started seeing it as a great way to build loyalty, excite customers while ensuring satisfactory solutions to their queries/problems.
To help you understand the process of setting up a good customer service chatbot, let me quickly run you through the basic jargons:
Intent: recognizing what the user is looking for
Expressions: how is the customer reacting, positive, negative, or neutral
DialogStates: structure to how your bot can answer the query
Bot Replies: the actual answer of the bots
NLP: AI focussed technique to improve on the overall interaction capabilities of the bot

What is a customer service chatbot?
A customer service chatbot is an AI-powered interactive chatbot that is used to answer the queries of your customers.
The range of such queries includes, How many users can I add?", How much do you charge?", "How can we integrate with Dialogflow?" and more.
Such answers are often answered with the help of the knowledge base or FAQ page of your website. They recognize users' intent and respond with the right answers. With time these bots get trained and recognize diverse forms of the same questions and respond using your preferred voice and tone.
Why do you need a customer service chatbot?
Numbers of us have a myth that bots will replace customer service agents, the answer is No! These bots are now to complement these agents to help them do their job better.
Following are the main reasons you should build your customer service chatbot
They can be great in understanding these interactions and can manage the repetitive workflows
Chatbots can handle simple queries without any major hurdles.
Today's businesses are global and understanding every user is imperative. With multi-lingual support, you can take your first step.
They can provide support across multiple channels like websites, apps, social platforms, and more.
They are present 24/7
Pro Tip: Customer service chatbots can be used as an experience prompter based on multiple parameters and also to ensure targeted messaging.
How can you build your customer service chatbot?
Here is a short video on how you can get started, automate the process
Building Your Own Bot
With Kompose, you can start building your own customer's service bot in 4 simple steps.

If you don't have Kompose a/c, please signup here for a free trial.
Create your own welcome message
Create your own personalized welcome message based on your strategy and ensure every user loves coming back to your web/mobile app.
Then define your answers based on intent
With your own bot, you can work on creating your own replies or taking a few more inputs before replying to your users.
Now you need to make it interactive and humanly
Kompose offers one of the most unique features which ensures we have the most human-like interaction as the receiver is always a human. Allow your users to have a small chit-chat now and then.
Wrap Up

AI-based chatbots are expected to change how users interact with their assets. It is important that these simple interactions are made a lot more professional and interesting. With a customer service bot, you can build robust support for your growth.
---
Kommunicate is a modern customer messaging suite to add live chat and chatbot to your websites and social media pages. You can signup here and start delighting your customers right away.
---