Last Updated on February 2, 2023
58% of respondents in a survey said they would pay more for better customer service – Forbes
Customer service is the cornerstone of any business and what sets it apart from the competition. Consumers who have a great experience with your brand tend to come back for more such experiences. When you prioritize such customer service, you will transform some of your customers into brand advocates. Therefore, when building your customer service chatbot, ensure you are providing a great customer experience to your consumer.
Here we will cover how to build a customer service chatbot to ensure your customers are satisfied with your service.
Chatbot Setup Terminology
To help you understand the process of setting up a good customer service chatbot, let me quickly run you through the basic jargon:
1. Intent: Recognizing what the user is looking for
2. Expressions: How is the customer reacting, positive, negative, or neutral
3. DialogStates: Structure how your bot can answer the query
4. Bot Replies: The actual answer of the bots
5. NLP: AI focussed technique to improve the overall interaction capabilities of the bot
What is a customer service chatbot?
A customer service chatbot is an AI-powered interactive chatbot that is used to answer the queries of your customers. The range of such queries includes, "How many users can I add?", "How much do you charge?", "How can we integrate with Dialogflow?" and more.
Such answers are often answered with the help of the knowledge base or FAQ page of your website. They recognize users' intent and respond with the right answers. With time these bots get trained and recognize diverse forms of the same questions and respond using your preferred voice and tone.
Why do you need a customer service chatbot?
Many of us would have heard the myth about bots replacing customer service agents; the answer is No! These bots now complement these agents to help them do their job better.
Following are the main reasons you should build your customer service chatbot
They can be significant in understanding these interactions and can manage repetitive workflows.
Chatbots can handle simple queries without any significant hurdles.
Today's businesses are global, and understanding every user is imperative. With multi-lingual support, you can take your first step.
They can provide support across multiple channels like websites, apps, social platforms, and more.
They are present 24/7 and offer instant support. Furthermore, your customers will not have to wait for long intervals of time before getting support.
If your business is customer-centric and you face scalability problems, chatbots can help you solve this problem. Furthermore, they help enhance the customer service experience and are economical.
You can also save a lot of money, and your customer acquisition cost will significantly reduce. This can start with investment in artificial intelligence and chatbots to enhance customer experience and save money for your business.
You can also get real-time feedback from your customers and can use it to implement it in your business. It can make revolutionary changes, and you can evolve into a better organization.
Pro Tip: customer service chatbots can be used as an experience prompter based on multiple parameters and ensure targeted messaging.
How can you build your customer service chatbot?
Here is a short video on how you can get started, automate the process
How to use chatbots to connect with customers efficiently
It is essential to use customer service chatbots properly to see favorable results. You can use chatbots to respond to your customers on time. This will enhance their satisfaction, and they will return to you to retake your products and services. Hence, it is especially beneficial for the entertainment, retail, and health sectors. Customer service chatbots are also helpful in enhancing your image and targeting new customer segments.
Building Your Bot
With Kompose, you can build your customer's service bot in 4 simple steps. If you don't have Kompose a/c, please sign up here for a free trial.
1. Create your welcome message
Create your personalized welcome message based on your strategy and ensure every user loves returning to your web/mobile app.
2. Define your answers based on intent
With your bot, you can work on creating your replies or taking a few more inputs before replying to your users.
3. Now you need to make it interactive and humanly
Kompose offers unique features that ensure we have the most human-like interaction, as the receiver is always a human. Allow your users to have a small chit-chat now and then.
Learn more about Chatbot Builder
Best Chatbots for customers
There are a lot of customer service chatbots in the market. Here is a list of the best customer service chatbots you can get for your organization.
There are a lot of customer service chatbots in the market. Here is a list of the best customer service chatbots you can get for your organization.
1. Kommunicate
Kommunicate is one of the best customer service chatbots in the market. It is a versatile yet affordable chatbot that can reduce your operational costs and enhance customer service rate.
2. Hubspot chatbot builder 
Hubspot chatbot builder is chatbot that comes with the facility of live chat software. It can help you book meetings, ticketing, linking self-service, support, articles, and whatnot. It is connected to other tools to help your organization with marketing, sales, and other services.
3. Zowie
This chatbot is capable of giving instant answers to the queries of customers in around 40 languages. You do not need to learn extensive coding to use this chatbot, and it has seamless integration with several messaging platforms. Platforms range from WhatsApp, Facebook, Instagram, and Shopify.
4. TBold 360
The TBold 360 service chatbot is not just limited to pre-written scripts. It uses natural language processing to give intelligent answers and offers personalized conversations to users.
5. Intercom
Intercom provides services such as customer engagement and customer support that are extremely beneficial for a company to target different market segments. Furthermore, Intercom has a special app variant for iOS and Android, making it very flexible.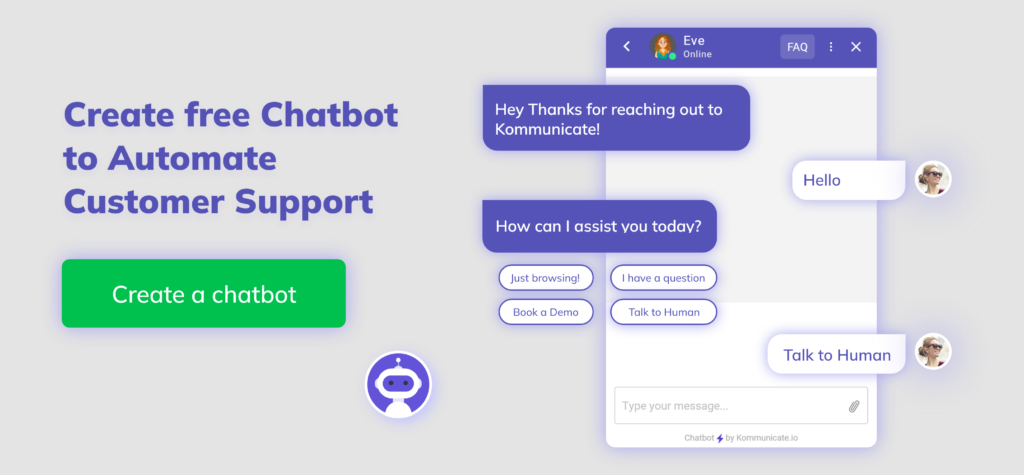 Wrapping up
Customer service chatbots can add up a lot of things in an organization and make it more output friendly. You will see substantial changes after incorporating a customer service chatbot in your organization, as it can help you connect with your customers more efficiently and improve customer satisfaction. Lastly, it is essential to choose the right kind of chatbot for your organization. This decision can make a huge impact, so make sure you take it wisely.
---
At Kommunicate, we envision a world-beating customer support solution to empower the new era of customer support. We would love to have you on board to have a first-hand experience of Kommunicate. You can signup here and start delighting your customers right away.
---