Last Updated on July 18, 2023
It is that time of the year again. The holiday season is upon us. Both eCommerce businesses and customers have lots to look forward to during this few-week-spanning season of festive sales.
Despite the festive cheer and all the customers gearing up to splurge, increasing your sales will not be easy. You will have to manage demand in terms of volume, velocity, and variety. That is not a humanly manageable task and calls for strategic planning and the involvement of Artificial Intelligence. When the right tactic and AI chatbots come together, the stage will be set for your business to make the most of the holiday season sales.
Here are six ways you can increase your eCommerce sales this season:
1. Give attractive discount offers
This is a no-brainer. The holiday season is when businesses introduce new offers that customers will find irresistible. However, how you give these discounts and how customers can avail of them can make a difference to your bottom line. Here are three ways you can use discounts to your festive sales advantage.
i) Personalized discounts
Running a generic discount offer with the holidays as the theme is generic and uninspiring. If you want to win customer attention and spending, you should go into personalized discounts. Thanks to Artificial Intelligence and chatbots, you can easily understand the buying motive of each customer, their past purchase history, etc., and offer personalized discounts based on this.
Customize the discounts based on the customer's recent shopping history
Offer discounts on items left in the shopping cart
Provide gift cards to be redeemed later for every completed transaction
Announce unique product giveaways or discounts for 100th, 1000th, and Xth, website visits or transaction
ii) Tie up with a charity cause
The festive season is also the period of sharing happiness and spreading joy. Most customers, thanks to the festive cheer, will also be interested in contributing to charity causes. Your eCommerce brand just has to provide them with an option and a way to give back. This association will help in improving your brand's goodwill image and help in establishing a positive brand identity.
Here are some ways you can enable your customer to give back along with your contribution:
Give customers to choose between availing discounts or contributing the discount portion to charity
Match each completed transaction with a $X donation to a charity
If it is difficult to manage the charity contribution part, you can always list your store on websites like Goodshop. Goodshop lets customers shop from thousands of stores and designates a portion of the purchase to the customer's choice of charities and schools.
iii) Give special discounts for first-time buyers
Customers are usually keen to find new brands that are offering great deals and discounts for first-time buyers. Turning first-time buyers into loyal customers will extend the lifetime value and your business profitability significantly. The best way to do this is to dole out special discounts for first-time buyers. You can also offer free shipping, freebies, and discounts on complementary products to secure the loyalty of these first-time buyers. Ensure checks and balances to avoid misuse or fraud by existing customers.
2. Create a sense of urgency
The holiday season doesn't last forever. Customers know this too, however, if you want them to make a purchase sooner, this message has to be reiterated. Limited period discounts help with the same.
You can easily increase your festive sales by showing discount timers on the website home page and the top-selling product pages. These create a sense of urgency and help prevent customers from abandoning carts or postponing their purchases.
Another subtle way to create a sense of urgency in festive sales is to instill FOMO (fear Of Missing Out) in customers. This can be achieved by showing a lower 'items left in stock' count and highlighting the same with 'Finishing soon' or 'X pieces left' labels.
It would be hard for customers to imagine a stock out situation amidst the holiday season. Vanishing stock counters can convince procrastinating customers to make a quick decision, thus adding to your sales growth.
3. Run holiday-specific social media shopping campaigns
Until recently, social media remained a channel for running holiday season sales campaigns. Today, with the mushrooming growth of Facebook Marketplace, Instagram shopping, Pinterest shopping, etc., social media shopping campaigns specific to each channel have become necessary.
i) Rope in micro-influencers
Micro-influencers are social media personalities with a follower count of 1,000 to 10,000. The ideal micro-influencer is a known name in a niche and is famous for its expertise and authentic voice. As a result, their followers are loyal and might even interact directly with them. Brands collaborating with micro-influencers have the unique advantage of getting maximum conversions. This is even though the impression count for the campaign will be minimal compared to full-fledged influencer campaigns.
ii) Shoppable Instagram posts
Instagram Shopping is a new-age way of making your products easily discoverable by your target audience. You can use Instagram's newsfeed to turn casual onlookers into interested buyers. Instagram lets you set up a virtual storefront complete with product collections and product detail pages. By adding a shop tag to your brand's Instagram handle, you can start selling to your audience. 
iii) Time-sensitive promo codes as stories
Facebook, Instagram, WhatsApp – almost all social media and instant messaging apps let users share stories that last 24 hours. eCommerce businesses can leverage this content format conveniently to announce time-sensitive promo codes. The automatic disappearance of these statuses after 24 hours means that it is easier to handle to offer while ensuring that customers take notice of the offer.
Furthermore, thanks to chatbots, responding to and handling customers who want to avail of these codes is also easier. These chatbots can also guide customers toward the product page, where the final amount after applying the promo code can be shown.
4. Optimize mobile website experience
According to Statista, in 2021, retail mCommerce sales in the US exceeded 360 Billion. This is expected to double by 2025.
This indicates the growing trend towards mCommerce and the pressing need to optimize the mobile store experience.
Mobile websites have been infamous for several reasons, primarily their sluggish performance, lack of effortless shopping experience, and frictional user experience during checkout.
If your mobile website has any of these downsides, it is high time to fix them before the festive sales rush picks up. Here are some pointers worth trying:
Improve the mobile page loading seed. Google Mobile-Friendly test helps with that.
Use lazy loading of images and videos to improve page loading speed.
Use mobile location to serve localized product recommendations, content, or offers. You can also switch the mobile website language using the regional filter.
Restrict pop-ups and sidebars that occupy too much space and may not be directed toward conversion.
Integrate digital wallets for easier checkouts
If you want to take your mobile experience a notch higher, almost at par with your website, then it is worthwhile to equip it with an AI chatbot. The chatbot can act as a virtual store assistant that helps customers find the product that they are looking for, provide contextual answers to frequently asked questions, and even assist in swift checkouts.
5. Step up your omnichannel game
Omnichannel refers to selling through multiple channels — online, social, and physical stores at the same time. It used to be a modern-concept three years ago and has become one of the most sought-after conveniences by customers. Studies suggest that companies with strong omnichannel retailing retain over 89% of their customers than the companies with a weak omnichannel strategy (Source: Invespcro)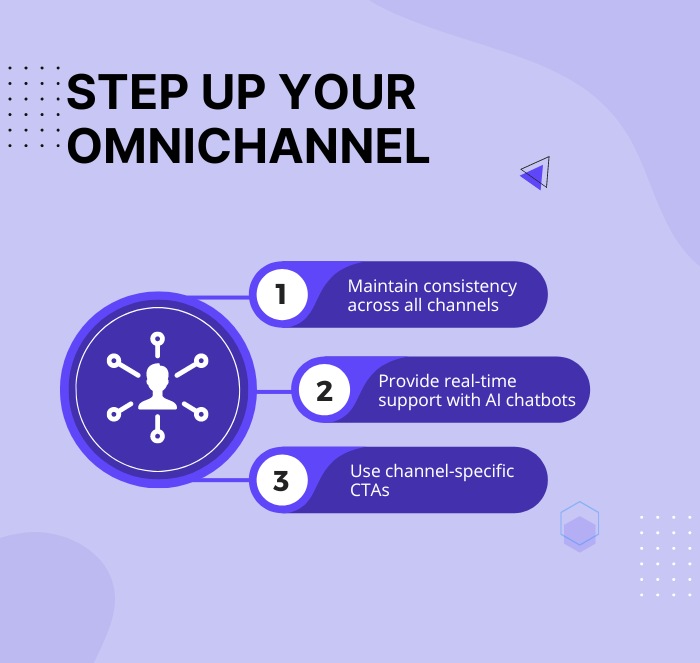 The difference between omnichannel and multiple channels is that in omnichannel, all channels are well-integrated, while in multichannel eCommerce, all channels are siloed from each other. Omnichannel eCommerce allows customers to place an order online or through social and pick it up from the store. They can also follow up on conversations and support the same order through any channel.
Needless to say, omnichannel is a game-changer for eCommerce companies that want to retain their existing customer base and acquire new customers within a short period, that is, the festive season.
These four pointers should help you nail the right omnichannel commerce experience;
1. Maintain consistency across all channels.
Be it your website copy or your social media handle cover, the color presets, the content's tone and voice, and the product positioning should be consistent everywhere. To put it differently, if your customers are checking out your website and then visiting your store, they should look and feel the same, except for the physical look and feel.
2. Provide real-time support with AI-chatbots
Chatbots have become popular across the eCommerce domain primarily because they favor two-way communication. Erstwhile customer support systems did not allow the customer to be heard and spoken to. The experience was bland and uninspiring. With AI chatbots, any eCommerce business can easily provide real-time customer support to their customers. This includes prospects visiting the website for first-time or existing customers who want to look up an order status.
3. Use channel-specific CTAs
Website, social, and mobile apps have different mood boards. Customers use them in different contexts and for various purposes. Their willingness to make a purchase decision also varies according to the channel. As a result, it is necessary to use channel-specific CTAs that will appeal directly to the user behavior.
For example, on the online store, the CTA would be to 'Add to cart' or 'Shop now'. On social media, the CTAs could be generic, asking the customers to interact with the brand more, like "Follow Us" or "Subscribe to our product newsletters".
6. Analyze your competition
Every business owner worth their salt knows that they should be a few yards ahead of the competition. eCommerce is a hyper-competitive field. Customers have endless alternatives to pick from. It is also tough to get prospects, and they can be easily lost. To keep your brand always on the radar of your customers and to be head of the competition, it is necessary to keep an eye on them at all times.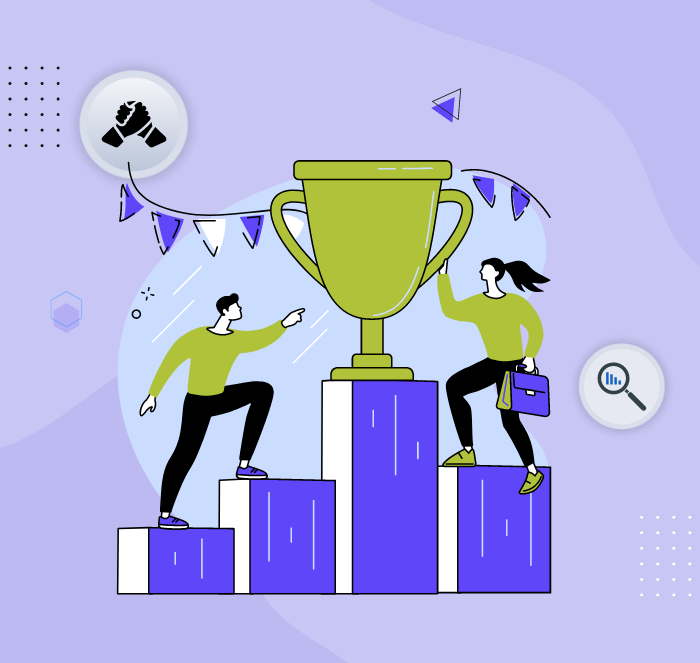 Competitor research can be done in several ways. Doing a thorough analysis of their online store is the first step. To get more insider information on how your competitors work, you may also use mystery shopping tactics wherein an individual carries out a transaction like a proper customer to understand the business policies better.
Additionally, revisit the competition's last year's social timeline to see what kind of campaigns they ran and how they fared. It might give cues to the common themes and patterns they adopt in festive season marketing.
If you want more insights about what customers love and hate about your competition, look deep into their product reviews. Look out for common patterns in praises and complaints. They can hint at your competition's strengths and weaknesses that you could leverage. For example, if the competition provides delayed deliveries, you can position yourself as a brand that promises the shortest deliveries possible. The idea is to be unique and better than the competition, and only research can help you identify that uniqueness.
In a nutshell
Remember that adage? "Customer is king/queen". There is no denying it. Online shoppers with myriad forms of channels and alternatives to pick from are spoilt for choices. You can only get them to transact with your business by outranking your customers in customer service.
With great customer service in place, the above tactics can add to your strengths. They will ensure that you reach the right customers, treat them right, and make them return asking for more. As mentioned earlier, the festive season is a short-term sales opportunity. But, if you make the most of it, you might be able to earn revenues that could surpass the rest of the year's revenues.
Happy holidays, happy selling.
---
At Kommunicate, we are envisioning a world-beating customer support solution to empower the new era of customer support. We would love to have you on board to have a first-hand experience of Kommunicate. You can signup here and start delighting your customers right away.