Last Updated on August 2, 2023
Building an eCommerce website is a humongous task. Scaling revenue for the business by increasing sales is yet another uphill task. Don't fret. There is a solution. Through a dropshipping business and dropshipping websites, you can ensure that your products are available for purchase to a broader set of customers. You can tap into newer markets, geographies, and even niches without scaling the marketing operations on your own.
If you are clueless about which dropshipping store to go to scale your eCommerce store's revenue, here are some options you can try. This is a list of the best Shopify dropshipping websites that can augment your eCommerce store's ability to win more orders and boost sales.
What is a dropshipping business?
Dropshipping is a very innovative business model in which the products sold by a retailer are manufactured, stored, and transported through a third party. In a dropshipping business, the online seller buys a single order instead of bulk quantities from the manufacturer only after the payment is processed and confirmed by the customer or the buyer.
You can connect with several dropshipping websites worldwide to expand your customer base. It is an excellent way of saving time and effort, especially for businesses that have just started. It provides them with an added platform to sell their products to people worldwide.
What are the benefits of dropshipping business?
Dropshipping business is highly advantageous for merchants looking forward to expanding their market segment. Other than this, it also has tons of benefits which include the following-
1. Low operational costs
There is low risk associated with this business. Orders are initiated for dispatch only after the payment is received from the customer's end. All of this is done through your dropshipping website. This means that there is no risk of fraud.
2. Less startup capital required
This business doesn't require you to purchase bulk products for display. All you have to do is initiate the dispatch of the product only after you have received the payment. You do not have to manufacture or store your products in advance. This saves a lot of money, and you can invest whatever you earn. This prevents a lot of merchants from falling into a debt trap.
3. Location flexibility
There is no restriction on working from a particular location as you are not the direct supplier. The existence of an online platform between you and the customer gives you a lot of flexibility. Your business is operated with the help of your drop shipping website, and you do not have any warehouse or storehouse location. You do not even need a proper office or a shop to sell your products.
4. Highly profitable
Online platforms list their best-selling products on the top. This means that you can quickly assess which products are trending in the market with the help of your dropshipping website. This way, you can list similar products from your manufacturing and earn higher profits.
The 5 best Shopify dropshipping websites
Here are five of the most popular and successful Shopify dropshipping websites:
Haus London helps customers find unique furniture models from European suppliers. The dropshipping website, like the furniture listed in the store, looks aesthetic, appealing, and also worth its price. Haus London tries to strike a balance between exotic furniture brands and local suppliers to provide its customers with both chic and affordable options.
What should we learn from this store:
The use of plain white background to present colorful furniture in their best form
The use of hidden text that appears upon mouse hover
Neat product segmentation that facilitates both product discovery and purchase
What could have been better:
The static left sidebar is slightly obtrusive to the overall website's design
The universal search bar needs to be placed horizontally atop the first fold to make it more prominent
They have not shown customer testimonials of the latest purchases as social proof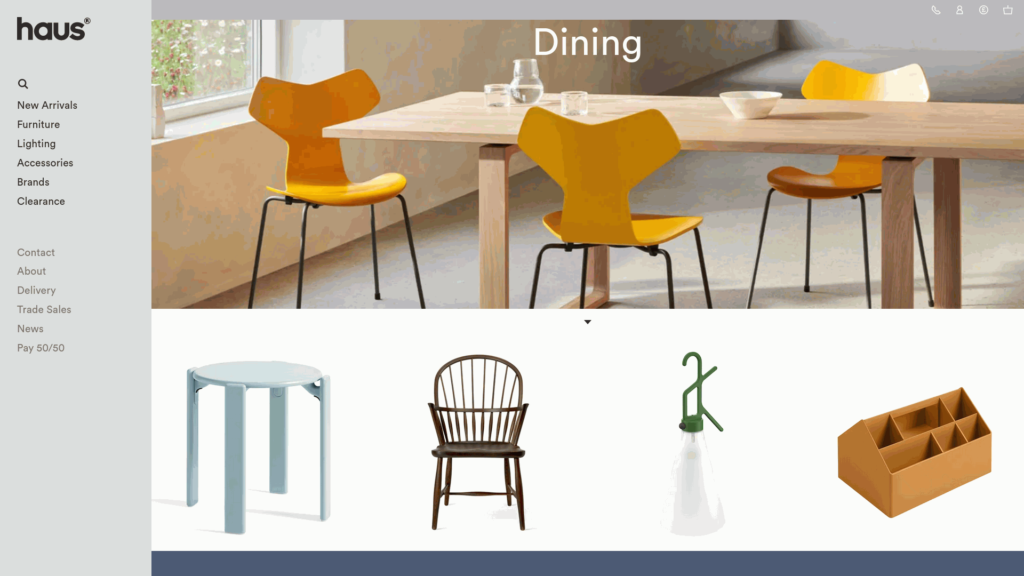 With more than 1000 products in its store, Aesthentials is a classic example of how a product with a unique vibe and one that attracts a specific audience can work wonders with a good store design. The brand makes it a point to use mild color tones that makes the product more appealing to customers. The store sells unique athleisure clothing that is becoming a trend among millennials. They are easy to source. However, quality is always a matter of concern and depends on these suppliers.
What should we learn from this store:
Great use of color tones to display the mood of the products that they are selling.
Use of funky fonts and overlays that stays true to the brand's value prop
A greeting pop-up that gives away offers to website visitors
Live chat feature for always-on support
What could have been better:
The product images are not clickable, thus obstructing the customer journey.
The CTAs are spread across the website without a strategic positioning, which can improve conversion.
They need to display Customer testimonials or social proof. The best dropship stores display a lot of social proof.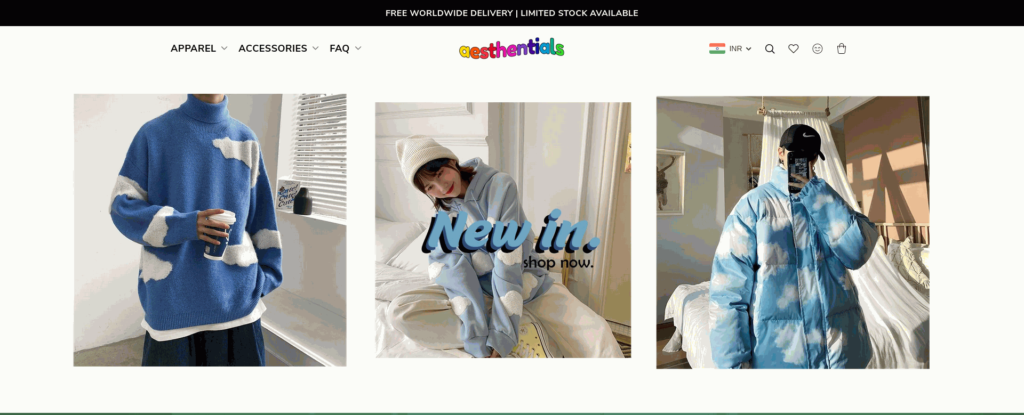 The world can't have enough socks. Mooshe socks offer a wide range of fun-filled, quirky, and customized socks that are comfortable and good-looking at the same time. The Mooshe socks website might look like an ordinary website, but for someone looking to buy socks, they provide a simple and hassle-free shopping experience.
What should we learn from this store:
The simple website navigation bar also leads to specific types of products
Direct CTAs to newest arrivals
A clear indication of a universal size that fits all
A monthly club subscription that sends new designer socks to subscribers
What could have been better:
Display customer images sourced from social media
Bundle socks based on types, color, combo packs, etc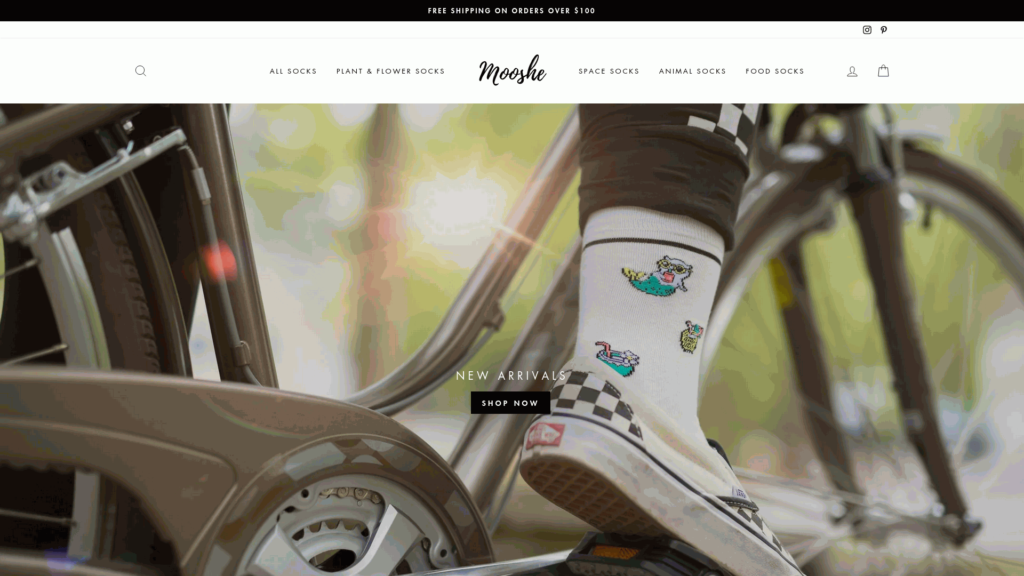 Inspire Uplift is a general store selling a wide variety of generic products. From art to home repair, everything can be found. Such a general store is usually difficult to build and host since product navigation, pricing, offers, and much more are difficult to manage. However, Inspire Uplift seems to be doing it right as a dropshipping store.
What should we learn from this store:
A universal store theme that suits all product types
Displaying star ratings, price, and stock availability on the product card
Offering free shipping and live chat support
What could have been better:
Showcase a section that depicts trending products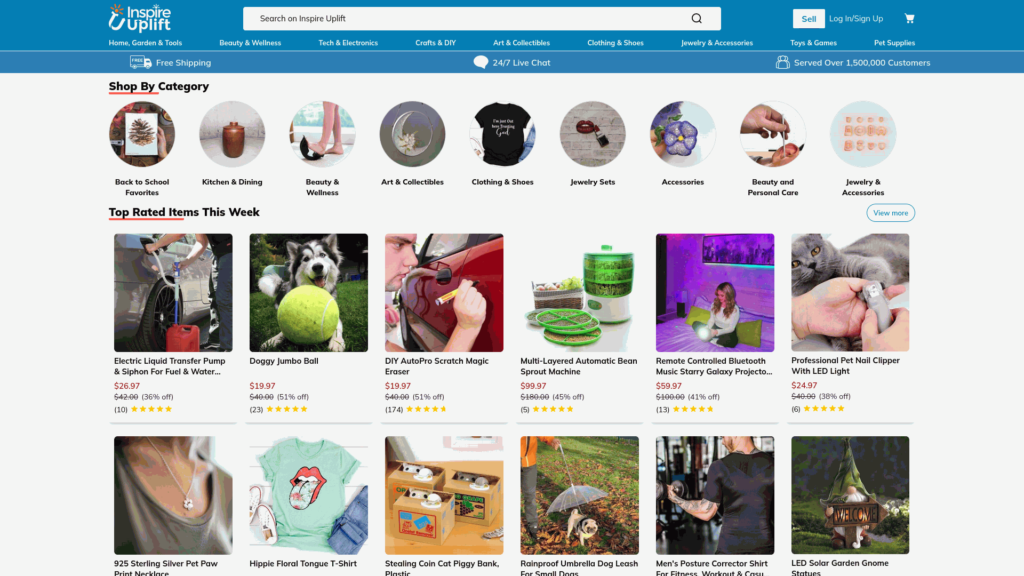 The list of most successful dropshipping products includes quirky and unique stuff. What can be more quirky than mini-me dolls or custom face skins? It is exactly what Blue Crate has been selling to its growing customer base. And their website is a testament to how a simple design can help win at eCommerce.
What should we learn from this store:
Prominent filters to sort and filter products by type, price, availability, name, etc.
Real-life product images that make it easy for customers to make a buying decision
What could have been better:
An infinite scroll that will allow users to discover new products without redirecting them to another page
Providing detailed product information about the material, warranty, wash instructions, etc.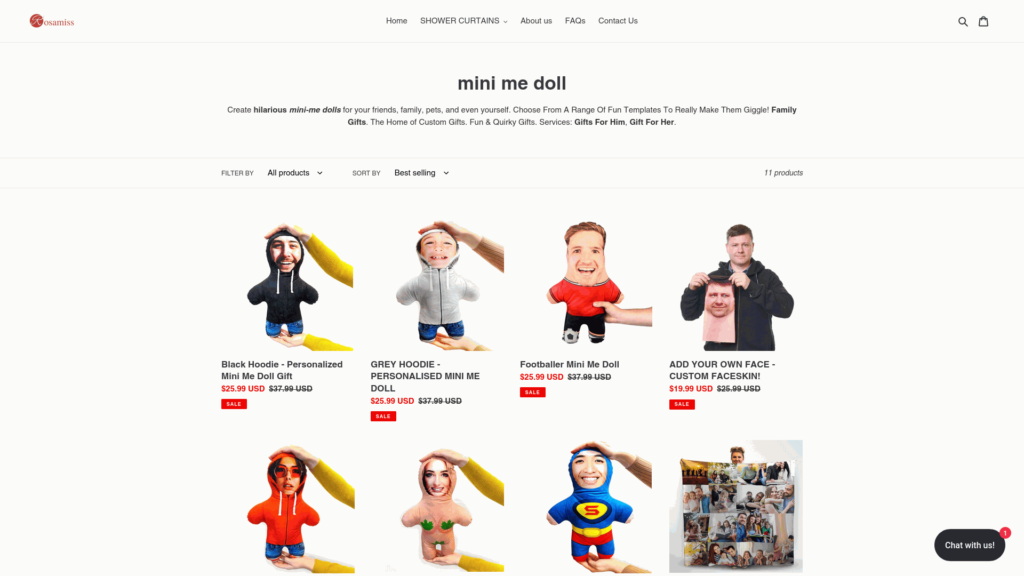 There you go. A list of the best dropshipping websites you can use as inspiration while building your own Shopify dropshipping store.
How to find dropshipping suppliers?
While looking for the perfect dropshipping supplier, you will find various options from the United States of America to the United Kingdom to China. It's very obvious to get confused between so many options. Scalability is also a significant factor when selecting a Dropshipping supplier. You must figure out if you want to associate yourself with a Dropshipping website that is well known or a dropshipping website that operates on a smaller size. You must also be aware of a lot of scammers and see Dropshipping websites that are available online.
How can you spot a fake dropshipping supplier?
If a dropshipping supplier asks you for preorder fees or some money in advance, it's probably a fake one. Also, dropshipping suppliers that are not organized and don't use famous and authorized SEO tools are untrustworthy. A dropshipping website with small order sizes is also not a great choice. These are some factors that you must remember while getting associated with the dropshipping supplier to check their authenticity
What makes a dropshipping website tick?
You might quickly learn how to build an eCommerce website. But, building a dropshipping business requires more effort.
Like any eCommerce business, certain traits make a dropshipping store tick. Here are five of them:
1. It offers unique products
It all begins with the product. The dropshipping store must offer something unique that customers cannot find in usual and popular online stores. The product offerings would be the main USP of the dropshipping website. Take, for example, Shopify stores for collectible sneakers.
2. It ranks high on search results
Most Shopify stores get their sales by deploying Shopify marketing tactics emphasizing organic traffic. As you know, organic traffic is the number one source for deals. Organic traffic is almost free, has a high rate of conversion, and is also considered to be ideal for long-term growth. As a result, a dropshipping business wants and archives high rankings on search engine results in all popular search engines. 
3. It is super-optimized for conversions
They say bringing a customer to the store's landing page is half the battle. The rest of the fight is in optimizing it for conversions. Dropshipping websites deal in volumes and hence have super-optimized landing pages that attempt to convert any customer that lands on the store's landing page.
4. It offers a top-notch customer experience
Dropshipping stores rely on repeat customers. Repeat customers help keep costs low and make the business grow faster. Also, studies by Invesp have found that increasing customer retention by 5% can increase profits from 25-95%.To retain their existing customers, dropshipping stores go the extra mile to deliver a top-notch customer experience.
5. It has sufficient social proof
Social proof consists of online reviews, customer ratings, star ratings, etc. They indicate what customers feel about the store and its store. It is an unbiased reflection of the effectiveness of the dropshipping store and helps gauge whether it is a good idea to associate with it.
How to kickstart your dropshipping website?
As a standalone business, dropshipping is a profitable venture. You have a minimal investment in inventory or in running day-to-day operations. However, getting the dropshipping website up and running is a tricky matter. Thankfully, eCommerce platforms like Shopify make it easier to build and run dropshipping websites.
Here are some pointers to remember when it is time to kickstart your Shopify dropshipping store.
Find a niche
Trying to sell everything through your online store is not a good idea. Focus on a specific niche or a handful of niches that you can manage. Try to specialize and scale the scales in that niche.
Find a dropshipping supplier
A dropshipping supplier would be the manufacturer or the supplier of the goods you sell through your dropshipping store. The supplier must be capable of supplying any desired quantity of products and must have a reputation for quality.
Build the online store
With Shopify, this is easily done. You have to sign up for Shopify, pick the right pricing plan that suits you, and build the online store with the countless themes and templates available on the platform.
Scale marketing
For dropshipping to succeed, marketing should happen on a large scale. It would act as the primary source of website traffic and leads. That said, marketing can be approached in two ways, through paid demand-gen, which, although expensive, offers instant results. The alternative option is to drive organic website traffic, which can serve for the long term and can also drive sales.
In a nutshell
For drop shipping to succeed, marketing should happen on a large scale. It would act as the primary source of website traffic and leads. That said, marketing can be approached in two ways, through paid demand-gen, which, although expensive, offers instant results. The alternative option is to drive organic website traffic, which can serve for the long term and can also drive sales.
The best dropship stores have high conversion rates and less cart abandonment. The dropship stores listed above must help you know the best practices for building a dropshipping website and the pitfalls to avoid.
---
At Kommunicate, we are envisioning a world-beating customer support solution to empower the new era of customer support. We would love to have you onboard to have a first-hand experience of Kommunicate. You can signup here and start delighting your customers right away.