Last Updated on November 9, 2023
You don't really have to own an online store to sell online. There are several online selling sites where you can list your products and start selling instantly. Businesses like Amazon, eBay, Etsy, Walmart, etc., work on the same principle. They do not own inventory but sell inventory that belongs to vendors listed on their website.
You can attribute the massive growth of e-commerce to these online selling sites. Customers find it extremely convenient to go to an online store to buy everything they need. In fact, you a generative AI chatbot such as one powered by Kommunicate makes it even more easy to buy things online these days. There is no need to keep a tab on the offers and discounts offered by multiple stores selling diverse products.

Is it convenience that is making these online selling sites tick?
There are more reasons that convince customers to purchase from these online stores.
Brand recognition – The more popular an online selling site is, the easier for a customer to consider it. After all, the majority is most often right.
Trust and reliability – Most online selling stores give a guarantee of selling original and genuine products. They also offer free returns, money-back guarantees, and similar facilities that make customers trust them more.
Customer service – Online selling sites thrive because they provide superior customer service. From order tracking to dealing with refunds, online stores have stringent policies to ensure the best customer service possible for customers.
All said it is a good idea to sell your products through these online selling sites. It spares a lot of effort and gives an easy way to market your products.
Here are some online selling sites you can consider:
Amazon has earned the moniker 'the everything store.' It is a well-deserved title for an online store that sells almost anything and everything under the sun. Although Amazon started as an online books-selling store, today it is the planet's biggest online store selling electronics, fashion, footwear, home improvement products, and whatnot.
Amazon is renowned for its stellar customer service and several value-added services like 'Prime.' As a customer with Prime, you get same-day delivery, easy returns, member-specific offers, and much more.
Amazon's seller program is also said to be one of the best in the industry. Apart from reaching millions of customers directly, Amazon also offers secure payment handling, order shipping management, etc. easily. Fulfillment by Amazon (FBA) is another unique offering wherein Amazon takes care of picking, packing, and delivering the product to the customer. They also charge a commission for each sale, which typically starts from 2% and varies based on the product category.
Learn about the Amazon Lex chatbot integration from Kommunicate
If you want to sell unique, handmade, craft-based, quirky items, then Etsy is the right destination for you. The store has earned a reputation for itself as an online store where one can find personalized gifts, unique decor items, minimalist products, and much more. In other words, you can build your Pinterest-inspired home interior with Etsy.
Etsy also has a great seller-friendly program. You can list your product for as low as 0.20 USD. Further, you have to pay transaction fees, off-site advertising, and payment processing only when a transaction is complete. Etsy also offers an 'Etsy seller app' on Android and iOS to help manage your business on the go.
Yet another e-commerce giant originally set up to sell goods and services is eBay. However, today, it also allows users to host online auctions to buy and sell goods. Either way, it offers a robust platform to host products and sell them to a large customer base effortlessly. The kind of products bought and sold on eBay includes electronics, cars, fashion products, and jewelry, among many others.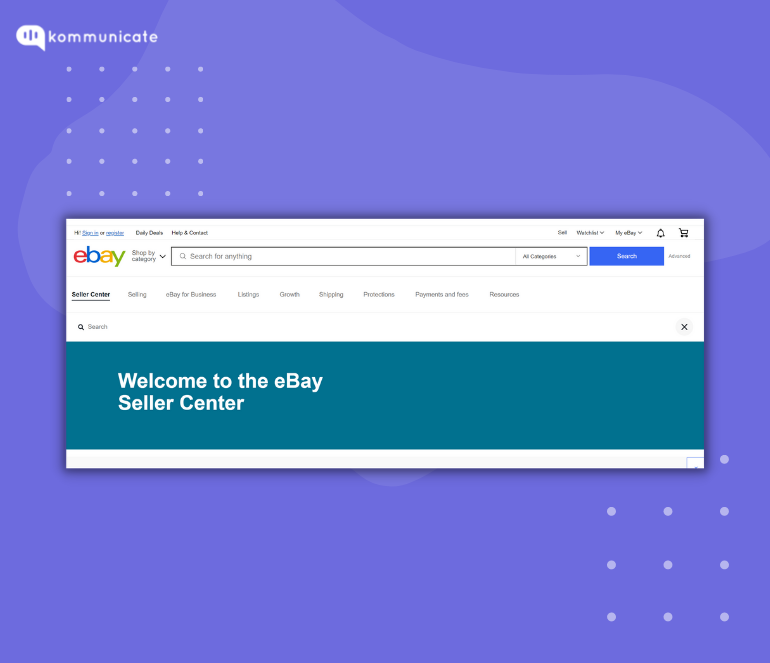 For sellers, eBay offers what is known as seller protection which includes policies, monitoring, and customer service that will ensure the smooth functioning of your online selling activities. Also, as a seller, you can schedule when you wish to get paid for your sales — weekly, bi-weekly, or monthly.

At some point, you might want to set up your own online store and start building a brand identity. After all, it is a brand identity and dedicated customer service that has made other e-commerce brands successful. Shopify lets you build your own online store easily and without any coding or development background.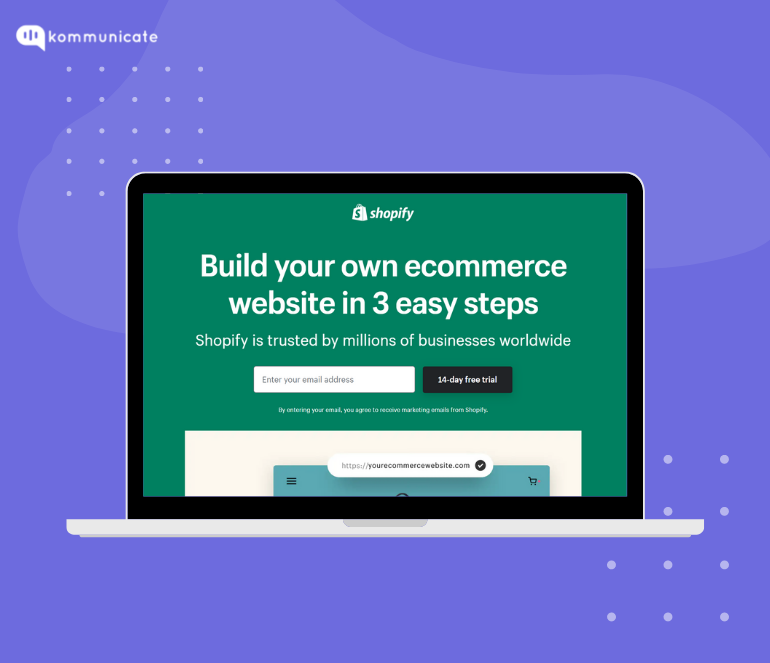 Shopify acts as an e-commerce platform that offers pre-built online store website themes with fully integrated payment gateways, order fulfillment, and several other apps to run your online store easily. To augment your store productivity and customer experience, you can also integrate chatbots into your Shopify e-commerce website. A clean UI, full-on security, and the support of a great Shopify community make the platform a great choice for online sellers. To ensure you get the most out of your Shopify website, you can integrate a chatbot using Kommunicate.
Wish is frequented by customers who want inexpensive and high-quality products. It is a good platform to opt for if you have generic or even lesser-known branded products to be sold at scale. From fashion to gadgets, and home improvement tools, you can find countless categories to sell on Wish.
To become a Wish merchant, you have to fill up their questionnaire. Wish reaches back to those merchants whom they deem fit to join their online marketplace. In other words, you can become part of Wish only if you are a trusted and reliable seller.
Sam Walton's Walmart can be rightly called the legend of retail. Their online store is also known for offering a wide range of electronics, clothing, books, and digital products at affordable prices. Walmart's marketplace allows anybody to start selling online.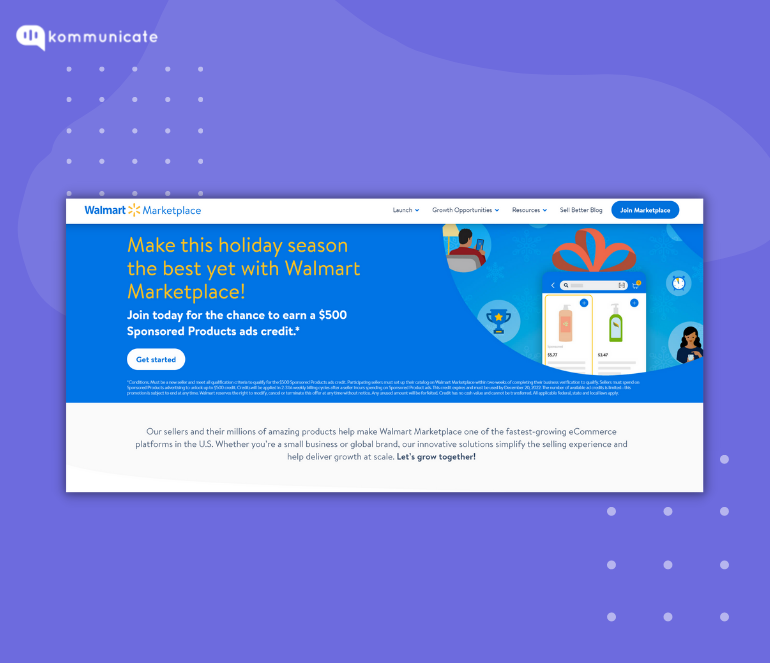 Like most e-commerce stores, Walmart helps sellers improve their product discoverability, order fulfillment and manage payments easily. The USP of selling on Walmart is their ZERO monthly set-up fees.
Target is another global retail chain that joined the e-commerce bandwagon in 2019. Although younger than most e-commerce brands out there, Target's marketplace called Target+ is a great channel to sell your products to a huge customer base.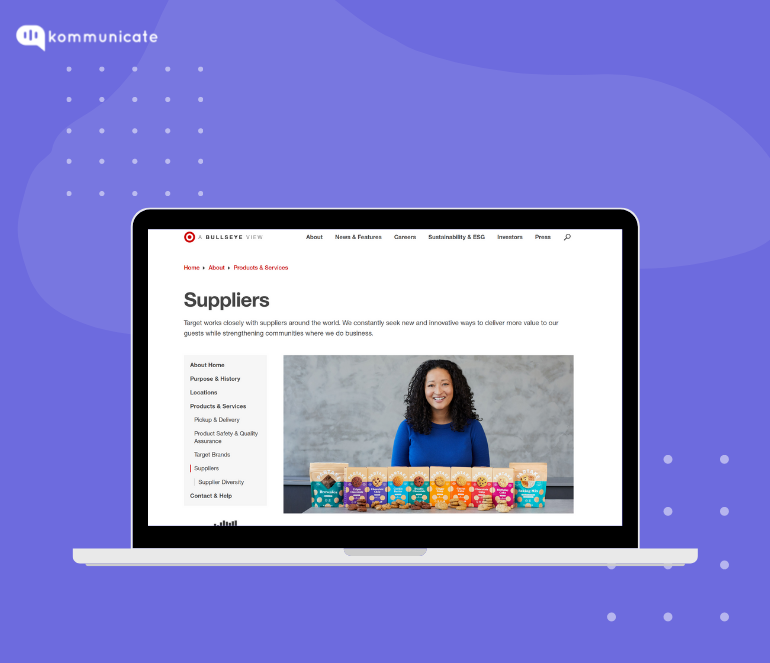 To become a Target marketplace vendor, you have to submit an application form available on their website, which, when approved, will enroll you as a vendor.
In the hyper-competitive world of e-commerce, where margins are thin, Zola tries to make a difference by targeting those who are tying the knot shortly.
Zola is the home for all things weddings. It is a classic example of how choosing a niche segment can help capture a market.

While most online stores try to sell anything and everything, Wayfair tries to sell furniture, which has remained largely a product sold exclusively through offline channels. However, Wayfair makes online selling easier with an attractive website layout focusing on offers, popular choices, and season-based offerings. Wayfair also takes vendors who want to sell their unique furniture through the website.
Facebook, the world's most popular social network, also doubles as a marketplace. Vendors trying to sell their products or individual users trying to sell their pre-owned goods can find buyers easily on the marketplace platform.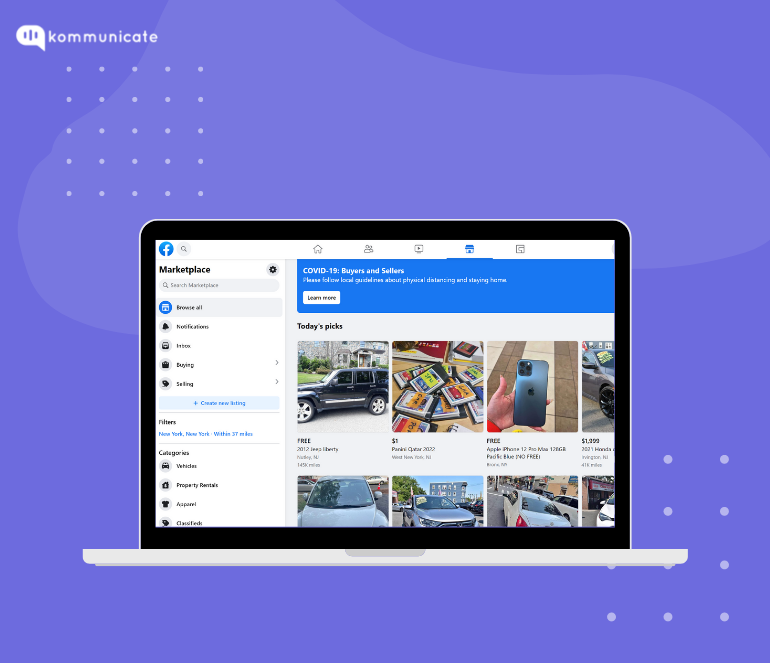 Thanks to Facebook's integrated messaging, it is easier to communicate, do background checks on the buyer and close the deal. You can use Kommunicate's Facebook Messenger chatbot integration and ensure your customer's queries are answered immediately.
Magento, which is owned by Adobe, has been a favorite for businesses that want to launch their online stores. It is a compelling e-commerce building platform that offers great capabilities for both B2B and B2C categories.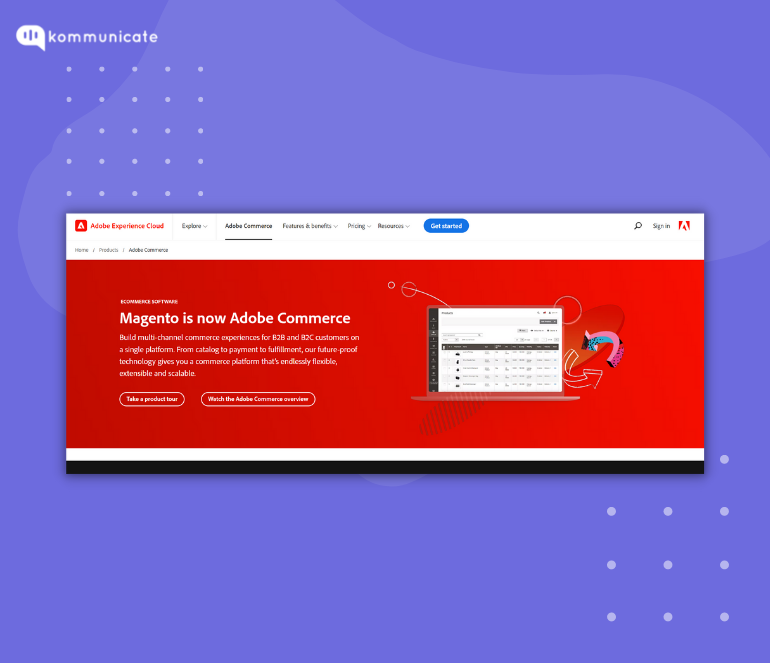 Although it requires development expertise, the effort and time invested results in creating e-commerce websites that are robust, secure, and easily scalable.
Read about Kommunicate's Magento chatbot integration
60% of the websites on the internet use WordPress as their CMS. Woocommerce is an e-commerce plugin from WordPress. So, it is easy to imagine how user-friendly and capable this e-commerce platform should be for online selling. WooCommerce offers plenty of out-of-the-box themes and extensions that can easily thrust your online sales forward. You can build your Woocommerce chatbot using Kommunicate as well.
Few e-commerce platforms have achieved the scale and size of BigCommerce. It is a NASDAQ-listed e-commerce platform that provides various services, including online store creation, SEO, web hosting, marketing, and much more. Consider it to be a one-stop solution for all things e-commerce. Further, they also have a growing network of partners who can fill in and provide any service the platform may not offer. You can build a great Bigcommerce chatbot using Kommunicate.
Volusion is an alternative to e-commerce building platforms like Magento, WooCommerce, and others. The platform allows businesses to set up online stores to compete with secure payment processing, checkouts, and order management. There is a 14-day free trial with no credit card trial option to checkout Volusion.
Globally, there is a huge fanbase for open-source software. Open-source software lets users build and use their own software programs almost for free. OpenCart is an open-source shopping cart solution that allows small-scale businesses to build online stores and sell their products with ease. Being a PHP-based e-commerce solution, there is no dearth of talent for OpenCart development.

One of the key prerequisites of buying and selling online is trust. Social proof drives online selling. And it is this USP that StoreEnvy is offering to its customers. It is a socially-driven e-commerce platform where popular Indie brands showcase their products. StoreEnvy also allows users to create their own marketplace store for free.
Yo!Kart is a multi-vendor e-commerce software that you can use to build an online store like Amazon, eBay, and the several popular ones we have listed above. Unlike most online stores that have one brand, Yo!Kart lets you build multiple stores using a single e-commerce solution.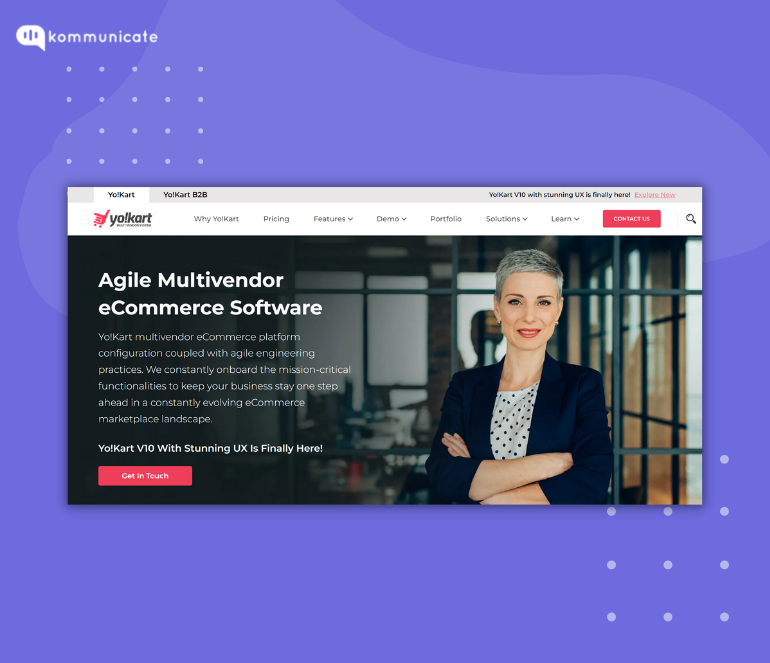 Prestashop is also an open-source e-commerce platform with the difference that it is offered on a freemium basis. Written in PHP language, it supports MySQL and hence is considered a good option for those who want to customize their e-commerce store's backend extensively. Top brands like Lenovo, and Red Hat Inc, have built their online stores using Prestashop.
Rakuten is a Japanese e-commerce giant with revenues crossing $2.7 Billion. The store also allows business owners to open their online stores on Rakuten.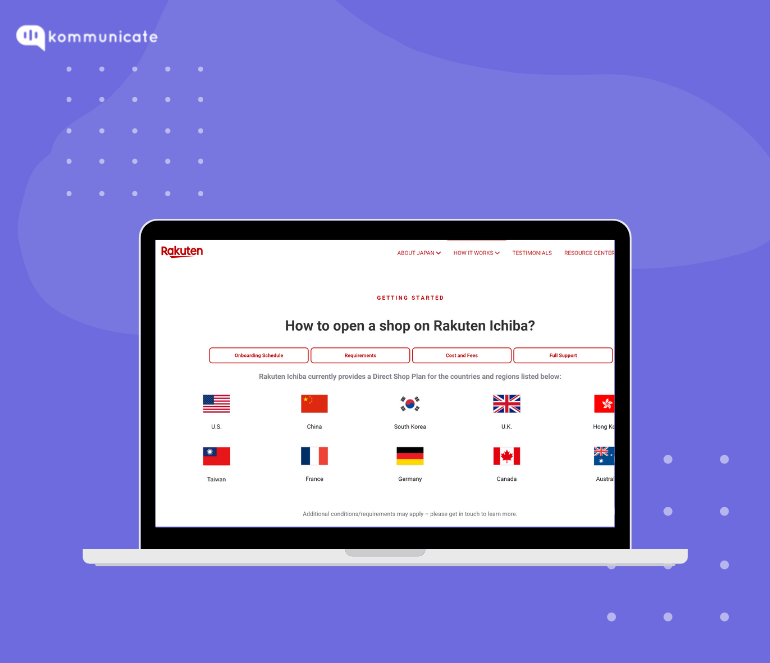 There are 10 countries in which Rakuten currently operates. They charge a registration fee, monthly fixed fee, system commission, and other extra charges to enable online sellers to start operations.
No discussion on e-commerce would be complete without the mention of Alibaba or Aliexpress. The founder Jack Ma built it with the vision to support small businesses to use e-commerce as a growth lever. While Alibaba operates in the B2B space, Aliexpress serves B2C customers. Apart from these differences, their modus operandi remains almost identical.
Shein is an online store that sells fashion clothing and accessories exclusively to women. Inexpensive and affordable products are the USP of Shein.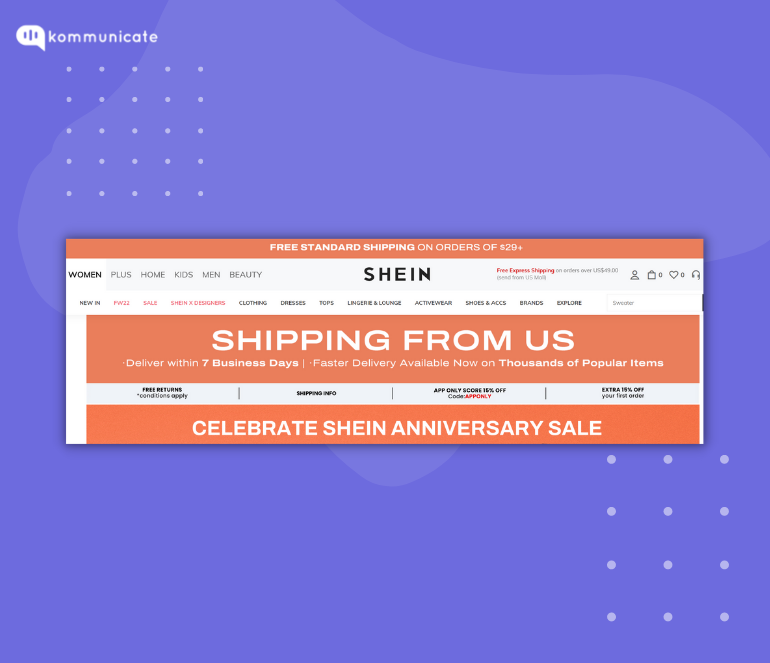 Shein allows users to resell products on their platform, thus doubling up as a source to earn revenue. Although a global brand, there are certain locations where Shein has curtailed operations.
Zalando sells shoes and fashion products. The brand has its own private-label products, which were bundled with partner brands in 2019. Zalando also allows businesses and individual customers to sell their new or pre-owned products on their platform. For pre-owned products, there is a ceiling limit of 20 items in a sell box. If you're a seller, you will receive payment in the form of Zalando credits that can be used for further shopping.
While most online stores and e-commerce solutions focus on setting up the business, PinnacleCart focuses on facilitating growth.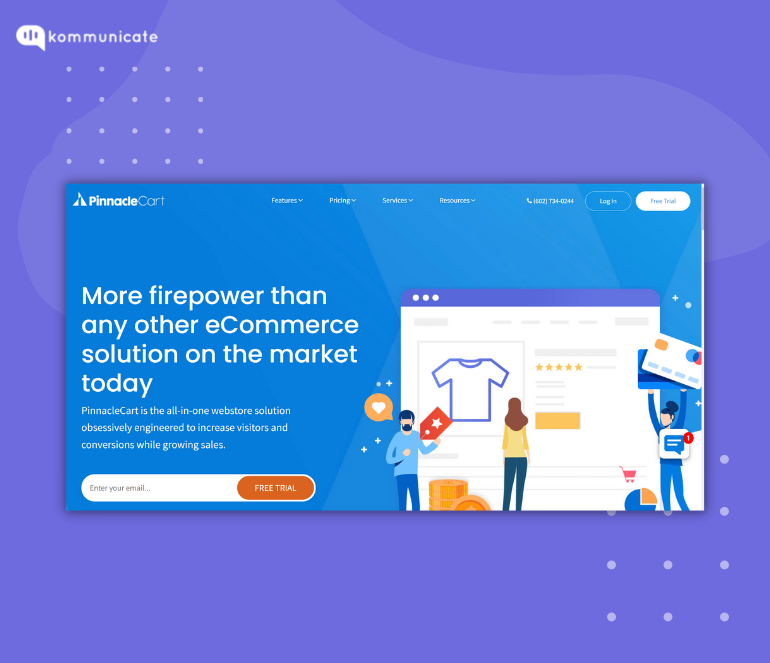 It is a unique e-commerce solution that is aimed at increasing website visitors and conversions for the store. That said, PinnacleCart has virtual storefronts and growth-centric features that can help any business sell online better and faster.
One of the online selling sites Cratejoy targets hobbyists and their passions. They offer products across several categories, including food & drink, entertainment, holiday gifts, etc. Also, they have surprise gift boxes that are offered on trial before signing up for a subscription. Selling on Cratejoy is also a profitable proposition since the brand does not charge a monthly fee, instead charging only a transaction fee.
Sears started as a departmental store in 1892 and has ramped up its operations with an online store. Similar to Walmart and Target, Sears sells almost all product categories.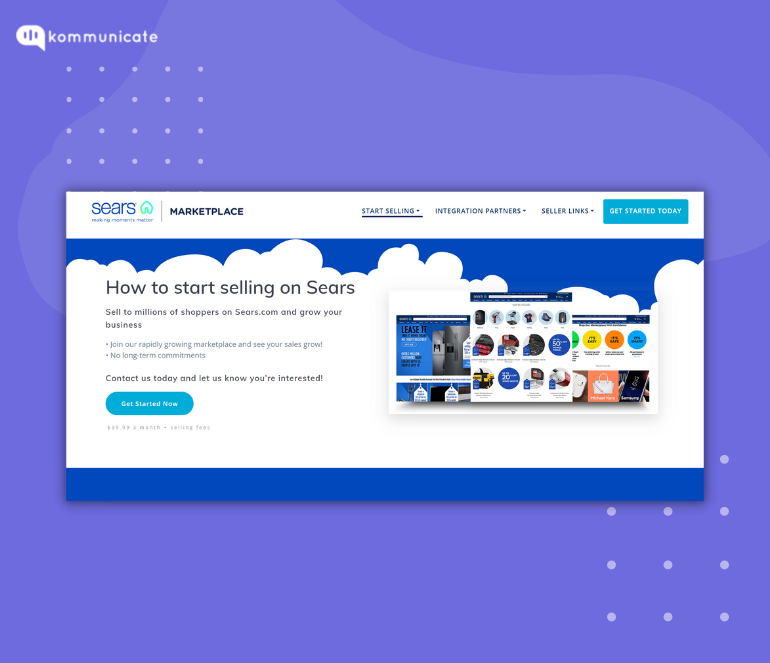 Sears allows sellers to get onboarded and start selling for a monthly program fee of $39.99. Of course, not all sellers and products are accepted. However, there is a vetting process after the registration and before sellers can begin selling on the platform.
26. Decluttr
If you are in the market looking to buy or sell refurbished electronics, then look no further than Decluttr. The website has a simple user interface and allows you to buy or sell your old electronic items, for a small amount of money.
What sets Decluttr apart is that you are selling directly to Declutter using this platform. There is a valuation of your item that takes place and the website will pay you based on this valuation. There's separate sections to sell Apple products such as iPhones, and even the new PS5.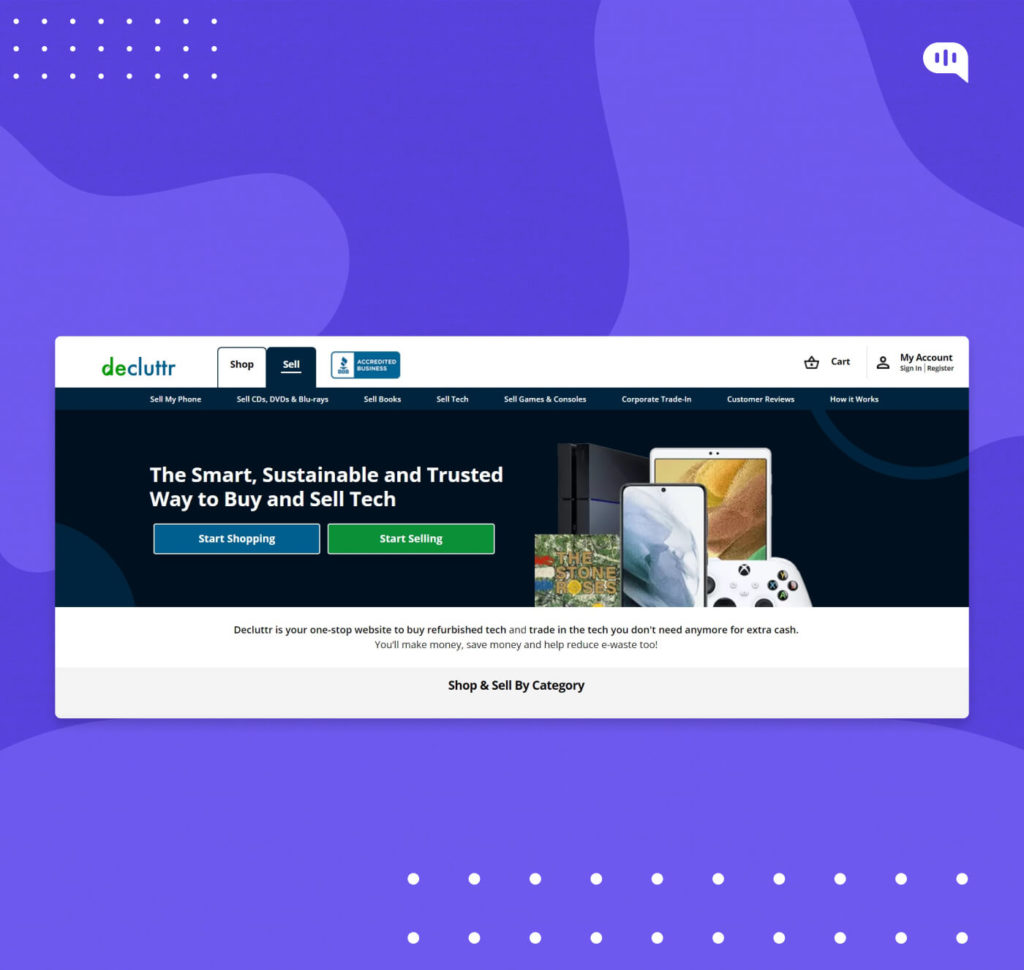 27. Ruby Lane
If selling or buying antiques is on your mind, then you can give Ruby Lane a try. There are different sections such as "Collectibles," "Jewelry," "Arr," "Dolls," "Silver" and even "Porcelain."
In 2019, Ruby Lane got the title of "One of the best places to sell online," . The site has a good 4.6 rating on TrustPilot, and it claims to have one of the finest antique doll dealers on the web.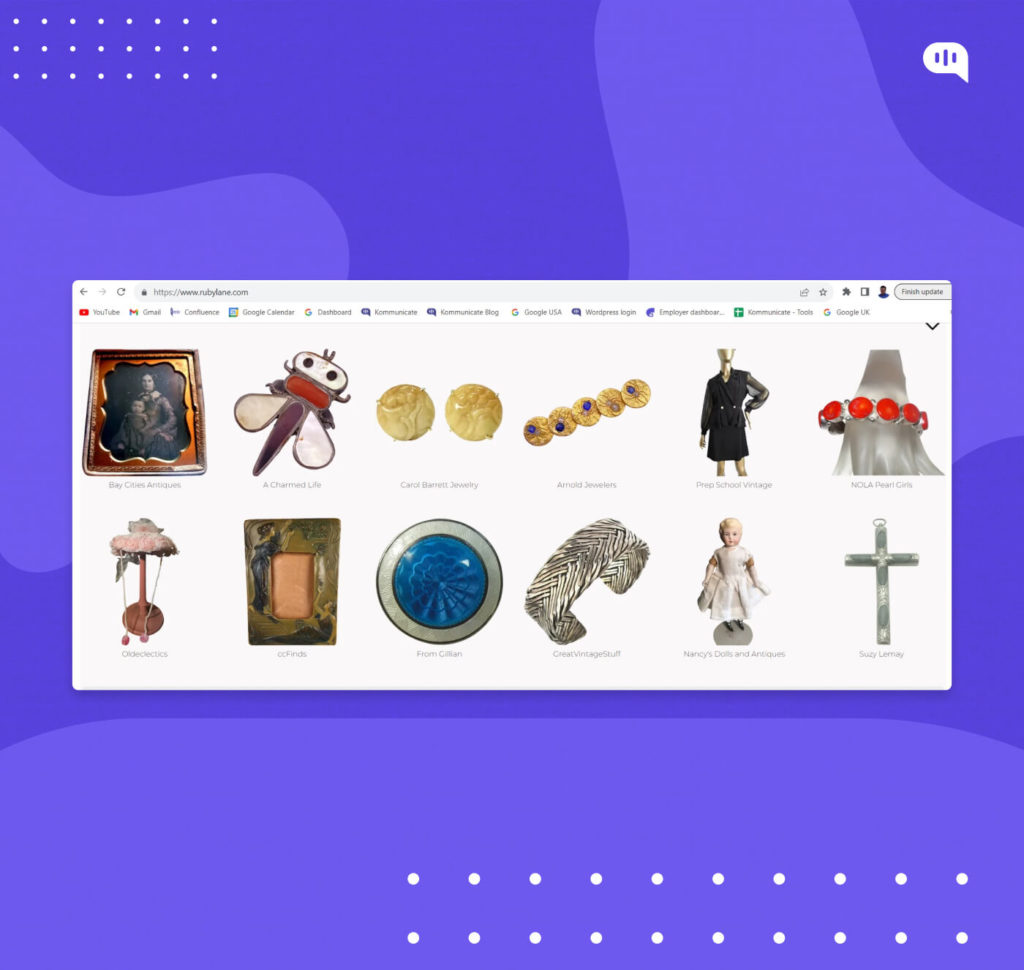 28. Poshmark
If you are in the US, Canada or Australia and are looking for a nice Alibaba-like solution that primarily focuses on clothing, shoes and accessories, then Poshmark is where you must hang out.
Poshmark touts itself as a social commerce platform. This means users can interact with each other by liking, commenting or sharing items. Another unique feature that sets Poshmark apart is that when a user selects an item and shares the price with their followers, their followers can make offers on the item.
The seller can even make a counter-offer, and when both the parties are happy with the price, the seller can ship the item to the buyer. With 80 million registered users and over 25 million organic website visitors a month, Poshmark is blazing ahead in its game.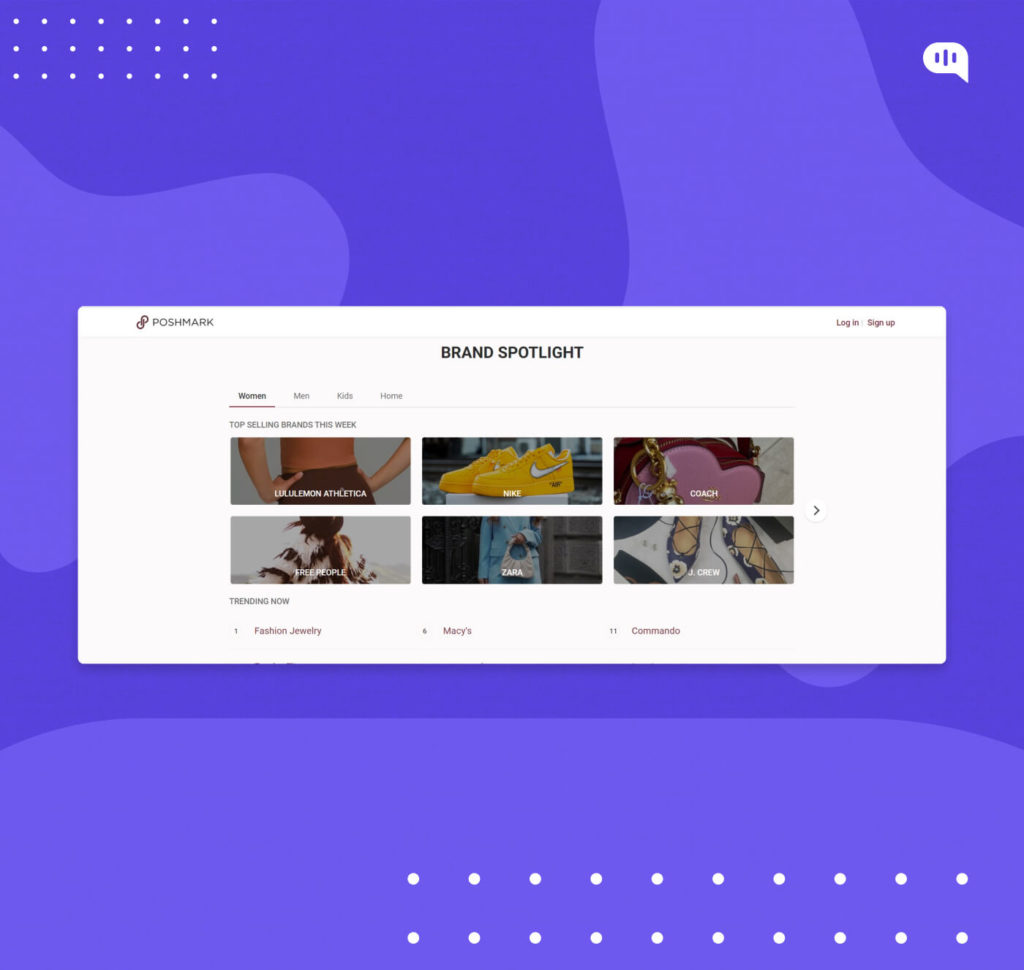 29. Flippa
If you dream bigger, of someday owning a website or a business, then give Flippa a spin. Flippa is one of the largest marketplaces for this type of transaction. There is an enormous number of buyers who are exploring the platform, ready to buy the next Shopify or Amazon.
The website has a global reach, and if you are in the process of acquiring or buying new businesses, chances are high that you have heard of Flippa. The transactions on the platform are also secure, so you KNOW that your money is in the right hands.
Flippa is thus a very good option if you want to sell your online business or blog. The website offers a free valuation of your business too, just in case you need to see how feasible it is.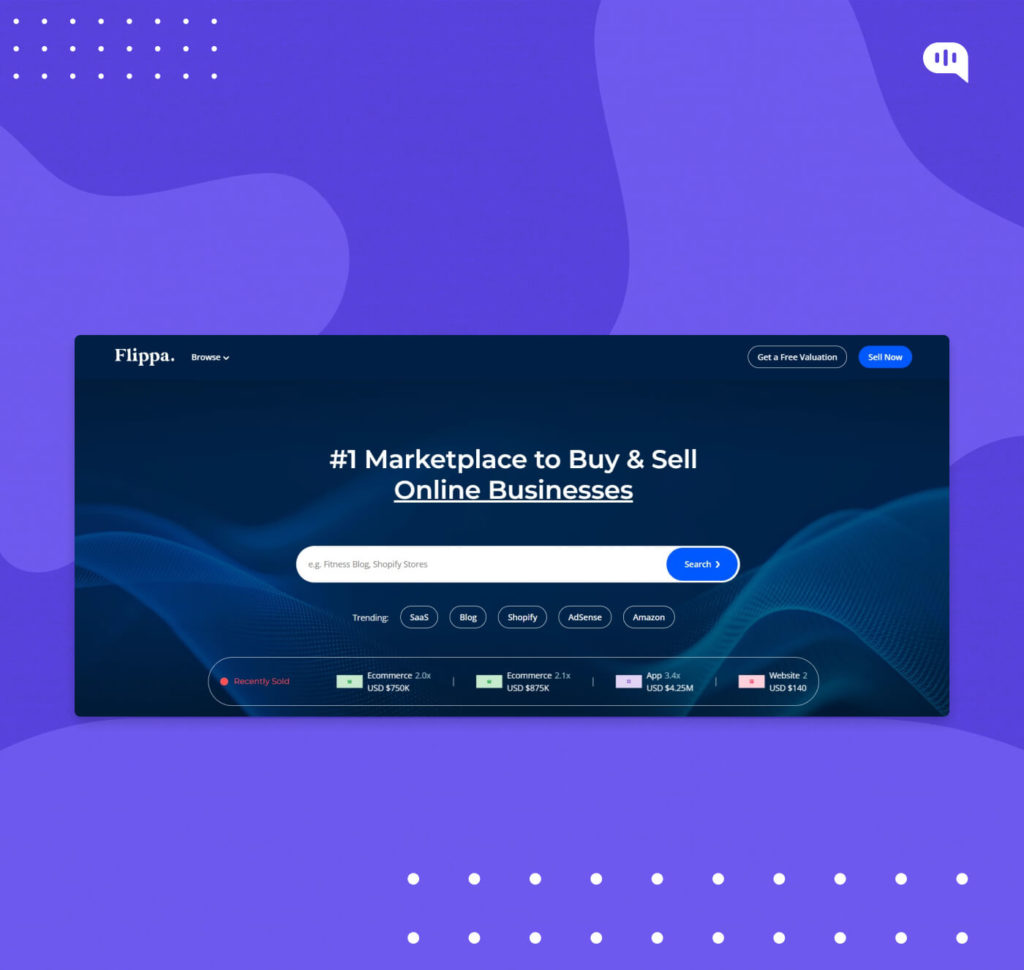 30. Sellfy
Sellfy lets you create an online store within a couple of clicks. It is a great option if you are planning to sell digital products such as music, videos and ebooks. All you have to do is be ready with your digital product and Sellfy will do the rest. This includes invoicing, payment processing, hosting, and even sending automatic download emails.
There is no storage limit, so you can add as many items as you wish to your online store. Sellfy offers payment integration with Stripe and Paypal. A unique feature of Sellfy is that it allows sellers to generate unique download links, which means buyers cannot easily share your digital products.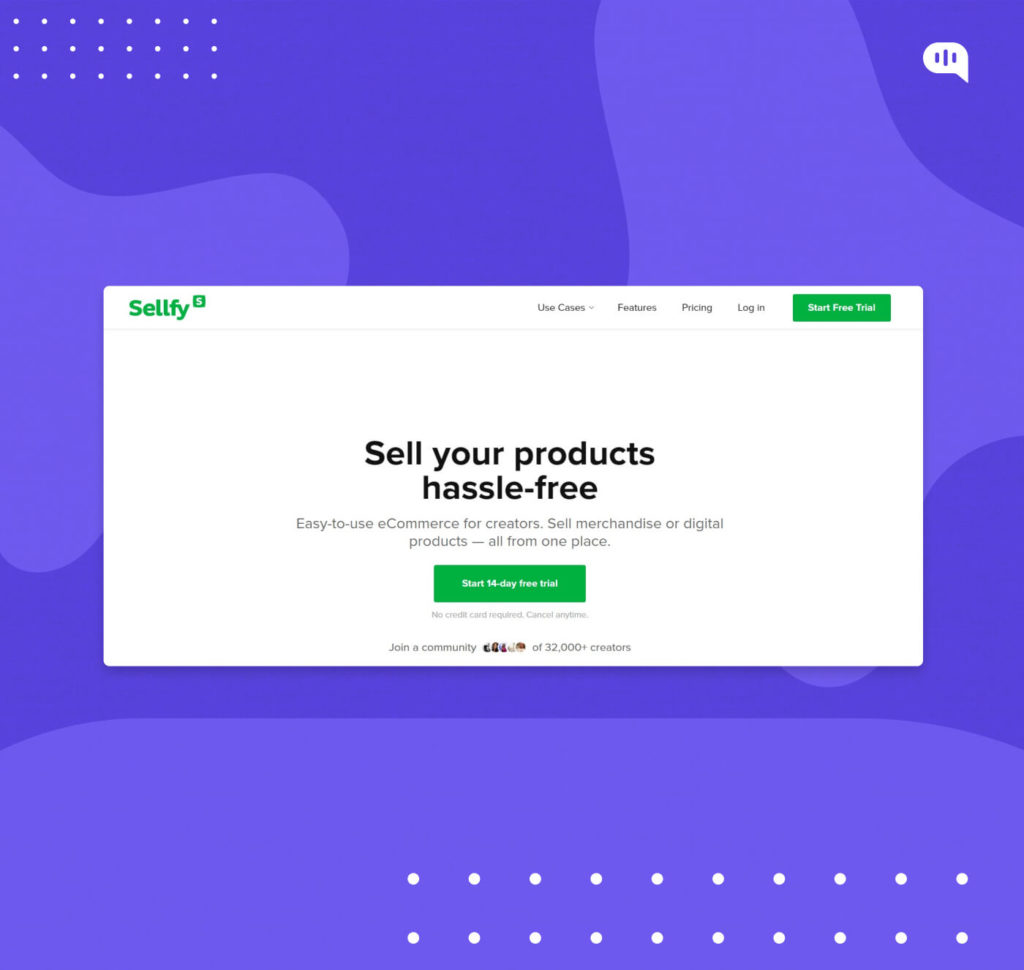 Bringing it all together
If you want to venture into the online selling space, you have two options. Build your own online store from scratch or join an established online marketplace as a seller. The first option gives you complete control over your store and its management, along with undivided revenue. Being a vendor for a marketplace requires sharing revenue from sales in the form of commission or transaction fees.
The online selling and building website platforms mentioned above should help take the first step in the right direction. They have been trusted by millions and have established a reputation for themselves in terms of reliability, credibility, and online security.
---
At Kommunicate, we are envisioning a world-beating customer support solution to empower the new era of customer support. We would love to have you on board to have a first-hand experience of Kommunicate. You can signup here and start delighting your customers right away.