Last Updated on February 3, 2023
Which is the right app for my Shopify store? This question has probably been on the top of your head if you're a Shopify Merchant, thanks to the hundreds of apps available on the Shopify store.
Shopify has been delighting its user's thanks to its sleek, modern interface, a very robust support team, and of course, the Shopify store that is 7000 apps strong and counting. 

So how do you know which is the best app for your business? You leave that hard part to us, dear reader. In this blog post, we look at seven Shopify apps that are leaving their peers in the dust when it comes to delivering value. The categories of these apps range from dropshipping to marketing to customer loyalty so that you are covered on all the important grounds.

The customers on your Shopify eCommerce store will have questions, and they need answers 24 X 7. How does your brand stay on top of the customer service game and be always on? The simple answer is chatbots. Chatbots help automate customer support, generate more sales, help in lead generation, and to have in is a must-have if your eCommerce store. Enter Kommunicate, a chatbot platform perfect for small eCommerce store owners. Based on natural language conversations for Human-Computer interaction. You don't need any coding skills to master Kompose. It has a simple, intuitive, and easy-to-use interface so that building your bot is the last thing you need to worry about in your eCommerce store. Some of the key features of Kommunicate include
Chat widget customization
Visitor monitoring and notification
Bot templates specially built for eCommerce
Kompose – GUI chatbot builder.
WhatsApp, Facebook, Telegram and Line integration
With a Bot template built specifically for eCommerce stores, set up the chatbot in no time. Code-less integration is available with external bot platforms like Dialogflow ES & CX Amazon Lex and IBM Watson. For escalated issues, there is a smooth chatbot to human handoff, and Kommunicate is available in multiple languages to support a global audience.
Pricing: Kommunicate starts with a free trial, followed by a plan of $40/month.
Why your business needs it: Chatbots are not just a fancy add-on to your website or eCommerce store anymore. When you integrate a chatbot onto your eCommerce store, you are opening up a sea of possibilities – including providing 24/7 customer support, collecting leads, scheduling meetings, and all in all, providing a superior customer experience.
Suggested Read: How to Add a Chatbot to Your Shopify Store
While Shopify lets you customize your online store in many ways, it doesn't let you build landing pages according to custom page designs. Considering the fact that the landing page is the most important aspect of your Shopify page, you need to pay special attention to this part of your Shopify store. This is where PageFly comes in.
PageFly lets you build responsive Shopify pages that will help boost your engagement levels and increase sales. With close to 70+ templates and an easy drag and drop web page builder, PageFly has become the app of choice if you want to build stylish pages for your Shopify store. PageFly lets you build Regular pages, Home pages, Collection pages, Product pages, Blog Post pages, About us pages and Contact Us pages.
PageFly has Sections and Layout Elements that provides you with everything you need to build, design and customize your Shopify page. The app has been installed on 90,000+ stores and is going from strength to strength, thanks to the amazing flexibility that it offers.
Pricing: PageFly offers a free plan that lets you create 1 page for all page types. Other than that, there are 3 other plans, which are:
Silver Plan: $19/month for up to 20 regular pages and 2 pages of other types.
Gold Plan: $39/month, 30 regular pages and 30 product, collection and blog post pages
Platinum Plan: $99/month, for unlimited pages of all types.
Why your business needs it: You can have the best of goods to sell on your eCommerce store, have the best pricing and the best supply chain in place, but, without a good landing page, all that hard work is going to be futile. Building a landing page on the Shopify app store is a challenge, since it doesn't allow you to build custom pages. With PageFly, you can build a page that looks, feels, and works like a charm.
Suggested Read: Top Shopify Bots & Sneaker Bots for Your Store [2022]

Imagine if you want to sell your products in person from your eCommerce store, whom do you turn to? It was to answer this question that Shopify turned to Shopify POS. Business owners could now sell their products, in person, from almost anywhere. Create a shopping cart, accept payments, and produce receipts, using your smartphone or your iPad.
The Shopify platform acts as the dashboard on which you can access the Shopify POS, and there is no limit to the number of products you can create. Shopify POS can be used in conjunction with hardware such as Cash drawers, iPad stands, and other devices since Shopify POS works with multiple devices. There is, however, a limit to the number of locations you can sell your product at.
Pricing: Shopify POS pricing plans are part of the Shopify pricing, which include:
Shopify Lite: $9/month, but no online store included.
Basic Shopify plan: $29/month – includes one digital store
Shopify plan: $79/month – five staff accounts and abandoned cart recovery
Advanced Shopify plan: $299/month – 15 staff accounts and advanced report builder
The Shopify Plus plan and the Shopify POS Pro plan come at additional rates. With the Shopify plus plan rates vary from customer to customer.
Why your business needs it: Selling your wares through an eCommerce store is fine, but when you want to reach the customers at the ground level, you need a solution that works without the need for your customers to be tech-savvy. Managing customers, tracking orders, and keeping stock of the inventory are all critical to your business. And if you have a one-stop solution to these challenges, then there could be nothing better. Shopify POS is that solution, and your eCommerce business will go nicely hand-in-hand with your offline business.

A big part of growing your business is Sales and Marketing, especially sales to cold leads who don't know about your product. Email marketing is a big part of this cold outreach, and Sumo is a kick-ass shopify app that helps you grow your email subscribers list from scratch. If your eCommerce store has abandoned cart issues, which happens in most cases, Sumo helps beat it with attractive incentives to customers.
Sumo has a dedicated customer support team, so you are never left in the dark when it comes to using some of the app's advanced features. You can see all the customer data through a robust customer dashboard, which will help you make informed decisions. Sumo is also GDPR compliant and follows SEO best practices so that your eCommerce site easily ranks on Google.
Pricing: Sumo charges based on the number of emails sent, and the pricing plans are:
Free plan – 10,000 emails/month
Pro plan – $49/month for unlimited emails, or $39 billed annually
Why your business needs it: For a business growing rapidly, you need all the leads you can get, and an app that lets you grow your email subscribers list is crucial to this activity. Sumo not just helps you do this, it helps build customer engagement, boost conversions with targeted campaigns, and also know when a customer is about to abandon their cart. If an app provides you all these features, that too for up to 10,000 free emails per month, then not installing Sumo is probably not the best thing you can do for your business.
Suggested Read: Shopify Pricing in 2022: You can't miss this Guide

As the owner of a small eCommerce store, you need all the business you can get, and this business can come from all the sources. Referrals are an important source of getting new leads, and Referral Candy is a Shopify app that lets you create personalised referral programs for your store. Word-of-mouth recommendations act as a powerful sales tool, and Referral Candy helps us monetize these referrals.
Customers who enjoyed the shopping experience you provide on your online store are most likely to tell their friends about it, and Referral candy helps you target this audience. Not only does this help build social proof, but it also helps retain older customers. Cash rewards, coupon codes or gifts, choose the referral rewards that work best for your audience, and Referral Candy will do the rest.
Pricing: Referral candy starts off with a free trial, and, if you wish to extend, the monthly cost is $49.
Why your business needs it: When you want to scale your business, you need all the help you can get, which means reaching out to new customers without spending a bomb in marketing costs. Referrals are a great way to achieve this feat because your customers are already sold to the idea that your product will solve their problems. Referral candy helps not only in retaining these loyal customers but also help build social proof – something that a modern-day eCommerce business cannot live without.
The modern lead generation campaigns, especially for eCommerce stores, are flawed. The people behind Smile know it better than anyone on the Shopify App Store. Smile helps Shopify App stores generate business from existing customers through referral programs and bonus programs. Existing customers are made to feel special with the help of gifts, vouchers, coupon codes and more. Customers get points when they complete certain actions, like for instance, creating an account or making an order.
Smile comes with an in-store, rewards button that is highly engaging and makes collecting email ids and sign-ups easy. The rewards program can be designed, configured and launched within the span of a day. There is also a VIP program for returning customers who are loyal to your Shopify store. and the app allows you to offer perks to increase retention levels.

Pricing: Smile comes with a free plan and a paid plan that starts at $49/month.
Why your business needs it: When you are running an eCommerce store, generating new leads is an aspect of your business that will probably take up more resources than most. Smile takes an entirely different approach to lead generation, treating your existing customers as powerful tools who can bring in more business. Smile comes with an easy-to-build loyalty program that makes it super simple to dole out rewards to returning customers. Modern-day customers expect to be pampered with gifts, coupons and discounts. And Smile helps you build reward programmes that will make your customers happy. Happy customers = increased sales = more business!!
Dropshipping – the practice of purchasing directly from the manufacturer and shipping items to the consumer with minimum inventory has been quite the rage in the eCommerce industry. If you are a supplier based out of the United States, UK, or the EU, you should definitely consider the Spocket App for your dropshipping needs.
Spocket has a huge marketplace that you can explore, and by huge, we mean massive!! There are hundreds of suppliers on Spocket who will sell you their products at very competitive rates (some of them offer discounts as high as 60% on the retail price). This variety of suppliers means you can select different products based on the varied needs of your customer and are not tied down to a single supplier.
Pricing:
Spocket has four different pricing plans that you can choose from, starting from a free plan that lets you explore Spocket's catalog of products to a Starter plan that will set you back by $24 / month and lets you import up to 25 unique Spocket products into your e-commerce store.
There is also the "Pro" plan at $49/month, which allows you to import as much as 250 products, and the "Empire" plan at $99/month, which lets you import an unlimited number of products.
Why your business needs it: As mentioned, Spocket has an enormous marketplace with a large base of suppliers from the US, UK, and the EU. The app is used by more than 50,000 entrepreneurs, making it one of the most popular dropshipping apps on the Shopify app store. With a supplier base this large, you can offer a wide variety of products to your customers, that too at discounted rates. Add to all this the speed at which delivery is possible (thanks to the supplier's location), and Spocket is a must-have dropshipping app.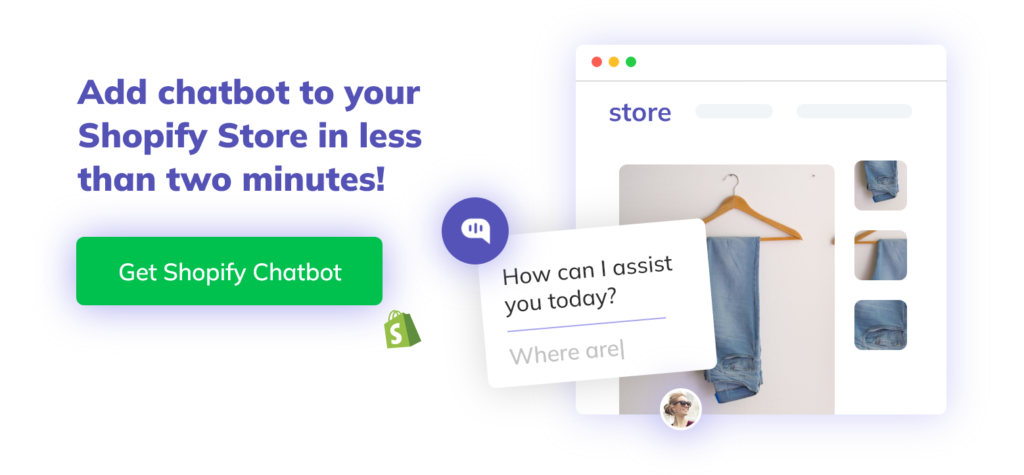 And there you have it. Seven of the best Shopify apps in the marketplace today. Find an app that you missed? We keep updating this list, so do watch this space for more.
---
At Kommunicate, we are envisioning a world-beating customer support solution to empower the new era of customer support. We would love to have you onboard to have a first-hand experience of Kommunicate. You can signup here and start delighting your customers right away.