Last Updated on March 23, 2023
The eCommerce industry is like a rapid torrent. It is always in a state of a hurry to replace the existing. With every passing year, new trends take the spotlight and set the tone for the rest of the year. Sooner or later are replaced by a new trend.
But, there are certain trends that change the direction of the industry forever, Facebook Messenger was one. And now, we have WhatsApp chatbots for eCommerce. In a way, WhatsApp chatbots are no different from Facebook Messenger Bots. However, given the sheer size of the user base and the daily average users, WhatsApp is the undefeated champion of instant messaging. It is synonymous with text communication in most parts of the world.
Now, the question is, how can the trillion-dollar eCommerce industry make use of WhatsApp chatbots. The options are endless and the benefits are several.
Let's take a closer look at the possibilities. But, before that, it is necessary to understand more about WhatsApp.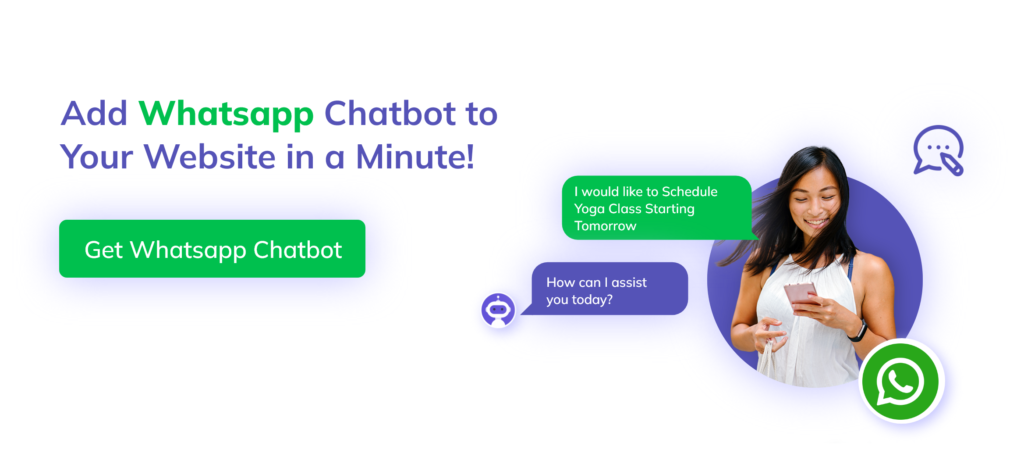 What is a WhatsApp Chatbot?
A chatbot is an AI-based program that can interact with users through canned responses or dynamic responses. It is powered by Natural Language Processing and Machine Learning which enables it to continuously learn from conversations and refine its responses.
A WhatsApp chatbot is a chatbot that interacts with users through the WhatsApp chat app. It can mimic the way a human agent would talk and provide contextually relevant information to users. It is immensely useful for customer support, lead-gen, and marketing use cases.
How is WhatsApp different from other chat platforms?
Brian Acton and Jan Koum founded WhatsApp in 2009 after quitting their jobs at Yahoo!. Ironically, they were turned down by Facebook which later acquired WhatsApp in 2014. Since its inception, WhatsApp has remained the primary means of internet communication across the globe.
Today, WhatsApp has 2 billion active users worldwide and a least 100 Billion messages are sent each day worldwide.
There are dozens of WhatsApp alternatives available on iTunes and Play Store. However, WhatsApp continues to hold on to the pole position as the world's favourite communication tool. For many, it is the default communication channel after text messaging. In fact, it is one instant messenger that can take pride in being a substitute for text messaging in an internet-connected world.
There are several factors that have WhatsApp as the top instant messenger in the world. In fact, these are the same factors that make it a must-have for businesses as well.
A chat interface users regularly use
WhatsApp has a chat interface that is intuitive and easy to learn, enabling any new user to easily get used to the interface and communicate easily. The familiarity can help eCommerce businesses in initiating conversations with customers. A chat thread in a platform that users are also familiar with and regularly use leads to quicker resolutions.
No additional downloads
Most brands have taken the dedicated branded app route to create their own brand identity in the mobile app space. While this helps in improving customer loyalty and customer engagement, when it comes to customer support, downloading dedicated support can be looked down upon as a hindrance. With WhatsApp API, businesses can start rendering support through an existing app that users are already using and spare from the need for additional app downloads.
Device and OS agnostic
Android. iOS. Windows. And even the web to a certain extent. WhatsApp is device and OS agnostic. Users can use it from any device and OS of their choice and enjoy the same level of convenience in real-time communication. As a business, you would also be in a position to deliver consistent support and user experience to all customers alike.
Bilateral real-time communication
The trouble with a help desk, email, or even social customer support is that bilateral real-time communication happens as a matter of chance and not by default. With WhatsApp, two-way real-time communication is guaranteed since users can choose to show deliverability reports of their messages. The three distinct tick symbols (single tick, double tick, and blue tick), go a long way in assuring customers of their message deliverability.
It is these features that make WhatsApp a popular chat tool for all types of users. In fact, they are the primary factors why users tend to choose WhatsApp across other messaging platforms like Messenger and Hangouts. This makes WhatsApp chatbots an attractive proposition for eCommerce businesses.
Why should businesses take WhatsApp eCommerce chatbots seriously?
While the above-mentioned advantages of WhatsApp as a communication channel are well-known, one still needs to dive deep to understand what businesses, especially eCommerce businesses, must take WhatsApp seriously.
There are three main features of WhatsApp chatbots that make them a perfect fit for eCommerce businesses:
It gives a dedicated business profile on WhatsApp
It enables branded communication
It offers real-time rich text and multimedia communication
A dedicated business profile
Given the massive proliferation of chat tools, chat support is one customer support channel that eCommerce businesses cannot take lightly. With a WhatsApp API, businesses can easily integrate chat support into their customer support arsenal. Furthermore, the chat support handle can be set up with a dedicated business profile. There is no possibility of imposters cloning the business profile or customers reaching out to the wrong channels for customer support.
Branded communication
With a WhatsApp API, your business can set up a bespoke communication channel that abides by the tone and voice that your brand uses across all other channels. The tone and voice used in the chat messages and in canned responses are customized to the brand values and communication style. This can definitely be a differentiator amidst competition that uses generic templates for customer support responses.
Text and multimedia Communication
WhatsApp for business allows you to send product catalogues and several other collaterals through text and multimedia formats. You can even send product demo videos, flyers, or even survey forms to capture your customer's input. All this goes a long way in winning the customer's trust and keeping them loyal to the brand.
WhatsApp eCommerce chatbots: Uses cases to maximize sales and customer retention
So goes the benefits and the reasons why your eCommerce business must have a WhatsApp API. Although most eCommerce businesses have a similar style of working, each business does have the liberty to customize how a WhatsApp API can work for them.
Although the use cases are endless, there are 5 eCommerce-specific use cases that you can experiment with right away.
Automate responses for FAQs
Take customer orders through chat
Offer and deliver status updates
Collect feedback on surveys
Launch customer re-engagement initiatives
Retarget cart abandons
Automate responses for FAQs
28% of consumers say the most frustrating issue is information that is simple but hard to find (Drift). Be it first-time customers or returning customers, most often the queries that customers pose are repetitive and simple in nature. Since they are also simple in nature (most often), they do not always warrant the time and attention of a human customer support agent. Instead, they can be easily resolved with automated responses.
These automated responses can be carefully curated as answers to FAQs that customers bring up in conversations. Also, it would be possible to respond to customer queries round the clock even when there is no agent to attend to conversations in person. From offering business hour information to giving real-time order status updates, a WhatsApp API can do a lot more than just conversing with customers.
Take customer orders through chat
With a WhatsApp integration, customer orders can be captured immediately and from a single chat window. There is no need for customers to head to the shopping website to place an order. This simplicity in placing an order itself would contribute to an increase in revenues. Also, according to an eConsultancy study, live chat has the highest satisfaction levels for any customer service channel, with 73%, compared with 61% for email and 44% for phone.
Offer order and delivery status updates
"Where is my order?" is the most frequently asked customer query. While it is easy for an agent to pick up the information and serve it via chat, email, or a phone call, things could become when there are too many queries to handle and with too few people left to attend them. It is here that the WhatsApp API can take over to provide real-time information about the order status.
Collect feedback or run surveys
"The basics of business is to stay as close as possible to your customers—understand their behaviour, their preferences, their purchasing patterns, etc." — Indra Nooyi, the ex-CEO of Pepsi.
Any business that really cares for its customers should also ask for their feedback. Although there are countless tools to run surveys, there is no tool that can do it with the simplicity and convenience of WhatsApp.
A WhatsApp API helps do that with great ease. You can easily distribute links to surveys or feedback questions. Furthermore, you can also collect responses individually through inline replies to survey questions. This would help the business understand its customers better and deliver focused products and services.
Launch customer re-engagement initiatives
In today's hyper-competitive world, keeping a customer loyal to the business is easier said than done. Most often, customers lose contact with the business once the transaction is over and may not even remember the brand name until the need arises another time. However, maintaining brand visibility is necessary for business, lest it could lose the customer to the competition.
Customer re-engagement tactics like offering early-bird offers, special bundle offers, free shopping, etc. are all tactics that help retain customer loyalty. WhatsApp can act as a medium through which these offers can be directly delivered on an app screen that customers spend most of their time on.
Retarget cart abandonments
The eCommerce industry suffers from a staggering 69.82% art abandonment. Phrased differently, at least 7 out of 10 customers abandon their shopping carts. However, all hope is not lost with these customers. Such customers who showed interest but did not complete transactions can retarget with special campaigns offerings promos, discounts, or free shipping. The ease of real-time communication through WhatsApp and the facility to send product catalogues, and other rich media should help sceptical customers to make a purchase.
Conclusion
In eCommerce, speed is of the essence. Loyalty is fickle as customers are offered dozens of alternative stores and offer that is so hard to resist. For the millennial generation that spends a lion's share of its day chatting and tweeting, online shopping should be accessible through the most used app — Whatsapp.
A WhatsApp API ensures that your business can become ready for social commerce and start serving customers in their most comfortable communication channel. It also brings to the business several benefits that will ultimately increase revenues and help maximize customer loyalty.
---
At Kommunicate, we are envisioning a world-beating customer support solution to empower the new era of customer support. We would love to have you onboard to have a first-hand experience of Kommunicate. You can signup here and start delighting your customers right away.