Last Updated on August 11, 2022
WhatsApp has come far from its usual avatar of being an instant messenger. From mom-and-pop businesses to large-scale enterprises, almost everyone has started integrating WhatsApp chatbots into their customer service channels. However, WhatsApp does offer capabilities that can serve in lead generation as well.
Why use WhatsApp chatbots for lead-gen?
There are four traits that make WhatsApp ideal for lead generation:
Familiarity – The world knows WhatsApp is the primary tool for real-time messaging. With five billion+ downloads, it is one of the most downloaded and widely used apps in the world. WhatsApp needs no introduction and hence is an excellent platform for lead generation.
Friendliness – You don't need special training or introduction to become familiar with the WhatsApp chat interface. The intent of the design is to make real-time instant messaging easier and simpler for all kinds of users. This also leads to higher adoption.
Mass accessibility – WhatsApp enjoys 2 Billion Monthly Active Users and is still growing at an active rate. Its mass accessibility ensures that businesses have enough ground to source leads from.
Built for business – WhatsApp for business makes it easy to attract, interact with, and qualify leads. It offers a built-in catalog to showcase products, canned responses to quickly respond to queries, and also sort chats using labels.
61% of marketers rank lead generation as their number one challenge (HubSpot). To add to their woes, only a fraction of leads generated convert into sales. As a result, there is always ongoing pressure to maximize lead generation.
Compared to traditional lead-generation channels and tactics, WhatsApp offers a novel way to reach, attract, and interact with leads. Here are some such features:
1. Real-time lead qualification
Almost every business faces the challenge of junk leads. Junk leads are those leads that do not fit into the Ideal Customer Profile (ICP) that the business has created for itself. Or, the leads carry incomplete information, which makes it difficult or even impossible for the business development executive to pursue. Also, junk leads come in large volumes, which further makes it difficult to find warm leads that have a high potential of becoming a customer.
With WhatsApp chatbots, you can mitigate that challenge to a large extent. It aids in real-time lead qualification by segmenting customers based on their queries.
For example, customers who ask for preliminary information about the business or its products are early-stage prospects. Customers requesting pricing information are warm leads with a high potential for conversion.
Further, WhatsApp for business allows labeling conversations based on labels. You can tag new customers/leads using a label to ensure that they are not lost amidst other conversations.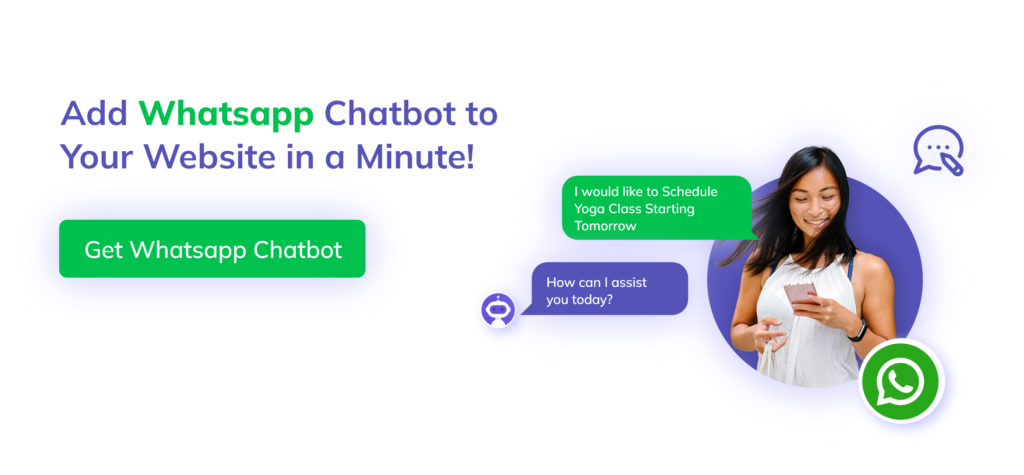 2. Marketing using status/stories updates
WhatsApp rolled out its 'status' feature in December 2020. It was an attempt to mimic the Snapchat stories that had by then become a social media rage. However, statuses in WhatsApp have a larger use case than social sharing.
In business, you can actively use it for marketing purposes. Imagine sharing your product images, explainer videos, or even customer testimonials as WhatsApp stories or status updates? They enjoy a high level of engagement and can also invoke immediate responses from customers. Based on their queries, it is easy to segment them as leads or prospects who have chances of conversion in the near future.
3. Multilingual customer service
Does the language you use for customer communication have a say in your lead gen or even sales? Turns out, yes. Stanford scholars found in their research that using specific words in product descriptions can predict sales. Also, if the product descriptions or business communication is in a language that is native to the prospect, it invokes a culture or authority that helps products sell.
In other words, multi-lingual selling is necessary for your business if it is operating at a global level. However, employing sales reps who are polyglots could be a strain on the budget. With WhatsApp chatbots, such a problem does not arise. You can easily integrate language apps into a WhatsApp chatbot and enable it to converse with the customer in the language of their choice.
4. Sets the stage for consultative selling
Under the hood, selling is a personal relationship-based transaction. If a sales development executive is able to nurture a positive relationship with the customer, the chances of seeing the transaction to completion are higher. Consultative selling is the term used to describe the sales approach where relationships and open dialogue with the customer to understand their problems and wants are prioritized.
Until recently, phone calls, emails, and surveys formed the foundation of consultative selling. The obvious downsides of these channels were that they were slow and did not always collect accurate information. WhatsApp chatbots ensure that there is real-time communication, a natural conversation where the sales rep can easily gather from the prospect what they are expecting from the business. Setting the right stage for consultative selling WhatsApp aids in lead-gen and ultimately in boosting sales.
5. Share engaging content
Millennial customers want to be engaged, and content provides the right context for that. Content that is engaging, educational, and informative can enable a customer to make an informed decision. As a result, they also feel positive about the business, thus leading to a long-term relationship.
How can WhatsApp chatbots aid in engagement? WhatsApp allows sharing of multimedia content instantly without any hassle. In fact, WhatsApp for business allows businesses to upload product catalogs, videos, and such collateral that can engage the customer and also enable them to make an informed decision. It also forms the basis for active engagement, which leads to more product awareness and brand recall.
How to use WhatsApp chatbots for lead generation
Although WhatsApp chatbots set the perfect stage for lead-gen, don't expect leads to flow in without some effort from your side. Here are some tactics that will help you turn WhatsApp chatbot into a lead magnet.
1. Use WhatsApp chatbot links in email signatures and social media
If your sales team is sending cold emails to prospects, their email signatures offer splendid real estate to pace WhatsApp chatbots. Email signatures are not just the tail end of your emails. They are used as email footers that can provide more information about your business, its offerings, and even upcoming events or ongoing offers.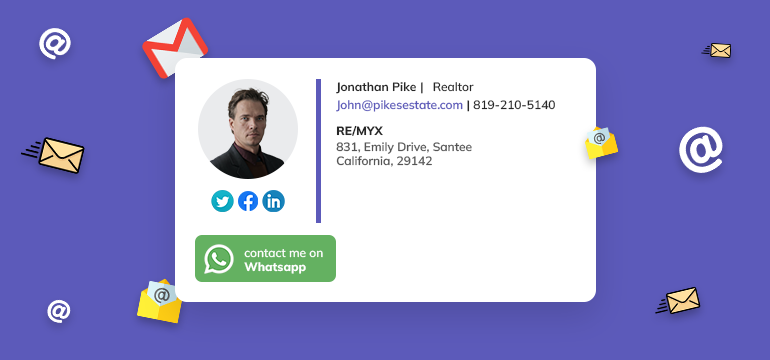 Email signatures are traditionally used to insert the contact details of the sales rep and the business at large. They are also the perfect location to place your WhatsApp chatbot link and label it as an all-in-one communication channel to find any information about the business. Customers will find the WhatsApp link easy to use hence leading to lead generation.
2. Use chatbot links in paid ads
Google text search ads and display ads. Facebook ads, Twitter ads, Instagram ads. There are countless paid channels through which you can run marketing campaigns. The common practice is to ask users to share their contact information through a pop-up form or lead sign-up page.
Naturally, this is a long process since you need to share the lead information with the sales rep. They have to qualify it and then initiate a conversation. However, if a WhatsApp chatbot link is provided instead of a form, you can eliminate unnecessary steps in the conversion journey. You can instantly initiate the conversation with the prospect and qualify them as a warm or cold lead.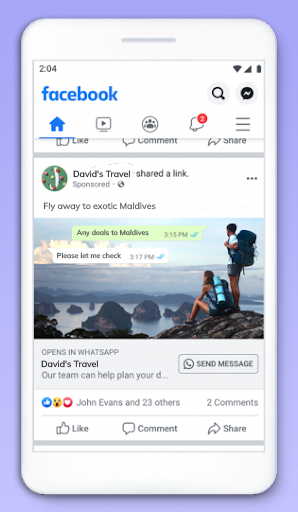 3. Share WhatsApp QR codes
Dropshipping and doorstep delivery has taken away the personal interaction with customers. Or have they? It is still possible to create a WhatsApp channel through which customers can engage with your business. Your existing customers or new prospects can always reach out to find information about your other offerings or make repeat purchases.
Compared to other channels of customer communication like email, social media, telephone, etc., which take longer to complete, WhatsApp can provide instant communication, thereby helping with the lead-gen cause. WhatsApp links are easy to share through email or social media handles. However, when you want to make it easily accessible offline, too, it is wise to use QR codes. You can place WhatsApp QR codes on your store, product packaging, or even on product labels for lead-gen.
Getting leads is easier with WhatsApp chatbots
With 2 billion users, it is definitely a popular channel that prospects will not think twice about using WhatsApp for communicating with a business. If your business is struggling with lead generation or finding it difficult to segment leads based on conversations, WhatsApp chatbots offer a feasible solution. They are, perhaps, the most intuitive and user-friendly conversational interface you can find for lead generation.
The fact that WhatsApp is popular globally and does not have any friction in adoption makes it perfect for lead generation.
So, how is your business going to use WhatsApp for lead generation?
---
At Kommunicate, we are envisioning a world-beating customer support solution to empower the new era of customer support. We would love to have you onboard to have a first-hand experience of Kommunicate. You can signup here and start delighting your customers right away.