Last Updated on August 26, 2023
Today's customers seek instant gratification. From on-demand deliveries to instant self-service, they want everything served immediately without much fuss or delay.
When it comes to sales or customer support, they expect anytime, anywhere, and instant gratification. For any business, big or small, this is not easy to provide. When Whatsapp for business was launched in 2018, businesses found a ray of hope to serve customers in their most preferred communication channel – instant messenger.

According to the latest numbers, more than 2 billion users around the world WhatsApp. Businesses keen on providing customers with instant gratification must have WhatsApp as a channel integrated into their customer support ecosystem.
Now there comes a minor challenge. How can a business spread its WhatsApp link so that customers can instantly contact them? At present, to send a WhatsApp message to anyone, WhatsApp requires the user to save the contact in their address book, refresh the WhatsApp contacts so that it is added, and then choose them from WhatsApp contacts to send the message. Quite a convoluted process, isn't it?
It is here that WhsatApp's link generator that help to create chat plants itself as a quick and efficient remedy.
What is WhatsApp chat link?
With WhatsApp click to chat, users can start chatting with someone even if they do not have their contact number saved on their phone's address book. As a business, you can create your own WhatsApp chat link that can be shared through social media, email, customer support page, and so on.
Users can click on it to open a chat window instantly on their phone or on WhatsApp web. The click to chat feature will work as long as the other person has an active WhatsApp account.
How to create a WhatsApp click to chat link?
By adding your full phone number in the international format, you can have a ready-to-use WhatsApp click to chat link. Be careful to avoid using any spaces, dashes, or such separators as is the practice in text communication.
Let's see how this works with a real-world phone number:
When the country code is "+91" and the phone number is: "9606849266"
The WhatsApp click to chat link would be: https://wa.me/919606849266


WhatsApp Chat Link Creator
Your WhatsApp Number
Please write your country code and number without +. Eg. if country code is +91 and WhatsApp number is 9898123412, then type 919898123412 below.
Welcome Message (optional)
This text will go as a message to start the conversation
How to create your own pre-filled message
Once the whatsApp link is created, you can also create a pre-filled message that can be sent to the user. This would act as the conversation trigger for the user.
You can create a pre-filled message using the syntax:

Whatsappphonenumber is where your phone number, as explained before, will be placed, and the urlencodedtext is where your message will go in.
For example, if your pre-filled message should read: "Welcome to Kommunicate", then the syntax would be: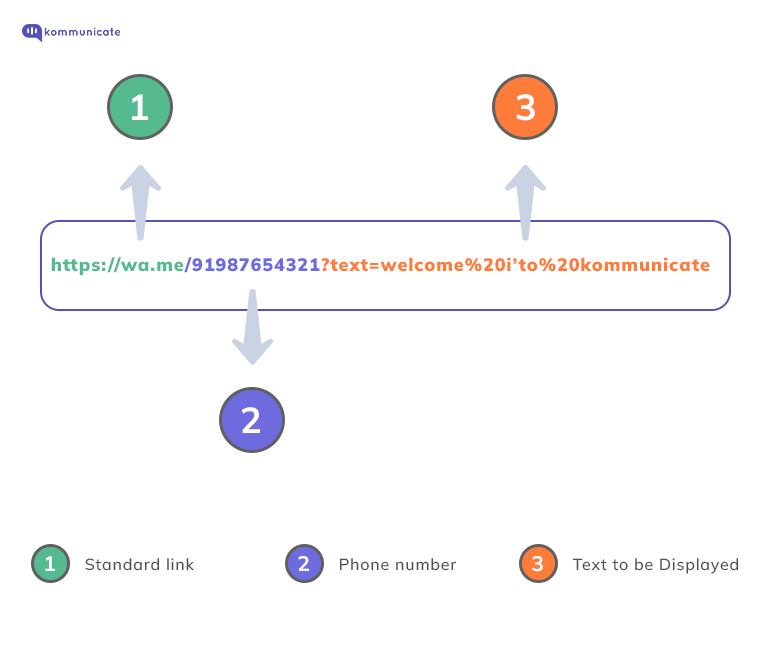 Benefits of WhatsApp chat link
No more fuss about saving contacts
A phone number is only a ten or eleven-digit string of numbers. Still, remembering it and saving it as a contact before initiating a conversation is quite a chore. Anybody would love to skip it if they can.
With the WhatsApp click to chat feature, you can give your customers a direct link that begins a conversation. It is the easiest and simplest way to start temporary conversations related to sales queries and customer support issues.
The WhatsApp click to chat link can be shared across multiple channels for maximum reach. It can be used as a lead magnet attached to marketing collateral or as a readily accessible link for customer support. Also, there is no need to plug in additional CTAs like "contact us" or "get in touch" to start a conversation.
The click to chat feature removes an extra step that could hamper the user experience. The fact that it can be distributed easily across the internet without any restriction also makes it a customer-centric solution for businesses.
The best channels to insert your WhatsApp chat link
WhatsApp click to chat link is not something you can share via WhatsApp alone. You can always insert it in multiple locations where your content could be getting maximum eyeballs.
Images/GIFs in online publications
Multimedia content like images and GIFs can communicate a lot more than textual content. They can help disseminate complicated content in simple terms and help users get the gist quickly in visual form. Add a clickable WhatsApp link to it, and you can open up quick conversations with customers.
Social media about us section
Every social media handle, including Facebook, Twitter, LinkedIn, and Instagram, allows the embedding of links. You can embed your WhatsApp click to chat link in the bios to help customers connect with your business instantly. They do not have to look for a contact number or depend on other channels where the response could be delayed.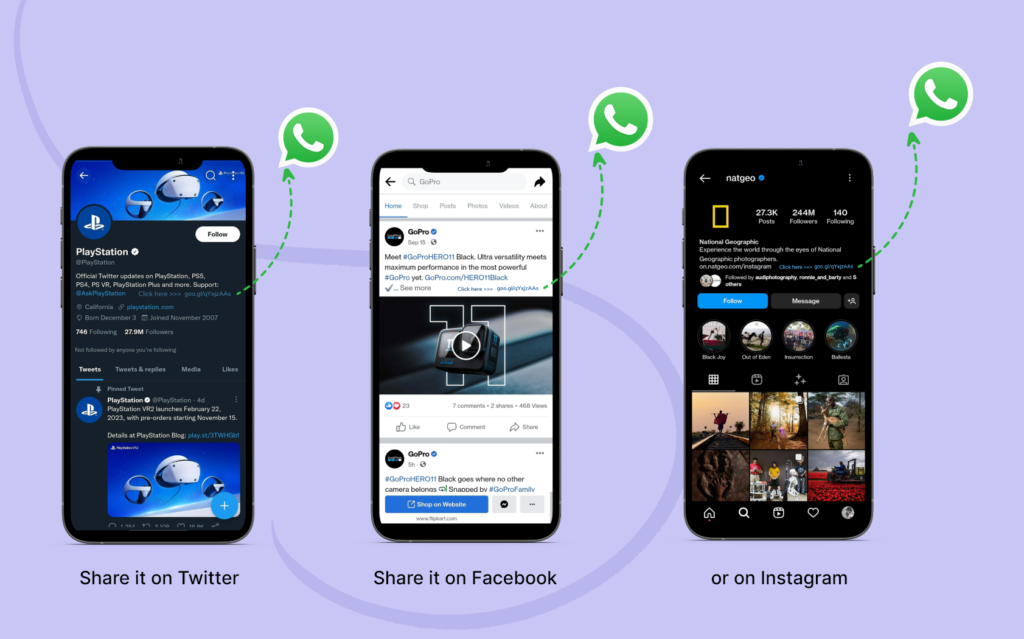 Social media posts
Admit it. We all hope that every single social media post we publish gets the attention of our prospects and customers and makes them get in touch with us. Until now, the best option was to add a CTA that directs the user to a landing page, a pop-up, or a form.With WhatsApp click to chat, the process of making customers initiate a conversation can be simplified. All it takes is one click on the link to begin a conversation. And you can share the link with every social media post.

Chatbot or live chat widget
Chatbots and live chat software on a website have become the first point of contact for customers landing on your website. Although their intention is to get instant replies from a chatbot/live chat widget, there could be times when a human agent would have to take over the conversation. What better way than directing them to the WhatsApp chat interface that they are used to.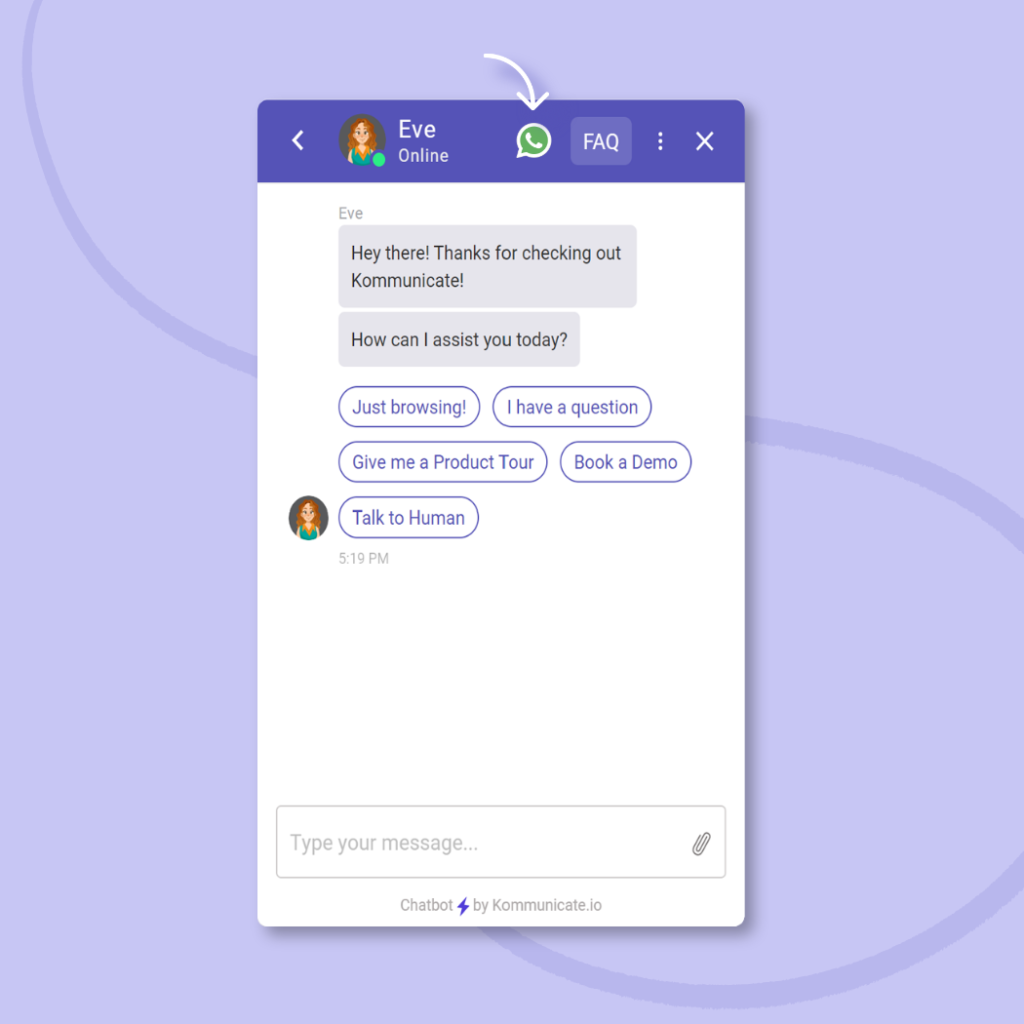 Bringing it all together
Great customer experience is not a one-time event. It is a culmination of several positive experiences. Delivering positive experiences requires your business to be on its toes and be available anytime and everywhere where your customers want to find you. WhatsApp being a ready-to-access instant messenger is a great channel to reach out to your customers and begin real-time conversations.
With WhatsApp click to chat, you can easily create a handy link that customers can use to contact you. It is easier, simpler, and removes all the hard work in starting a conversation.


---
At Kommunicate, we are envisioning a world-beating customer support solution to empower the new era of customer support. We would love to have you onboard to have a first-hand experience of Kommunicate. You can signup here and start delighting your customers right away.