Tl; Dr – See our infographic: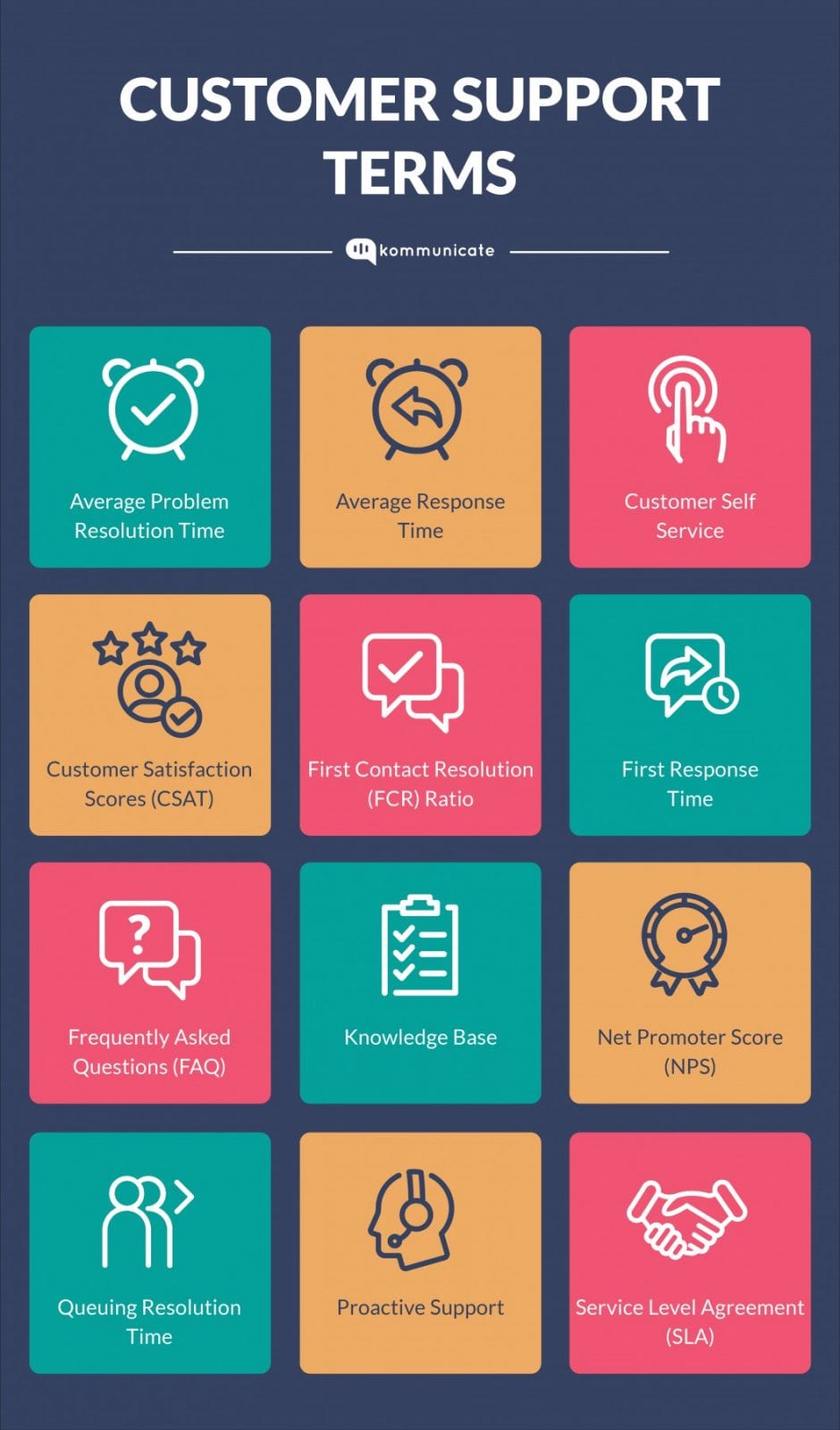 Every aspect of your business has its own terminology. These terminologies facilitate better internal communication and also improves their customer communications. Additionally, this helps in a team and individual evaluation as well. In this post, we are listing the most common customer support terms and definitions.
Customer Support Terms and Definitions
Average Problem Resolution Time
The average problem resolution time is the average time taken by an agent to resolve customer queries. Primarily, it can be a good performance evaluation metric for the support agent. This metric can also be calculated team wise; giving a holistic view of overall team performance. The generic standards are given here.
Average Response Time
Average response time is the average time taken by an agent to reply to a customer. Note that, it is a collective average of time taken to reply to any customer message, not just the first one. There is no defined standard of average response time as it depends on your support hours and medium of support. Ideally the lesser the better.
Customer Experience
The overall experience a customer had during his entire lifecycle as a customer. Customer experience helps you generate a holistic view of your product and support activities, as the overall customer experience is driven by the customer's view about your product and support both.
Customer Self-service
Self-service is the channel through which customer find answers to their queries themselves through various resources you provide. These resources could be your blog posts, developer documentation, frequently asked questions, and knowledge-base articles. Customer self-service is a great way to reduce the number of generic and repetitive customer queries.
CSAT Scores (Customer Satisfaction Score)
CSAT is the measure of the happiness or satisfaction a customer has with the support and services you have provided. Collecting CSAT surveys is widely accepted as a standard practice throughout the support industry. You can learn more about CSAT and CUSAT(Customer Unsatisfaction Scores) here.
First Contact Resolution (FCR) Ratio
FCR is the measure of how many tickets/queries were resolved during the first contact made by the customer, without the need for additional messages or followups. A good FCR is the mark of an efficient support team. A 75% FCR is a good indication of customer support team's efficiency.
First Response Time
First response time is the time elapsed between submission of a query by a customer and the first time a customer support agent replies to that query. It generally depends on the support mediums your organization has. Generally, large organizations put detailed guide about their response time in their service level terms.
Frequently Asked Questions (FAQ)
FAQs is a collection of most common and generic questions and their answers. These FAQs could be about your business, products or services. FAQs help in customer self-service by reducing generic queries. Learn more about how the new age FAQs should be done here.
Knowledge Base
A knowledge base is another channel for customer self-service. The knowledge base consists of detailed articles about any topic concerning your product and services.
Net Promoter Score (NPS)
NPS is closely related to customer experience. It is the measure of how likely your customers are to tell others about your products or services. The customers who are happy with your product and have had a great customer support experience are more likely to recommend your products/services to others. Usually collecting NPS requires the help of a marketing team as well. You can learn more about how marketing and support teams can effectively collaborate here.
Proactive Support
Often treated as a part of customer success, proactive support is the strategy to take control of premeditated problems that might become real customer issues later. You can do this by numerous means such as sending in-app campaigns or creating a checklist of processes involved in an efficient use of your products and services.
Queuing Resolution Time
Queuing resolution time is the average hold time of customers until they are served. This could be the time elapsed in providing the first response or time elapsed between routing customers from one department to the other. The agenda is to keep this time as low as possible. But again, it depends on your support medium and the ratio of the number of queries you get vs the number of agents you have.
These customer support terms help you bring more transparency and efficiency in managing customer support. We will keep updating the list with new terms and definitions. If you have any suggestions to add, please shoot in comments and I will be happy to append the list with them.
---
Subscribe here to get the good stuff — we solemnly swear to deliver top of the line, out of the box and super beneficial content to you once a week.
At Kommunicate, we are envisioning a world-beating customer support solution to empower the new era of customer support. We would love to have you onboard to have a first-hand experience of Kommunicate. You can signup here and start delighting your customers right away.